While the sun kept shining (of course, it's Dubai), it rained – rained watches – for the five days of Dubai Watch Week.
Organised by Ahmed Seddiqi & Sons, the leading retailer of high-end watches in the UAE, with a strongly educational purpose, it offered a whole range of panel discussions; hands-on workshops led by some of today's most talented watchmakers, engravers and enamellers; riveting talks on collecting by Christie's experts; exhibitions (including the 17 GPHG winners, a perspective on time from the Fondation de la Haute Horlogerie, and stands where you could meet-and-greet and play with amazing watches – often in the company of the makers themselves); and a whole lot more.
But, as with previous editions of DWW, the best part wasn't even on the impressive official programme — the opportunity to hang out with the who's who of horology, in totally relaxed surroundings, over the course of five days makes it an event like no other. And that, as much as anything, is why the makers and brand owners keep coming back: "We never get a chance to talk to each other like this normally – we are always too busy in Switzerland/Germany/The Netherlands."

It's fair to say that Moritz Grossmann is a connoisseur's brand – meaning that its restrained styling and sublime workmanship (Philippe Dufour, no less, rates Grossmann among his favourite modern watch producers) takes a degree of sophistication to fully appreciate. So its Extreme Dubai special edition (based on the super-classical, 41mm Atum line) comes as a huge surprise – and a blast of fun, with its oxidised steel case and "distressed" finish on the movement plates. The edition of 17 pieces, delivered to owners during DWW, was entirely pre-sold.
Patek Philippe 5524G Calatrava Pilot Travel Time – we spotted two of these babies on the first two days of Dubai Watch Week. Were there more?
Ulysse Nardin Classico "Singapore Watch Club". The boys in Singapore commissioned this 20-piece edition to celebrate the club's second anniversary. The black grand feu enamel dial is by Donzé Cadrans; the red 'II' at 12 o'clock is Singapore's colour; the hands are spade and sword rather than the usual leaf hands, and the steel case is 40mm.

Seventeen (because it's 2017) happy lads from Dubai Watch Club collected their new Special Edition Endeavour Concept from H. Moser on the first day of DWW. We can't get enough of that silvery-grey fumé dial and that's too bad because all 17 pieces were pre-sold. This is, in fact, the Yang to the Yin of the charcoal fumé dial commissioned by Ahmed Seddiqi & Sons (organiser of DWW), also in an edition of 17.

Contrary to many assumptions, not everybody in Dubai wants huge flashy watches. Evidence right here on the wrist of a young Emirati collector: Vacheron Constantin's $20 Liberty Head Openworked watch, with a skeletonised version of calibre 1003 (1.64mm thick). He came double-wristed with a vintage UAE Armed Forces special edition Rolex Day-Date with Arabic day and Hindi-numeral date.
Hublot Classic Fusion Fuente Limited Edition (2017) with engraved King Gold case and bezel (automatic calibre HUB1112). Worn by Jean Ghalo, organiser of Hublot's first-night party (Cuban sounds, great cocktails and cigars rolled on the spot).

On the wrist of Mohammed Seddiqi, Hublot's Classic Fusion Cruz-Diez, a rare beast made in an edition of only 10. In a collaboration with the Franco-Venezuelan artist Carlos Cruz-Diez, Hublot adapted the artist's 1964 work Chromointerférence, printing the dial with the painting's multi-coloured stripes and covering it with a mobile black frame that appears to alter the colours as it rotates through the course of 12 hours.

You don't often see one of these in the wild – a Daniel Roth Ellipsocurvex Perpetual Calendar Equation of Time – and when you do, you understand why collectors hold Roth in such esteem. Roth introduced the movement in 2004 (with a different dial) as part of a blockbuster collection of high complication watches to mark his 15th anniversary as an independent watchmaker. Today, his legacy is being kept alive by the haute horlogerie department of Bulgari, where several of the watchmakers are alumni of Mr Roth. Ellipsocurvex, by the way – who even knew that was a word? – refers to the immensely complex, double ellipse case.

Abdulhamied Seddiqi wears a new Middle East special edition of the IWC Portofino Tourbillon Hand-Wound at its unveiling. Powered by the calibre 98900 and limited to 25 pieces, it will be available only from IWC boutiques in the region. Clients won't have to wait long: deliveries will begin 1 December.

This baby appeared on two different wrists during DWW: we caught it here on Mohammed Seddiqi's wrist and the next day saw Hind Seddiqi (the VP of Marketing for the family's business) wearing it. It's a one-off version of the Endeavour Concept, made by H. Moser & Cie to a special order from the Seddiqis.

The Grönefeld Parallax Tourbillon 1912 on Bart Grönefeld's wrist – one of 12 pieces made in steel. That salmon/apricot dial is the traffic-stopper and then you get into the rest: the large-scale flying tourbillon, the re-setting mechanism designed for maximum precision (you can stop the running seconds and tourbillon at once, using the crown – and winding is also done by the crown; the S and W indicator on the dial showing which mode you're in). And the magnificent finishing – well worth carrying a loupe in your pocket "just in case" you ever get close enough to spend time with the watch.

If you were around in 2008 when MB&F launched its Horological Machine No.2, you will remember how wildly – almost shockingly – radical it looked, with its dual portholes set on a rectangular sapphire crystal. It looks no less revolutionary a decade later. This is one of several MB&Fs in the collection of Khalid Jabar (alongside an Urwerk or two), who
runs a publishing company founded by his father. He jokes that Jabar père started it only so he could get access to more watches. To us at Time+Tide, it sounds familiar.

Spotted on the wrist of an off-duty Emirates Airline captain, Parmigiani Fleurier's Toric Retrograde Perpetual Calendar reminds us of two things. One: Michel Parmigiani's brand is one of the most underrated in the business (the watchmaking skill and the quality of finishing deserve way more recognition). Two: restrained proportions are where elegance lies. Which is why the owner collects vintage rather than modern.

You're not going to see this watch anywhere except on the wrist of Jean-Pierre Hagmann. He is the most celebrated watch-case maker of the latter 20th century (Patek, AP, Vacheron and Franck Muller were just some of his clients) and this watch is his own design, in a case he hand-made, with a supplied base movement he finished and decorated – to mark his own retirement. At the age of 77, he still makes similar one-off pieces on special order for private clients.

If you followed the Harry Winston Opus story over the years, you will know about Emmanuel Bouchet (he made Opus 12), but, for most, his name flies under the radar. The Complication One (here in black DLC-coated titanium, worn by Christopher Daaboul) shows why it's worth paying attention to him: in his contemporary homage to traditional watchmaking, he has developed an 18,000 vph movement, its slow beat transmitted through the double escape wheel at the centre of the dial, allowing us to truly appreciate the mechanical workings of time. Unsurprisingly, for such a watch, the finishing is supremely refined and well-executed.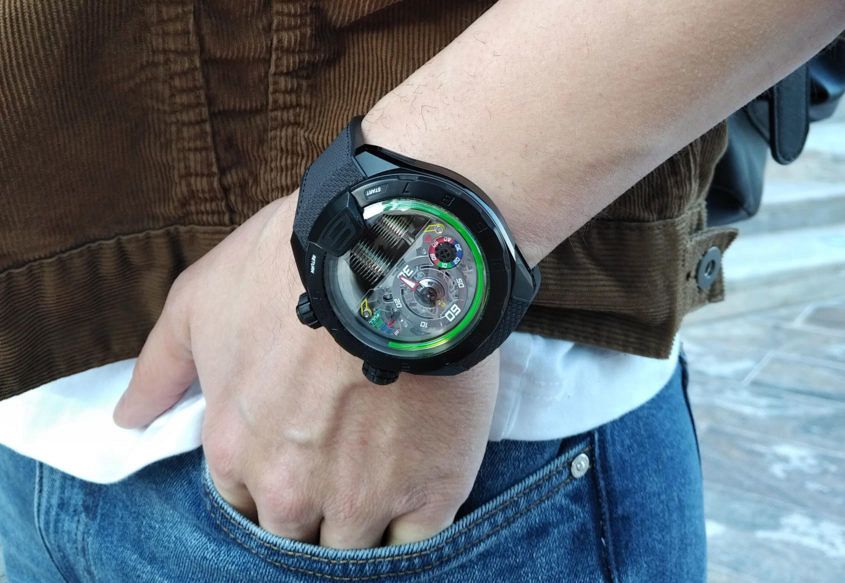 The Panis-Barthez Compétition version of HYT's H4 ("the one with the light inside") is – like all H4 models – powered by a skeletonised version of H1's calibre. The difference here is the black DLC titanium case and the red, blue and green accents on the power reserve and seconds indicators, echoing the racing team's livery. A very good-looking variation on the H4 aesthetic, we think.

The Pamerati were out in force for Panerai's closing-night party. In the double-double wrist shot we have, on the Emirati side, PAM372 and PAM249, and on the Brit side, PAMs 652 and 671. Beyond the wrists, the sharper-eyed among you will have spotted the Yeezy Wave Runner 700s, which generated almost as much buzz as the watches. Almost.