The new Hublot MP-15 Takashi Murakami Tourbillon Sapphire brings the manufacture's first central flying tourbillon to market
Zach Blass
The Hublot MP-15 Takashi Murakami Tourbillon Sapphire is their first-ever series-production watch with a central flying tourbillon.
The 150-hour power reserve HUB9015 movement within is wound by a USB-rechargeable stylus placed on the crown.
Limited to 50 pieces in total, priced at US$316,000.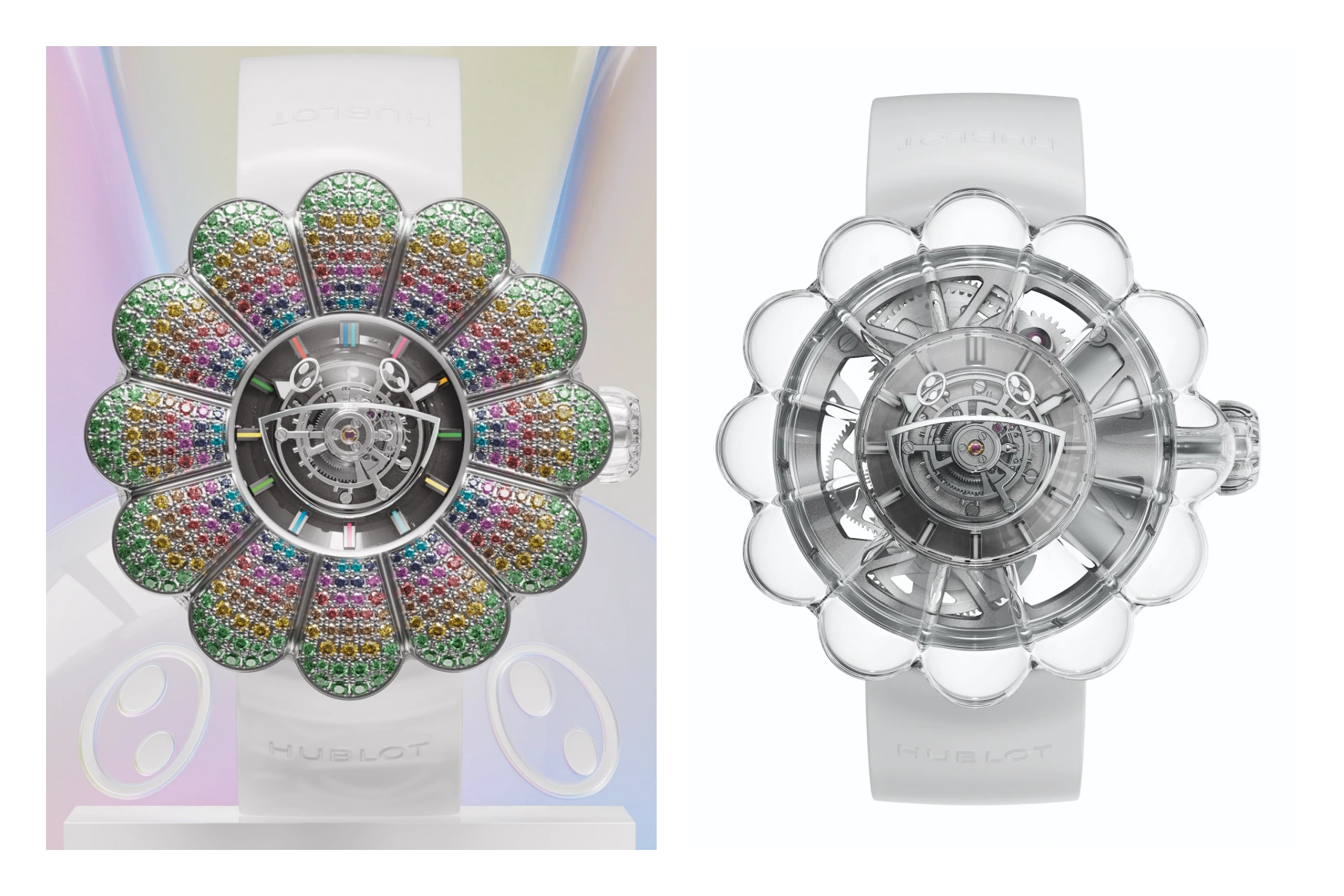 When the Only Watch 2023 lots were revealed, Hublot presented their MP-15 Takashi Murakami Only Watch Sapphire as a lot for the charity auction. This MP-15 would have been the first Hublot watch ever made with a central flying tourbillon. Unfortunately, due to scrutiny and concern, Only Watch 2023 has been postponed – leaving all of the lots in limbo until/if the next edition is held. Expectedly, as a collaborative design with Takashi Murakami, it was a colourful watch with the signature flower petal geometry that utilised a sapphire case bedazzled with a rainbow assortment of gemstones. While nobody will be able to bid on that watch for now, today Hublot has unveiled a limited edition model, the Hublot MP-15 Takashi Murakami Tourbillon Sapphire, that forgoes the bold colour of the Only Watch design for a more monochromatic and transparent look.
Takashi Murakami explains: "Up until now, my work has focused on colour. It was a really exciting challenge to start a whole new chapter focussing on absolute transparency. The forms and volumes are perceived completely differently. With Hublot, we were able to preserve the individuality of my floral motif, but with a unique and different identity which was purer and perfectly in tune with Hublot's mechanical universe. I'm very proud of the result!"
The intricate shape of the sapphire case, as Murakami suggests, not only satisfies his creative vision, but also Hublot's vision of maximizing the luminosity of the case. "Light play" has become a bit of a laughable buzz phrase in the watch world, but this is a case where it is a rightfully applicable term. The sapphire crystal of the case, transparent and devoid of gemstones or colouring, allows light to permeate it from every angle. And, with its flowering facets, this only further creates intrigue and spectacle as light permeates and reflects off of surfaces. Sapphire-cased watches are not exclusive to Hublot, but I once again must stress that few, if any, watch manufacturers are capable of realizing a sapphire case in such a complex geometry – and keep it to 42mm in diameter and 13.4mm thick no less.
Beneath the subtle smiley face of the Murakami flower crystal, the star of the in-house HUB9015 is in full view. Overall, the manually wound calibre, openworked dial, and case are fused together. With the central flying tourbillon, it creates a sense of a tourbillon tongue for the smiley face. Interestingly, the 150-hour power reserve calibre is wound using a special USB-rechargeable stylus that you affix to the crown. While attached, the stylus will automatically wind the movement to completion with 100 total revolutions needed to fully wind the calibre. The rotation of the tourbillon could feasibly be dual-purposed as a running seconds counter, but extended out from the centre are two sloped arrow-tipped hands that indicate the hours and minutes. A ring of twelve applied hour indices surrounds the tourbillon, and that also explains why there are twelve petals to the Murakami flower-shaped case – each petal framing an applied index.
At its price of US$316,000, and quantity of 50 pieces, this is not a watch for everyone. But, within the context of a watch community that does not always give Hublot the credit they are due, this release really highlights the distinct know-how of Hublot. What I find curious is the fact that this watch (with its release today) would have came just a five short days after Only Watch had it been held – leaving a small window for the piece unique to have its moment. That being said, brands have often used Only Watch as a catalyst to launch more extreme versions of designs that would later follow in more standard production. And considering Only Watch was postponed, it definitely works out well that Hublot collectors can still get a chance to get one of Murakami's latest Hublot collaborations with this limited edition.
Hublot MP-15 Takashi Murakami Tourbillon Sapphire pricing and availability
The Hublot MP-15 Takashi Murakami Tourbillon Sapphire is available now as a limited edition of 50 pieces. Price: US$316,000
| | |
| --- | --- |
| Brand | Hublot |
| Model | MP-15 Takashi Murakami Tourbillon Sapphire |
| Case Dimensions | 42mm (D) x 13.4mm (T) |
| Case Material | Polished sapphire crystal |
| Water Resistance | 30 metres |
| Dial | Polished transparent composite resin |
| Crystal | Sapphire crystal and exhibition caseback |
| Strap | Rubber strap with titanium folding buckle |
| Movement | HUB9015, in-house, manually wound |
| Power Reserve | 150 hours |
| Functions | Hours, minutes, central flying tourbillon |
| Availability | Now, limited to 50 pieces |
| Price | US$316,000, CHF 300,000 |