Ultimate transparency — Hublot's sapphire evolution, in 13 watches
Time+Tide
Editor's note: While Hublot didn't create the first sapphire-cased watch (that honour goes to Alain Silberstein of all people), the big, bold brand has done an impressive amount of work in a relatively short time to make the ultra-hard, ultra-cool case material mainstream. Don't believe us? Here's Sandra's 2017 timeline of how it went down … 
First things first, what is sapphire crystal? Essentially, it's the same stuff used to make a watch 'glass' and display casebacks, formed by crystallising aluminium oxide at very high temperatures to create an extremely hard material. Roughly speaking, it mimics what Earth has taken 400 million or so years to do, to form natural sapphire gemstones. For sapphire-cased watches, the middle, bezel and back are milled from solid blocks of the material. Because it's almost as hard and scratch-resistant as diamond (9 on the Mohs scale, as opposed to 10 for diamond), the task of milling it into the complex shapes required is much more easily said than done. Indeed, sapphire crystal can be cut only by diamond.
Harnessing the knowledge it gained from developing a milling technique for Magic Gold (another hugely challenging material), Hublot works with a Swiss specialist as part of an exclusive partnership to develop the sapphire material.
Speaking at Baselworld 2016, Ricardo Guadalupe, Hublot's CEO, said that the rationale for using the material was to show off its in-house calibres – and that would also determine the choice of models that would be given sapphire cases.
1. 2016 MP-05 LaFerrari
After 18 months of development work, Hublot revealed its first foray into sapphire case-making – on a watch with by far the most complex case shape in their range. It's as if they had decided, "If we can make this one, we can make anything."
The cobra's head shape of the limited MP-05 case had been designed to show off the movement, with its suspended vertical tourbillon and series-coupled time-display rolls and vertical tourbillon. In the sapphire version, the movement seems to be suspended inside its transparent cocoon, with no visible means of support. The case middle is composed of seven components carved from seven blocks of sapphire using 3D machining. Requiring more than 600 hours of machining, polishing and assembly work, the LaFerrari case weighs a mere 53.5 grams. For good measure, Hublot used transparent materials for most of the display cylinders and added a semi-transparent silicone strap with some clasp components also milled from sapphire crystal. POA
2. 2016 Big Bang Unico Sapphire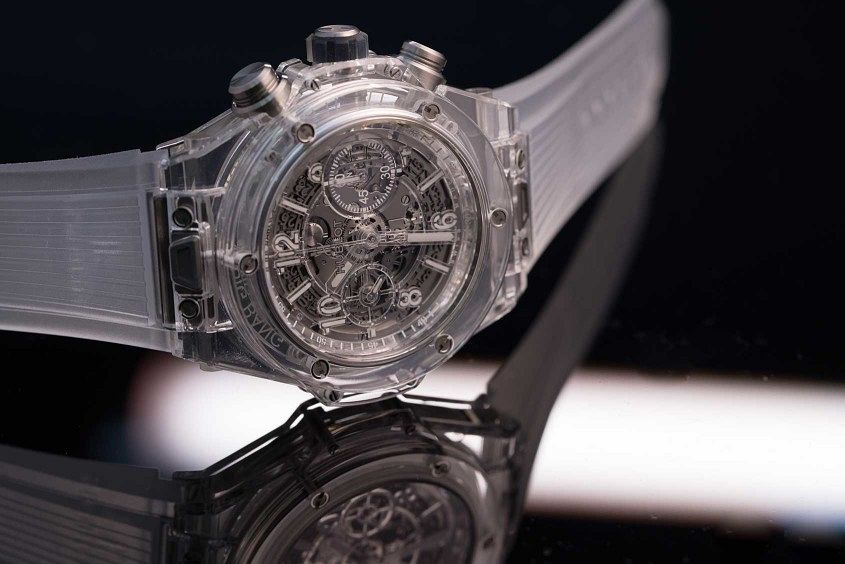 Did Hublot think it hadn't made things clear enough with the MP-05? Turning to more conventional shapes, they milled a 500-piece limited edition Big Bang (the largest production run of a sapphire case), with the case middle, bezel and back made from three blocks of sapphire, calling on the expertise of a Swiss specialist as part of an exclusive partnership to develop the material. Combining the colourless sapphire case with a transparent resin dial and skeleton work it made the movement (the in-house automatic flyback chronograph movement, cal. HUB1242) almost entirely visible. Or should we be saying invisible? Enhancing the effect, the strap is made from almost-transparent silicone. This combination of elements set the parameters for all of the Unico Sapphire models that have followed. $74,600
3. 2016 Big Bang Unico All Black Sapphire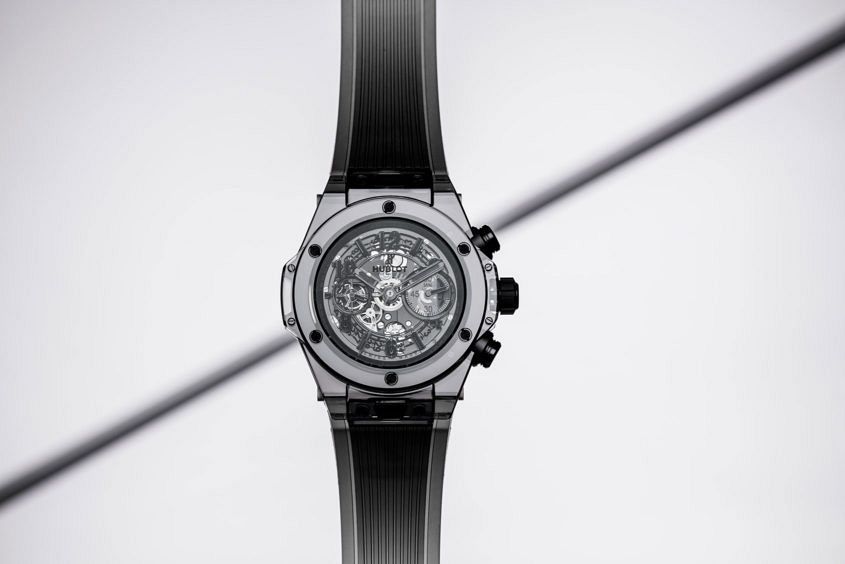 With 2016 marking the 10th anniversary of its "All Black" line, Hublot wasn't about to leave sapphire out of the game. This dark 'smoked' sapphire case was made possible by a special type of metallic coating for the sapphire crystal that creates the appearance of black with no loss of transparency. $81,300
4. 2017 Big Bang Unico Magic Sapphire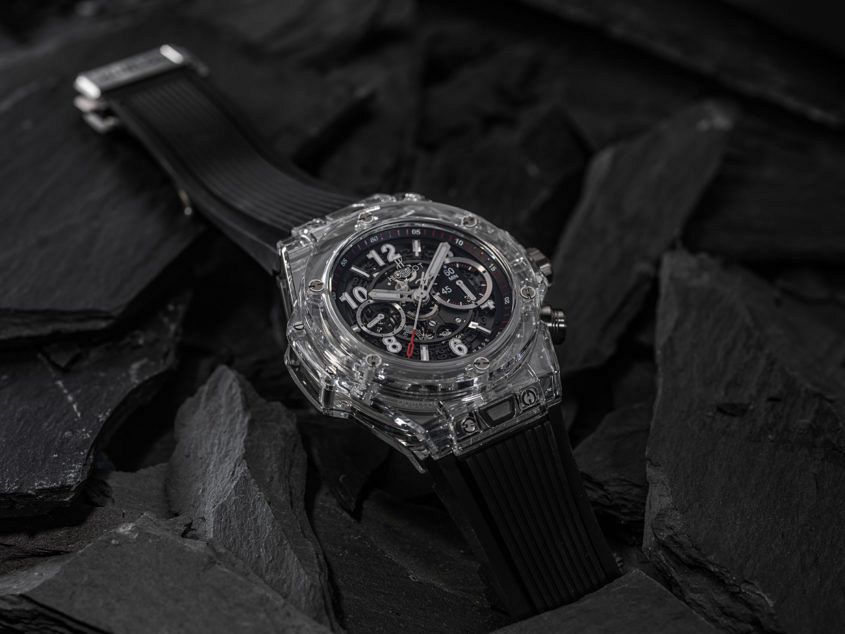 For their next act, Hublot's engineers simplified the Big Bang case construction to make it more resistant and easier to assemble, while also offering greater transparency. The bezel lugs are milled from transparent composite resin. This 'magic' edition of 500 pieces introduced a play of contrasts: a matt-black skeleton dial with a flash of red for the second hand and white lume on the appliqué numerals and hands. The movement was changed to the Unico HUB124 calibre, which has its column wheel positioned on the upper side, taking advantage of the visibility through the skeletonised dial. A black rubber strap draws the focus towards the watch itself. $74,600
5. 2017 Hublot Big Bang Unico Perpetual Calendar Sapphire
Stepping it up a notch mechanically, Hublot introduced its superb calibre HUB1270 into a Big Bang sapphire case. Launched in 2015, the movement combines two of horology's greatest complications – a perpetual calendar and a chronograph. Sapphire has also been used for the dial, so that the function displays (with calendar days and chronograph hours on concentric rings at 6 o'clock, and months and leap years, as well as chronograph hours at 9 o'clock) appear to float above the movement. The clear case-sides allow an enthralling lateral view of the mechanism. $143,000
6. 2017 Big Bang Unico Red & Blue Sapphire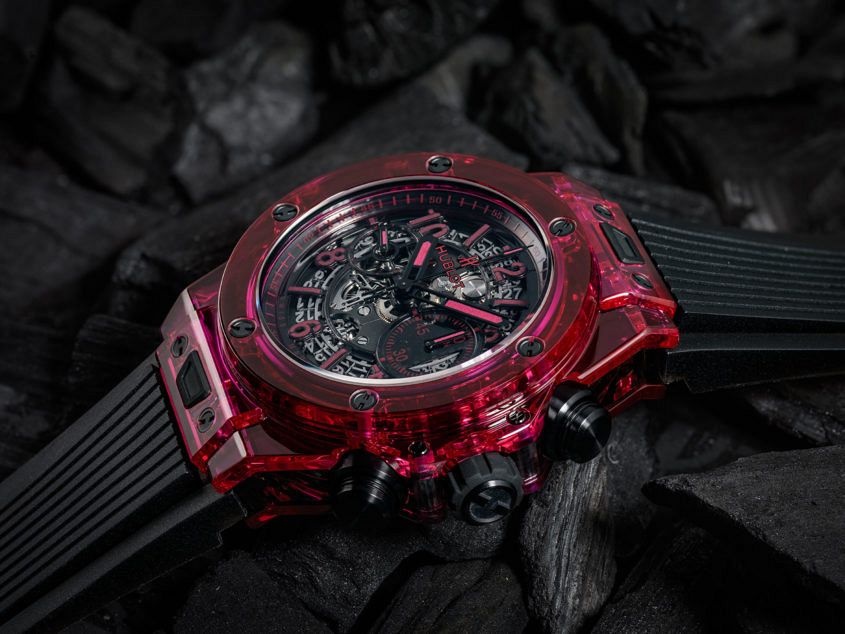 With the simplified case construction enabling Hublot to bring sapphire into the ranks of its more 'regular' Big Bang pieces, the material boffins weren't about to rest on their laurels. Sapphire is transparent and colourless, right? Wrong. Natural sapphire gemstones (corundum) take on different colours due to minute traces of other minerals being present when they form in the earth's crust. In nature, blue sapphires owe their colour to titanium and iron for blue; chromium for red corundum – in other words, rubies.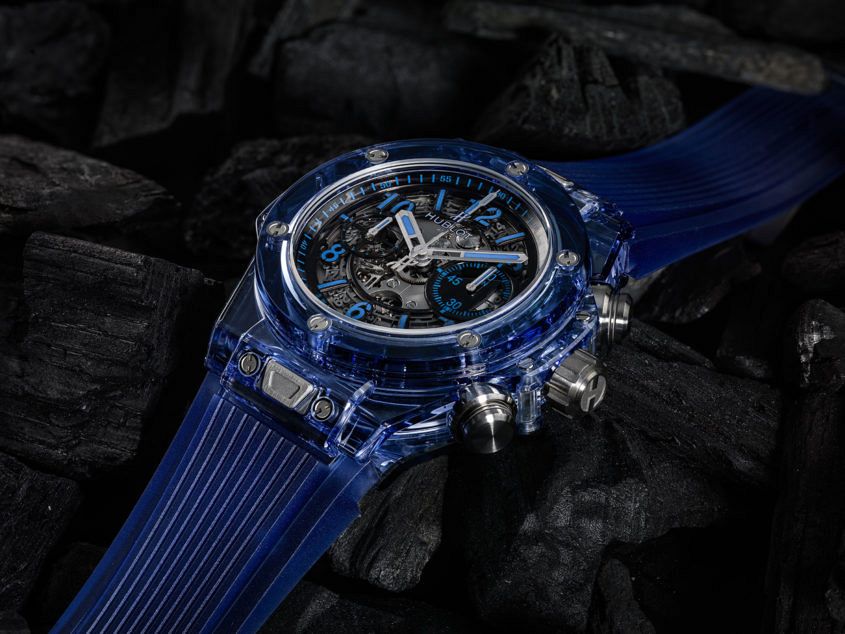 Coloured synthetic sapphires are not new – the French chemist Auguste Verneuil developed them almost 120 years ago; however, the crystallisation process has always been unstable (about as unpredictable in its results as creating grand feu enamel) and clear sapphires without growth curves or gas bubbles were relatively rare. Hublot's researchers have succeeded in developing a crystallisation process (involving temperatures of up to 2050°C) that produces large sapphire blocks of perfect transparency and uniform colour – vivid blue and ruby-red. $95,000 (red), $109,000 (blue)
7. 2017 Spirit of Big Bang Sapphire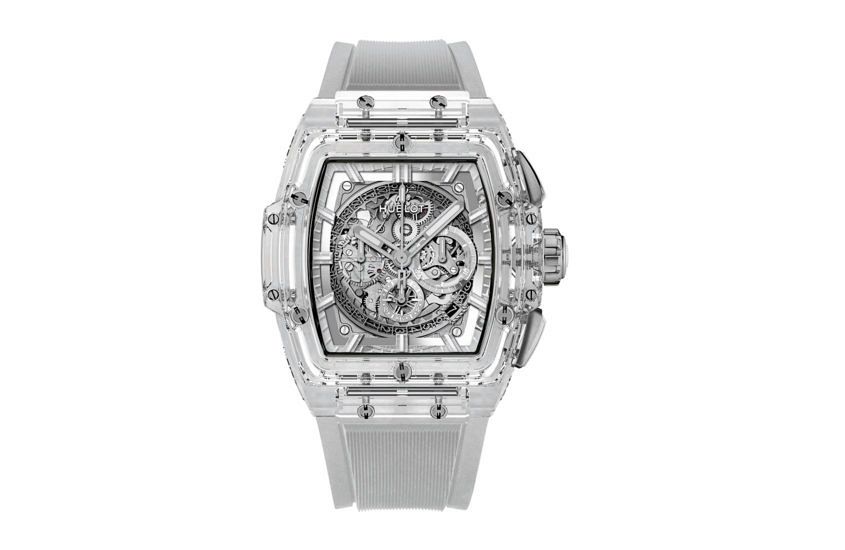 When you have mastered round cases, the logical next step is to try a different shape. With the Spirit of Big Bang, Hublot took on the tonneau. The complex shape demanded a four-part construction, achieved thanks to 3D machining: the upper part of the case (including the bezel), the lower part (including the display caseback) and the two end caps being milled from four separate blocks of sapphire. The barrel shape set an additional challenge for the polishing process, requiring the development of a new machine that could handle the new shape while ensuring a flawless, mirror-smooth finish. Together, the milling and polishing processes represent almost 100 hours of work. The results speak for themselves: the only remaining visible elements on the Spirit of Big Bang are the crown, pushers, case screws, bezel screws and movement components. $102,000
8. 2017 MP-07 Sapphire 40 Days Power Reserve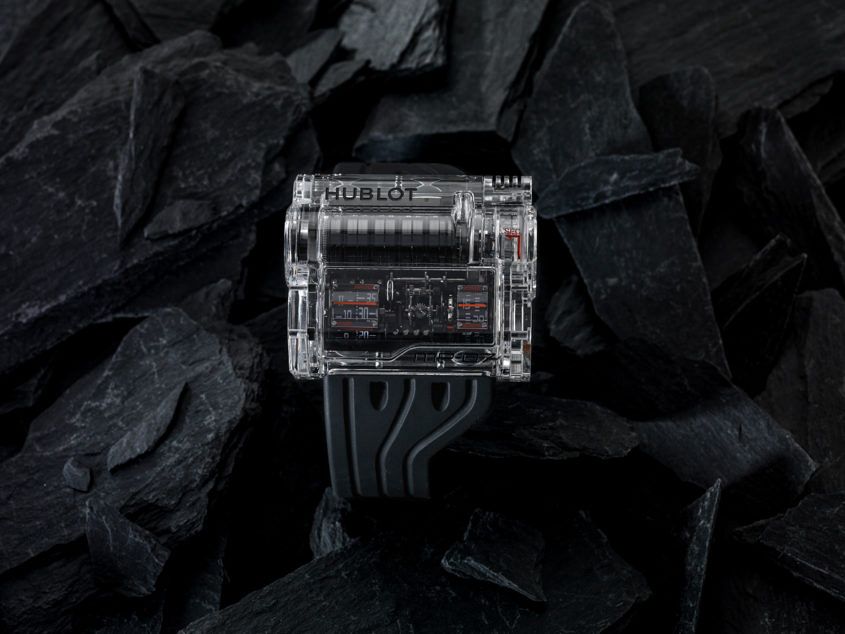 Hip to be square? As a little brother of the MP-05 LaFerrari – although the only "little" thing about it is a slightly reduced power reserve of 42 days, rather than 50 – it was never in question that the MP-07 should be offered with a sapphire case, because it's part of the MP line and because its movement is worth revealing entirely. However, while it shares the same mechanical architecture as its predecessor (vertical tourbillon, and nine rather than 11 series-coupled mainspring barrels), its shape is totally new – and that meant starting from scratch to develop the machining processes for its multiple-part case. $610,000
9. 2017 MP-05 LaFerrari Aperta
Lest big brother should feel left out, Hublot made a new sapphire suit for the MP-05 as well – same shape as the original but this time in nearly-black smoked sapphire. $712,000
10. 2017 Big Bang Unico Sapphire Baguettes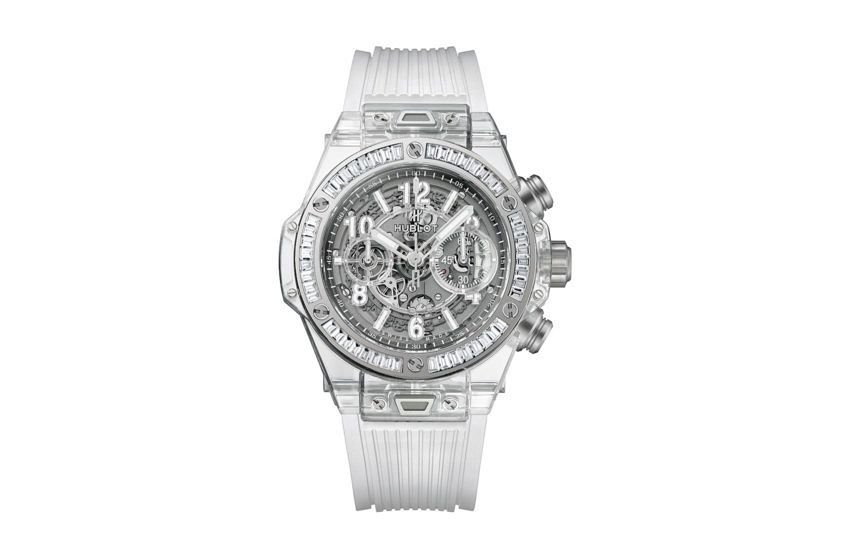 A diamond-set bezel is pretty much a given among the options on most Big Bang models – so it's tempting to ask why it took so long to see it on a sapphire Big Bang. Consider this: setting diamonds into gold is quite easy – it's a soft metal that can be shaped into claws or coaxed over the edge of a stone to hold it in place. Compared to sapphire, gold is like Play-Doh. Sapphire's challenge: how to set diamonds into a material that is almost as hard as a diamond? Hublot isn't revealing its tricks but the fact is, they've done it. And done it with baguettes, which, as any gem-setter will tell you, are a whole lot trickier than round-cuts. It's those sharp corners, you see. $128,000
11. 2017 Big Bang Unico Sapphire Rainbow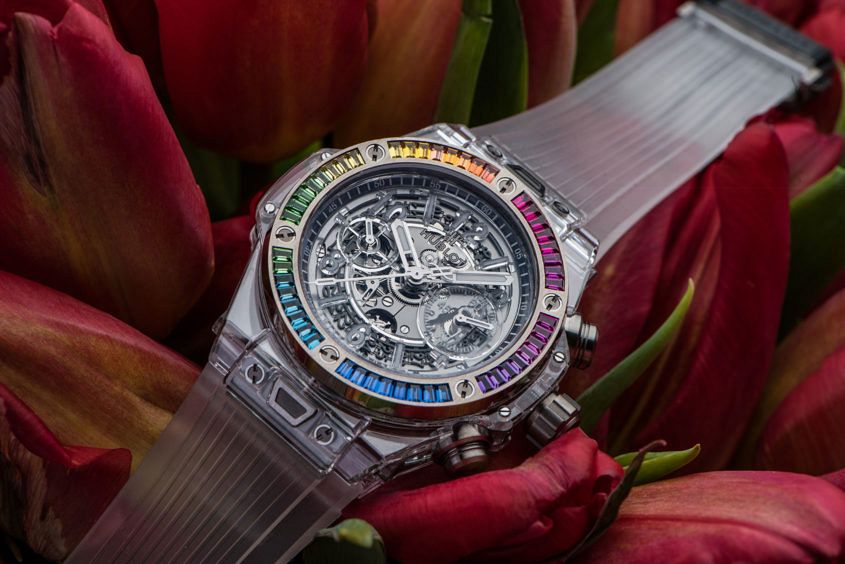 Think it's hard to set the world's hardest substance into sapphire crystal? (You were paying attention to the previous bit, weren't you?) Not hard enough for Hublot, apparently, as it does the same trick with sapphires – the natural gemstone kind – and rubies, topazes and tsavorites. Forty-eight stones in eight graduated colours. And since round-cut stones are apparently too easy for Hublot's jewellers, they are baguette-cut. $108,000
12. 2017 Big Bang Unico Sapphire Usain Bolt for Only Watch 2017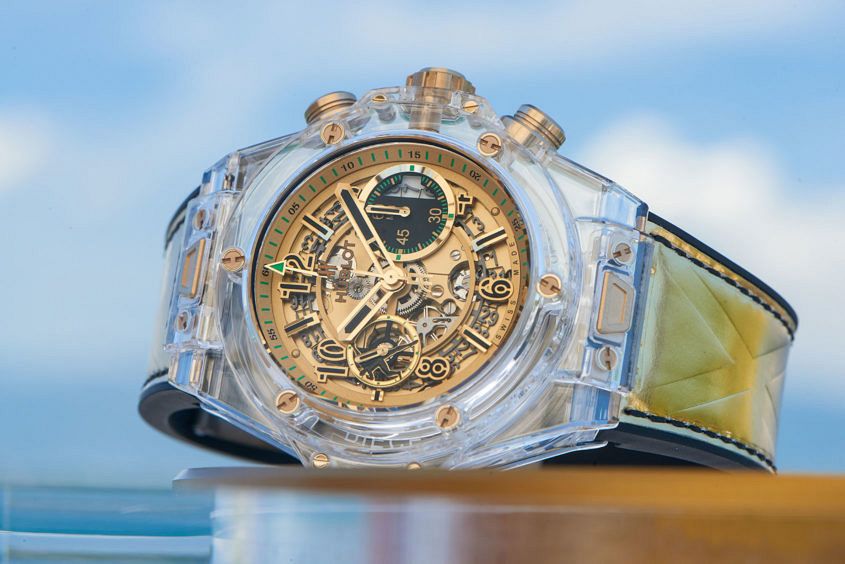 To raise funds for research into Duchenne Muscular Dystrophy, Hublot created a one-off version of its 45mm Big Bang Unico Sapphire for Only Watch – making the association between its extreme materials research and medical research that pushes the boundaries of knowledge. The piece carries Usain Bolt's national colours of gold, green and black, and a miniature sculpture of the athlete in his famous victory pose sits on the counter at 9 o'clock.
13. 2017 Big Bang Unico All Black Sapphire Rainbow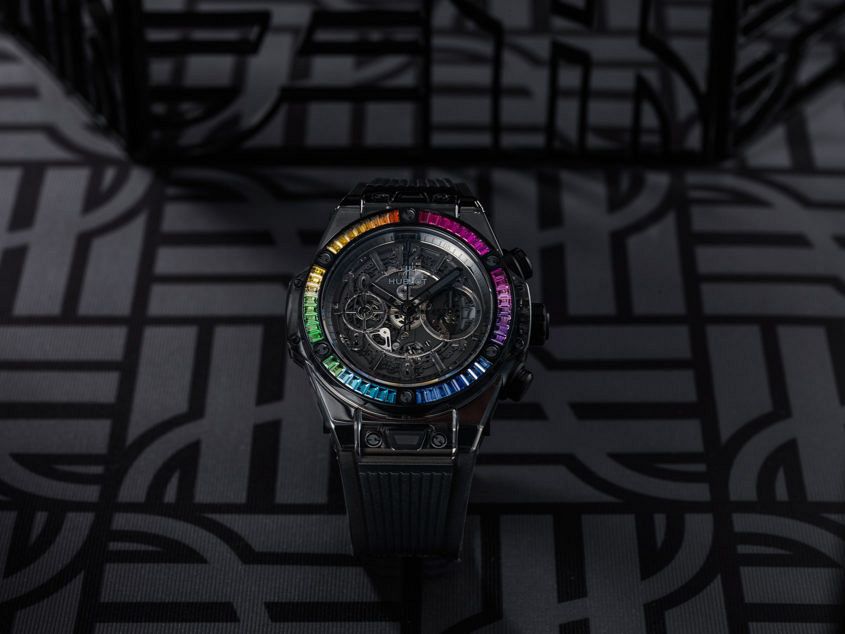 Not content with the rainbow-set bezel on colourless sapphire, Hublot combines the multi-hued gemstones with almost-black smoked sapphire crystal. One of the most dramatic watches we've seen all year, thanks to the bright rainbow — the symbol of peace and love — set against the inky, mysterious case. $114,000
In a short time, Hublot have proven themselves up to the task of mastering the hardest case materials out there (and one of the hardest to work with). After this two-year sapphire spree, we can't help but wonder what's next.