A prototype Audemars Piguet Royal Oak meant for Michael Schumacher has emerged for sale… For $1.5 million
Jamie Weiss
There's a long history of watch brands gifting race car drivers swanky timepieces as rewards for winning races. Jack Heuer famously gifted yellow gold Carreras to Formula 1 Grand Prix winners back in the '70s, leading to those watches becoming a real status symbol among drivers. Turns out Audemars Piguet also planned to do a similar sort of thing for the legendary Michael Schumacher back in the 2000s, but thanks to a quirk of his contract, they never got the chance to do so – meaning the watch never saw the light of day. Until recently, that is. This rarely-seen AP has just emerged for sale on Chrono24, although you'll need a Formula 1 World Champion's bank balance to afford it.
The watch in question is an Audemars Piguet Royal Oak Chronograph ref. 25965BA.OO.1185BA.01 in yellow gold, and the story goes that it was a joint project between Audemars Piguet and the owners of the Indianapolis Motor Speedway. This storied racetrack is well-known as the home of the Indy 500, but from 2000 to 2007, it also hosted the Formula 1 United States Grand Prix – and the Brickyard's owners wanted to do something special to commemorate the first GP there in 2000.
Allegedly, three prototypes were made, each featuring the Indy logo at 12 o'clock as well as "United States Grand Prix" and the date of the race engraved on the caseback, with one ultimately earmarked for the winner of the 2000 United States Grand Prix. Of course, 2000 was the first year of what would be five years of absolute dominance by Schumacher, who not only won the US GP, but 9 of the 17 races that F1 season. However, there was a catch: Schumacher wasn't able to accept the AP, as he was under contract with Omega, meaning the collaboration was never completed.
Ironically, Schumacher would end up ditching Omega in 2010 and becoming an Audemars Piguet ambassador, with the German champ designing his own signature model, the Royal Oak Offshore Michael Schumacher Limited Edition ref. 26568OM. If only he'd signed with the Le Brassus brand back in the day – he would've been able to receive this cool gold Indy chrono.
This is only the second Royal Oak Chronograph "Indianapolis" (as AP officially call the model) to have ever broken cover. Another, case number 287, sold at Antiquorum's New York Important Modern & Vintage Timepieces auction in 2010 for what now seems like the ludicrously low sum of US$27,500. This other model on Chrono24, case number 289, is going for a much more princely sum: US$988,888 (~ AU$1,570,000). It's being sold by a dealer out of Miami, and it's not clear how they got their hands on the watch, but it does come with its original box and papers, including a certificate of authenticity from the Audemars Piguet Museum.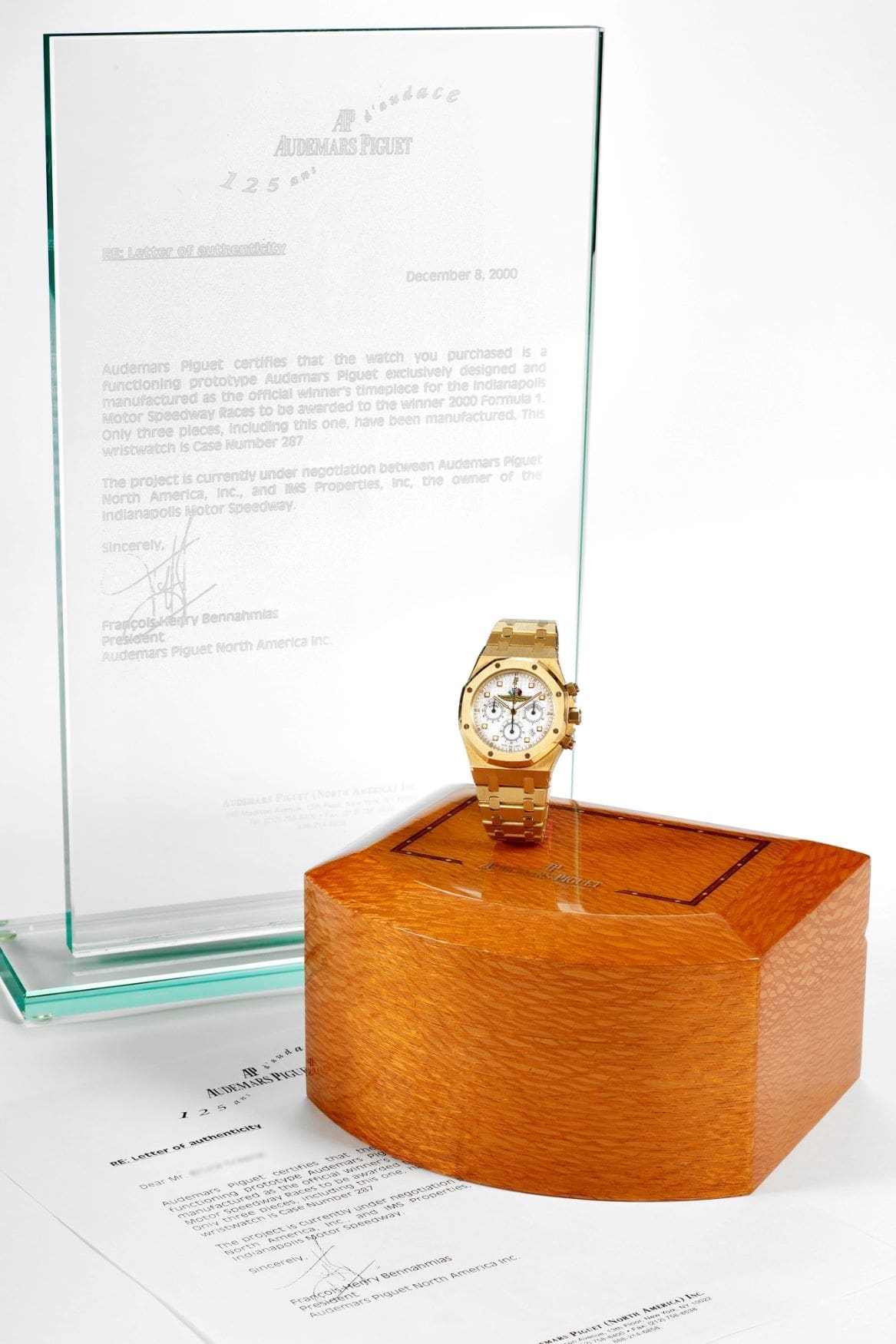 Yes, $1.5 million is a lot to spend on a Royal Oak Chronograph – but for motorsports fans, this rare piece might represent the ultimate grail. If I was to speculate, Schumacher's 2013 accident and subsequent malaise have heightened the value of anything associated with him. What's more romantic than a rare prototype watch from one of the world's most coveted watchmakers, destined for the (arguable) GOAT's wrist, in the first year of his legendary five consecutive world titles with Ferrari, as a gift for a race that no longer exists?
Royal Oaks connected to celebrities often sell for big bucks, too. A black PVD-coated "Jumbo" reportedly owned by the late fashion designer Karl Lagerfeld sold for CHF 937,500 at a Phillips auction last year, for example.