INTRODUCING: The Zenith Defy Classic Skeleton "Night Surfer" Time+Tide Edition
Andrew McUtchen
I was walking through Frankfurt airport yesterday, and saw the strangest thing. A hoodie in a shop that featured both Boss and Russell Athletic logos on the chest. I looked at it quizzically. How odd. But somehow, the kinesis between two dramatically misaligned brands titillated me. I actually went over to the hanger to take a closer look, which practically never happens. And also, it must be said, to check the price. How much of a premium was this bizarre hoodie from fashion's Isle of Dr Moreau expecting to go for? 100-odd Euro. I walked away with my eyebrows raised and wallet untouched, but having found no reason for harm or foul. It wasn't for me, but it sure was a new kind of idea.
Anyone that has an issue with the rapidly unfolding "remix culture" engulfing the world right now – resulting in countless brand times brand products similar to the bizarre hoodie – probably has a problem with opportunism. With trend-chasing in general. And with laziness. As a watch journalist, the very words "Limited Edition", can bring on a sigh that starts deep in your soul. Does that mean a new dial colour? Does that mean some kind of minor, meaningless, purely cosmetic adjustment to the core collection to try and rouse more PR?
We're hoping to counter this fatigue in the way we're going about the watches we are designing and releasing with our favourite brands.
Introducing, a microblasted titanium Defy that is kind of [gradient] blue, with a lume star of dreams
Our weapons of choice against collab fatigue are a one-two punch of courage and creativity. And in the case of the Zenith Defy Classic Skeleton "Night Surfer" Time+Tide Edition, we had buckets of both on hand. That was largely because our partner in creativity crime happens to be one of the most dynamic, detail-oriented players in the game, Mr Romain Marietta, Director of Product and Heritage for Zenith. After an initial concept that promised some pretty cool twists, Romain delivered us not less than five premieres in this model. We will get to those shortly, but first, the name.
The meaning of the "Night Surfer" name
The "Night Surfer" is so named for the inspiration that the vertical gradient dial and Zenith logo – comprised for the first time here in Super-LumiNova® – takes from the sky-show that greets surfers who dare to stay out after sunset. Surfing is a national pastime in Australia. And if you're ever brave enough to wait for a set or two after sunset on a clear night, this is what you'll see: a line of light appears on the horizon. Then, a deepening gradient of blue, fringing to black in the heavens above. And finally, the literal star of the show, an "evening star" appears that, for a time, is the only visible star in the Southern Hemisphere.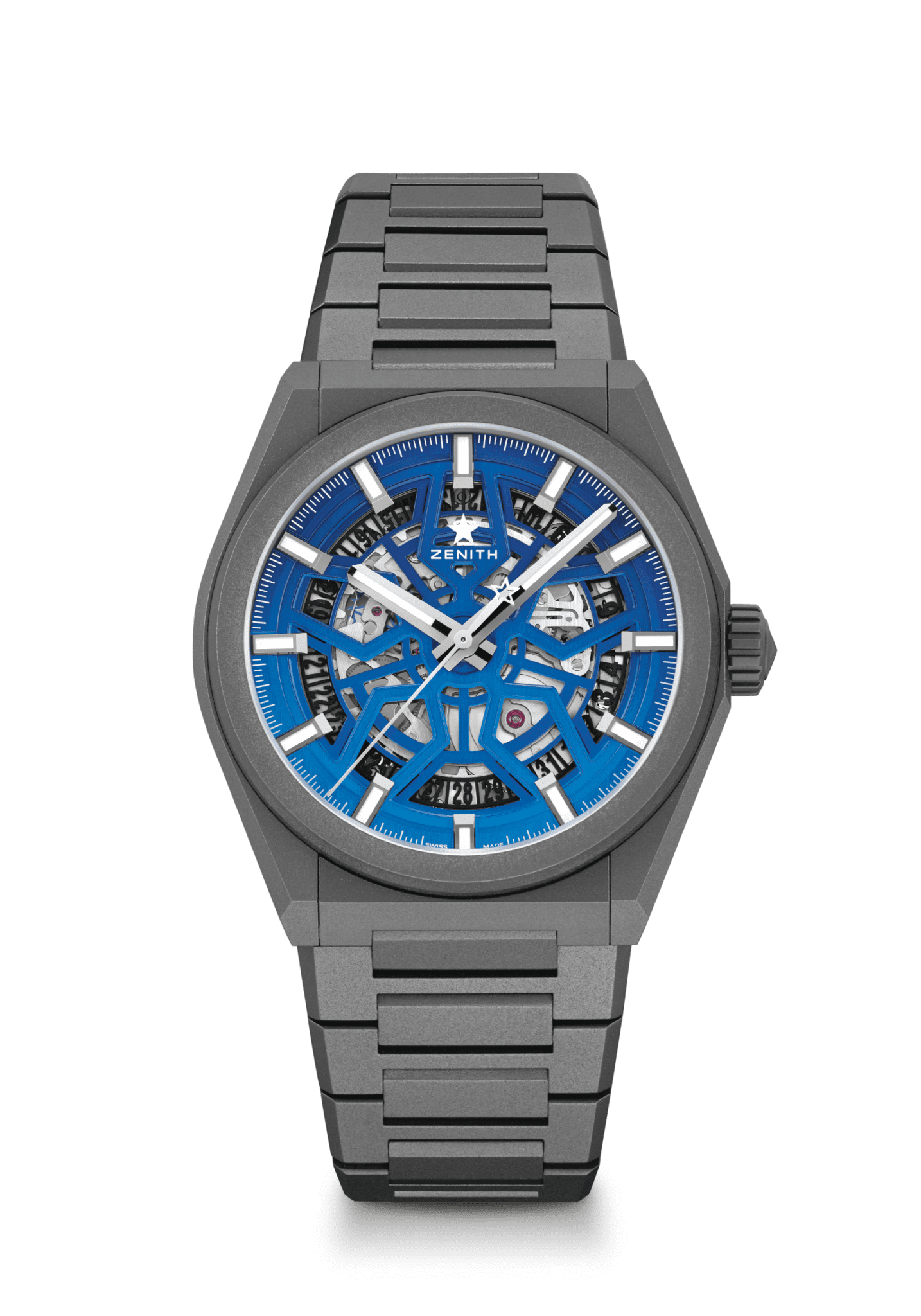 This unforgettable tableau is captured by the vertical gradient blue Night Surfer dial and brightly burning Zenith star logo. If you're wondering if this watch was inspired by the Midnight Defy, the answer is yes. Wholeheartedly yes. The framing for the night-time scene is a desaturated matt black bezel hewn from the same microblasted titanium that is sparingly used across Zenith's range to always great effect. The Shadow. The Edge of Space. The Land Rover Defy 21. These watches are legendary. Together with Time+Tide, Zenith is flexing its creativity in this series of 100 pieces, to be exclusively available on Time+Tide platforms and in Zenith physical and online boutiques worldwide.
What is different about it, aside from the colour scheme?
The premieres contained in the watch are as follows:
The first-ever Zenith watch to have a microblasted titanium bracelet

The first Zenith Defy Classic or Defy Classic Skeleton to have a microblasted titanium case

The first Zenith model to have a Zenith star logo comprised of solid Super-LumiNova®
The first Defy Classic Skeleton with a gradient dial
The first Defy Classic Skeleton with a luminous date frame, allowing the day's date on the skeletonised date wheel to be backlit at night
All the existing attributes of the Defy Classic Skeleton 41mm are on hand to impress, including but not limited to 100 metres water-resistance, a stunning exhibition caseback offering a view of the Elite 670SK calibre, and a featherlight weight of just 95 grams on the wrist. A lug-to-lug measurement of 45mm, coupled with a height of a mere 10.75mm defies any categorisations, appealing to all wrists equally.
The Zenith Defy Classic Skeleton "Night Surfer" Pricing and availability
The Zenith Defy Classic Skeleton "Night Surfer" is limited to 100 pieces (numbered) and priced at $9000 USD / $12,200 AUD. As of publishing, it is available now in our shop, and in Zenith physical and online boutiques worldwide.
SHOP THE ZENITH DEFY CLASSIC SKELETON "NIGHT SURFER" HERE
Specifications
Reference: 97.9000.670/26.M9000
Movement: Elite 670 SK automatic 
Frequency: 28,800 VpH (4 Hz)
Power reserve: 50 hours
Functions: Hours and minutes in the centre. Central seconds hand. Date indication at 6 o'clock
Finishes:  Special oscillating weight with satined finishings
Price $9000 USD / $12,200 AUD
Material: Microblasted Titanium
Water resistance: 10 ATM
Diameter: 41 mm
Thickness: 10.75 mm
Dial: Openworked
Hour markers: Rhodium-plated, faceted and coated with Superluminova SLN C1
Hands : Rhodium-plated, faceted and coated with Superluminova SLN C1
Bracelet & Buckle: Microblasted Titanium bracelet.