Zach's top five watches from Watches & Wonders 2023 (Live Pics)
Zach Blass
Last year during the fair, Andrew and I were able to find the time to sit down and share our top five picks on camera in a full feature-length video. Unfortunately, this year at Watches & Wonders, our schedule was so jam-packed we were unable to find a spare half hour to film a sequel. But, that does not mean I am not going to share my top five watches of Watches & Wonders. After a 40-course meal I feel I have finally digested, here are my top five picks for Watches & Wonders 2023.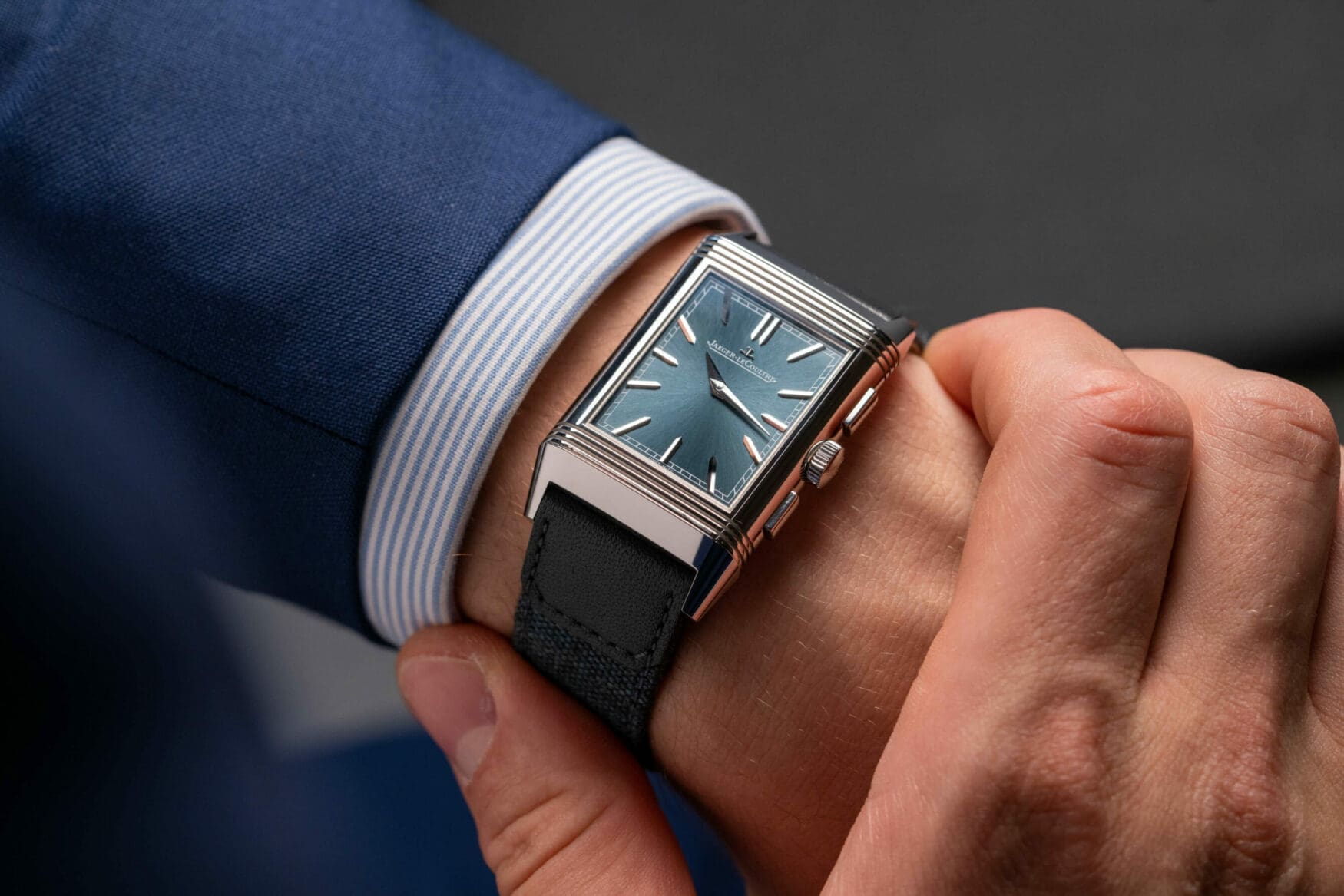 #5: Grand Seiko SLGC001 Tentagraph
The new Grand Seiko SLGC001 Tentagraph is by no means perfect by my own personal standards. The larger size of the watch is a bit of a stretch for my wrist in terms of ideal fit. That being said, I have the utmost respect for the watch and what it stands for. I also recognise factors such as robustness, and perfectionism such as designing the watch to have its pushers and crown perfectly aligned in spite of its modular calibre contribute to its current dimensions.
As a Grand Seiko fanboy, I love the fact that Grand Seiko explored and developed the incredible 9SA5 base further – presenting their first-ever fully mechanical chronograph watch. Size aside, the watch is stunning in my book. I have always dug the Mt. Iwate pattern seen on Grand Seiko dials, and the celebratory indigo blue or "Japan blue" the manufacture reserves for signature milestone releases is a very handsome and versatile shade. So, for me its probably the road this release paves the way for, rather than the release itself, that really excites me. Whether more complications are built upon the 9SA5 base, or if the 9SC5 finds its way into a smaller watch, I am super excited for what is to come down the line.
| | |
| --- | --- |
| Brand | Grand Seiko |
| Model | SLGC001 'Tentagraph' |
| Case Dimensions | 43.2mm (D) x 15.3mm (T) x 51.5mm (L2L) |
| Case Material | High-intensity titanium |
| Water Resistance | 100m (screw-down crown) |
| Dial | Blue Mt. Iwate dial |
| Crystal | Sapphire crystal and caseback |
| Bracelet/Strap | High-intensity titanium bracelet, three-fold clasp with push button release |
| Movement | In-house automatic hi-beat 9SC5 |
| Power Reserve | 72 hours |
| Functions | Hours, minutes, running seconds, chronograph, date |
| Availability | Now |
| Price | A$20,500 / US$13,700 |
#4: Rolex Oyster Perpetual "Celebration Dial"
I know this release is a tad polarising, but if we are picking sides I am certainly standing in defence of the release. I love the concept, and I enjoy seeing this playful side of Rolex – especially in a proportionally tamer format. Rolex has shown their playful side before, but these pieces were typically in the upper echelon of their catalogue – not just "unobtanium" due to availability, but also price as well. The Oyster Perpetual "Celebration Dial" however is among their entry-level watches, the OP their most affordable collection. And, even with its special-motif dial, the price in each size, 31mm, 36mm, and 41mm, is equal to its peers.
Ultimately, what I also really like, is the cheeky nod to the Stella-inspired OP collection that took the watch world by storm in recent years – with bubbles in yellow, green, coral red, turquoise, and candy pink shades. It also makes me think of the OP cookie jar artwork we commissioned for our NOW Buying Guide, so, overall, this piece strikes a chord for me due to its fun vibes, the smile it brings to my face, its atypical nature within the context of Rolex, and its status as a certified conversation piece. I believe the 41mm is pictured above, but I would go for the 36mm.
Brand
Rolex
Model
Oyster Perpetual "Celebration Dial"
Reference Number
277200
126000
124300
Case Dimensions
31mm (D) x 10.6mm (T) x 36.6mm (L2L)
36mm (D) x 11.6mm (T) x 43.5mm (L2L)
41mm (D) x 12mm (T) x 47.4mm (L2L)
Case Material
Oystersteel (904L stainless steel)
Water Resistance
100 metres (screw-down crown)
Dial
Turqoise blue lacquer
Crystal(s)
Sapphire crystal
Strap
Oystersteel three-link bracelet
Lug Width
16mm
20mm
21mm
Movement
Calibre 2232 (OP 31)
Calibre 3230 (OP 36, OP 41)
Power Reserve
55 hours (OP 31)
70 hours (OP 36, OP 41)
Functions
Hours, minutes, seconds
Availability
Now
Price
A$8,000 / US$5,650 (OP 31)
A$8,600 / US$6,100 (OP 36)
A$9,050 / US$6,400 (OP 41)
#3: Tudor Black Bay 54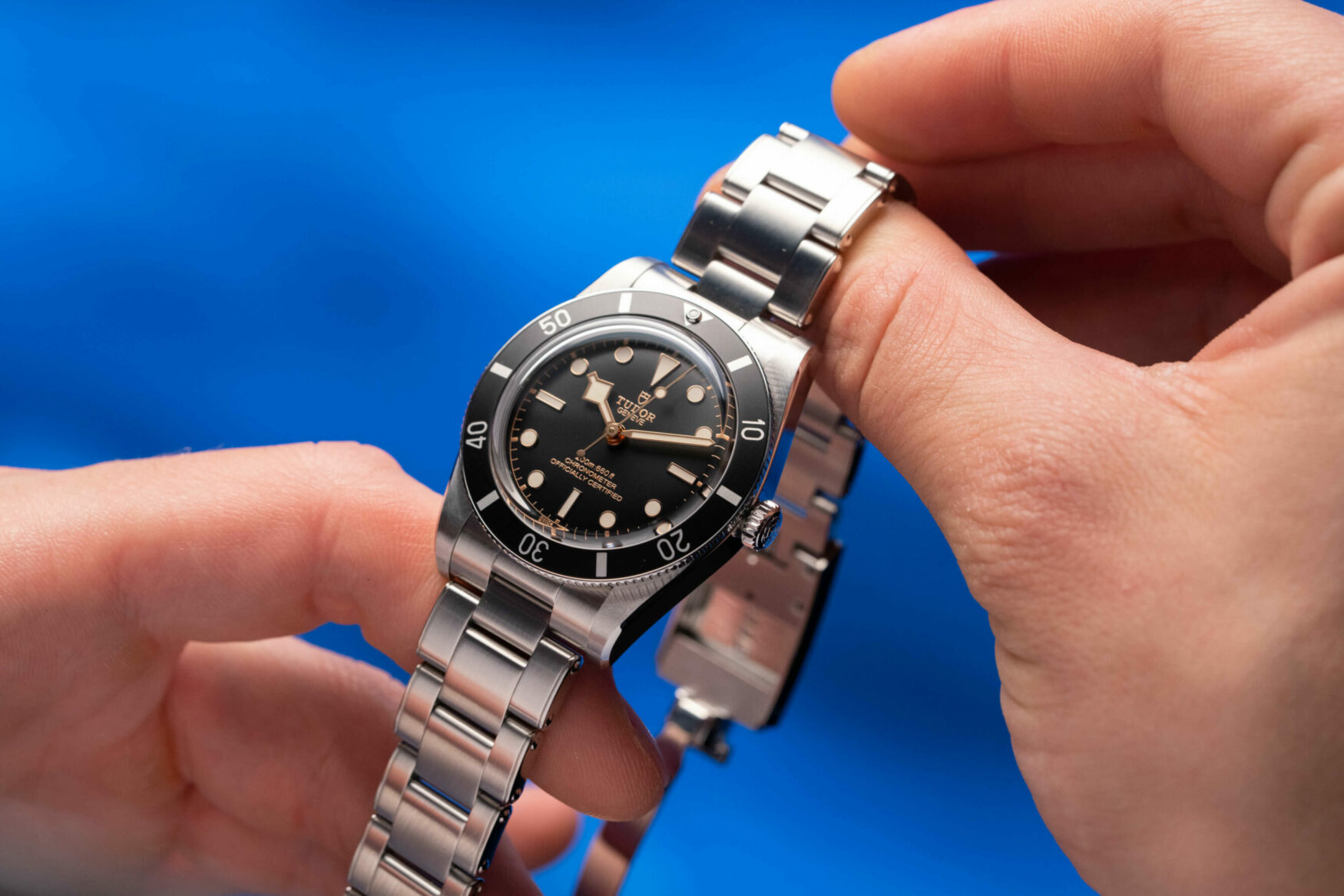 If the list were which watches I am most likely to purchase from the fair, the Tudor Black Bay 54 would 100% be #1. In fact, were it not for the lengthy lines at the airport that left me with little time to get to my gate to board my flight home, I would have purchased the watch before getting back to NYC. It was in the case at the Zurich airport pop-up boutique, and I could have purchased it tax-free, but the salesperson kindly informed me that the time it would take to properly fill out all the customs paperwork would likely render me late for my flight. In a sad turn of irony, my boarding time ended up being delayed. So, it turned out I probably did have time to make the transaction – an absolute kick in the nuts. But, enough about that. Sorry, I am venting here.
Why do I favour this watch? Well for me this is the ultimate Black Bay in Tudor's catalogue, surpassing even the BB58 in my book. This is the closest you can get to the original Submariner watch without literally chasing down a vintage piece. One of the most desired Submariner watches in the world is the ref. 6538 "Big Crown"  worn by Sean Connery in the James Bond film Dr. No. In collector-grade condition, that watch will set you back six-figures – as seen here in this listing from Wind Vintage. The diameter of the 6538, and other early Submariners, is 37.5mm. So, as I alluded, the 37mm Tudor Black Bay 54mm is as close as it gets and is a Wilsdorf-group produced watch – basically a Historiques model for Tudor/Rolex. Also, the fact it is armed with the T-fit clasp on its bracelet assuages the one nagging plague that led me to eventually sell both the OG BB58 and Navy Blue BB58. And, considering I just traded my Submariner to afford my Rolex Explorer ref. 1016, this release is the perfect way to fill that hole back in without creating too much of a hole in my wallet.
| | |
| --- | --- |
| Brand | Tudor |
| Model | Black Bay 54 |
| Case Dimensions | 37mm (D) x 11.24mm (T) x 44mm (L2L) |
| Case Material | Stainless steel |
| Water Resistance | 200m (screw-down crown) |
| Crystal(s) | Sapphire |
| Dial | Black and gilt |
| Lug Width | 20mm |
| Strap | Steel bracelet or black rubber with steel fitted end links |
| Movement | Tudor MT5400 |
| Power Reserve | 70 hours |
| Availability | Available now |
| Price | AU$5,140 / US$3,625 (Rubber strap), AU$5,440 / US$3,850 (Bracelet) |
#2: Jaeger-LeCoultre Reverso Tribute Chronograph
Holy moly, this Reverso Tribute Chronograph is the perfect example of why Jaeger-LeCoultre is known as the watchmakers' watchmaker. Square/rectangular calibres inherently have an extra layer of difficulty to develop and manufacture, but JLC was able to do so with a 30-minute retrograde chronograph integrated into a second display. The obvious advantage of a watch that can have two dials is that it can become a chameleon, aesthetically fitting a greater range of purposes. In its standard position, with the mid-carriage of the case having the crown on the right, the only tell it is a chronograph watch is the pushers flanking the crown. It front display is a crisp and clean two-hander with a gorgeous blue-grey sunburst dial.
That being said, I would probably wear this watch the majority of the time with its back dial front and centre. Displaying the hours and minutes identical to the two hands on the front-dial, this reverse side displays a wonderful view of the complicated and decorated calibre. We often jest we wish we could wear our watches upside down just to look at the movement. But, of course, this would typically mean we would not still be able to tell the time. Here it is not fantasy, it is reality – and it's an option available on demand as desired. At a dinner party, I would keep the blue dial on display  – but would probably also be itching to reveal the party trick awaiting on the other side. What also really stood out to me is how well the chronograph is engineered, the start/stop pusher nice and crisp thanks to the column-wheel and the reset pushers like slicing through melted butter – you barely even feel the click when the pusher is depressed! My only reservations for purchase with this watch is the US$21.4K I do not have to spend right now, and the 49.4mm case length that is not the most ideal for my smaller wrist.
Brand
Jaeger-LeCoultre
Model
Reverso Tribute Chronograph
Case Dimensions
29.9mm (D) x 11.14mm (T) x 49,.4mm (L2L)
Case Material
Stainless steel
Water Resistance
30m
Dial
Recto dial: Blue, sunray brushed
Verso dial: Black, opaline
Crystal(s)
Sapphire crystals
Bracelet/Strap
Interchangeable navy blue and black calf leather straps
Movement
In-house manually wound calibre 860
Power Reserve
52 hours
Functions
Hours/minutes (identical on front and back), chronograph with retrograde 30-minute elapsed minutes register
Availability
Now
Price
US$21,400
#1: Cartier Privé Tank Normale (on the bracelet)
Of all the watches presented at the fair, the Cartier Privé Tank Normale is the one that had me wading into a dangerous line of thought – line itemising the potential worth of my expendable organs. Who needs two kidneys right? I get that for some a watch like this garners a sarcastic big whoop. It doesn't have crazy bells and whistles, record-breaking spec, or a stunning hand-decorated calibre on display. Where this watch wins for me is its perfect timeless design, and its maintained proportions and through line towards the original 1917 Tank watch – which easily has cemented itself on the Mt. Rushmore of iconic watch designs. It is immune to changing tides and trends, the Tank will always be in fashion. It has never lost favour or status in its over 100-year continuous run.
For my smaller wrist, the 25.7mm diameter and 32.6mm lug-to-lug would wear perfectly. The bevelled sapphire crystal is evocative of the more bubbly acrylic crystals of the past, and has a diamond-like effect in its shape and how it reflects light (in a manner that does not obstruct dial legibility). Of all the configurations, I would pick the platinum model on the case-matching seven-link brick bracelet. It is the ultimate stealth flex, and the articulation of the bracelet links is super comfortable on the wrist. The only thing that would have heightened this design even further, at least in my eyes, would be a Breguet-style handset. But, in a rocketing vintage Cartier market, that may have been too faithful for mega-collectors tastes.
Brand
Cartier
Model
Privé Tank Normale
Case Dimensions
Normale: 25.7mm (D) x 32.6 (L2L)
Normale Skeleton: 27.8mm (D) x 35.2mm (L2L)
Case Material
Normale: Yellow gold or platinum
Normale Skeleton: Yellow gold, platinum, diamond-set platinum
Water Resistance
30m
Dial
Normale: White
Normale Skeleton: Openworked
Crystal
Sapphire crystal
Bracelet/Strap
Normale: Leather strap with ardillon buckle or case-matching bracelet
Normale Skeleton: Leather strap with ardillon buckle
Movement
Normale: Manually wound calibre 070
Normale Skeleton: Manually wound calibre 9628 MC
Power Reserve
38 hours
Functions
Hours, minutes
Availability
Limited Editions
Normale: Yellow gold / platinum on strap (200 pcs.), on bracelet (100 pcs.)
Normale Skeleton: Yellow gold / platinum (50 pcs.), diamond-set platinum (20 pcs.)
Price
P.O.A