Zach's five favourite watches of 2021
Zach Blass
This past year has created a lot of firsts for me, both in life and in this industry. These included my first time visiting Geneva and Dubai. My first manufacture visit, spending time with the wonderful team at Rolex/Tudor. My first red-carpet event in Hollywood and, most recently, my first time skiing courtesy of Hublot in Aspen. But it was also a really exciting year in our world of watches with record-breaking releases, new calibers and Tudor dropping novelties in every Olympic-medal metal. So, after everything I have seen and experienced this year, here are my five favourite watches of 2021.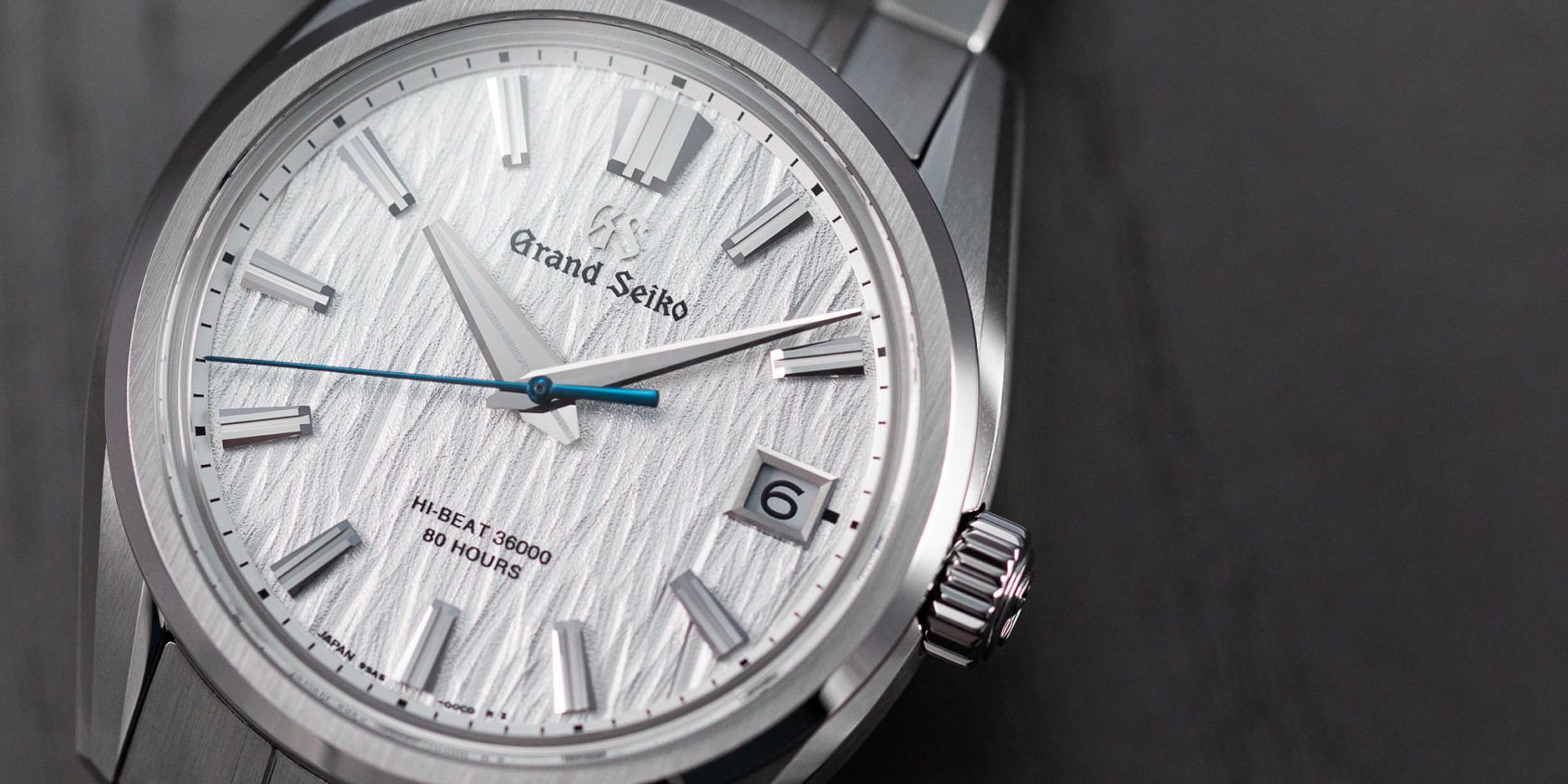 The "Daily Driver": Grand Seiko SLGH005 "White Birch"
While the "White Birch" dial is definitely stunning, what I love about this piece is that it represents the next era of Grand Seiko design and technology in standard production. It is perfect for me on paper, but to be honest it is not a watch I have rushed to purchase for my collection. So, why has it made my list? Well, I can say with absolute certainty that if I did not have a SBGA211 "Snowflake" already in my collection I would have immediately purchased the Grand Seiko SLGH005. It is on my collector bucket list at this point to own a watch with the new in-house dual-impulse escapement 9SA5 caliber powering it. But after a serious internal debate, I somehow managed to resist the temptation to purchase it. The fact it was so hard for me to hold off on purchasing it, means it is pretty clear I really love it. I have decided, however, to wait for its sequels. For a different dial tone and texture I do not already have something similar to. The SLGH005, upon its release, became a favourite for me because it signalled loud and clear that the 9SA5 will have a starring role in future releases. I eagerly await the next reference to sport the incredible caliber.
The "Sexy Sport": Girard Perregaux Laureato Eternity Editions
The Girard-Perregaux Laureato is slowly getting more and more of its due in recent years, with the market catching onto the fact that is not just an alternative to the Royal Oak and Nautilus – it is, in fact, a strong contender in its own right. Sure it catches the eye due to the familiar form of an integrated stainless-steel design, but the Dubai Watch Week debuting Eternity Limited Editions are extremely captivating in the metal thanks to their guilloched enamels dials. It is not often you find a sports watch with an enamel dial, and you certainly won't find a Royal Oak or Nautilus with one. You really have to hold it in hand to take in the depth of its gorgeous tone and texture, with the little details strongly considered – i.e the 1:1 matching calendar date window that does not interrupt the dial in the slightest.
The "Time Traveling Classic": Vacheron Constantin Historiques American 1921 36.5mm
I know I recently professed my hatred for asymmetrical running seconds registers, but when an entire dial is asymmetric for whatever reason I don't get "the ick". The Vacheron Constantin Historiques American 1921 36.5mm embodies the best of horology during the "roaring 20s", as well as representing a time where traditional watch manufacturers such as Vacheron Constantin refused to play it safe with out-of-the-box, art-deco designs. This 36.5mm variant of the "dandy driver's" watch is not much larger than the one that inspired it from 1919: the ref. 12070. The ref. 12070 had a super compact lug-to-lug measurement of 37.9mm, and the modern 36.5mm American 1921 is not much larger clocking in at 36.5mm in diameter, 7.41mm thick, and 41.8mm lug-to-lug. It is as close as you can get to the classic version of the watch in the modern catalogue.
What I really appreciate about this watch, aside from its very attractive aesthetic, is the fact that Vacheron utilised the same caliber found in the larger 40mm variant: the in-house caliber 4400 AS. Many brands cop-out and opt for less glamorous calibers in their smaller timepieces, not Vacheron Constantin though. All genders and wrist sizes are treated to its wonderful architecture and decorations, with a sizable centre wheel in its actual dead centre evoking pocket watch and movement designs of the era it was inspired by.
The "Holy Horology Batman": Jaeger-LeCoultre Hybris Mechanica calibre 185 Quadriptyque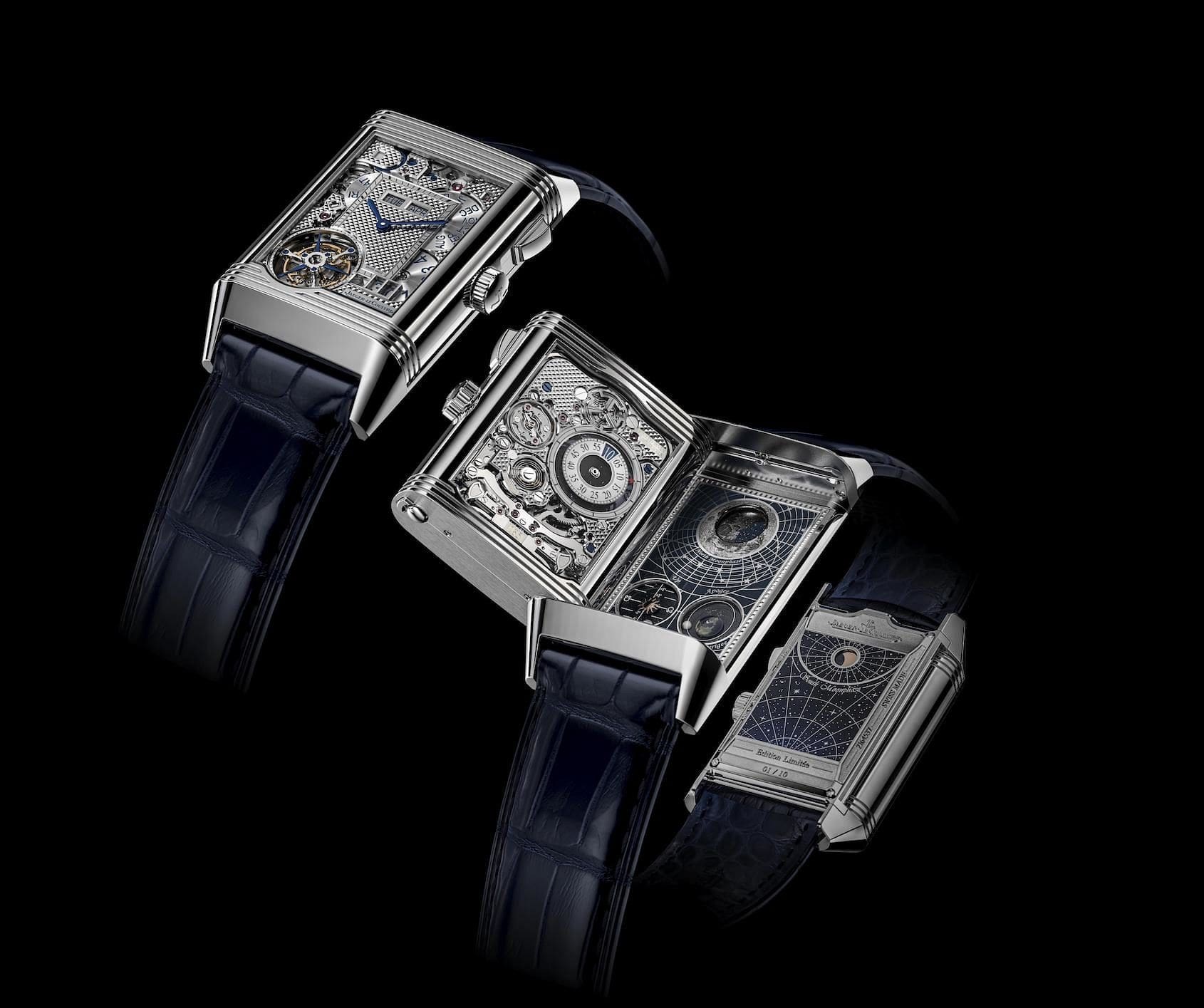 In a world wear some enthusiasts often feel we have to settle for the same references with new dial colours, Jaeger-LeCoulture reminded us all at Watches & Wonders that there is still some serious horological development happening today. Not one, nor two or three, the Jaeger-LeCoultre Hybris Mechanica calibre 185 Quadriptyque is the first watch to ever feature four dials – each of which hosts their own heavy-hitting complications. Just how many complications are there? The answer: 11. Across each of the dials you have the hours, minutes, tourbillon (indicating the Second), instantaneous Perpetual Calendar, Grande Date, Day, Month, Leap Year, and Night & Day on the first dial. A jumping digital hour, minutes, and minute repeater (with system avoiding dead time) on the second dial. On the third dial you have the Northern Hemisphere moonphase, Draconic Lunar Cycle (height of the moon), Anomalistic Lunar Cycle (apogee and perigee), and Month, and, lastly, on the fourth dial you have a Southern Hemisphere Moon Phase. I mean…. WHAT! Absolutely insane that this is all packed into a 31mm x 15.15mm x  51.2mm case.
The "Salmon of the Year": A. Lange & Söhne Lange 1 Perpetual Calendar 345.056
When the A. Lange & Söhne Lange 1 Perpetual Calendar 345.056 was first announced, I immediately wished two things: that my wrist and wallet were bigger. The 41.9mm white gold watch is precious inside and out, with a wonderfully colour-contrasting solid pink gold dial that exudes my favourite salmon hue. Not too peachy, nor too pink, its tone is incredibly on point and its plethora of complications masterfully laid out. All in accordance with the golden ratio, you have an operatic date, day, month, moonphase, and leap year complications in addition to the standard hours, minutes, and seconds. Flip it over and its equally appealing, with the in-house L021.3 masterfully decorated in their distinct German style with a variety of textures and finishes.