#WRUW – Time+Tide readers share their best wrist shots and it's root beer all-round…
Time+Tide
A couple of weeks ago, in a moment of sheer lockdown boredom, Andrew snapped a shot of his Rolex GMT-Master II Root Beer with the caption #WRUW, which no doubt we all know is an acronym for 'What are you wearing?' But not, in any way, referring to clothing. Watches only.
In the truly spirited fashion of a Time+Tide reader (all enthusiasts of the hashtag #WhatAreYouWearing), we were flooded with wristshots as people shared what they were wearing in that moment.
It might just be that everyone is stuck at home in some form of lockdown, or it might be that people were feeling generous and wanted to share a moment out of their day, but our DMs were suddenly full to the brim with images of beautiful watches. Paper plane icons for days. So to celebrate some of those fine timepieces for those that were napping, and in case you missed it on our Instagram stories, we've put together a collection of some standouts. Starting with a big round of root beers…
#WRUW
There were a lot of people drinking root beer last week, enjoying that rich chocolatey bezel and two-tone magnificence.
All dressed up with nowhere to go? The Rolex Datejust looks as great stuck at home as it does out in the wild, exploring. The same goes for any Audemars Piguet Royal Oak chronograph. And wow, the dial of that glistening blue DJ….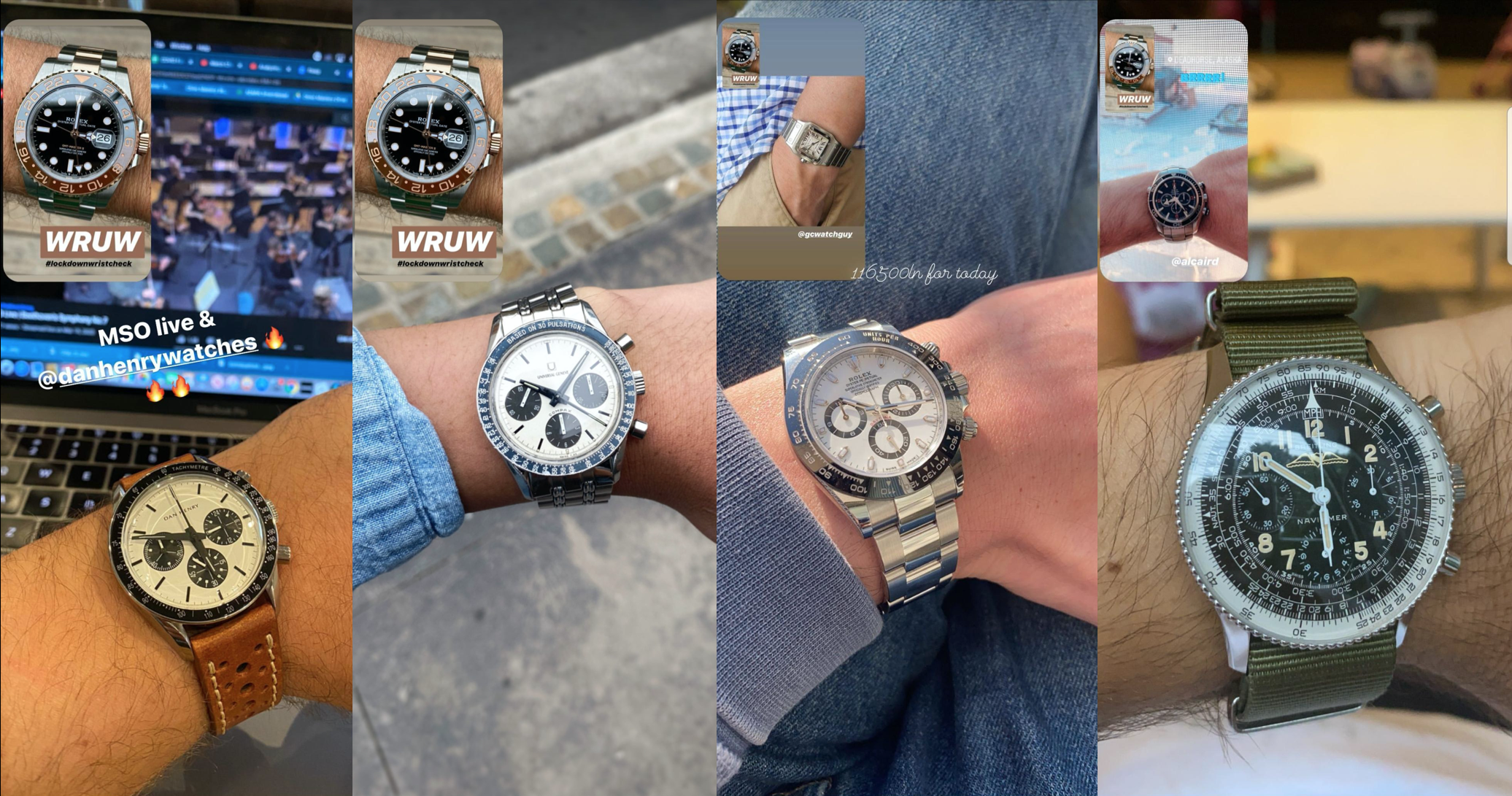 While you might not have thought of it, having a chronograph in times of cabin fever is a very good thing. You can pinpoint, down to the second, the exact moment you lose your grip on reality.
An Omega Speedmaster CK 2998 with pulsations scale isn't something you see every day. Nor do you see a Timex Q on a matching leather strap very often.
Sports watches on bracelets. It doesn't get much better than that.
Thanks to all that responded, see you at the next #wruw!