Wrist roles: The 6 most interesting watches at the Emmys
D.C. Hannay
Awards shows are always target-rich environments for some prime celebrity watchspotting, and the 74th Annual Primetime Emmys were no exception. Here's a quick look at some of the best spots from among those award-winning wrists.
Jason Bateman – Vintage Rolex Daytona 6263
Ozark's Jason Bateman loves a vintage timepiece, and his '70s Rolex Daytona is one of the best. Although not a "Paul Newman" reference, his 6263 has that classic panda dial that collectors covet. Unlike his character Marty Byrde's choices on the Netflix drama, Jason made an excellent decision with this pickup, especially considering the insane appreciation for all things Daytona in the ensuing years.
Kieran Culkin – IWC Pilot's Watch with slate dial
Kieran Culkin's character Roman Roy on HBO's much-vaunted Succession may be an immature brat, but his choice in wristwear is one that shows careful consideration. He's pictured here at an Emmy party wearing a boatload of beads on one wrist, and an utterly tasty IWC Pilot's watch on the other, a 36mm version featuring the too-cool slate-coloured dial. The do-it-all IWC in a great size fits his casual look perfectly, and the less commonly seen dial colour really stands out.
Sebastian Stan – Bulgari Octofinissimo Sejima Edition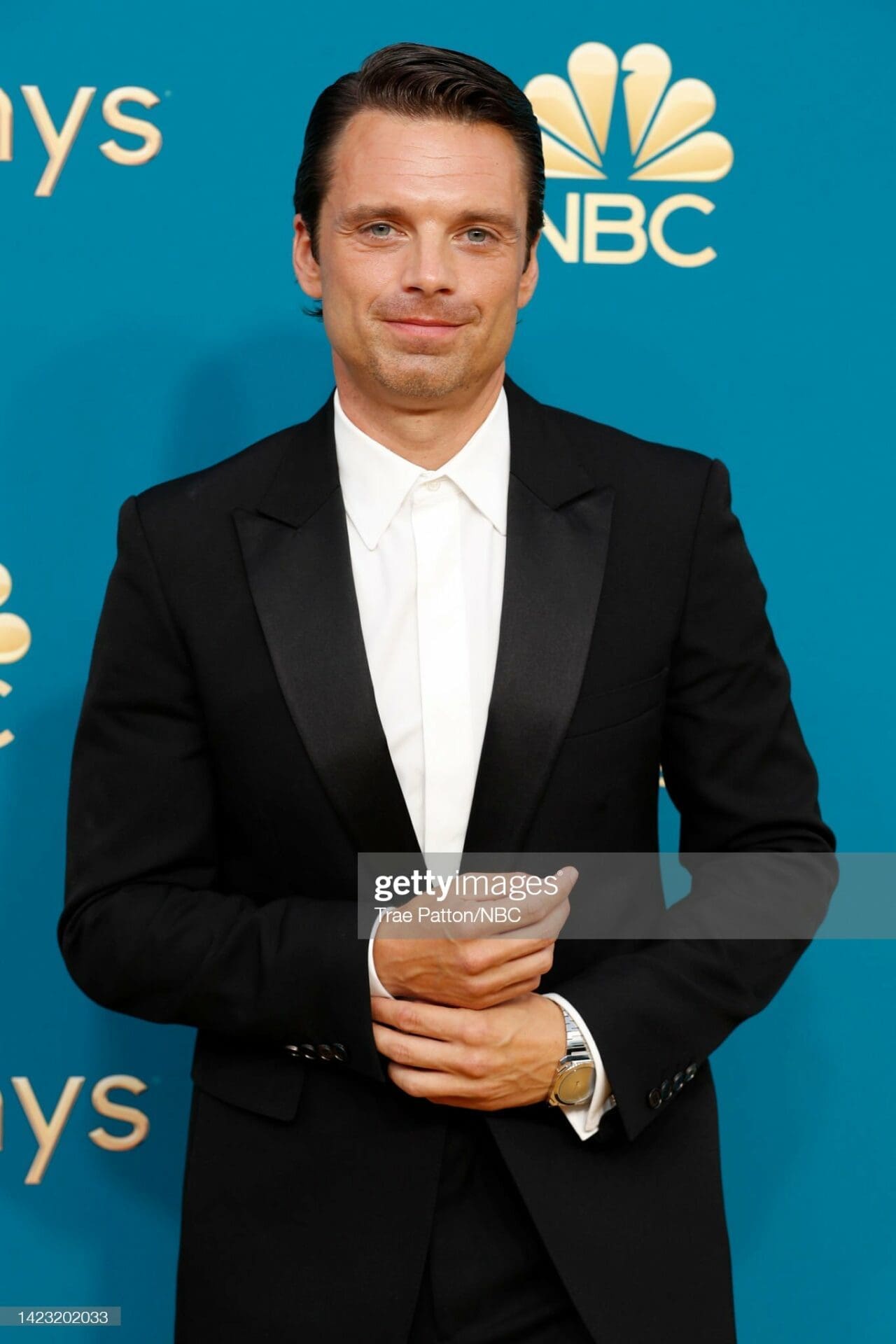 Sebastian Stan rocked the Emmys, winning Outstanding Lead Actor for his portrayal of Motley Crue drummer Tommy Lee in the Hulu miniseries Pam & Tommy. He rocked the fit as well, accessorising with the ultra-hot, just-released Bulgari Octofinissimo Sejima Edition strapped to his wrist. Fergus Nash broke it down here when it was released during the recent Geneva Watch Days, and it's a monochromatic stunner of an integrated bracelet design icon. Although Sebastian is famous for his role as The Winter Soldier in the Marvel flicks, this ultra-polished sculptural beauty would be the perfect watch for The Silver Surfer, dontcha think?
Hannah Einbinder – Omega Tresor
Actress, writer, and comedian Hannah Einbinder's star is definitely on he rise, and her bold, glittery timepiece suits her perfectly. She was nominated this year for her role as a downtrodden comedy writer on HBO Max's Hacks, but was suited for success at the Emmys, flaunting her style in a lush, caramel-coloured velvet suit at the HBO party. On her wrist? A gorgeous Omega Tresor in steel, with diamond-paved lugs and bezel. It's flashy and elegant all at once, and the exact right complement to her easygoing-yet-sophisticated look.
Phil Dunster – Omega Speedmaster '57 Co-Axial Master Chronometer
Phil Dunster may play the cad as bad-boy football phenom Jamie Tartt (doo-doo do-doo-do-doo) in the Apple+ megahit Ted Lasso, but off the pitch, he's one stylish guy. Here he is playing nice with the paparazzi in a retro burgundy jacket with black lapel, synched up perfectly to his wristwear. Phil stepped out strapped to a real watch lover's timepiece: the Omega Speedmaster '57 Co-Axial Master Chronometer, with a coordinating wine-coloured dial. Besides the gorgeous dial, the vintage-flavoured Speedy features a steel bezel, broad arrow handset, and the highly regarded Co-Axial Master Chronometer movement pioneered by watchmaking legend George Daniels.
Jordan Temple – Movado Museum Watch and Bulova Accutron (United Airlines 25 Year Service Award)
Jordan Temple may not be a household name, but he walked away with the category for "Most Out-There Wrist Statement". Temple is a standup comedian/actor/producer/writer (that's a lot of hyphens), and was at the Emmys after being nominated for Outstanding Comedy Series (as producer) for ABC's Abbott Elementary. He didn't win, but definitely won wrist game points, dunking on everyone with not one, but two watches worn outside the cuff.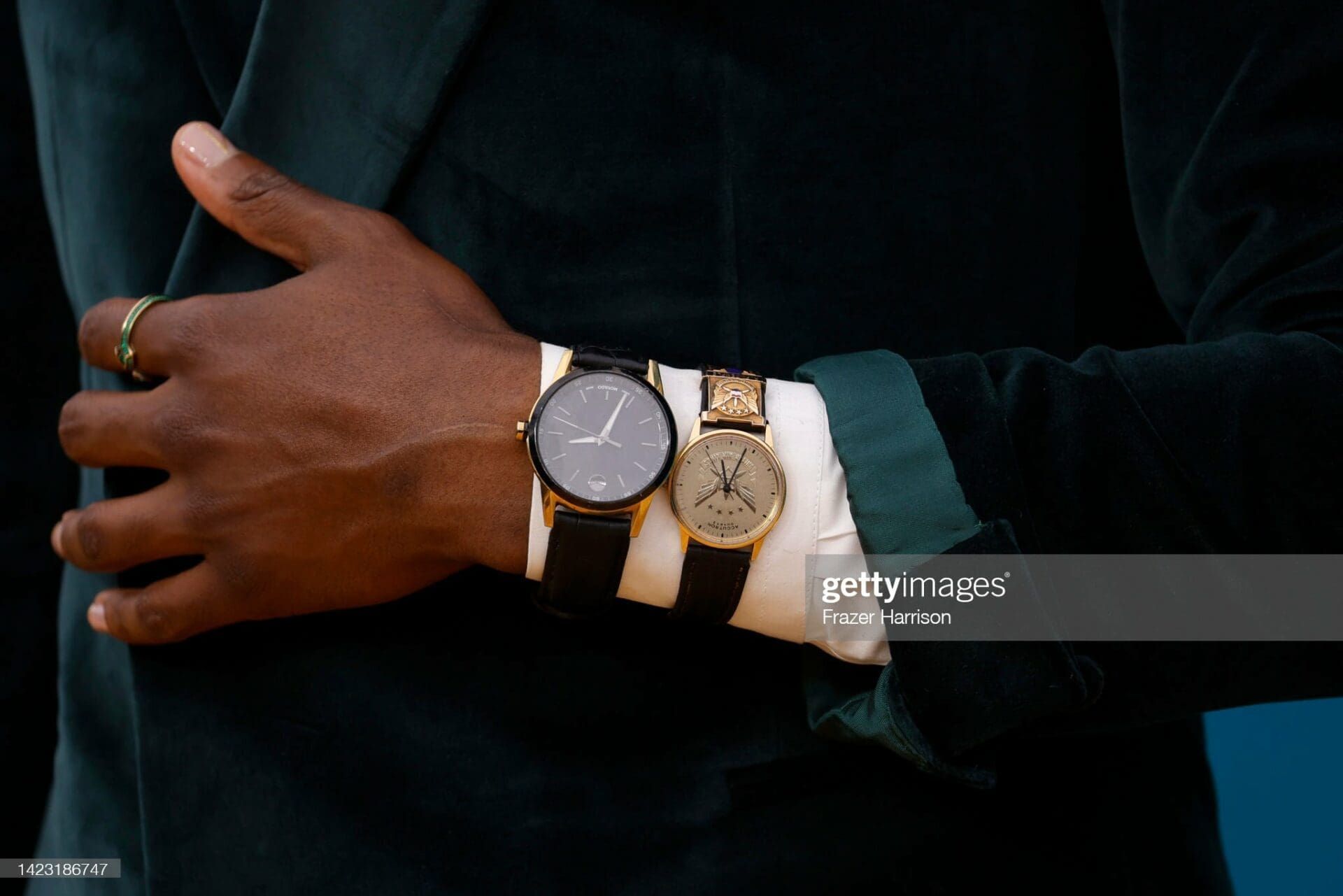 Rocking his look like a postmodern Gianni Agnelli, he made watchspotters do a doubletake during his turn on the gold carpet, showing out with a quartz Movado Museum watch, and the real outlier: an '80s-vintage Bulova Accutron quartz with a gold dial, featuring, of all things, a winged United Airlines logo (with a matching emblem on the strap!). We have no idea about the significance of the United watch (it was a company award signifying 25 years of service), so perhaps it's a family heirloom, or maybe Jordan found it in a thrift shop and dug the way it looked, but whatever the story, the entire look is shrouded in a fog of baller mystique. So Jordan, if you're reading, drop us a line. We'd love to hear about it.