We will have to wait to see who wins the election next week in the race for the presidency of the United States. In the meantime, we thought it would be a good time to check in and see what watches President Trump and former Vice President Biden have been wearing as of late. Politics is politics, watches are watches. The twain shall not necessarily meet in this contest. Two men, two different philosophies, and two different watch collections – politics aside, just which candidate has the better watch collection?
Joe Biden
Omega Seamaster 300M
The most frequently spotted watch on Joe Biden's wrist, whether during debates or campaign rallies, is his Omega Seamaster. Even when he served with President Barack Obama, he was continually seen during photo ops wearing the now discontinued ETA-based models popularised by the Pierce Brosnan Bond films of the '90s. It makes sense that a true fan of the model would add the more recent and robust Seamaster 300M to his collection, in a black dial to complement his vintage white dial and blue dial models. The watch is a great daily wearer, and one that expresses his more pragmatic sensibilities.
Seiko 7T32-6M90 Chronograph
While taking his train through Pittsburgh to make stops on his campaign trail, former Vice President Biden was seen wearing his Seiko 7T32-6M90 Chronograph – a two-tone stainless steel and yellow gold quartz watch with two very useful complications. There is a chronograph timer, which could be used to time speeches or debate responses. Second, there is an alarm function to help ensure a meeting ends on time, or act as a secondary measure to wake himself up in the morning. It makes for a classy daily beater that has relevant utility for his everyday schedule.
Omega Speedmaster
Last but not least, Biden can be found wearing his very own Omega Speedmaster on the cover of InStyle magazine in 2017. The aim of the article was to express his gearing up to run for president in 2020, and it works in his favour in regard to his "everyday man" image. Former Vice President Biden has always stressed that he comes from an everyday working family, and that he understands what it means to be part of the working class. While a Speedmaster is by no means cheap, it is one of the more approachable iconic timepieces with strong roots in American history and space exploration.
Donald Trump
Vacheron Constantin Historiques Ultra-Fine 1968
One of the more understated watches of his collection, Donald Trump has been seen wearing his Vacheron Constantin Historiques Ultra-Fine 1968 in the Oval Office during the day, and in 2016 was the watch he wore when his victory over Hillary Clinton was announced on election night. He also wore it a lot on the 2016 campaign trail, a seemingly good luck charm on his wrist.
Rolex Day-Date on Presidential bracelet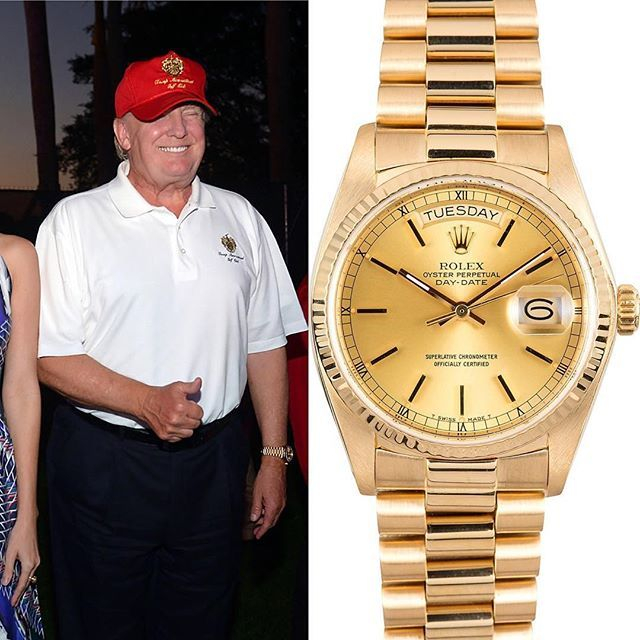 Here we see his Rolex Day-Date, one of his go-to watches for his weekends at Mar-a-Lago – his golf club in Florida. In his defence, the watch is literally known as the Presidential Rolex, so it makes sense that a sitting president would consider this in their rotation – at least in decades before. Typically, recent presidents have worn more understated pieces, with President Clinton and Obama opting for more accessible watches such as Timex. But that is not Trump's brand or style, and the Day-Date embodies a level of opulence and success that he is keen on expressing to the world.
Patek Philippe Golden Ellipse
The Golden Ellipse was the first Patek Philippe watch designed by legend Gérald Genta. President Trump has been spotted repeatedly wearing the rather fragile reference while playing golf, but assuming money is not a concern for him, it is a risk he is clearly willing to take. An important thing to note about these older models and their gold bracelets is they are not sized by links – the bracelets are actually cut to fit the wrist. This explains why upon closer inspection it would seem the watch is wearing fairly tight next to his golf glove as the bracelet is unadjustable.
Trump versus Biden – the verdict
It is really a matter of preference and taste. Arguably, Trump's collection is superior, on the basis of brand power and precious metals. For a more pragmatic and everyday approach to watches, then Biden takes the cake as all three watches are great candidates for daily wear and can hold up in more active situations. I have to say these days before the election will fill many with anxiety, and so please let me reassure you that this battle of watch collections is truly superficial and should carry no weight in regards to the political perception of these men.
What it can serve as, however, is a window into their two different personalities. But it is interesting to note the connection nonetheless, as watches truly are one of the common forms of expressions found in a man's attire – a point of separation, and means to distinguish yourself. Ultimately it's a matter of personal choice, and considering the six watches above, I would say there are no losers here – at least in regards to wristgame.