HANDS-ON: William Wood The Red Watch
Fergus Nash
Emerging watchmakers face the near-Sisyphean task of standing out in a sea of low-budget options all vying for market dominance and social media influence. When William Wood's founder Jonny Garrett launched a crowdfunding campaign to commemorate his grandfather's heroics in the British Fire Service, the passion in the story clearly resonated with the thousands of pledgers who wanted to make these watches a reality. In 2020, William Wood's 'Valiant Collection' seeks to continue the tribute to the man himself and fire fighters around the world, all the while being stylish enough to pass under the radar as daily wear.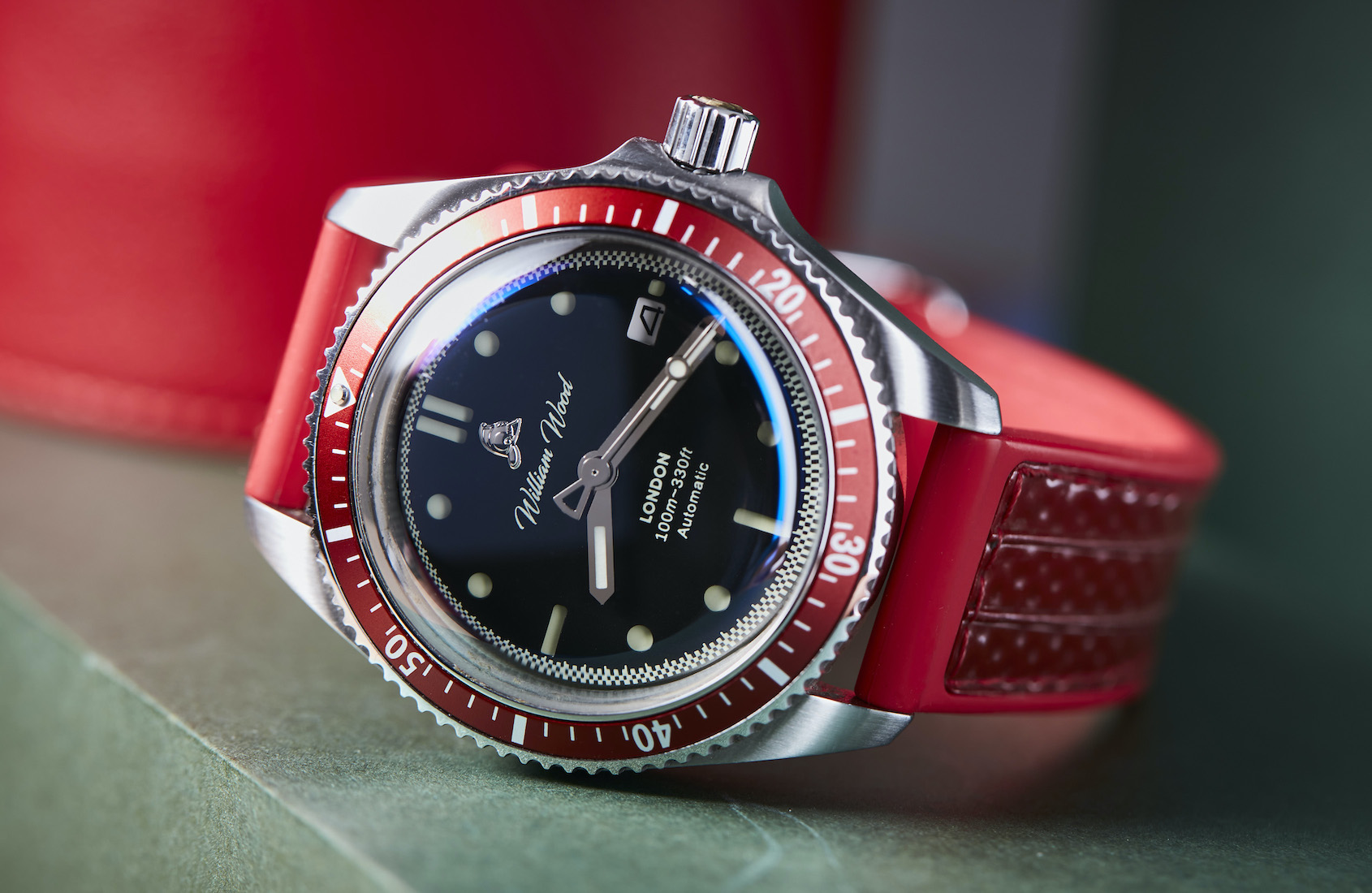 At first glance, the dial isn't really breaking new ground, but a first foray into mechanical watches for any brand should be glad they can play it safe and yet do so well. The sandwiched luminous layer beneath the matte black dial shines through well in low light, adding even more depth to what is truly a cavernous distance between the crystal and the hands. The William Wood script isn't too distracting, while the applied helmet logo adds a touch of class to the otherwise tool-orientated design. 
It would be remiss to ignore the many easter-eggs left as references to classic London Fire Brigade motifs, such as the recycled-brass helmet on the crown, the double-stripe rank mark of Crew Manager at 12 o'clock, and the chequered pattern of a British firetruck running between the minute tracks. That pattern, along with the distortion brought by that double-domed crystal, can make setting the minutes accurately a little tricky if you're not willing to go to the nearest 5-minute interval, but it does give you plenty to stare at as you twist and turn your wrist idly.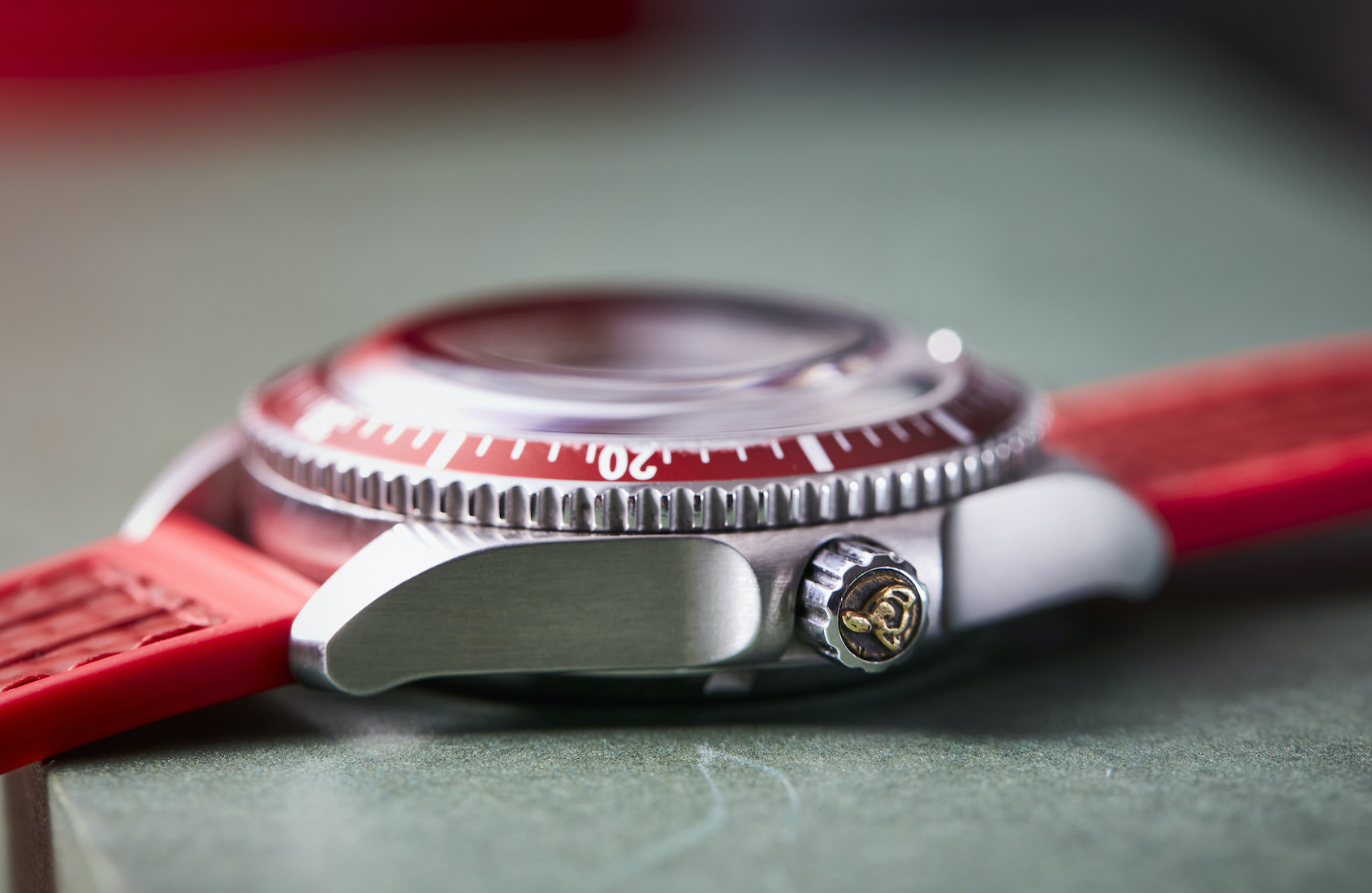 With a choice between four different straps, from a steel bracelet to a NATO, it's hard to go past the recycled rubber fire hose. It's no lie when they claim you can still smell the smoke when it's held up to the nose, but thankfully being encased in supple, red and (importantly) clean rubber means regular wear won't leave your wrist smelling like a house fire. A word of warning to the smaller wrists is that my 17cm circumference found the strap to be quite loose at its tightest point, so some drilling at your nearest experienced watchmaker may be necessary for a comfortable fit.
At 41mm in diameter and approaching 50mm lug-to-lug, The Red Watch's all-brushed case does tend to take up a bit more real estate than you would expect. The sandwich dial, in conjunction with a double-domed sapphire crystal and screwed display caseback, brings the total thickness to a towering 16mm. To combat this, however, the slope of the retro aluminium bezel insert and crystal improve the cuff-friendliness to an acceptable level.
As with most microbrands, there are a few overall quality shortcuts which warrant forgiveness to keep costs down. If anything, it is impressive that I could find only one complaint about The Red Watch. The screw-down crown is tricky to get the threading aligned properly. It only takes up to a minute to do properly, however it can leave some doubts playing in your mind as to whether you have really sealed it against the elements. 
Even though The Red Watch is a limited edition run of only 250 pieces, you do get a choice between a Swiss-made ETA 2824 or a Japanese-made Seiko NH35 movement. Both are automatics with hacking seconds, manual winding, and quick-set date features and, quite honestly, both are capable of keeping great daily time and being serviced affordably. I had no problems with the NH35 model, however the ETA may add some peace of mind to long-term accuracy, reliability and, of course, attractiveness in that display caseback.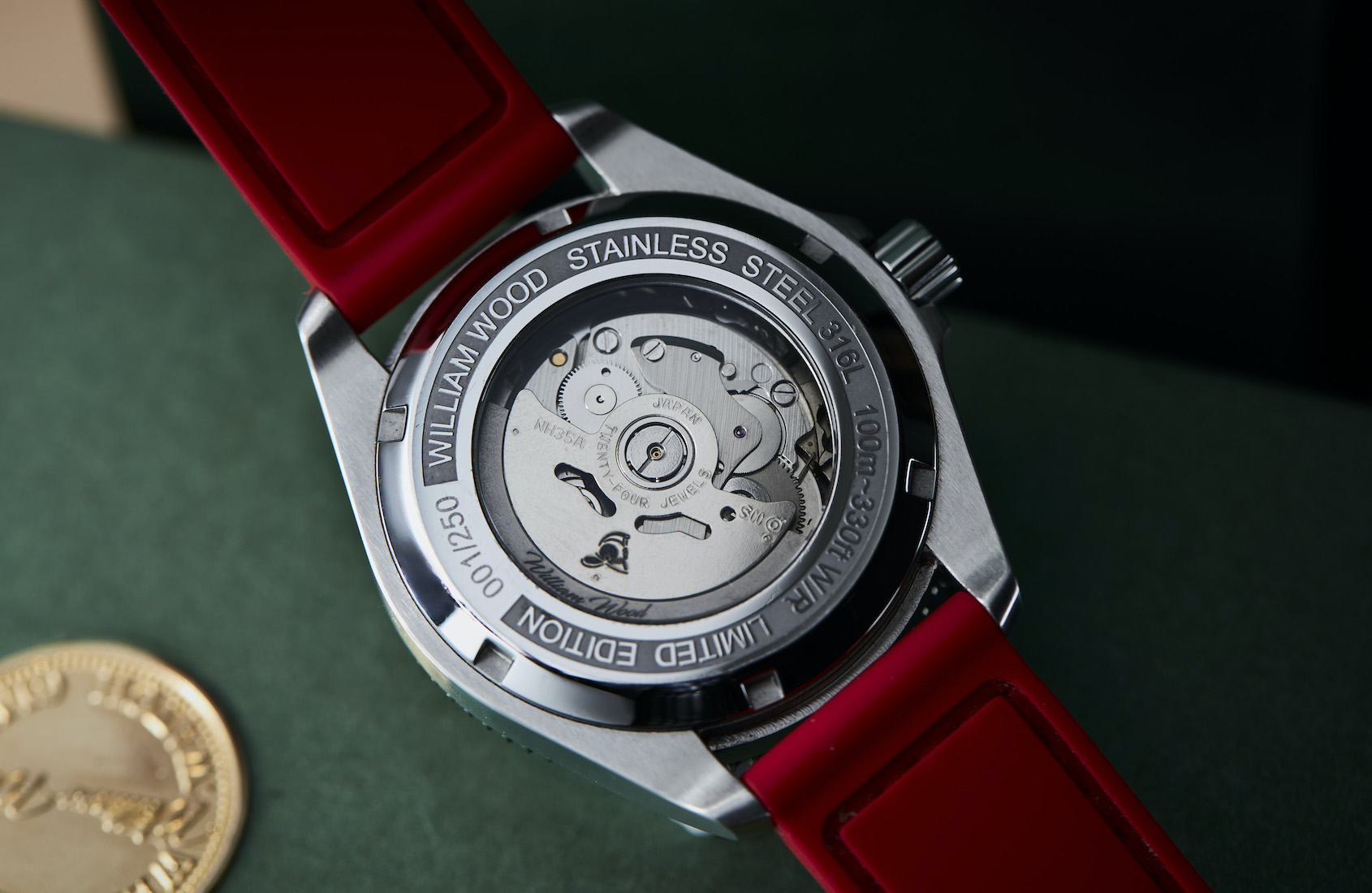 What you get for the money with The Red Watch is something versatile, classic and reliable, but with enough unique design points to be a conversation piece should someone offer the odd compliment. 
Price of the William Wood The Red Watch, £599.98.