THE IMMORTALS – The Baltic Aquascaphe continues to sell out on a regular basis. Here's why…
D.C. Hannay
Editor's note: The Immortals is a new series that examines a watch that we believe deserves recognition as a bona fide modern classic. You'll already be familiar with most of the watches, we imagine. But DC will delve a bit deeper into these timepieces to explain why they've quickly established themselves in the horological canon. Today, it's the Baltic Aquascaphe.
Ah, the French. So stylish, yet so understated. I'm generalising, of course, but if you were ever searching for a watch with a vintage elegance that whispers, but never shouts, France's Baltic has found their voice. Their Aquascaphe diver is pure mid-century perfection, familiar without ever seeming blatantly derivative. Oh, you'll catch little glimpses of Blancpain's Fifty Fathoms, Gruen's Ocean Chief, even a smattering of sandwich dial à la vintage Panerai, but what you find is merely the subtlest nod, not some clumsy facsimile. Taken as a whole, this watch is unreservedly, unapologetically gorgeous. It's as cool as Jean-Paul Belmondo, and as winsome as Brigitte Bardot. Let's go for a swim, shall we?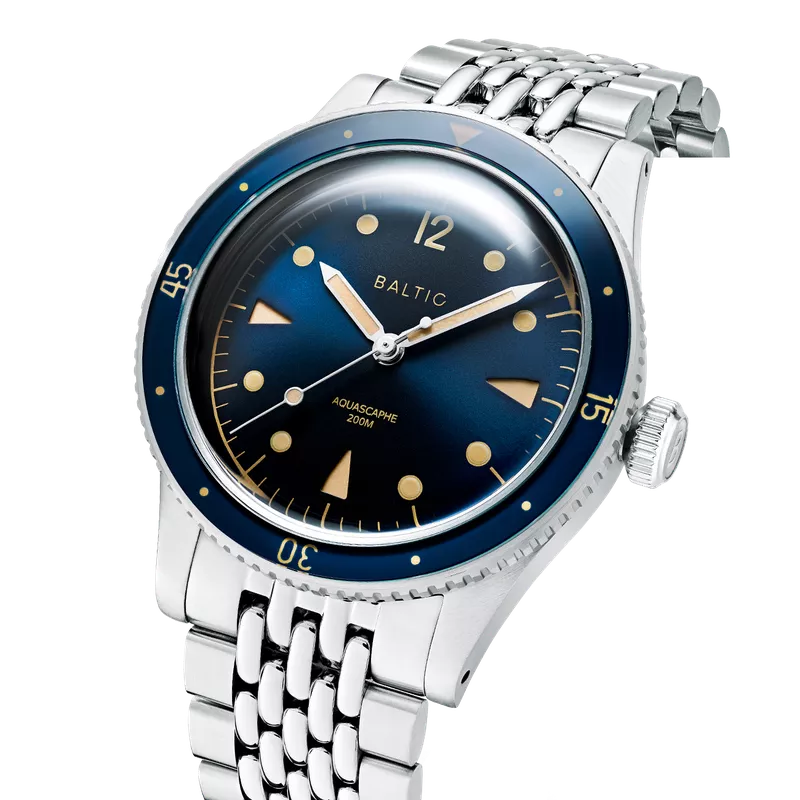 So how is it that a little microbrand from France has made such titanic waves in the watch world? The reasons are many, but for me, it boils down to equal parts a) my love for classic dive watches, and b) my aversion to skyscraping vintage prices. Couple that with the dread that comes from questionable water resistance and unknown service histories, and it's no mystery why vintage-inspired dive watches are such a runaway success. But between you and me, some designs are more successful than others, and style counts for so much in this realm. As I always say (with apologies to the Shakers) if you're going to bother to make something functional, you might as well make it beautiful, too.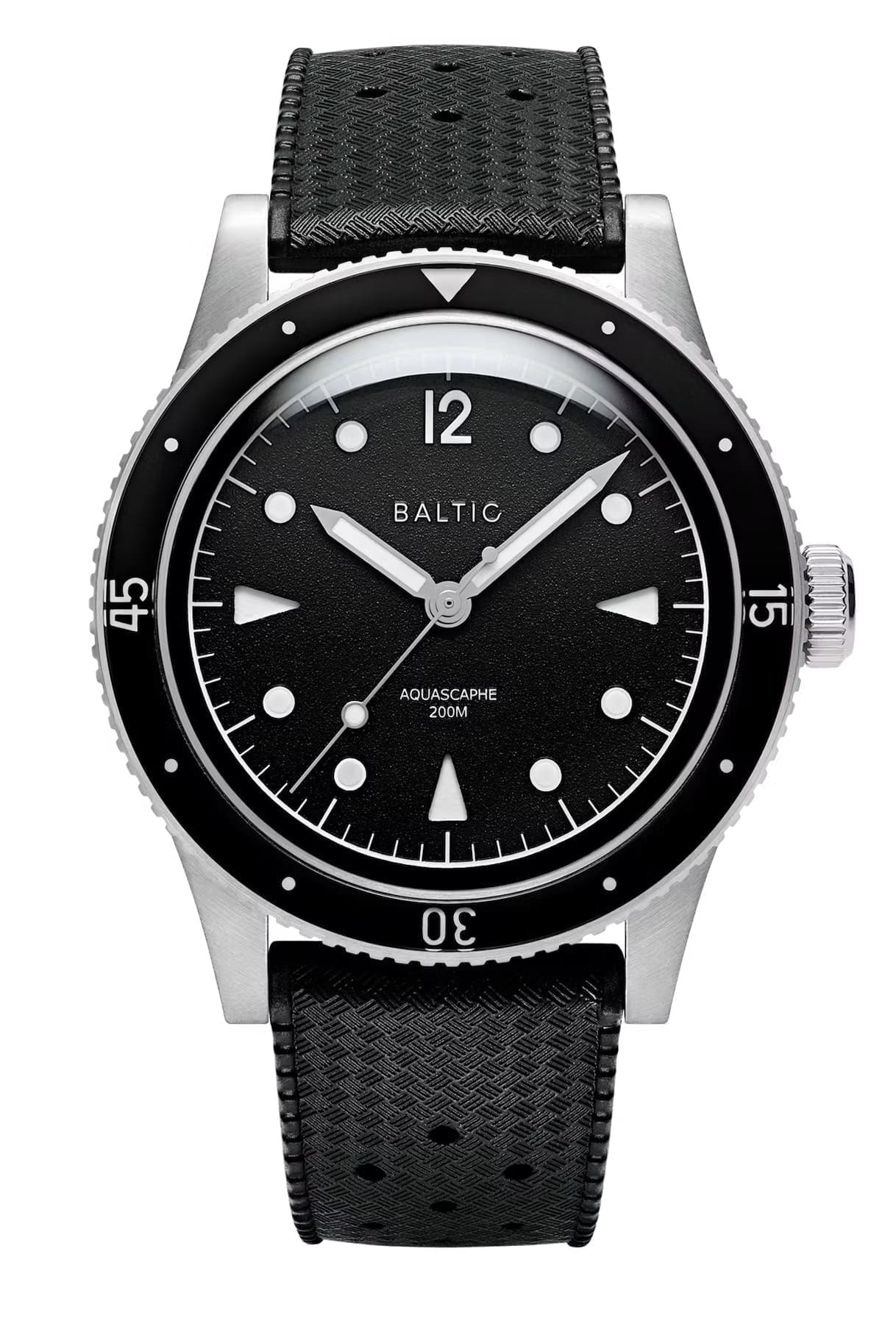 Since its 2018 debut, the Baltic Aquascaphe continues to sell out on a consistent basis. Baltic follows the familiar microbrand formula of direct-to-consumer sales, which permits lower retail prices, but where they veer off from some other micros is their supply chain transparency. Unlike some, who will sometimes use a simple blanket statement of "Swiss made" (which can be deceptive), Baltic states their components' origins quite clearly: cases and movements from Asia, straps from France, and accessories from Italy. Final assembly takes place at the atelier in Besançon, France, including adjustment and regulation of movements. In my estimation, Baltic is spending in all the right places. So what does one get for their €792?
The Aquascaphe Classic, as it's now called, comes in your choice of Black/Silver, Black/Cream, or Blue/Gilt. And while all are objectively handsome, it's the sunray blue and gilt dial that elevates the watch to another level of stunning. The fully brushed case, good for 200 metres, evokes classic skin divers, and has near-ideal dimensions: 39mm case diameter, 47mm lug-to-lug, and a height of 12mm, including the domed sapphire crystal. Sapphire is again employed for the lumed bezel, which nicely approximates the look of vintage Bakelite (found in the first Rolex GMT-Master and other classic tool watches) without the inherent fragility.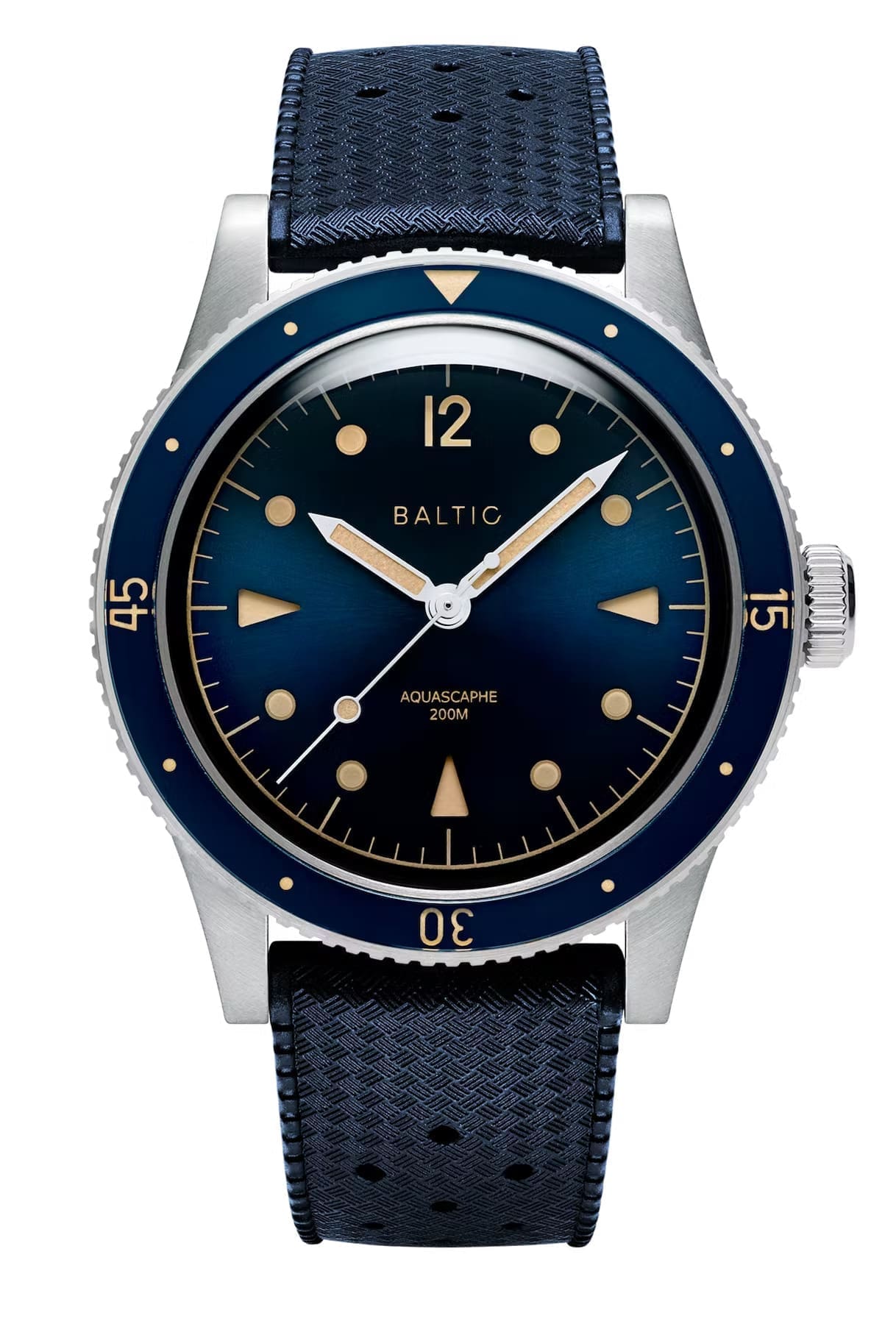 Another note about the Aquascaphe dial: the triangle markers at 3, 6, and 9 utilise sandwich construction, whereas the dial is cut out to reveal a lumed layer beneath. A small detail, perhaps, but it lends a nice bit of dimensionality to the dial, and is a subtle tip of the hat to vintage Panerai. My favourite dial feature is actually the lack of one: a date window. I feel like the visual balance of this dial would be ruined with a date, even at six, so while some may carp, my sense of aesthetics wins out here. And considering the decision to forgo the date complication, Baltic was wise with their movement selection, the Miyota 9039, a reliable no-date choice that does away with the phantom crown position of a date complication. The screwdown crown itself? Big, tactile, and easy to set, just like vintage Subs of yore. Strap choices are a supple black or blue tropic style rubber, or my pick, the stainless-steel beads-of-rice bracelet. Unless you're strictly anti-bracelet, do yourself a favor and just get it with the watch. It's a classic look that recalls vintage Doxa, and is so comfortable, you'll have a hard time taking it off.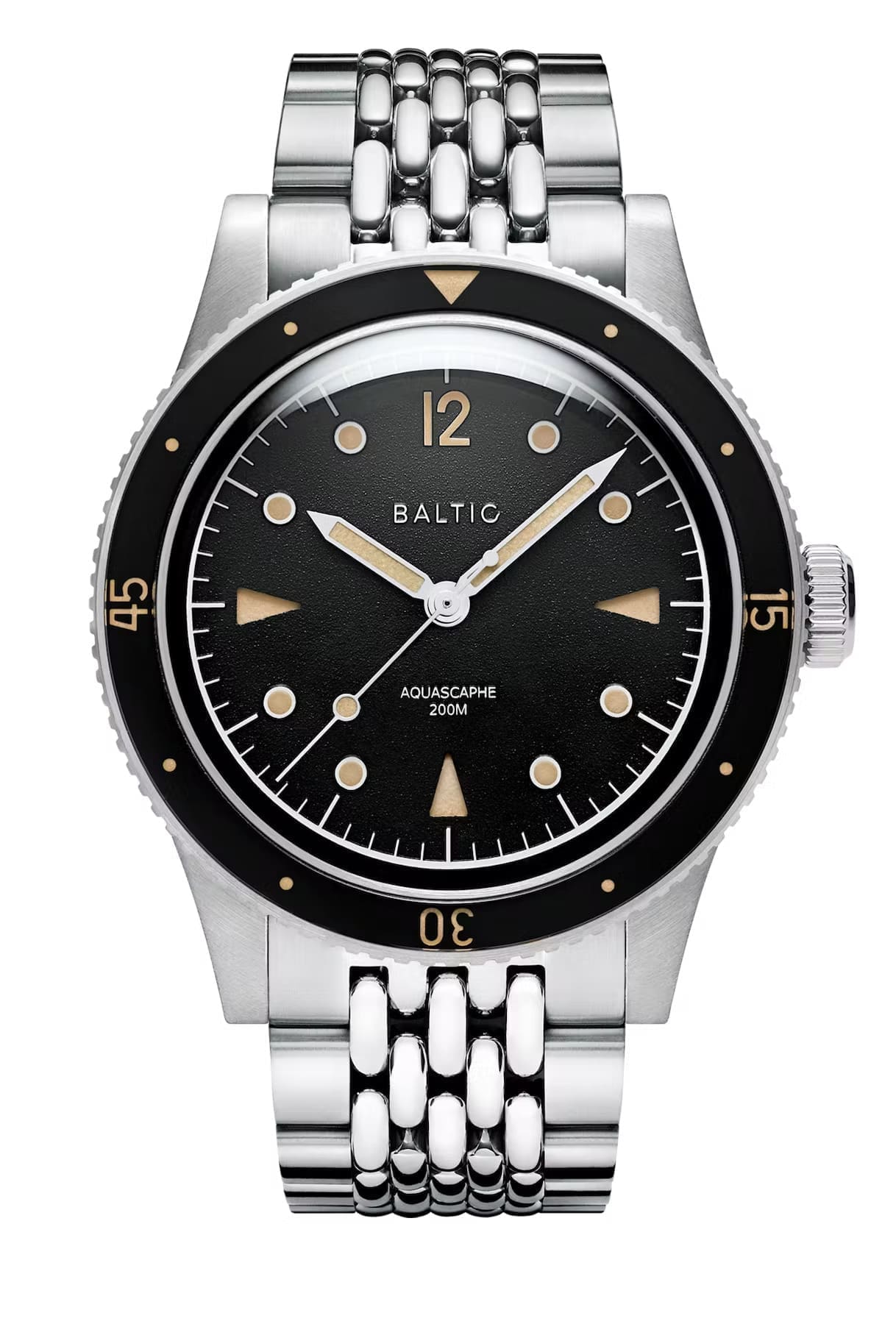 Beyond the original three variants, the range has since expanded to include a white dial model, a 12-hour steel bezel version, a bronze model, the very cool Dual-Crown compressor style with internal rotating bezel, and a fetching GMT model with a Swiss movement, available in three swoon-worthy colourways. But it's the original Aquascaphe that does it for me. Like an Eames chair, a 1963 Stingray split-window coupe, or the vintage Braun coffee maker I'm pouring another cup from at this moment, its design perfection is what separates the iconic from the merely functional. Because if you're going to wear something as stubbornly archaic as a wristwatch, it shouldn't just tell the time. It should tell a story, too.
The Baltic Aquascaphe Classic is now available at our Time+Tide Shop.