Why Edouard Meylan sells watches smarter
Nick Kenyon
Editor's note: Many executives in the Swiss watch industry are boring. They went to finance school, and they sell watches by looking at a balance sheet, never finding any of the watches in their own catalogue inspiring, and therefore never inspiring anyone to buy one. This could not be further from the truth for Edouard Meylan, the CEO of H. Moser & Cie. In this interview he gives a crash course on start-up marketing in the watch world (where interesting strategies have come to life recently), and discusses why he was once waiting for legal letters from Apple.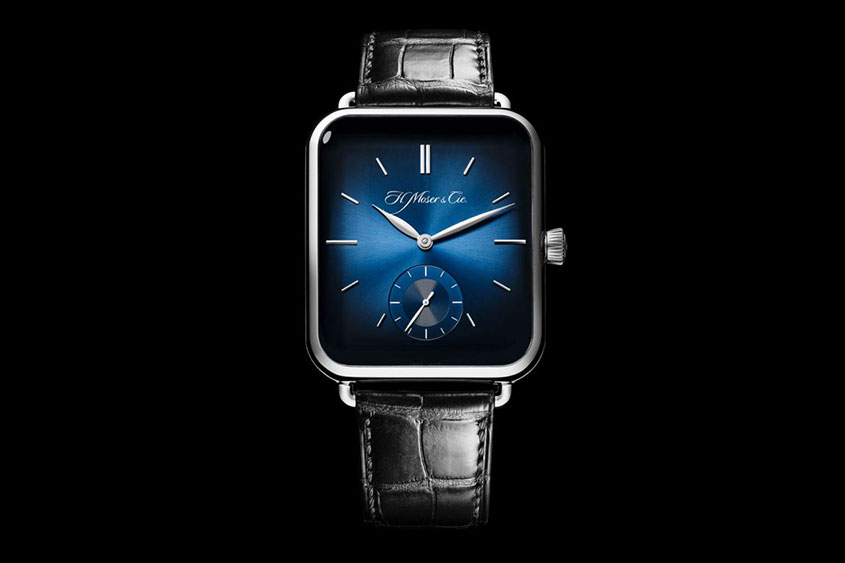 It's both reassuring and alarming to discover that H. Moser & Cie. CEO Edouard Meylan is a human version of his brand's watches: he is stylish, sophisticated, smart (more on that later) and in possession of a sense of humour that is never too far from the surface. He's also refreshingly direct and far from complacent about the favourable position he currently finds himself in. All of which adds up to a boss who's well placed to bring the old, established name of Moser back into the spotlight. I sat down with Edouard in Sydney yesterday, and received a crash course in brand-building 101 from the Wharton graduate. If you've ever wondered how to make a niche watch brand mainstream news, read on.
Step 1 – Have something to fight for
I heard Mr Hayek and Mr Biver on the radio, and I thought, 'Why do we always hear from the guys who have already made so much money?' We don't hear about the people who might just disappear. That's when I thought – what would Jean-Claude Biver do in my position? He would speak out. So I wrote the letter.
Felix Scholz: I want to start in January 2015 – when the Swiss National Bank removed the cap on the franc. How did you deal with Francogeddon?
Edouard Meylan: I was scared. We took over the brand in 2012, which was losing millions per year, and we fought for every point of margin and we finally got it on track, growing it 20-25 per cent more than before, and then boom! They drop this bombshell and 20 per cent is potentially gone, with no warning, no preparation. I never went through the '70s crisis obviously, so it was a little bit scary. The day before I was in a meeting with my father (Georges-Henri Meylan, former CEO of Audemars Piguet), and he was calm, saying we had to step back and rethink, but for me it was hard; I was responsible for over 50 jobs, and I wanted to do something.
FS: So you decided to write your open letter.
EM: That was a little bit of luck. After that meeting with my father, I went home, and I've got two options – I can drive three hours, or catch the train and have 25 minutes with nothing to do. That day I got the train. I heard Mr Hayek and Mr Biver on the radio, and I thought, 'Why do we always hear from the guys who have already made so much money?' They have reserves to lean on and so much margin, that this will just reduce it. We don't hear about the people who might just disappear. That's when I thought – what would Jean-Claude Biver do in my position? He would speak out. So I wrote the letter. Had I gone the other way home I would have been driving the whole time, and not had the idea.
Step 2 – Think different
EM: The letter was the first time Moser was in the mainstream news, beyond the latest model, which is only covered by the watch industry. Then I realised that had so much impact in building brand awareness. So I thought, how can we leverage this? For the last four years, every journalist had asked me, "Are you going to make a smart watch?" I wanted to be part of that story. So we wrote a teaser saying that we were going to release a smart watch in the next week.
Then we launched the 'original smartwatch' – it was a strong statement, everyone laughed about it. Then we thought we'd continue to play with the idea, but we still hadn't come up with the Swiss Alp Watch then.
FS: How did you come up with the Swiss Alp Watch?
EM: In June 2015 we were closing our books for the year, and the auditor told me we had to write off stocks of a beautiful square movement we had. I was upset that we had these movements but couldn't use them – so we started playing around with possible designs, and in a flash of inspiration the Swiss Alp Watch was born.
Step 3 – Stay on the edge
EM: We knew we were being provocative, but we didn't expect just how much interest there would be in it. Our analytics reporting tells us that in the first two days the watch had a potential reach of seven billion people. In the first two days there were 6 or 7000 articles written on it.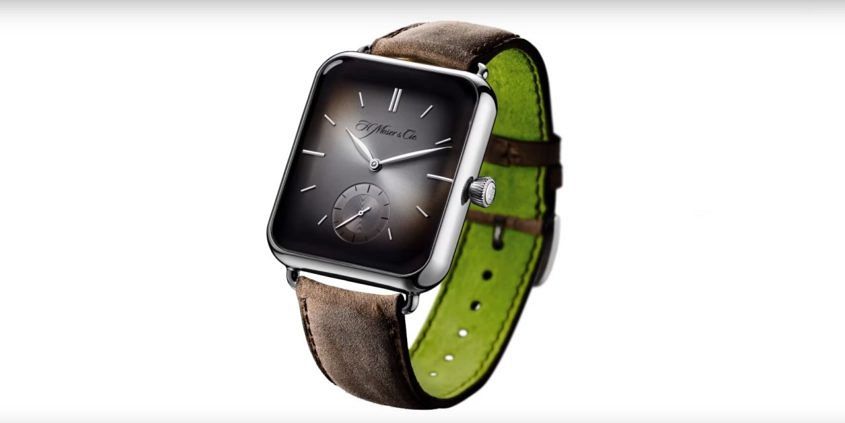 FS: But it wasn't all positive was it?
EM: No, I spoke to one journalist on the morning of the announcement, and he was quite critical – he thought we were copying Apple in a purely opportunistic way. But really I was criticising the Swiss industry that were all suddenly trying to make connected watches. Turns out he was spending the day with Jean-Claude Biver who was opening a boutique. He called me later in the day saying that the 150 journalists there that day were all talking about Moser.
FS: And what was Jean-Claude Biver's response?
EM: He told the journalist that we had to do it – it's the only way for small brands to survive. Even if you don't sell any watches out of it, the buzz is worth it. Otherwise, no one knows you and you die.
Step 4 – Wait for the lawyers to call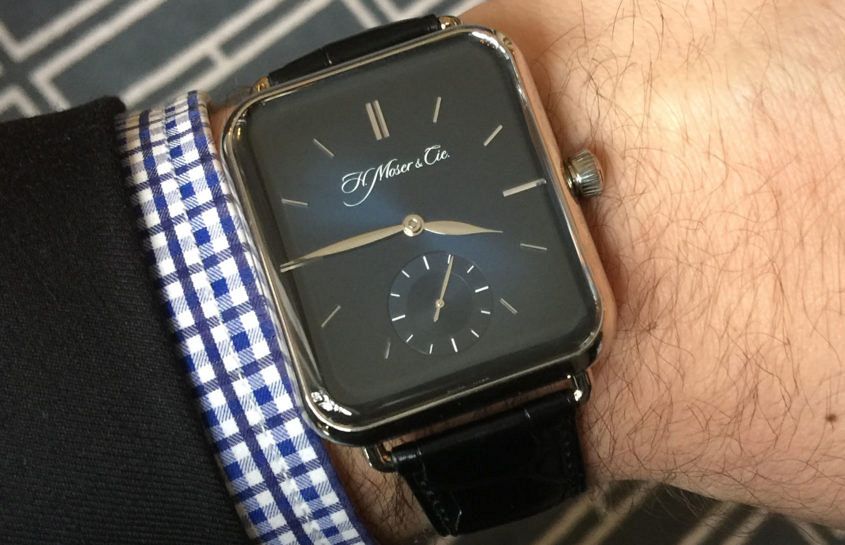 FS: You must have been worried how Apple would respond?
EM: Yeah, I didn't sleep. I knew there was a fair chance they'd be in touch. Even though we'd checked that the design – the dimensions, crown and all that – are different. If we got a letter there would have been nothing I could do. Even if I could win, it would cost a fortune I didn't have.
FS: Did they ever get in touch?
EM: The lawyers said we'd probably receive a letter asking us to stop. We never got any communication. We do know they know about the watch, and that they've asked around about the company and the family – they assessed their risk as well. Frankly, there's no reason to react. They should see it as a positive – we're promoting a wonderful design.
Step 5 – Make the most of it
FS: Did it work? Has it impacted sales?
EM: Oh yeah. I can't give you all the examples. But one is this German gentleman saw us on the 8th of January on a business TV station; he hadn't heard about us before. He visited a shop we'd just opened, asked for the Swiss Alp Watch – it wasn't even ready – he put his name on the list and walked out with a perpetual calendar. He came to the manufacture and we presented him the collection. He placed an order for our 250,000 CHF Heritage limited edition. All up he spent 350,000 CHF on a brand he hadn't heard of three months ago. And this year, we're up 36 per cent when most companies are down.
Step 6 – Look to the future
FS: And you've followed up this success with the Alp Watch S.
EM: This is more classic, a strong contrast from the original. It's midnight blue, a darker fumé. It's still the same movement.
FS: And what happens when you run out of the original movement?
EM: We have 400 of them, but the Swiss Alp Watch is becoming a collection. We're working on new movements. We'll have a complication next year, and high jewellery pieces. My dream is a square perpetual calendar, but that's a few years off.
FS: Will the Swiss Alp evolve?
EM: Of course, like everything it will evolve. Look at the [Rolex] Oyster. It's taken time but it's evolved. We will too – in the small details.
FS: Did you ever envisage the Swiss Alp watch would be so successful, that it would become it's own line?
EM: Well, I always said we'd have three lines, and now we've got five. We added the Swiss Alp and the Heritage, which is also popular. We develop products that we like. We never thought it would be such a big success. Of course we have a five-year plan, but that doesn't mean we have to stick to it.
FS: So two years on from your open letter you're in a pretty good place. Production is up, you've got great communication … how are you feeling?
EM: We've done most of the things right. We're opening new markets, and seeing great reactions. To realise that so many people already know us is exciting. My main concern is markets. If tomorrow there is a terror attack it will be difficult. There's nothing we can do about that.
FS: And how are you feeling about where Moser sits in the industry?
EM: We're either the biggest independent, or the smallest of the established brands. I prefer the latter. We've done well to define our product. Before 2012, the problem was we could have been any brand. Now we showcase our dials, cases and all the Moser details. We're the funky Patrimony or the funky Calatrava. That's our sweet spot.