Why is Longines' connection to horse racing so strong?
Nick Kenyon
Editor's note: In the run-up to the horse racing season in Australia, we thought we'd have a look at a brand with a long history in the world of horse racing. Andrew had the opportunity to sit down with the then-VP of Longines Juan-Carlos Capelli to get to the bottom of Longines' connection to horse racing, which was established more than one hundred years ago.

Earlier this year, we interviewed the Vice President of Longines in the hours before the Queen Elizabeth Stakes horse race at Royal Randwick in Sydney. In the polite small-talk before the interview, we asked Mr Juan-Carlos Capelli — whose frequent flyer status would strike envy into the heart of even the most intrepid traveller — if he enjoyed watching the endless global parade of races and show jumping events as much as riding horses himself, which he has done since he was a child. "Sports and glamour," he began, with a slow sweep of the well-dressed room, "what's not to like about that?" Well said, Mr Capelli, well said.
Why do you sponsor the Queen Elizabeth Stakes?
We share the same values of elegance, tradition and performance.
There is certainly a tradition of horse racing in Sydney. The first horse race in Sydney was in 1810 in Hyde Park, 20 years before Longines even existed!
Yes, exactly! There's a long sense of tradition in Sydney for races, we have done this research. This is the same as Longines, which has over 180 years.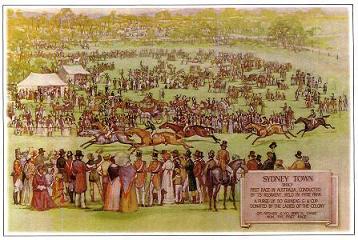 Of course, the equine love affair goes further than racing. The first example we've been able to find is when you sponsored an international show jumping event, way back in 1912.
Longines watches are precise and so is the rider on the horse in all forms of horse-related sports, from the races, to equestrian events and show jumping. Longines celebrated this in its early support of such a precise sport.
Before that even, in 1878, a Longines chronograph was designed with an engraved motif of a jockey and his mount. Is it true this was the first Longines chronograph movement?
Yes, it is. This watch marked an important new chapter for us — the most important! Our first chronograph movement [the 20H calibre – patented by the watchmaker Alfred Lugrin] was the first Longines timepiece that could be used for precision timing. This was an area we invested in later in the 19th century and still do today. It is one of our very core values as a company.

What's your goal in having such a close association with horse racing and equestrian events?
Our goal is to raise the profile of these sports, and to continue to innovate in the field of sports timing. Timing is so important in elite sports and working on all aspects of timing is a great opportunity for us into the future. Not just timing for the riders, but also the spectators. We want to engage the audience by giving them more timing information, more splits, as well as a more creative and informative way of measuring time. And not just at the end of the race but as the race unfolds. The future is very important. We believe some of these innovations and developments will make horse racing and equestrian events even more exciting and enjoyable.