Dan Tanenbaum is a father, husband, technology entrepreneur and artist. Dan works in the sports gambling industry and created a technology to facilitate stadium lotteries.
Hi Dan, what's your daily watch and why?
I wouldn't consider any of my watches a "daily" as all of them get wrist time. Currently, I'm wearing my white dialled Heuer Montreal, which I recently put on a period-correct white racing Heuer strap and I love the new look.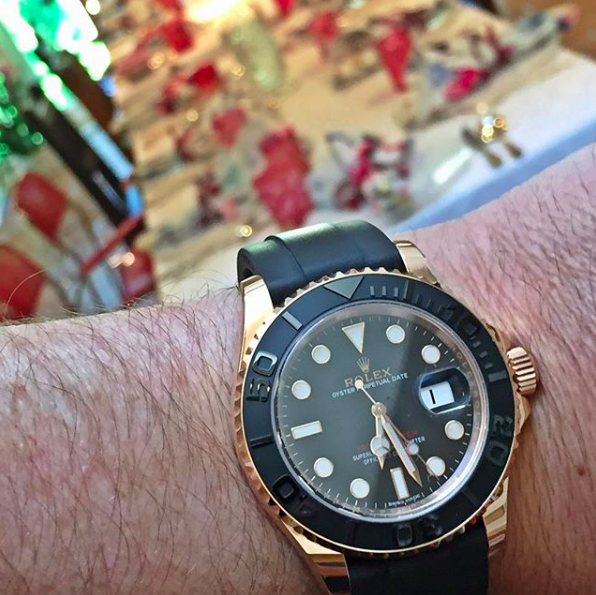 What else is in your collection? Have you got a favourite?
I have no ego in my collection and purchase whatever watch I find unique. I have a wide spectrum from Urwerk to Seiko. As far as a favourite, it's probably my Rolex 6538, which has a pretty amazing story.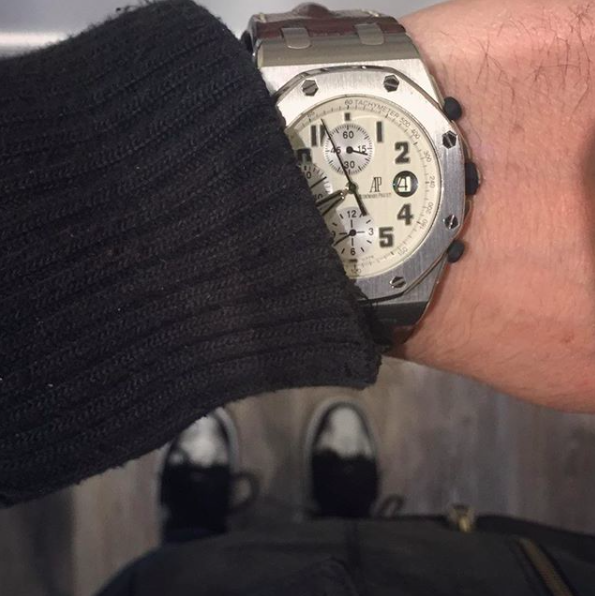 Tell me about your 6538.
Glad you asked … take a seat. When my wife was pregnant with twins I was convinced she was having two girls; I didn't even have boys' names picked. But when she gave birth to my two boys I told her I was going to mark the occasion and get each of them one of the most iconic watches of all time, in my eyes. So I jumped on all the forums and told them what I was looking for. I told them that I would present these watches to my sons on their 21st birthday so I had plenty of time to find the right examples of each watch.
Soon after these posts, I got a call from one of my watch dealers in London, Ontario. He tells me that he sold one of the watches I was looking for to someone locally 30 years ago and should he see if he still had it. Turns out he did, so I had my watch dealer arrange for a lunch between the two of us for the next day.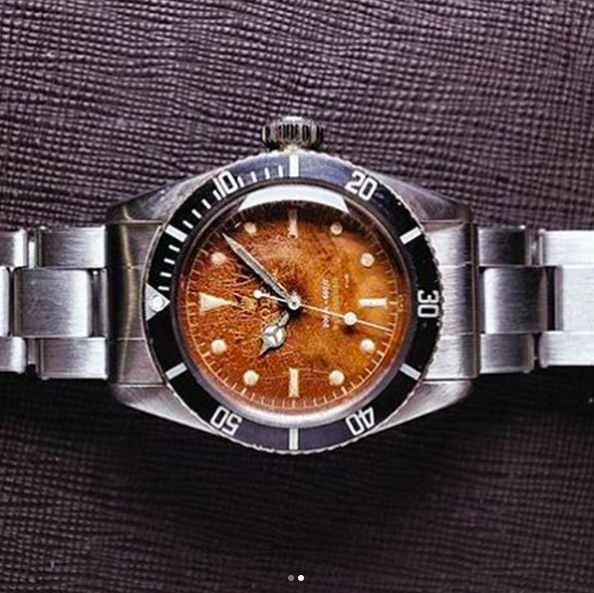 I drove to London and when I met the owner of the watch he told me it wasn't for sale and it had been sitting in a safety deposit box for 25 years as it was an investment piece. Once I heard the words "investment piece" I knew I had the upper hand as he didn't have any emotional attachment to the watch. I called my contact at Sotheby's and had them come to give a fair market value appraisal of the watch. I offered the gentleman the equivalent of this money in gold (as in ACTUAL gold, folks — Ed), explaining to him that this investment would far surpass the one he had in a watch sitting in a safety deposit box. He agreed to sell.
I explained to him that I've been a collector of many things throughout my life and one thing I love is provenance. So I asked if he could write a letter to my son that I could present to him on his 21st birthday (he was 5 months during this process). He agreed.
Here's what he wrote, word for word:
Dear Oliver,

I hope this letter finds you well. Your father has asked me to write you a note to tell you what I know about your gift from him. As you can see it is an old watch. My guess is that by the time you receive it, it will be about 70 years old and you are very fortunate as this is no ordinary watch. Indeed it is a very special watch. You are holding a rare vintage Rolex model 6538 from circa 1958. It has a calibre 1030 movement in it. This watch is much sought after as it is the same model of watch as the one worn by Sean Connery when he portrayed James Bond in the 1962 film Dr No.

It is my understanding that the watch is in original condition and was owned prior to myself by a gentleman who lived in Australia. It is obvious that he wore this watch for countless hours in the sun perhaps scuba diving or sailing because the dial on it shows a deep rich bronze patina. I have myself owned the watch for many years, saving it for something special though I had no idea what.

Recently word came to me that your father was looking for a watch such as this and it turned out that he had a special purpose in mind for it; that it should become a gift for you on your 21st birthday. And since I believe a watch like this needs purpose and deserves more than a solitary existence spoiled away in some dark locked box, I released it to your father. Albeit for a fairly tidy sum.

Once, a good many years ago while holding this watch and contemplating its lessons I was struck by five thoughts. I'd like to share them with you with the hope that they might help you on your journey.

The first thought I had was of the beauty and art and emotion expressed by it. These are all the things that give our world life and colour and love. It is a reminder that we should paint the world as we go, returning the love that we're given and sharing the love that we have to give.

The second thought I had was for the marvel of engineering and human perseverance that made this watch possible. Boundless are the limitations of human mind and determined spirit combined. This watch should serve as a reminder that we must be the engineers of our lives, doing what is right in life and persevering to leave all things better than when we first came upon them.

The third thought that I had as I held this watch was of its value and the power of saving and investing. Surely without saving there is no future nor any prospect of security for yourself or your loved ones. Nor is there the ability to help the man who has stumbled that he too might go on to help others. This watch should serve as a reminder that wealth with conscience is a powerful gift.

Fourth, I thought that this watch represents the importance of practicality and purpose in our lives. There is an old saying that goes "If you wish to travel far and fast, travel light". The same holds true in life. This watch should be a reminder to remain free of the burden of things that serve no good purpose, things rob us of our happiness, our dignity and our time.

Which brings us to the fifth and final thought that I had which was about time itself. This watch like all time pieces should serve as a reminder to us that time is the great equalizer and it is all we really have. In time all will be lost for each and every one of us but for the good deeds we have done. Your deeds of hope are your seeds of hope; plant them everywhere you can.

Remember Oliver, God winds our hearts but once, just how tightly is his secret. I hope you spend your time wisely and that your deeds carry both you and the lives you touch to great and wonderful places.

Wishing you well in your travels.

Sincerely,

Rob
Wow, that's pretty epic. But you are also an artist, how would you describe what you do?
People have described it as steampunk but I feel like it's too broad of a term for my work. I'm not sure really how to describe it, to be honest. It's art made from vintage watch parts. I never really created anything beforehand.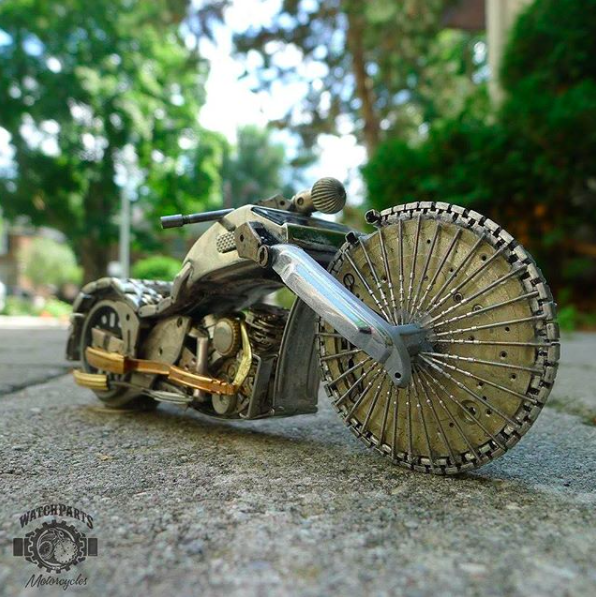 How do you sell it?
All of my artwork is custom-made to order. I have clients all around the globe now and some celebrity clients like Paul Teutul Sr. from Orange County Choppers and Danielle Colby from American Pickers. I never really started all of this to sell them, it was like my yoga, my way of just releasing my creativity. When I started social network pages for my art it really took off and I am humbled by all the attention it has gotten.
Are there any other artists in the 'watch space' that you respect, or are nailing it?
I love Sue Beatrice's work, she's a real inspiration.
Can you tell me about one of your current projects that you're working on?
I just did my third Kidrobot release of their vinyl character called Dunny. I made 17 unique pieces, encrusting them in vintage watch parts, and they sold out in 10 minutes from the release time. That was cool.
Keeping so busy, how do you unwind?
Art! I was an art director for many years and then in my late 20s, I started up some technology companies. After a while, I felt my creative spirit dying as I wasn't accessing it. Being a watch collector for many years and with a fascination for the intricacies of these pieces, I started to fiddle with junk watch parts. I started by making cufflinks but that wasn't creatively challenging so I dug deeper and one thing led to another and I started making motorcycles and encrusting objects.