With an eye for the eclectic and the independent, Simeon's perspective on watches is well worth a follow.
NAME: Simeon Kremzow-Tennie
OCCUPATION: Editor and community manager at 8Past10.
HANDLE: @Simeon_kt
FOLLOWERS: 1.7k
LOCATION: Germany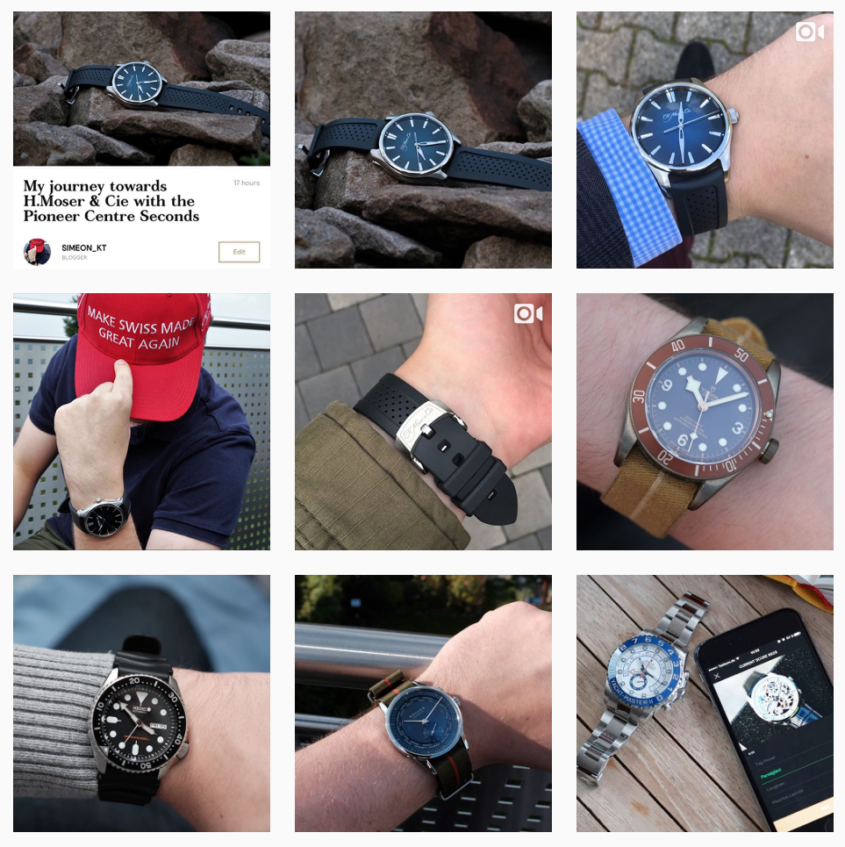 Tell me about yourself:
My name is Simeon Kremzow-Tennie, I'm a 24-year-old electrical engineering student, based In Germany. I'm also working as an editor and community manager for 8past10. I enjoy photography. Though I mostly photograph watches, I sometimes take a break and switch to nature photography.
How do you unwind?
After a long day I love to cook a nice dinner with my wonderful girlfriend, accompanied by a delicious wine to really relax. If the weather is nice and we can sit outside, I usually add a good cigar to the list as well. I've also recently started bouldering with some friends, which is a great sport to improve fitness and physical strength that also helps me to get my mind off a long work day.

What's your daily watch at the moment?
Being a watch collector, I own several watches from different brands, so I do not have a true daily watch, as I change them too often. I do, however, like to wear watches that are robust enough to accompany me on a swim or other exercise.
What does your collection look like?
Right now I must admit that my collection consists mainly of the big brands who know how to make good everyday watches. Though, I'm happy to say, three of my Rolex watches have recently been discontinued, which is always nice as they suddenly become more collectible.
My focus is mainly on steel watches, as I am not the gold type of guy, though I do have a Tudor Black Bay Bronze, which is among my favourite timepieces.

Have you got a favourite, and how do you choose?
Several watches of my collection have the potential to be my favorite timepiece, as I do have a certain story connecting me to every one one of them. I do, however, feel that my Nomos Zürich Weltzeit, which I bought, together with a Longines Primaluna, for me and my girlfriend's anniversary is special. This watch accompanies me nearly everywhere I travel, and always reminds me of where I am from – and at what time I can call my girlfriend.
What criteria do you look for when buying a watch?
With my work at 8past10, I've had a lot more contact with smaller brands. So at the moment I'm drifting more towards the smaller, independent watch brands, of which I have two watches incoming this year. One is a Dornblüth & Sohn with a unique dial I commissioned nearly a year ago to be a commemorative watch for my 25th birthday in June this year.

What's your daily ride?
A rather unspectacular Skoda Rapid, which is a great car that offers enough space and the right amount of comfort for my daily drives. To be honest, I'm not much of a car guy. I can certainly appreciate a beautiful car but I have never felt the urge to spend much money on one myself – I would rather spend that money on watches or a lovely holiday with my girlfriend.
What are you working on now?
My current schedule is packed with work at 8past10, as we are continuously adding more features to the network for our users to enjoy. We have just recently introduced the Quiz feature to the app, which allows users to challenge their knowledge about the watch industry against the rest of our community. We are adding new questions on a daily basis so that you can challenge yourself over and over again. Of course, we are simultaneously working on other new features. I won't tell you about those just yet, but I would invite you to find out yourself in the coming weeks.
At the same time I am also doing my studies in electrical engineering to reach my masters degree, so I do have a very busy schedule at the moment.

Tell us about 8Past10. How did it all come about, and what is your involvement?
8past10 originates from WatchWork, a company founded in 2015 to create a network for independent influencers, such as Dailywatch and the likes. The company founders, Henrik Dideriksen, Nick Meijer, Kristian Haagen and Alexander Rosenbæk, realised that there is a potential for a social network dedicated to watch lovers that offers more than just your Instagram feed.
At 8past10 we believe in the creation of a true social network, combining watch lovers and watch brands alike to further push the connection between the brand and the collector, as well as information coverage on the latest and greatest the watch world has to offer.
In 2015 I read a post from Kristian Haagen about the upcoming network for which he was recruiting bloggers who wanted to try their hand at writing articles. Having previously had my own blog, this seemed like a perfect chance to get my foot in the door.
And this is exactly what has happened! As of this year I am officially working for 8past10 as the editor and community manager, in charge of our bloggers and work with some of the watch brands who joined 8past10 and the ones about to join.

I know at Basel we both shared a common love for the H. Moser & Cie. Pioneer Centre Seconds – is the love still strong?
It absolutely is, and I keep looking at my photos of it on a daily basis. In fact, I just placed my order at my jeweller three weeks ago and will face delivery of the watch sometime during fall this year.
What do you love about this brand?
H. Moser & Cie is a very provocative brand who takes on the watch industry in a very rebellious way. Ever since they released the 'Original Smart Watch' in 2015, their infamous Perpetual Calendar watch, which happens to be the cleanest and smartest-looking perpetual calendar I have ever seen, I fell for the brand. Next up they tackled the Apple Watch by releasing their 'Swiss Alp Watch', which has become among their best-selling timepieces.
And finally, if you could have any watch tomorrow, what would it be?
That would be another H. Moser & Cie timepiece, the Pioneer Perpetual Calendar.