This week's Who to Follow is a little closer to home than usual. Justin Mastine-Frost has been writing for us on and off over the last few years, so we're obviously fans. But his passion for the independent, the odd, and not to mention the colourful, means that we think he's well worth a follow.
Hey Justin, tell me about yourself.
Who I am is a loaded question. Canadian by birth, transplanted to New York City for a few years, and now I'm back in Canada. To run you through the brief history lesson, I've been a guitarist, a sales clerk, a photographer, a construction foreman, BMW mechanic, and a journalist in a variety of fields including automotive, travel, lifestyle and horology. At 34 years old, you can say I've worn a few hats over my lifetime.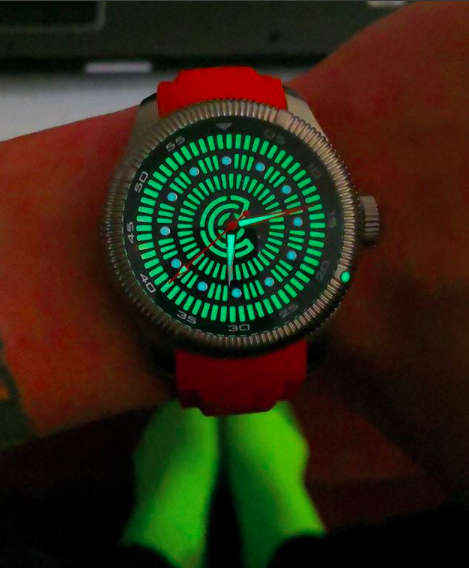 What do you love?
When you boil it right down, I love experience. I love food, I love travelling, I love meeting people and discovering their backstory — what brought them to where they are today.
How do you unwind?
That very much depends on the options at hand. During the day-to-day grind, a good Netflix binge or an evening out with good friends and good cocktails will do the trick. When the option presents itself to get out of the city, give me a nice hotel, a beach and a lounge chair, and I'm set.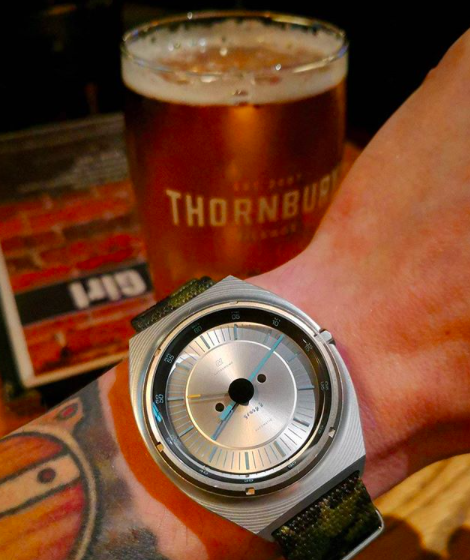 So Justin, what's your daily watch and why?
Kidding aside, for me there's no such thing. My personal collection is nowhere near as extensive as the collections of many collectors I know; however, there's enough in it that I tend to rotate very much daily, if not more than once a day. Lately I've spent a lot of time wearing my Sarpaneva, my green dial Monta Triumph, the Triton Subphotique (especially on odd days when the date font is red), and I've also taken a shine to this new 42mm Deep Blue Master 500 diver with orange accents that seems to fit me like a glove. A while ago I wrote a piece interviewing a number of collectors asking them what their "only watch" would be, and I could not bring myself to an answer.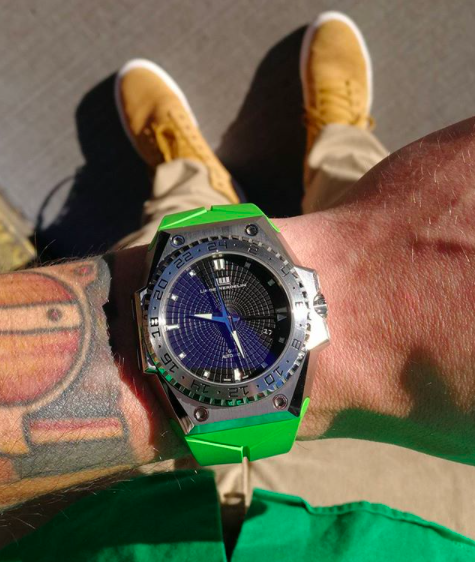 What else is in your collection? Have you got a favourite?
My collection ranges from basic micro brands like Zelos, to a Tudor Black Bay, Linde Werdelin 3-Timer, three Tutimas, and an Arnold & Son Nebula and my one-off unique red dial Sarpaneva K0 we nicknamed "Kameleontti" (Chameleon in Finnish). As far as favourites go, there are a few. The titanium Tutima chronograph was one of my first serious pieces, and it took me a while to find a bracelet for it. The Arnold & Son, Linde Werdelin and Sarpaneva are all pieces that I was in love with the moment I saw them, and to this day I could never see myself getting rid of.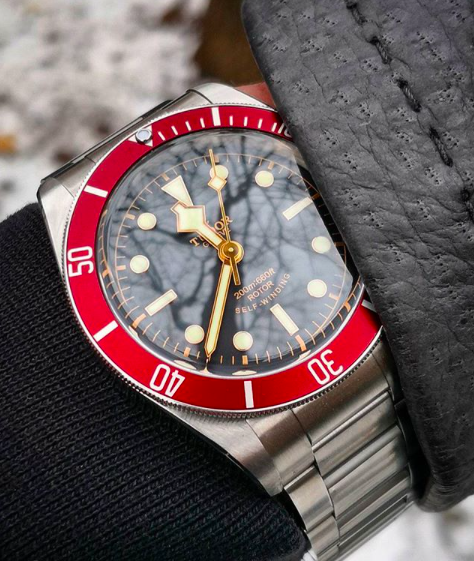 What's that next piece you're looking to buy?
That is always a tough question, and to be honest I'm in a bit of a holding pattern right now. That said, there are a few things on my radar. The new Ming 17.03 looks like a whole lot of watch for the price. I've spent a bit of time going back and forth, but I'm itching to snag one of the Seiko Presage enamel dial models out there. Finally, and this is a bit of an odd duck, but until this past month I was unaware of the rather funky Speedmaster Split-Seconds that was produced from 1999 until 2001 or so. It's by far the coolest "budget rattrapante" I've ever seen, and I've always said that if I were to ever own a Speedy it would have to be pretty obscure. Problem solved?
What do you look for, in terms of criteria, when buying a watch?
It's always been a bit of a gut feeling, but when I interviewed George Bamford, he summed it up perfectly. To quote George, "It's gotta make me want to nick it." I need to be sucked in, and once I walk away from it, I have to be thinking about it. I look at (and evaluate) watches all day long, so for me it's a very personal connection.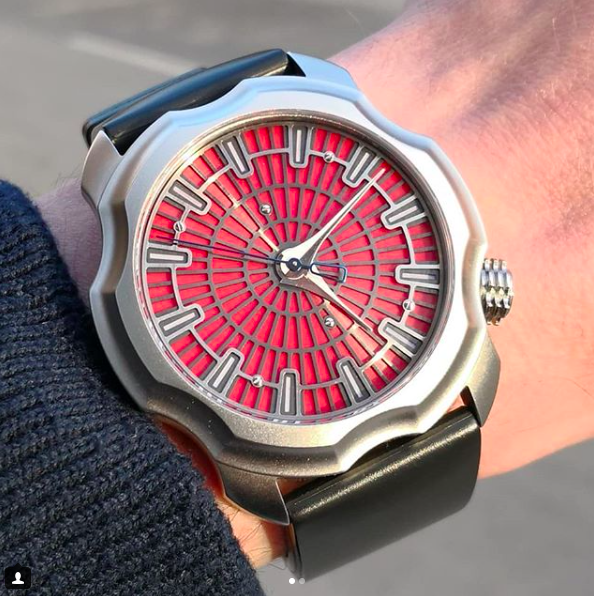 Tell us about your Sarpaneva, why is it special?
My Sarpaneva is a one of one red luminous dial K0. He (Stepan) is only making one other similar variant with a moonphase for another collector in the US. I met Stepan roughly four years ago, first online. I reviewed the K0 seasons before he launched it at Basel 2016, and returned it to him at the show. Handing it back was tough and ever since then I knew I needed to own something of his. That meeting also spawned a bit of a tradition of sorts, as I did the same thing with a Daredevil in 2017, and will be bringing him back a SUF Vetehinen diver when I head to Basel later this month.
You're very much a champion of the independents. Which indies are really standing out for you right now?
That's a tough one … AkriviA, Andreas Strehler and David Candaux are the first that come to mind. And I'm a massive fan of Sébastien Chaulmontet. He is the man that was behind all of the great pieces from Angelus and Arnold & Son (including my Nebula), but he's now at Sellita, which is a really interesting move.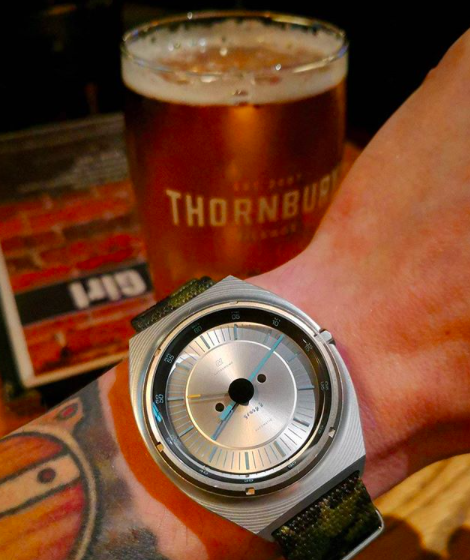 In your opinion, which brand or watchmaker is leading innovation right now? Who do you see as on the cutting edge of haute horology?
That's also a tough one to pin down to a single brand. Richard Mille continues to push boundaries when it comes to use of materials. Both Zenith and Montblanc have seen success with dual escapement high-frequency chronographs. I love how Piaget basically gave it to Bulgari with that concept watch at SIHH measuring only 2mm thick. The battle of the ultra-thins has been fascinating to watch and I hope the two companies keep pushing one another.
As a whole, there's a lot of reticence to be pushing too many boundaries, as a lot of brands are still struggling with sales. But thankfully, we're still seeing these little blips of brands trying to forge the craft ahead. On a more general note, I was sad to see MCT go under, but the fact that Pierre Jacques has returned to the helm of DeBethune is incredibly encouraging.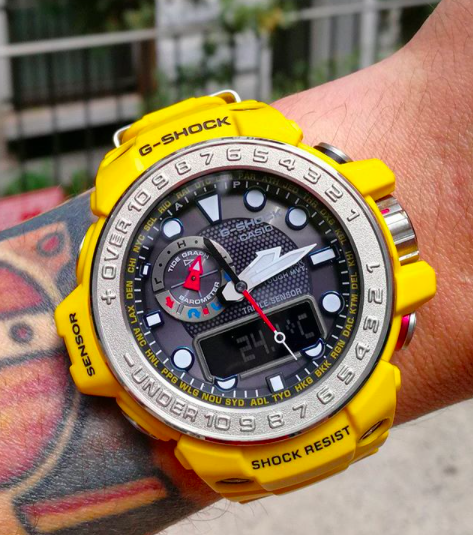 Finally, let's talk colour. Bright and bold colours are a recurring theme throughout your feed. Is this boldness a reflection of your personality?
You could say that. I have little interest in things that blend into the background — I spent a number of years of my life doing just that, both professionally and personally, and it gets tiresome. I like things that are unique, that are different, and that defy convention in some form or another without being tacky or over-the-top. This is precisely why I personally have no interest in owning a Speedmaster or a black dial Submariner. Sure, they're great, reliable, well-executed watches, but every time I try one on I just can't get into the idea of wearing what's one of the most common and recognisable watches on the planet. I'd make a Toyota Corolla joke here, but that might ruffle a few too many feathers!