If you love dive watches, we probably don't need to introduce
Jason Heaton
. He's a man living the dream, a freelance writer who writes about watches only as an excuse to go out and have fun with them — be that hiking, skiing, kayaking or diving …
Hi Jason, what's your daily watch?
As for a daily watch, it's usually some sort of Doxa (I have a bit of a problem …) or a Rolex Submariner, but I also have a number of other favourites, like two Bremonts, a vintage Speedmaster, and smaller brands like Unimatic and Halios. I don't really call myself a "collector", since I have no real strategy for accumulating watches. To me, they're all extensions of gear, and all have to earn their place in my watch roll. With only a couple of exceptions, all my watches have been on my wrist diving, flying, climbing or on some other adventure, even the vintage ones. My philosophy is: once you view these things as "precious" there's something wrong.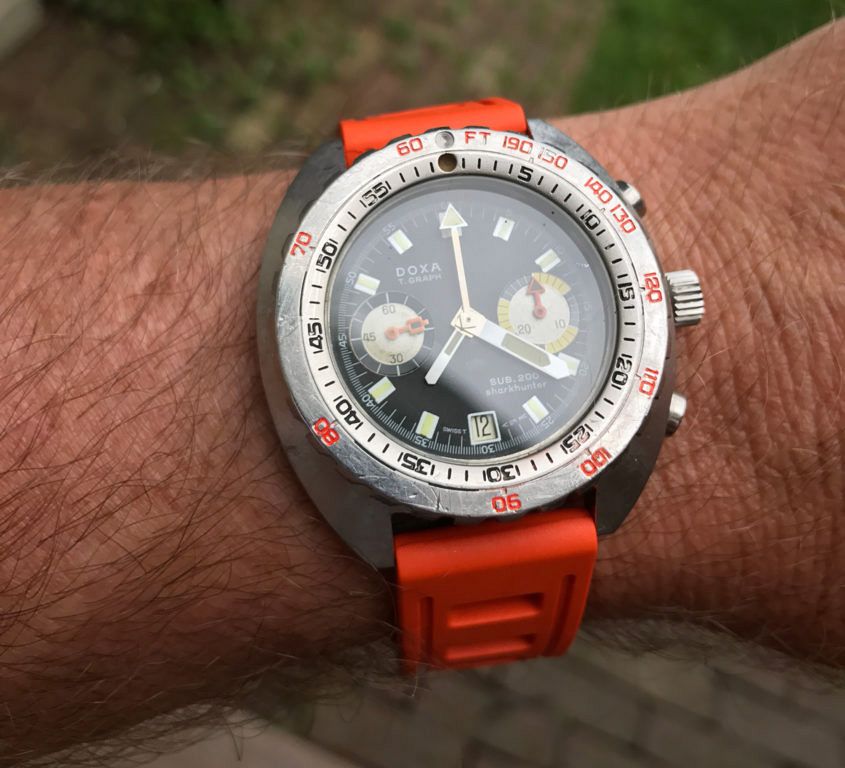 Do you have a favourite?
I have a Doxa SUB200 T-Graph Sharkhunter I got a while back that I consider a favourite. I got it from the original owner, who bought it at a Chicago dive shop in 1970 and wore it until I bought it. I recently had it fully serviced and have a hard time taking it off. My second "favourite" is the Rolex Sub 14060M (no-date) I got from my wife on my 40th birthday. That watch has been on most of my most significant adventures, from summiting Mount Rainier, to diving the World War II aircraft carrier wreck HMS Hermes in Sri Lanka. It's the one watch I won't ever part with.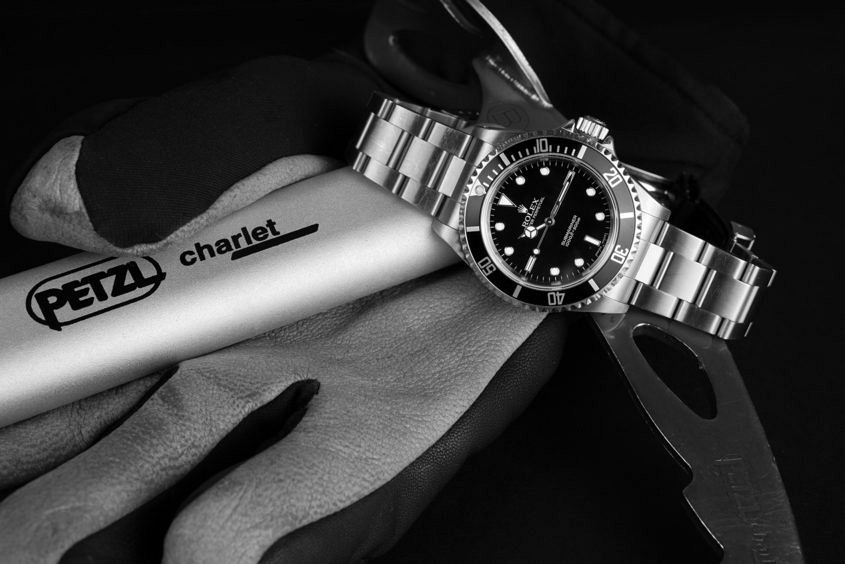 What was your first watch?
My first watch was a Seiko automatic diver with a Pepsi bezel that I got in 1987 from a mall jeweller. I was in high school and was entirely smitten with this huge watch with the long rubber strap. I worked all summer cutting neighbours' lawns to make enough to buy it. I think it was $85 at the time. I think to this day, I'm still chasing the feeling I had from that watch. When I first put it on, I felt invincible, like James Bond, and it willed me to go do stuff while wearing it. Alas, I remember selling it in the mid-'90s at a pawn shop. I wish I still had it.
You're one of the only guys I know who actually takes dive watches diving, which means you're an authority when it comes to properly reviewing them. What makes for a great dive watch in your opinion?
If it inspires you to go diving or adventuring, it's done its job. From a practical standpoint, I've often said that a good strap is the best feature of a dive watch, but I'd say a grippy legible bezel is also important. In reality, for functionality, all that's really needed to time a dive is a minute hand and a rotating bezel, so get those two things right, and you're nearly there. One thing I dislike about dive watches is complexity for the sake of it. These are meant to be simple creatures and the earliest dive watches in the '50s got the formula right. So skip the HRVs, the locking bezels and the complications.
And what is it you love about diving?
Diving is the ultimate adventure sport to me — you are weightless in an alien world filled with fantastic creatures, carrying life support on your back. I'm a big gear head and there are few sports that rival diving for sheer preponderance of gear. Plus, the history of it, the romance of diving sunken ships, the travel to exotic corners of the globe … what's not to love?
Got any cool stories?
Cool watch stories … hmm … the coolest is perhaps when I was diving the
Hermes
and we found a wristwatch on the wreck at 54 metres deep. It was a dive watch belonging to a Sri Lankan Navy diver who had lost it there a month earlier while doing a commemorative dive with a crew of British Royal Navy divers. The watch still worked but was encrusted with galvanic corrosion. I drove it up the coast to the Navy base and returned it to its owner. I wrote this
story
up for Hodinkee last year.
Let's talk about the podcast you host, TGN, with James. How long have you guys been doing that? How has it developed and changed along the way?
The Grey NATO
is a podcast that fellow watch writer, James Stacey, and I started a couple of years ago. We are up to 64 episodes now with a healthy loyal following of listeners around the world. It's purely done for fun, so we get to talk about whatever we want. There's usually a watch element to it, but we also discuss gear, travel, adventures, and cars. Over time, we've refined our methods and tried to incorporate some interviews, field recordings, and such, but all in all, it's the same humble podcast we started with. I'm always surprised at how many people know and like the show, and wherever I go, people come up to me and say how much they enjoy it. That is very satisfying and I'm grateful for that support.
Let's talk about your Defender quickly — I understand it's been an ongoing project …
My other "project" is a 1976 Land Rover Series III that I bought last summer. I'm sure in Australia, you see your share of old Land Rovers, but in the US they're still quite rare, especially these "pre-Defender" Series trucks. I got it from a tractor engineer who imported it from Scotland, so it's right-hand drive, which is also unusual on US roads. I adore this thing. To me, it hits the same points as a beat-up dive watch and I use it as such, driving year-round, parking it on the street and towing cars out of snowdrifts, hauling kayaks and skis, and running errands. After all the horror stories about Land Rover unreliability, I've been pleasantly surprised at just how reliable this one has been. It starts in all weather, from minus 40 in winter to 30 C in summer, and runs like a champ. I only had to replace the starter motor so far, but that's to be expected with a 40-year-old vehicle. And anyway, you can hand-crank these to start them, so I was never stranded.
Lastly, do you have a grail watch?
I don't really have a "grail" watch. Rather, I'm the type who likes to be a "one watch" person. I've got way more than I want or need and if the house burned down, and all my watches with it, I'd be happy to leave with my cats, my wife and just one of my watches on my wrist.