Angus is well known to Sydneysiders as part of a family-run business, AHW Studio, nestled in The Rocks, Sydney. AHW Studio collects, researches and upcycles obsolete and forgotten timepieces into wearable art — think cufflinks or a signet-ring with a difference. So if you're looking to buy a gift for 'the watch lover who has everything', this is the account for you.
NAME: Angus Zhao
OCCUPATION: Horological jewellery maker
HANDLE: @AHWStudio
FOLLOWERS: 5.5k
LOCATION: The Rocks, Sydney, Australia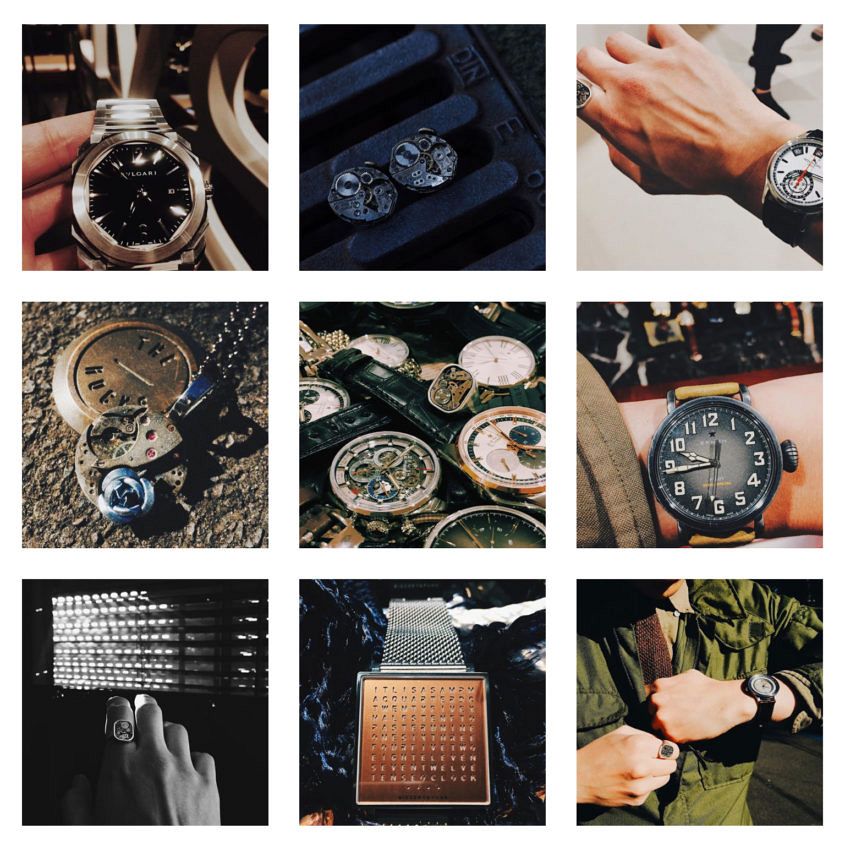 How do you unwind?
In a way, I don't necessarily 'unwind' (though that's a good pun), because work is play and play is everything else. It all loops back in on itself. I'd go home and read up on some horological history or edit photographs. For the other side of this, small road-trips and drives, I really enjoy. To be able to soak up your own city and take photographs.

What's your daily watch and why?
For me, a watch should be wearable and suitable, and more importantly – historically, culturally, or socially significant. As much as the notion of watches these days has transcended, they should still be doing what they were made to do all those years ago, with the right care. Each day I'd go with what I'm wearing, or a piece I'm enjoying at the time. So, there aren't really any favourites for me, as I find very specific examples of vintage, say, the very first Micro-Rotor, or the very first Hi-Beat (36,000bph) calibre manufactured by Girard-Perregaux, or the only 24-hour calibre produced by Jaeger-LeCoultre.
Due to my multi-faceted interests in the arts, history and sciences, I tend to have quite a spectrum of brands, which is the spice of it! It really allows me to understand and 'taste' more.
What's your daily ride? What are you looking to buy?
The luxury locomotives of Cityrail! Sydney in the last few years has been completely under construction, so unless driving to work daily is a must, I take public transport! On days off, I either drive a Mini Cooper S, or an Audi TTs.
What are you working on now?
Taking care and nurturing our own business indeed keeps us all on our toes, and it's really our baby. At the moment we're working on a few heirloom projects where former customers or passersby come back and have brought in their grandparents' or parent's timepieces, either broken or very tired, and we decide what to do with it collaboratively with them.
Our last job was a pocket-watch restoration on an Elgin from 1912. It was the customer's grandfather's and they had no idea it could actually be restored. It took us a few months to work on, and it was delivered just last weekend. It's always very satisfying to be able to surprise and delight a customer like that!
You might've seen the #LangeNation rings on IG, which was quite an involved project we did with the guys. It was both a challenge and a projection for all to see what else we can offer. I have always found the importance of connecting multiple worlds together.
You seem to be big on vintage watches, as well as preserving timelessness through your work. What draws you to old over new?
I think what people tend to believe is that I only like vintage because I like vintage for old sake! Hopefully, I am rather an old soul, over an old fart! There are some core reasons that land my head and heart in the old world of this craft and that is: emotion. It was back then that innovations, advancements and the true push for horology to go forward that generated 'beautiful tools'. Almost all models that we see modern watch companies produce now came from an old, original model. That was it.