When high fashion collides with high function – the paradox of the haute couture tool watch
D.C. Hannay
Okay, weird question: Can a high fashion house known for made-to-measure dresses, luxurious silk scarves or fine handbags produce a legitimate tool watch? What? Who would even ask something like that? What kind of weirdo are you?!!
Me, that's who. I'm your huckleberry.
I'm the one who will ask "why not?" more often than "why?". 
Maybe you're a fashion hound who also happens to love adventure. Perhaps you're just weary of the visual sameness that can permeate the world of watch design. Honestly, does anyone need another Submariner-influenced diver? Yes, it's the ne plus ultra of dive watch design, but maybe you're just looking for something different, more individual, more… you. 
Well, you've come to the right place, because there, hiding among the fine leather goods, high-end jewellery, and ultra-thin dress watches that will never see a harsher environment than the odd spill of Veuve Clicquot, are some real baller timepieces. We've assembled a list of five of the bolder, more outré tool watches from brands who, while they might have subsequently developed serious watchmaking credentials, were originally known more for their success in the worlds of fashion and jewellery.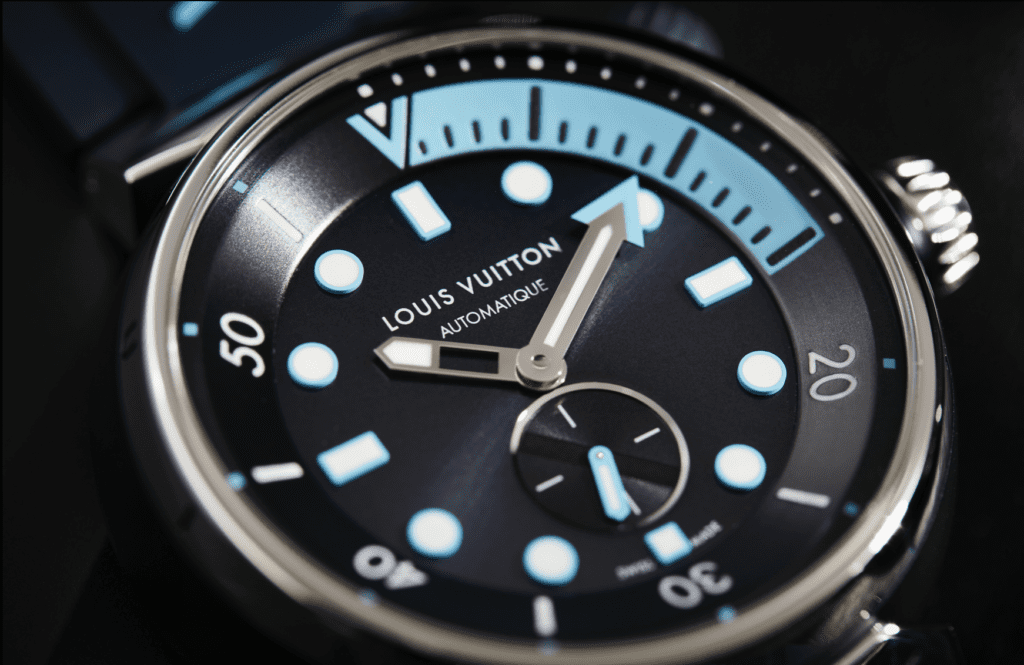 We kick off with a design that simply will not be ignored, the 44mm Louis Vuitton Tambour Street Diver in the Skyline Blue colourway (also available in Neon Black and Black Blaze editions). You want different? You got it. This dive-style piece has a tall, round case that tapers toward the crystal, and shares some visual DNA with, of all things, a Seiko Tuna. Bright, contrasting dial elements abound, from the wide, highly visible handset, to the supremely legible internal dive bezel, which is activated by the second, compressor-style crown. While perhaps not a true diver (water resistance is 100 metres), it's certainly capable enough for traditional watersport activities. The Louis Vuitton Tambour Street Diver lists for $7,505 USD / $10,520AUD, and is a fun, flashy watch from a company known more for ultra-luxury luggage than tool watches, and for me, that's what makes it so intriguing. 
Next up is a sleek, hypercar of a wrist machine, the recently discontinued Chanel J12 Superleggera Chronograph (Ref H1624 version). Chanel, known for their decadent quilted leather handbags and iconic "little black dress", have long been in jewellery and timepieces, but the bulk of those watches tended to reside in the "dress watch" world. Then, in 1999, they shocked the fashion world with the introduction of the fully ceramic unisex J12 model dive-style watch. Available in a variety of sizes, in both glossy black and white, it was an instant hit, and became a mainstay of the catalogue that continues to this day, with new flavours (including rainbow jewelled models) being introduced on an annual basis. The Superleggera ("Superlight") iteration is my personal favourite (with the 300 metre J12 Marine diver a close second). Available in several different versions and finishes throughout its product life, my preference is for the visually arresting H1624 reference, with its highly legible black-on-silver dial, trim case height (for a chronograph) of 12mm, and bold black ceramic and aluminum two-tone bracelet. It's a stunner. The Superleggera also features a COSC-certified movement and 200m of water resistance with screw-down pushers and crown, so it's as high-performance as that Pagani Zonda you're currently doing donuts in. Available on the secondary market starting around $4,000 USD.
From the sleek and sinuous, to the completely out-there, we come to the Dior Homme Chiffre Rouge D02 dive watch from 2009. Designed by Hedi Slimane, it's a strange one for sure, but I find it so compelling. I just love the violent collision of opposites between utility and haute couture. Just look at this thing. Black rubber on stainless case and bracelet, ETA 2824 movement, 300 metres water resistance, and that crown guard…thing. It's like a grenade trigger.
Then, peeking around the reverse, a red crystal display caseback, showcasing the movement in the most lurid fashion imaginable. The entire Dior Chiffre Rouge lineup has similarly outrageous touches, but none so dangerous-looking. I love it. You should be able to find one starting at around $2,500 USD.
Known initially for jewellery, Bulgari has evolved in a very big way to enjoy some major successes in the watch arena as well, but its main focus has been more refined pieces, such as the red-hot Octo Finissimo. Would it surprise you that they have a legit dive watch in their back catalogue? I was. But the Bulgari Diagono Scuba is a real-deal diver's watch, and although no longer part of the product line, it was available in a dizzying array of models, including two-tone versions, chronographs, and an absolutely bonkers 2000 metre model. Not too shabby for a fancy jewellery maker.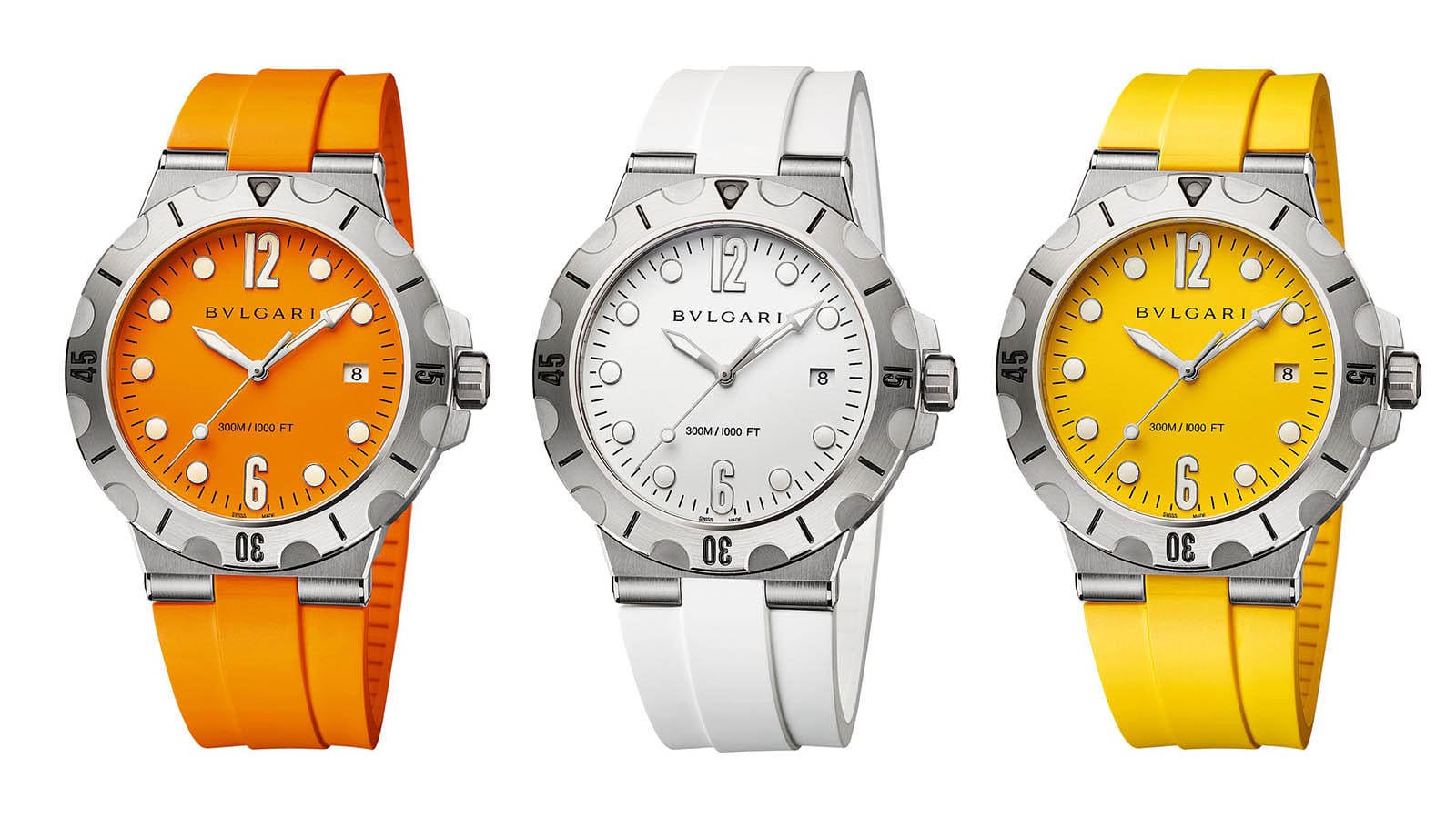 The classic Diagono Scuba reference has an in-house movement, and was available on an integrated rubber strap or steel bracelet, with 300m water resistance, and in a rainbow of dial colours, including summery tones of yellow, orange, or white with matching straps. It has an elegance that belies its rugged build quality, and is a super-cool choice for those seeking a refined piece with actual diving cred. And a preowned Diagono Scuba could be the sleeper bargain of this list, with examples starting at around $1,500 USD.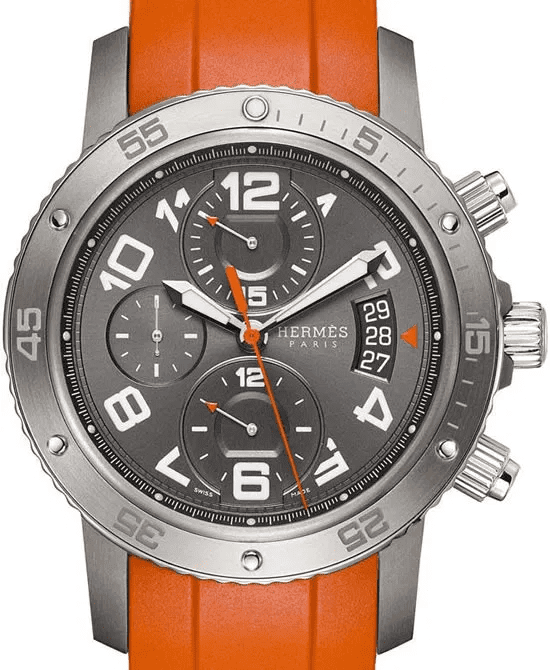 Here's something you'd never expect: A legitimate tool watch from luxury house Hermès, known for their fine leather goods and silk scarves. Hermès does manufacture watches, but they're usually somewhat delicate-featured affairs, save for this beast of a tool watch, the Hermès Clipper Automatic Chronograph. It's a roided-out 44mm behemoth in either steel or titanium, with 200 metres water resistance and screw-down pushers and crown. A Valjoux 7750 is the beating heart of this absolute bomber, and it was available on both metal and rubber to suit your personal style. You should be able to track one down starting right around $2,000 USD.
Bonus Track: Calibre de Cartier Diver in Blue Steel. I'm sorry, but I couldn't leave out a supermodel-ready watch with 'Blue Steel' in the name! Yes, Cartier has a long history with watches and jewelry, but none so brutally capable as this 300 metre diver. Available in a variety of metals and finishes, it's as refined as you'd expect from Cartier, but with an exterior as tough as a Belstaff motorcycle jacket. And, being a Cartier, it won't come cheap. Expect to pay a minimum of $5,000 USD on the secondary market.