What's it like to wear a Casio Edifice for a week
Borna Bošnjak
Casio Edifice is a brand we've been taken a closer look at over the past couple of months, out of intrigue for their price-to-performance ratio. The Edifice collection as a whole has something for everyone – from simple three-handers to solar pieces with busy dials, the latter of which I spent (nearly) a week with. This was my first foray into this type of watch, so if you're keen to learn the perspective of a vintage lover – read (or watch) on.
With a size of 46mm and a lug-to-lug of 50mm, I didn't have high hopes going in. Leaving my UG Polerouter in the watch box, I strapped on the Edifice and headed to the office on shoot day. Immediately, I was surprised by the slender profile of the ECB-S100HG-1A – catchy name, Casio. At 9.8mm, the wide expanse of the case was greatly negated, though it did suffer from what I call "dinner-plate syndrome". Allow me to explain. Take a large watch, 45+mm in diameter and 50+mm lug-to-lug, and slim it down as far as possible – it's slim, but still takes up lots of wrist real estate.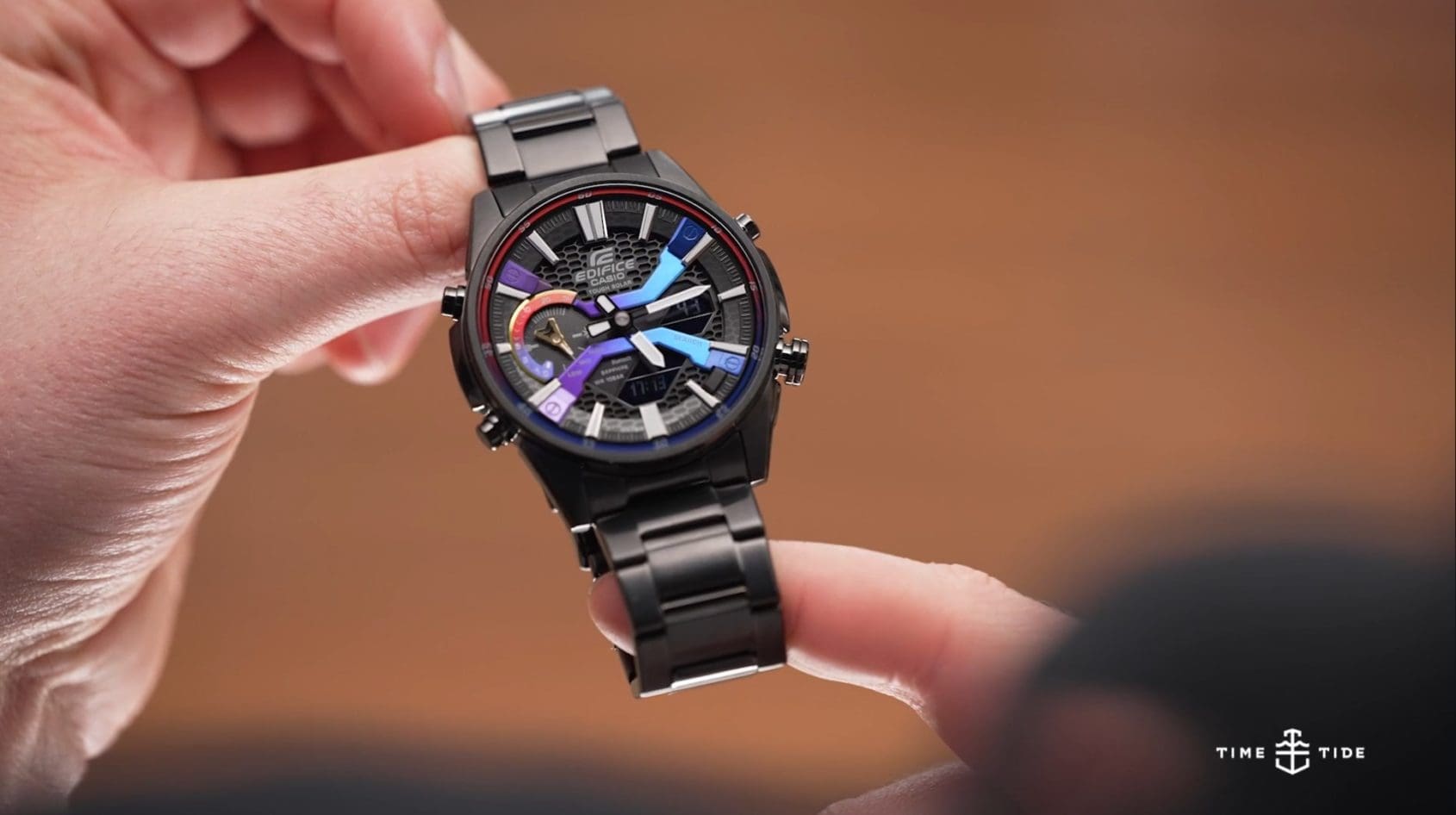 Thankfully, the female end link helps with the wearability tremendously, as does the thin, well-articulated bracelet. Something I expected, yet still felt slightly disappointed about was the pressed clasp – small details like a milled one would help take the watch to the next level.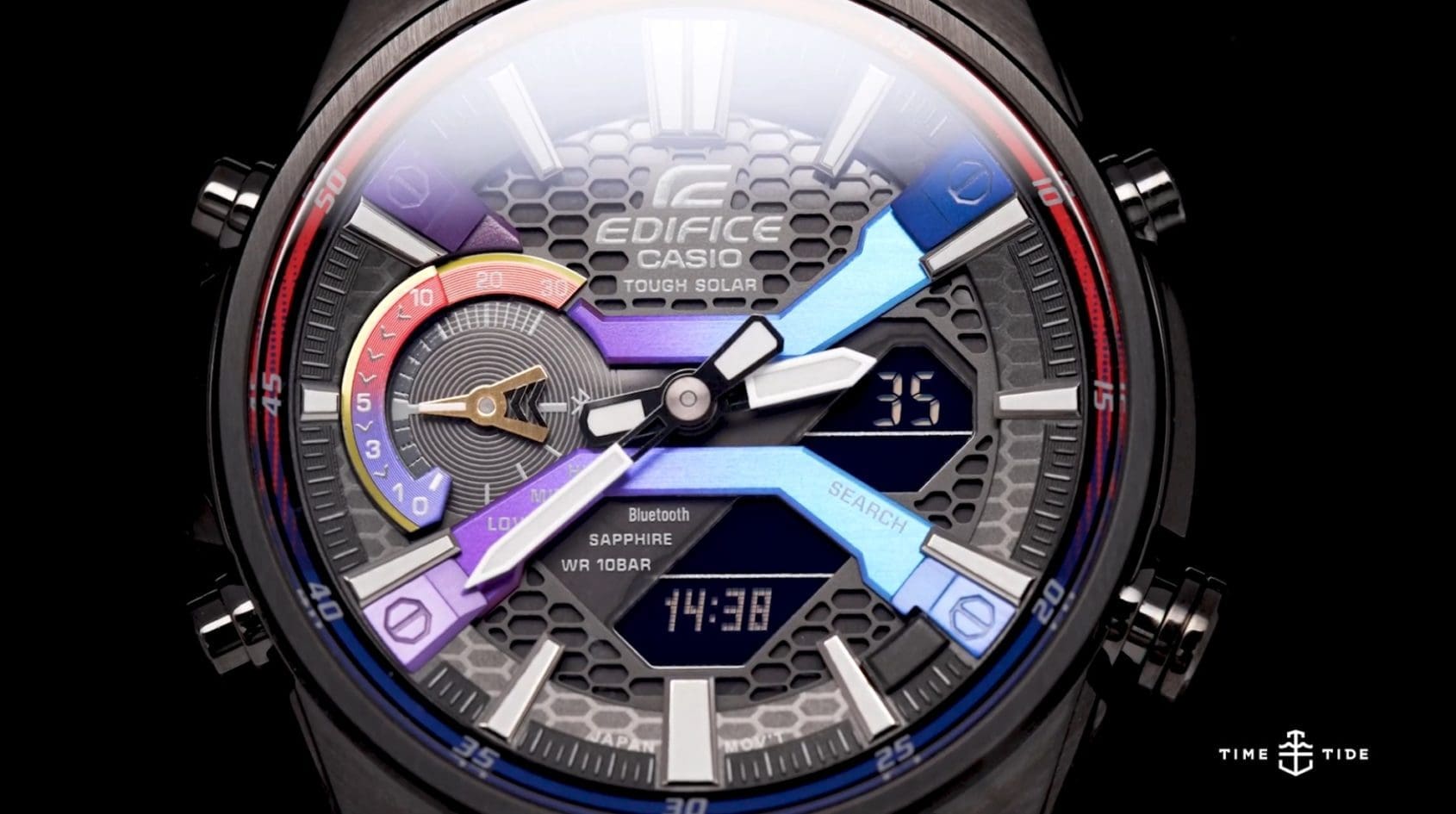 The functionality is where this Edifice really shines. While I didn't quite have enough time with it to explore the usefulness of the world timer, I definitely appreciated the accuracy guaranteed by the watch syncing to my phone. You may have caught on in previous Edifice coverage already, I also absolutely adore the "find my phone" feature that Casio built into the watch. You'll have to watch the videos to see Andrew and me jam to those sweet tunes.
The verdict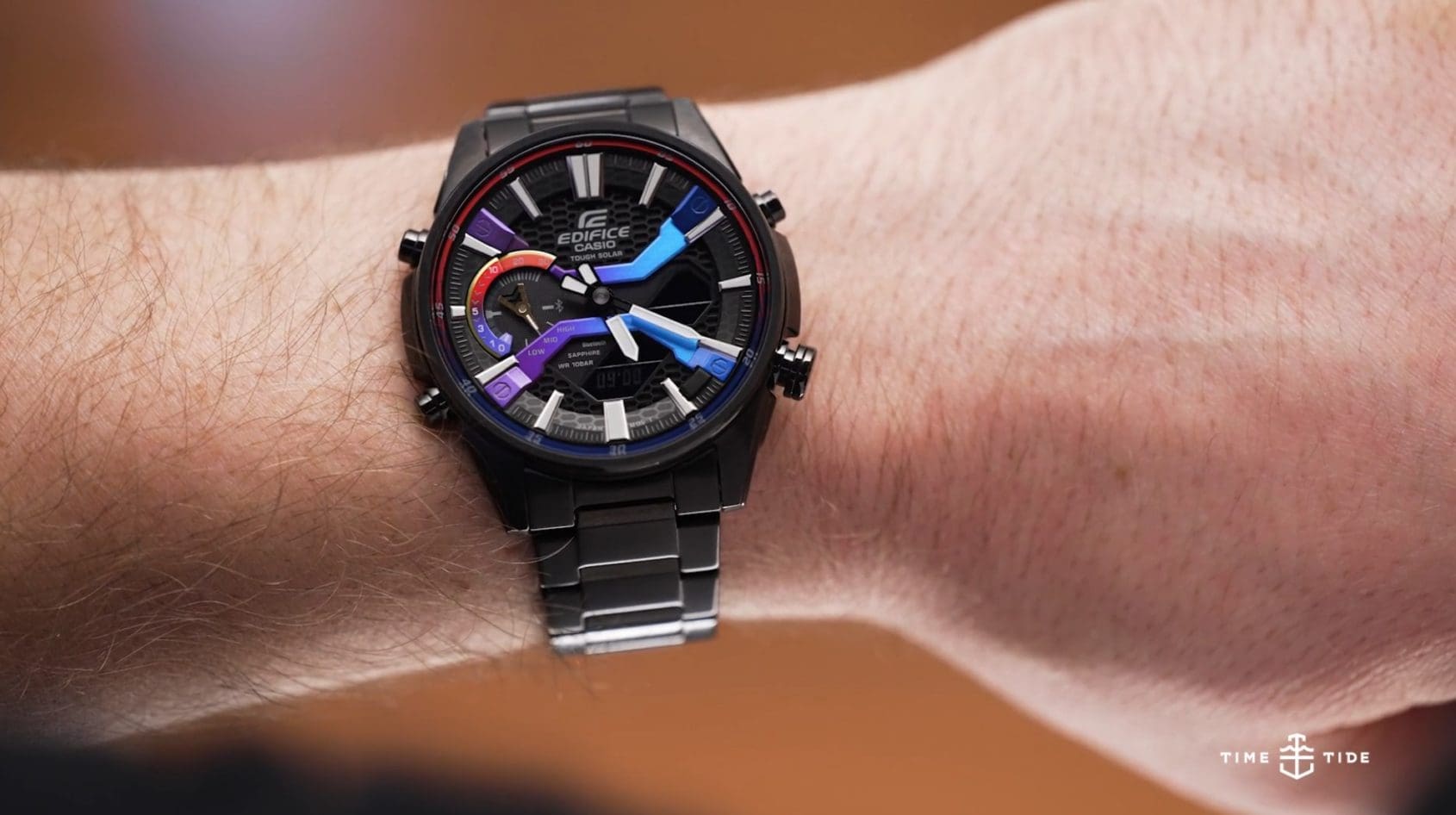 Those looking for a larger, relatively affordable watch that will do a decent job in pretty much any situation – an Edifice may be right for you. Should you be keen on a motorsport tie-in as well, the ECB-S100HG will be right up your alley. Personally, it'll take a sub-42mm case to fully convince me, though I'm certainly open to the idea.
Edifice ECB-S100HG-1A pricing and availability:
The Casio Edifice ECB-S100HG-1A is available now. Price: A$529
| | |
| --- | --- |
| Brand | Casio Edifice |
| Model | ECB-S100HG-1A |
| Case Dimensions | 46mm x 50mm x 9.8mm |
| Case Material | Stainless steel, black ion coated case |
| Water Resistance | 100 metres |
| Dial | Gradient blue/red, black |
| Crystal | Sapphire |
| Strap | Black ion coated stainless steel bracelet |
| Movement | Multifunction quartz movement |
| Price | A$529 |