A relationship with a watch can be a complex one, fraught with the tensions between longing and expectation, and the quotidian reality that it is just an object, full of as much meaning as you are able to maintain within it. If you buy a watch brand new, you can bask in the pleasure of the boutique experience, but are inevitably faced with the anguish of the drawing of first blood as you notice a single scratch on an otherwise pristine surface. If you buy vintage, you inherit the imperfect character of the watch as you recognise that you are merely the caretaker of an artefact, rather than Smaug sitting on a pile of greedy wealth. But as the caretaker of a crumbling chateau understands, being responsible for an artefact of the past is to accept that its condition will never be as good again as it is in that moment. But the real question (which is what this column is really trying to get at) is why do you want this watch instead of that watch, and why. Time+Tide reader Gilbert articulately explains why he made the decision on a Rolex Kermit, over another collectible vintage Rolex.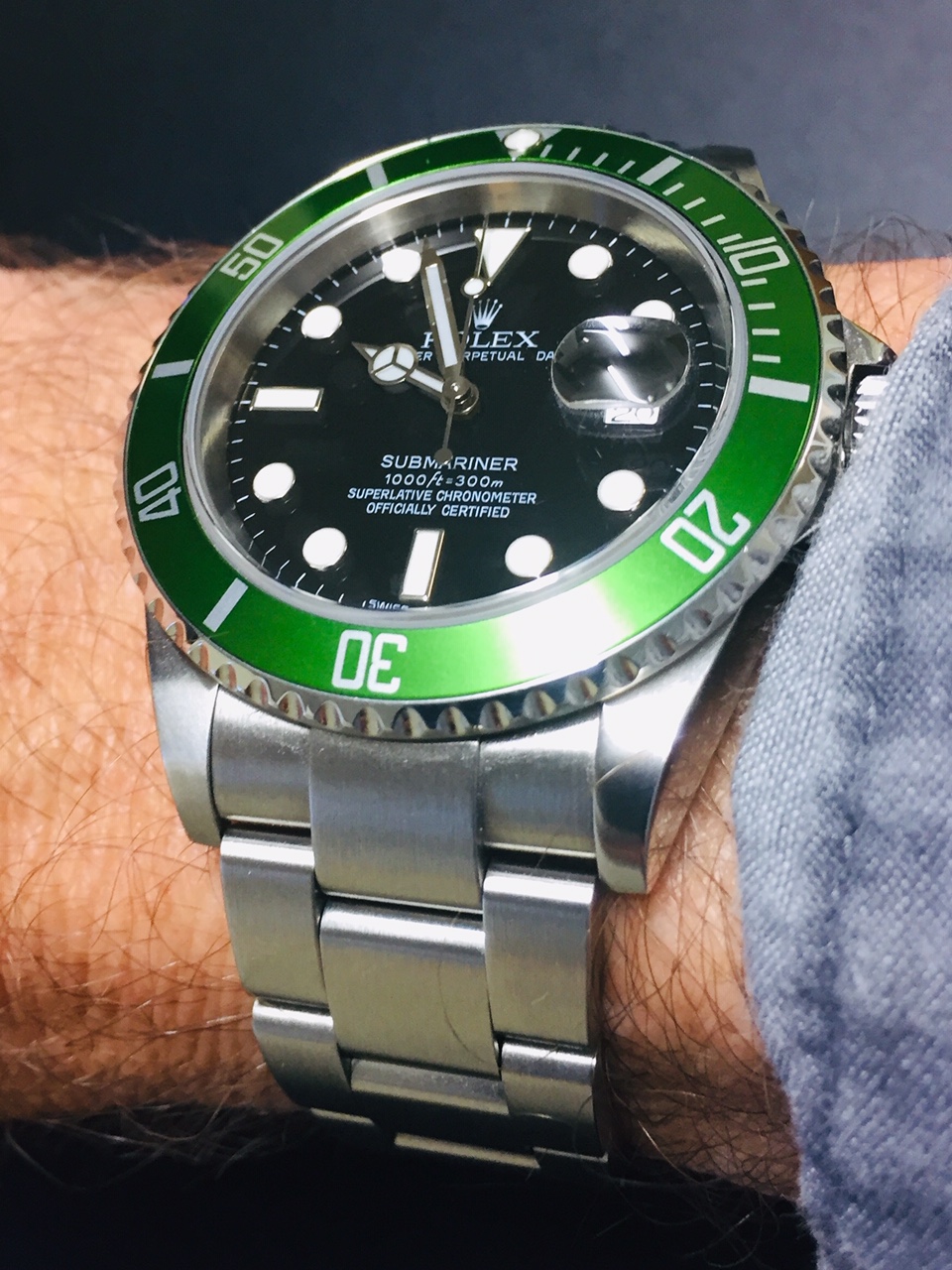 When did you first see/hear about it?
Anyone familiar with "Bark & Jack" will almost certainly be familiar with the Kermit. Strangely, the host's persistent raves about his own watch did initially put me off and then gradually pique my interest. YouTube envy aside, the Kermit is far more impressive in the metal, and I became smitten when I first saw one at Vintage Watch Co, from whom I have bought most of my watches to date.
Being a Submariner, it doesn't really have to be much beyond what it already is, although it is worth pointing out that the Kermit's real point of difference is the fabulous "maxi-dial" hour markers and hands, and not simply the green bezel.
What is the story behind the purchase?
As we all know, being smitten with a watch typically means its acquisition is inevitable, with the only remaining questions being the lead time and the small matter of how one is going to pay for it. Vintage Watch Co advised that I could be waiting months for another one, despite my criteria being simply that it needed to be in good condition. I wasn't so bothered about a Flat Four or an Oval O (we are not talking vintage Rolex here), and I wasn't in a position to pay an even greater premium for an early 2003 reference with full set. I just liked the watch. Thinking I had six months to save up for it, they called me the very next day to say it was in store.
What was the deciding factor?
The deciding factor was twofold: I wanted it and I was prepared to give up my 1970 metres-first matte dial 5513 Submariner with original box and full papers in order to get it. The next day at Vintage Watch Co I asked possibly the stupidest question any naïve Rolex collector has ever asked a watch dealer: "Which do you think is the better investment — that Kermit or my 5513?" Naturally, Vintage Watch Co were very diplomatic about our straight-swap-no-questions-asked-this-trade-never-happened deal, whereas my good friend Brennan was less delicate. "You're a Muppet," or words to that effect.
There are days when I do really miss the beautiful soft, worn edges and pleasing creamy patina of the 5513, and I still sometimes kick myself for letting it go. The older 5513 is a rare piece and it offers a romance that one can't simply replicate with post-tritium dial watches. And like inner-city real estate, I can't see myself being let back into the market anytime soon. However, the watch did have its own weaknesses in my view (which I will keep to myself of course), and – paradoxically – it was so subtle and laidback it almost lacked any wrist presence (except to the odd hipster who noticed it).
Any surprises?
No such problems with the Kermit. It oozes wrist presence and charisma. Forgive me for sounding shallow, but I was surprised how much I really enjoy wearing a watch that is undeniably a very handsome-looking piece. No doubt this inherent coolness comes from the Submariner side of the family rather than from the Fuzzy Green Frog side of the family, but the interplay of cool and dorky is precisely what I love about it. I am lucky enough to also own a 14060 Submariner, and that watch does straight out, no frills, get stuff done, cool watch every day of the week.
The real surprise for me with the Kermit, however, was how much pleasure I would derive from wearing it, despite it also reminding me of the impetuous decision I made to part with the 5513. But that's me: impetuous and forward-looking, more modern than vintage, and a bit more goofy than cool.
When do your wear it?
On Fridays. With jeans, Vans, and a black T-shirt.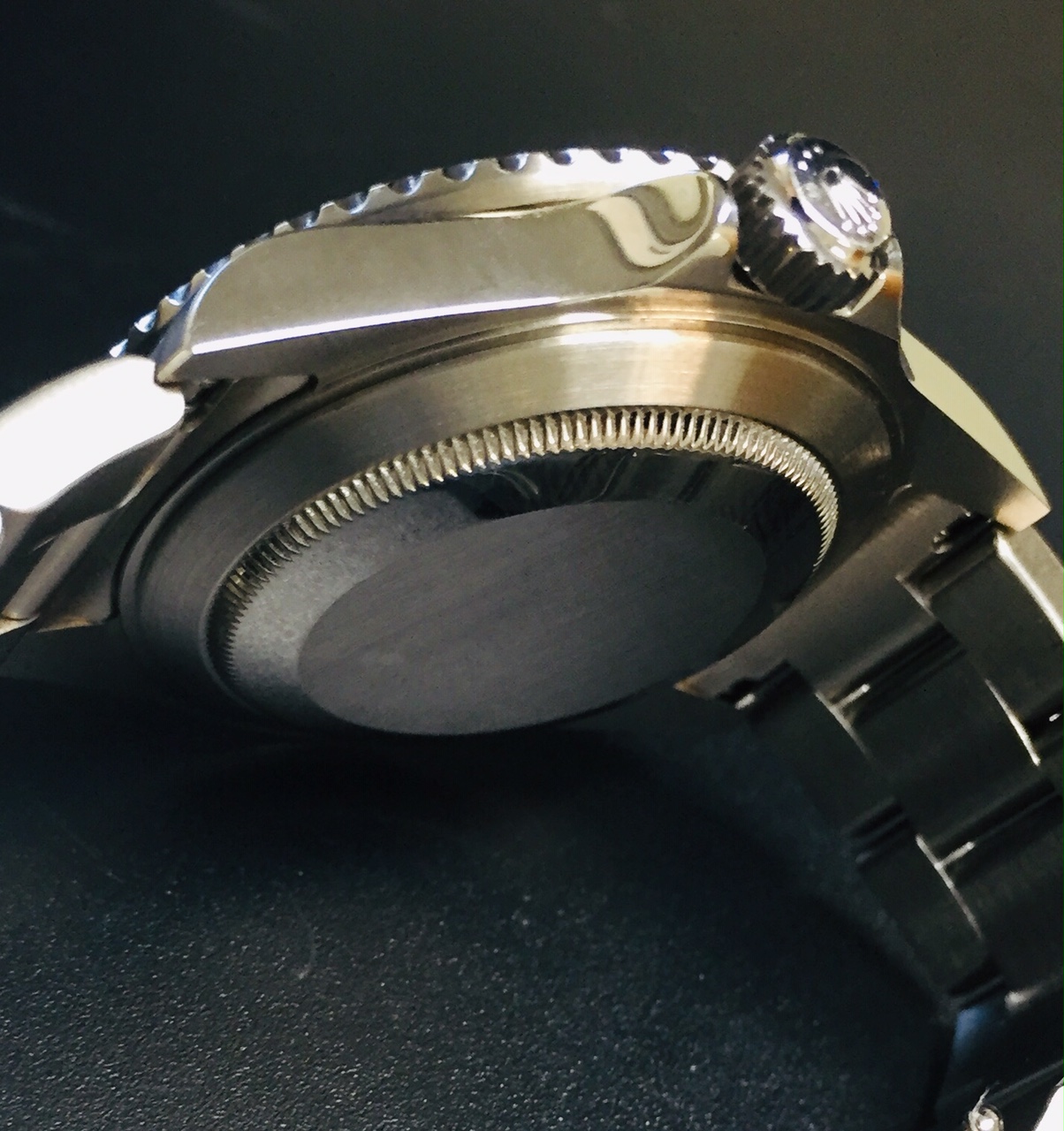 How does it feel on the wrist?
I have a 17.5cm wrist and 40mm cases are my sweet spot. The current maxi-case Rolex watches are a bit too big for my wrist, so I find the slimmer pre-ceramic Oyster case to be very well-fitting. Despite having the traditional thinner clasp mechanism, the Kermit bracelet does have solid centre and end links, so it feels weighty and consequential. I can't see myself selling or trading it, and I'm now back to saving for my next watch, one dollar at a time again.