We've said it before, but if you ask a watch geek their thoughts on the humble G-Shock, chances are they'll give it the tick of approval. Because when it comes to the G-Shock, not only are they incredibly robust watches that are basically bulletproof, but they also exist beyond the horizon of haute horology and have passed into the lands of a more popular culture, where a normal person who has never heard of a tourbillon or a GMT-hand will wear a G-Shock and be proud that it is both cool and comfy. In addition to their broader social recognition, Casio, the manufacturer of the G-Shock, are very good at making wristwatches. Every now and then they pull out all the stops to produce a watch that is still G-Shock at the core, but is finished to such a high standard that you couldn't be blamed for comparing it to a five-figure peer. That's exactly what Albert has with his rainbow Casio MTG-B1000RB, and this is the story of why he decided to seal the deal.
When did you first see/hear about it?
I was looking at the official G-Shock site just to see what the latest models were, as I hadn't been there for a while. After filtering the searches for a solar-powered watch, this watch came up and instantly I said, "Wow! That looks so cool!" Even the Mrs thought it looked good.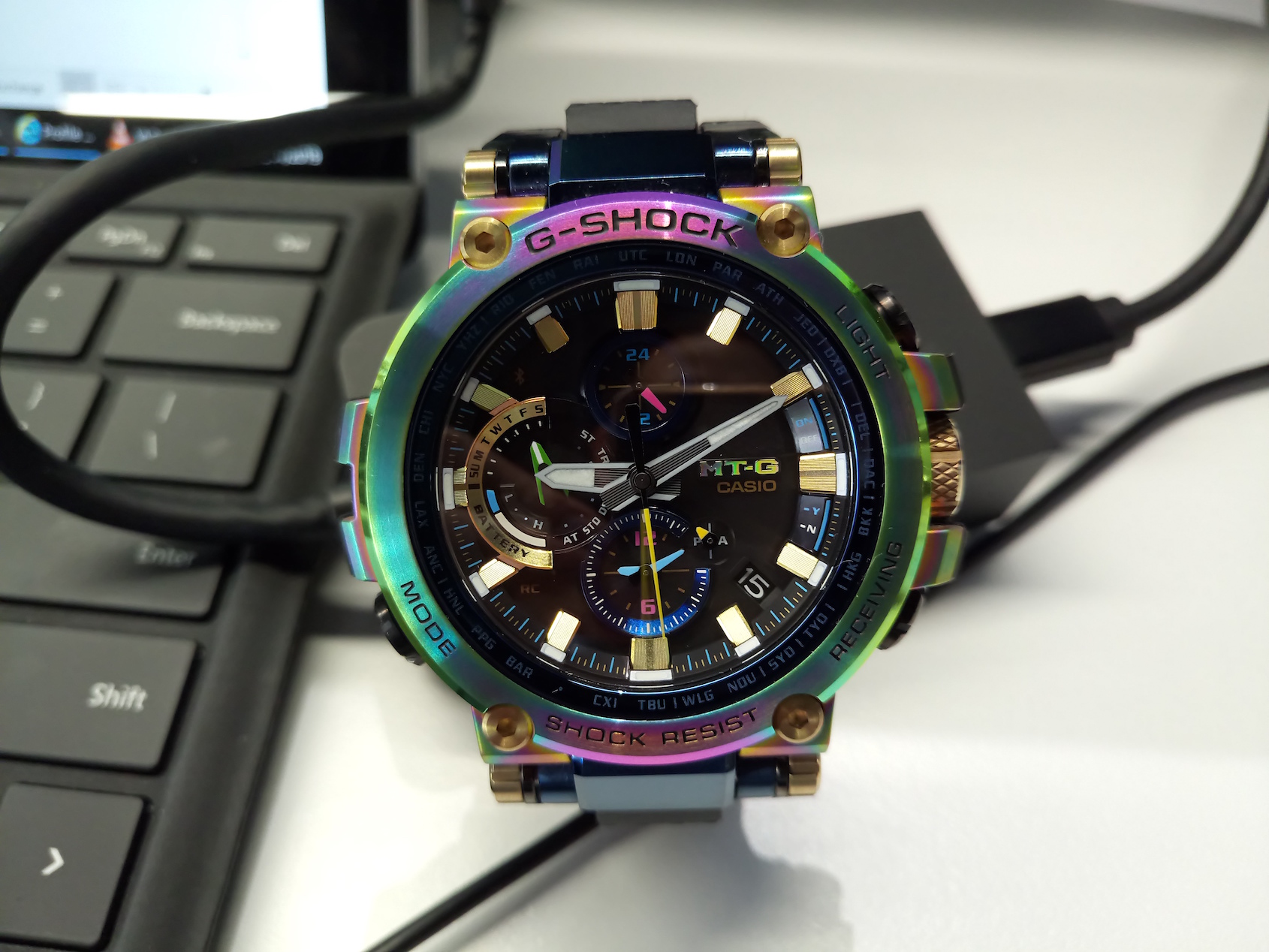 Any story behind the purchase?
It's a limited edition watch and was sold out at most places months ago! After a lot of searching, I found there was an AD that still had one left in stock. I'm in Sydney and they were in Melbourne. They don't do online or phone ordering and could only hold it for me for a day.
So what did I do? I did a one-day trip to Melbourne! I bought airfares and sent an email to the boss at 11pm, saying I'm taking annual leave tomorrow. I flew down to Melbourne, bought the watch, had a quick lunch and flew straight back up to Sydney — 14-hour trip door-to-door, with train and flight delays. Was it worth it? Hell yes!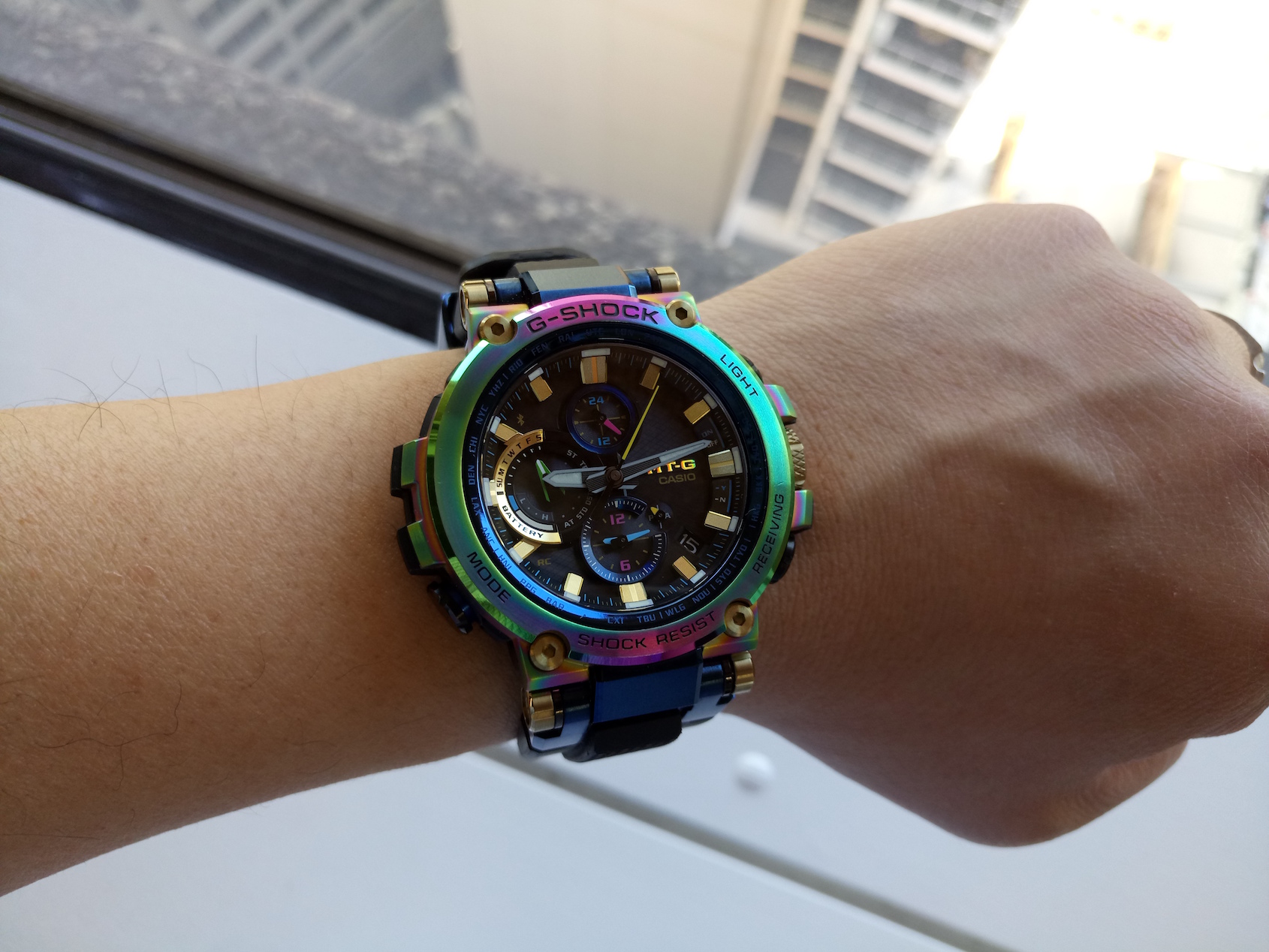 What was the deciding factor?
Look at it. How unique is it? I've never seen a G-Shock like this.
Everyone young and old wears G-Shocks. You look at their wrists and say to yourself, "Meh, just another G-Shock." An average person couldn't tell if it was a $50 or $1000 G-Shock unless you're a fan-boy. However, with this Lunar Rainbow Limited Edition one it's bound to turn heads. If you told them it cost $1700 there's a chance they would believe it as they've never seen one like this before.
Any surprises?
For its size and use of metal materials it's still surprisingly light.
When do you wear it?
People say you never ever wear a G-Shock under a business shirt and I wasn't planning to. However, I decided to try it and it actually looked pretty good. I now wear it once or twice a week, rotating it with my other watches.
How does it feel on the wrist?
Quite good considering its size. I have small wrists, so this'll be the biggest watch I'll ever wear.