This weekend, I wore my DOXA SUB 200 130th Anniversary and went out in search of what other like-minded individuals had decided to attach to their wrist, and this is what I found out in the wild:
Kosta's Grand Seiko 9F quartz GMT SBGN005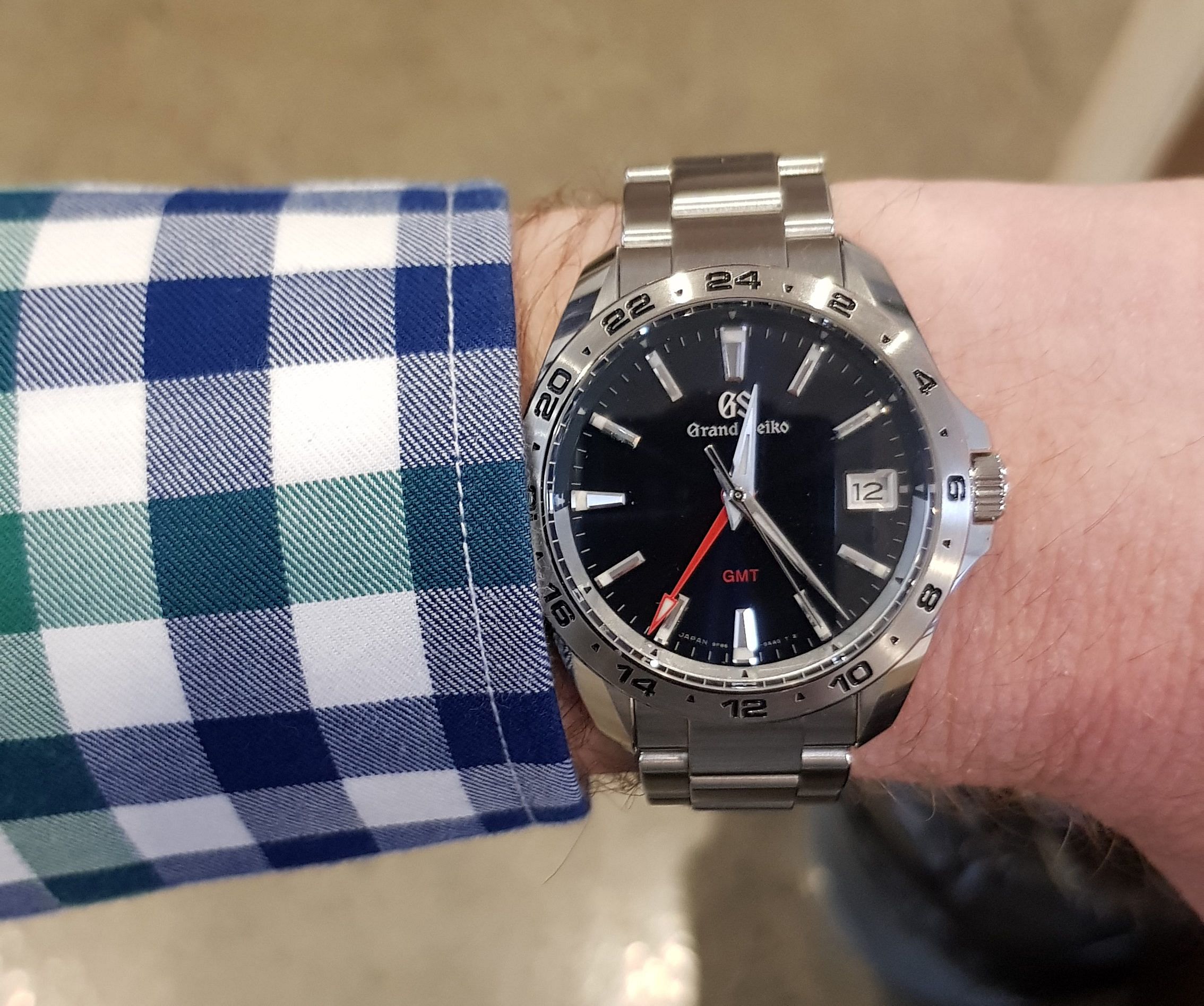 Kosta's passion for timepieces is still very much in its infancy (only two years, to be precise), but in that time, his tastes and preferences for watches have evolved just about how you'd expect. It started off small, with a rather nice Hamilton, then came a Seiko Presage, and then a TAG Heuer. But it wasn't long before Kosta well and truly sent it off the deep end and dived head-first down the rabbit hole of horology. And whether you scour the forums, browse YouTube or peruse the endless pages on Instagram, an inordinate amount of adoration is heaped on Grand Seiko … for good reason. Kosta immediately fell in love with the sporty characteristics and undeniable practicality of the Grand Seiko 9F quartz GMT SBGN005 — the sunburst blue dial, contrasting red GMT hand, 39mm stainless steel case and the finishing … well, we all know about the finishing. So, sacrifices were made, dollars were saved and, before too long, Kosta had his perfect weekend watch.
Trent's Rolex Oysterquartz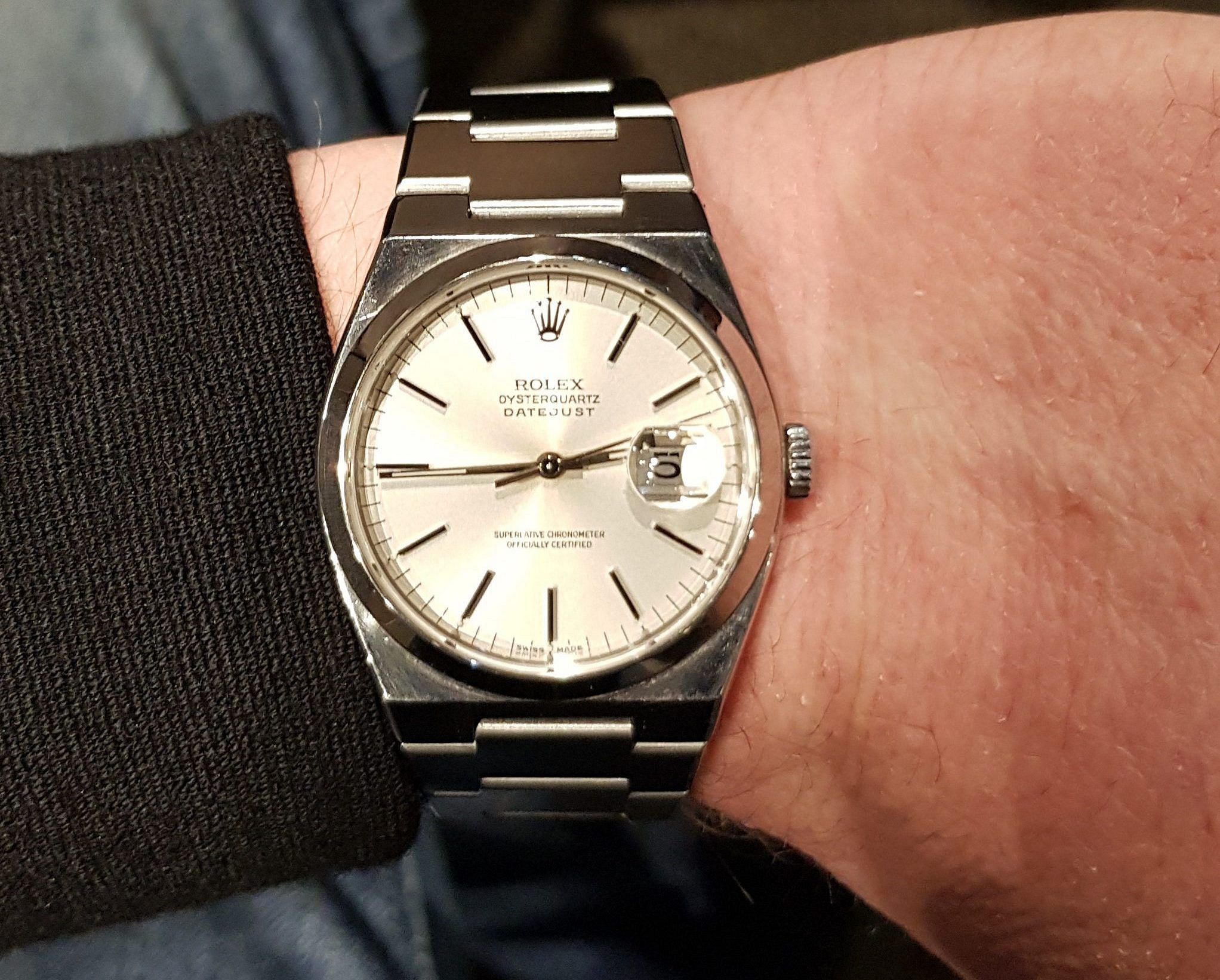 Trent has always gone for the slightly eccentric, left-of-field timepieces in his watch collection. For a daily he wears a gorgeous, manual-winding '50s Eberhard & Co. three-hander; when he goes for one of his ocean swims, he's always got his trusty Omega Seamaster Ploprof strapped to his wrist, and when it's tools down on Friday afternoon, Trent makes a beeline for his gorgeous Rolex Oysterquartz. Why does Trent like the divisive Oysterquartz so much as a weekend wearer? Well, he loves the fact that he never has to wind the watch or set the time, and only seldom adjust the date — such is the magic of a quartz timepiece. He just picks up the watch, throws it on his wrist and off he goes. A great weekender and, on a personal note, I reckon that the Rolex Oysterqaurtz is still a grossly underrated timepiece and prices will almost certainly rise in the future.
Daniel's Nomos Glashütte Ahoi neomatik Atlantic Ref.561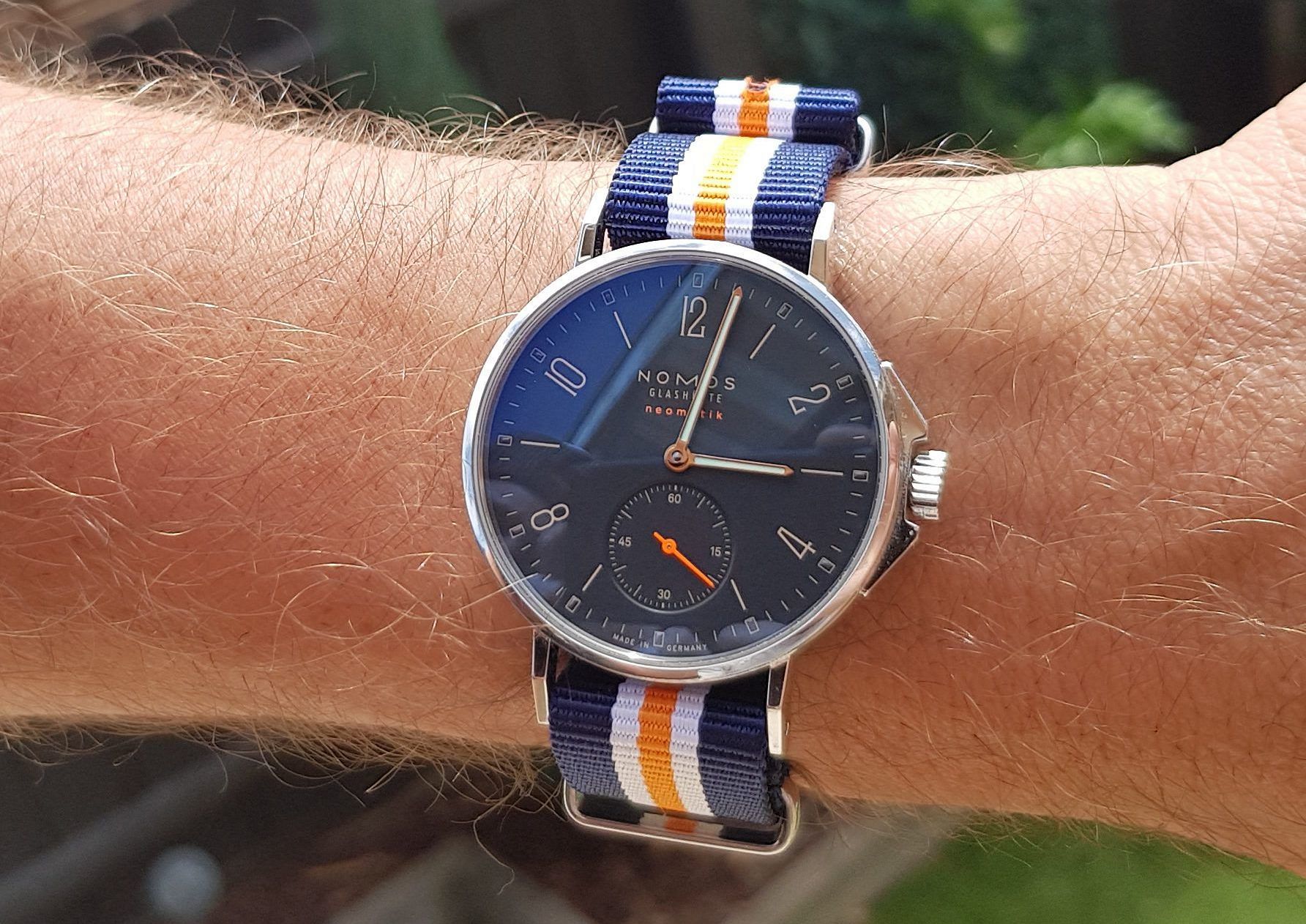 Daniel's watch collection has always been his pride and joy … and now that I've seen it, I totally understand why. But up until about a year ago, he was of the opinion that, if anything, it was perhaps a bit basic — there were too many hype pieces and not enough diversity. Around the same time, Daniel was very keen on purchasing a new wristwatch for weekend duties, as he'd just offloaded his previous weekend warrior, a rather nice 42mm Planet Ocean with orange bezel. Blinded by the overwhelming amount of choice, Daniel remembers feeling quite lost as to what his next timepiece should be. However, there were two things that he knew for certain: he wanted his next purchase to feature an in-house movement and, crucially, not to be made in Switzerland. With these prerequisites in place, it wasn't long before he stumbled across the Germanic watchmaker Nomos Glashütte and, more specifically, this Ahoi neomatik Atlantic. The combination of Atlantic Blue dial with contrasting orange "neomatik" lettering and seconds instantly spoke to Daniel, and he knew that this would be his next watch reserved for Saturday and Sunday. Since owning the neomatik, Daniel has ditched the standard blue-black textile strap in favour of a fetching NATO strap, which to my eyes has only increased the weekend aesthetic.