This weekend, I wore my Swatch Sistem51 Hodinkee Generation 1986 and went out in search of what other like-minded individuals had decided to attach to their wrist, and this is what I found out in the wild:
Danny's Tudor Black Bay GMT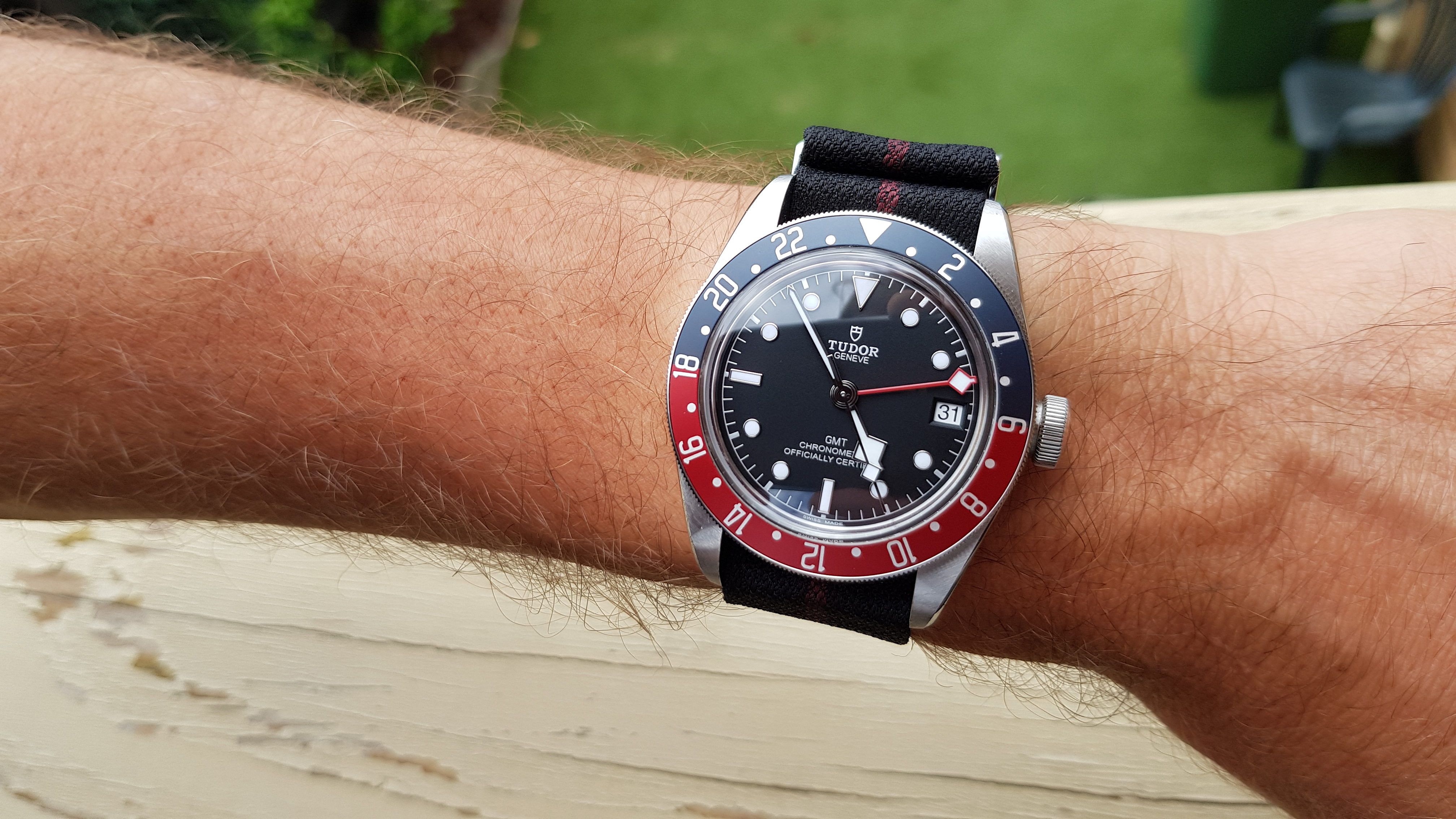 Danny has lusted after Rolex's GMT-Master II Ref.126710BLRO ever since it was first unveiled at Baselworld 2018. There was just one problem with his desire for a "Pepsi" though … and I think we all know what it was. So, once it became apparent that his sugary sweet grail watch wasn't going to be an option, Danny went in search of its Aspartame-equipped younger brother, the Tudor Black Bay GMT. Rather unfortunately, however, "Diet Pepsi", as it's come to be known, is an exceedingly hard timepiece to come by at your local AD as well. Luckily, though, while trawling Mr Zuckerberg's increasingly popular marketplace one morning, Danny stumbled across a Tudor GMT that was just weeks old. What was even more amazing was that the chap who was selling it was just asking for the RRP, rather than trying to make a quick buck. Danny messaged the seller in earnest, and before the day was out, the Diet Pepsi was his. And now it's Danny's perfect weekend watch and he couldn't be happier with it, although he's still got his name down for that BLRO.
Peter's Rolex Explorer II Ref.216570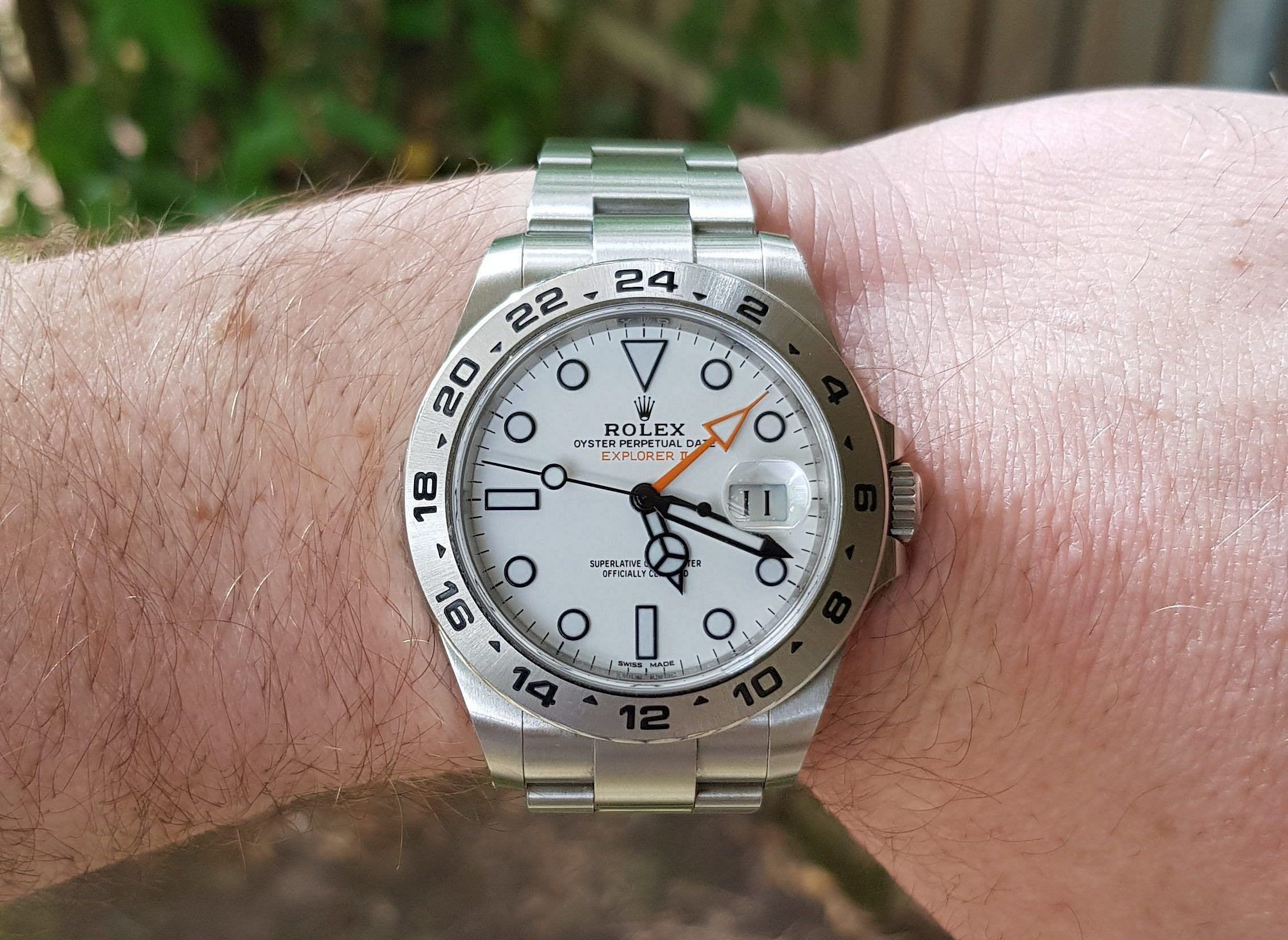 Peter considered himself very fortunate for owning a few rather nice timepieces already. However, he had always wanted a watch with a white dial. And, in his humble opinion, nobody does a white dial quite like Rolex. As a result, there really was only one option for him — the Rolex Explorer II Ref.216570. Yes the "Polar Bear", as he's come to refer to it, was the watch for him, and perhaps like our Clairvoyant Collector, he thought to buy one before it became impossible to purchase. Peter loves everything about his Explorer II: the 42mm Oystersteel case, the strikingly orange 24-hour hand and lettering and, of course, the gorgeous polar white dial. It's his perfect weekend watch, and I'm very jealous of it.
Riley's Rolex Submariner Ref.16610
While some people may wholeheartedly disagree with Riley, he personally believes that a dive watch cannot be worn with a suit — James Bond be damned! And, more often than not, Riley has to don the Super 150 threads for the working week. When the clock strikes five on Friday arvo, though, Riley makes a beeline for his gorgeous Rolex Submariner Ref.16610. There are so many things he likes about what many consider to be the ubiquitous Rolex Professional model, and chief among them is that his "Subby" is a aluminium bezelled, pre-maxi case Submariner from 2004. Riley does lament, though, that when he came to purchase the watch some years ago from a reputable secondhand dealer in Melbourne, he had the option to spend an additional $800 and instead purchase a Submariner 16610LV "Kermit". Rather obviously, he didn't do it, and there is still a tinge of regret there from time to time, but all in all, he loves his Submariner, and it's one of his favourite weekend watches.