Australia and Seiko have always had a strong relationship … in fact, pretty much every major Japanese watchmaker, whether it be Seiko, Grand Seiko, Casio, Citizen … whomever it is, we folk Down Under love a Japanese timepiece. And, out on my watch spotting expedition at the weekend, this sentiment was shored up no end. Enjoy.
Ty's Seiko Prospex SRPD50K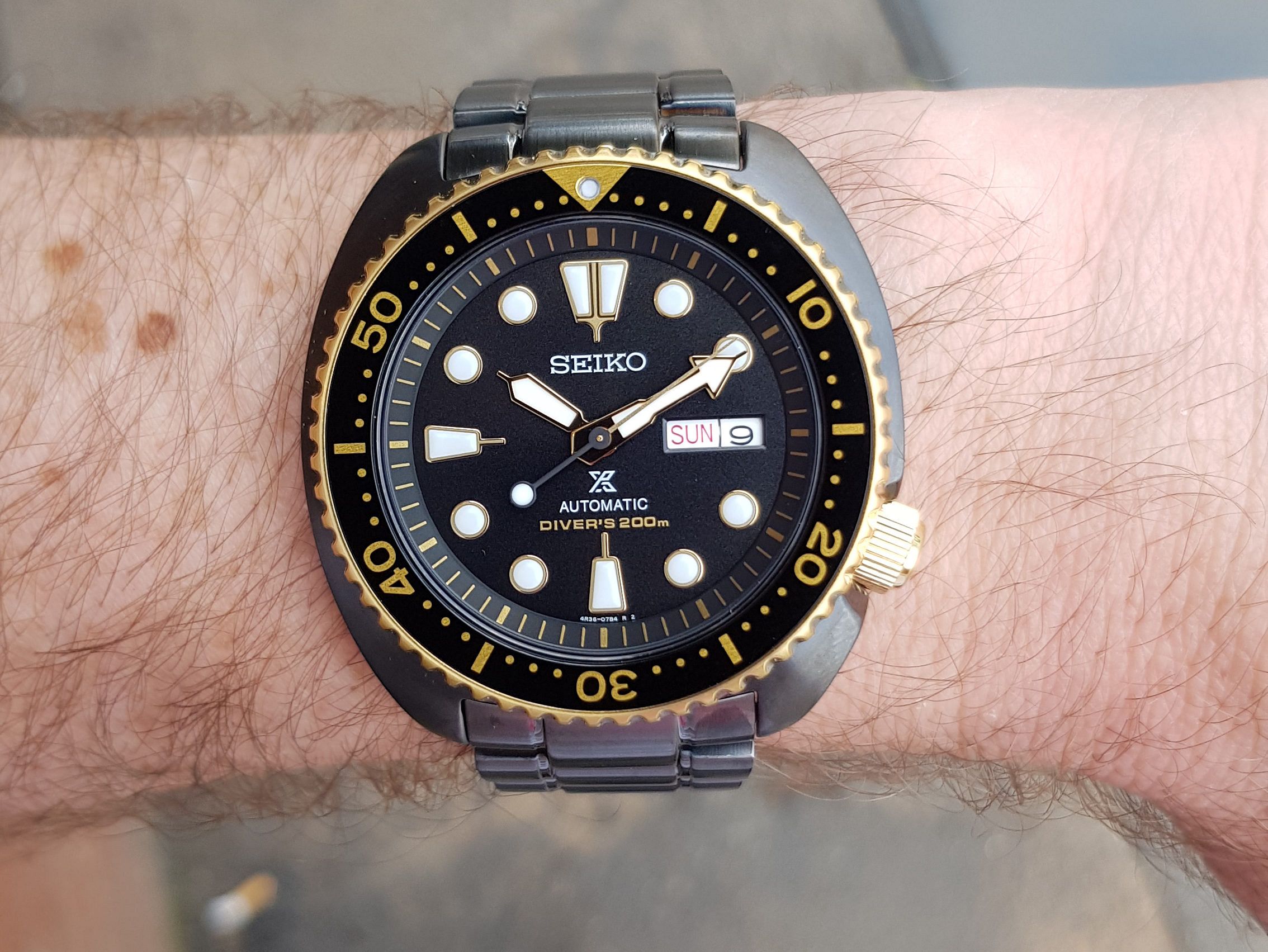 Ty's gorgeous Seiko Prospex SRPD50K, aka the "Aussie only Turtle", is a pretty stunning watch and perfectly sums up our country's love affair with Seiko and, more acutely, Seiko dive watches. Resplendent with its combination of anthracite coating and yellow gold accents — which can be found on the bezel, crown, indices and handset — this Turtle is a serious looker. Take into account that just 1000 pieces were made exclusively for the Australian domestic market, and this may well be one of the rarer turtles out there … period. A great watch and a very, very worthy weekend warrior. Well done, Ty!
Nick's Seiko Liner J14069
Myself and Deputy Editor, Nicholas Kenyon, actually took part in an event down at Phillip Island over the weekend called the San Remo Channel Challenge 2020. And while I'd rather not talk about the race itself (Nick absolutely trounced me), while I was down on the windswept island, I did get the opportunity to check out Nick's stunning vintage Seiko Liner J14069 from 1960. This classic dress watch is quite mesmerising thanks to its deep black "vinyl" dial and gold accents, and while I normally tend to like my watches a tad bigger than this manually wound beauty, I think I could probably make an exception to own something as nice as this. I'll have to keep saving my pennies, though, as a wager was made with Mr Kenyon regarding whom would be faster in the 500-metre swim and 2.5-kilometre run and, needless to say, without admitting just how ferocious the deficit was between my time and his, it was not I.