A Week On The Wrist: How the DOXA Sub 300 Divingstar inspired me to buy SCUBA gear
Thor Svaboe
On my wrist is something that embodies many a daydream. Jaques-Yves Costeau, Dirk Pitt, sixties cool and the carefree life of mid-century Europe in the summer. Can the tasty lemon of the DOXA Sub 300 Divingstar serve up all this in its compact dial, and make it come to life?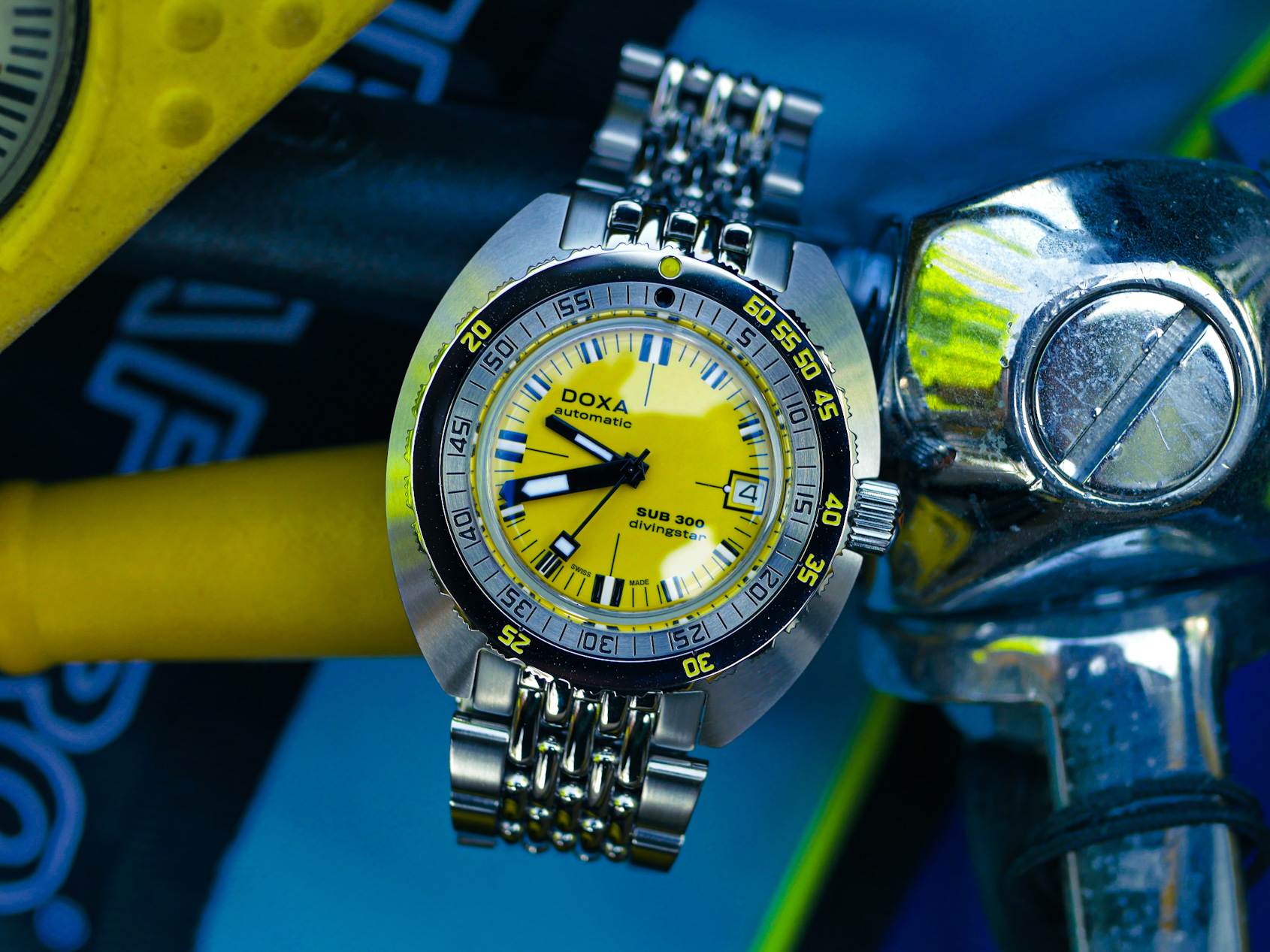 It might seem a tall order even for my vivid imagination, but then this is as fresh as you can get, and very different from any other diver's watch you have tried on.
First Impressions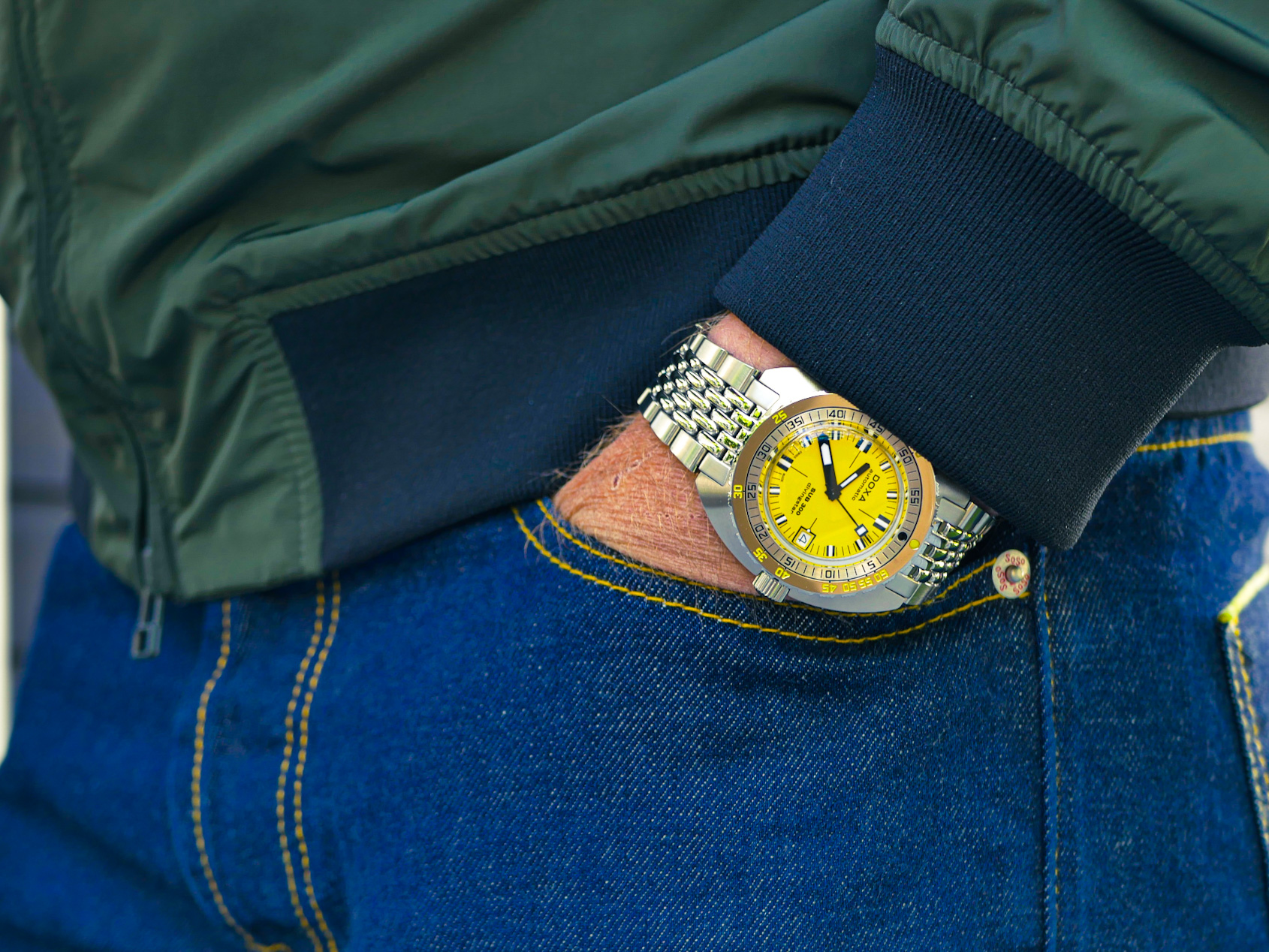 This is not my first DOXA, not even my first yellow one, but finally the quirky Sub 300 is mine. The crazy temptations that get thrown at me through media and emails every day as a watch journalist have made me buy too many pieces of wristwear, so it's usually a measured case of one in – one to sell. I have very much enjoyed my DOXA Sub 200 in bright yellow, and it is a great contemporary twist on the classic DOXA cues.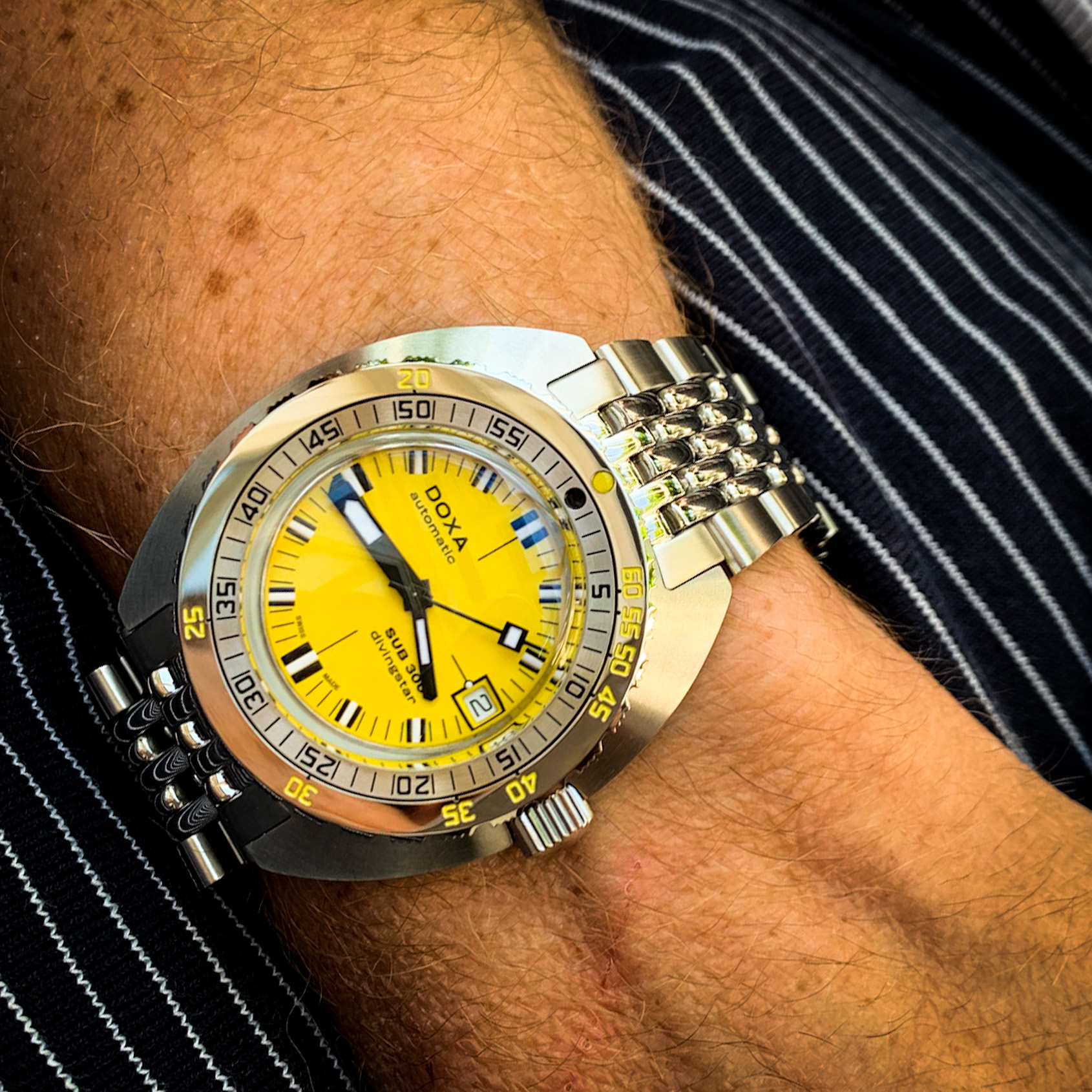 Of course I would love to have both, but the temptation of the new, slimmer and COSC-chronometer rated Sub 300 with its UFO-like case meant the 200 went to a new happy home. A Sub 200 on a rubber strap would be a perfect companion to the 300, but I'm suppressing that thought for now. That's what my wife told me, anyway.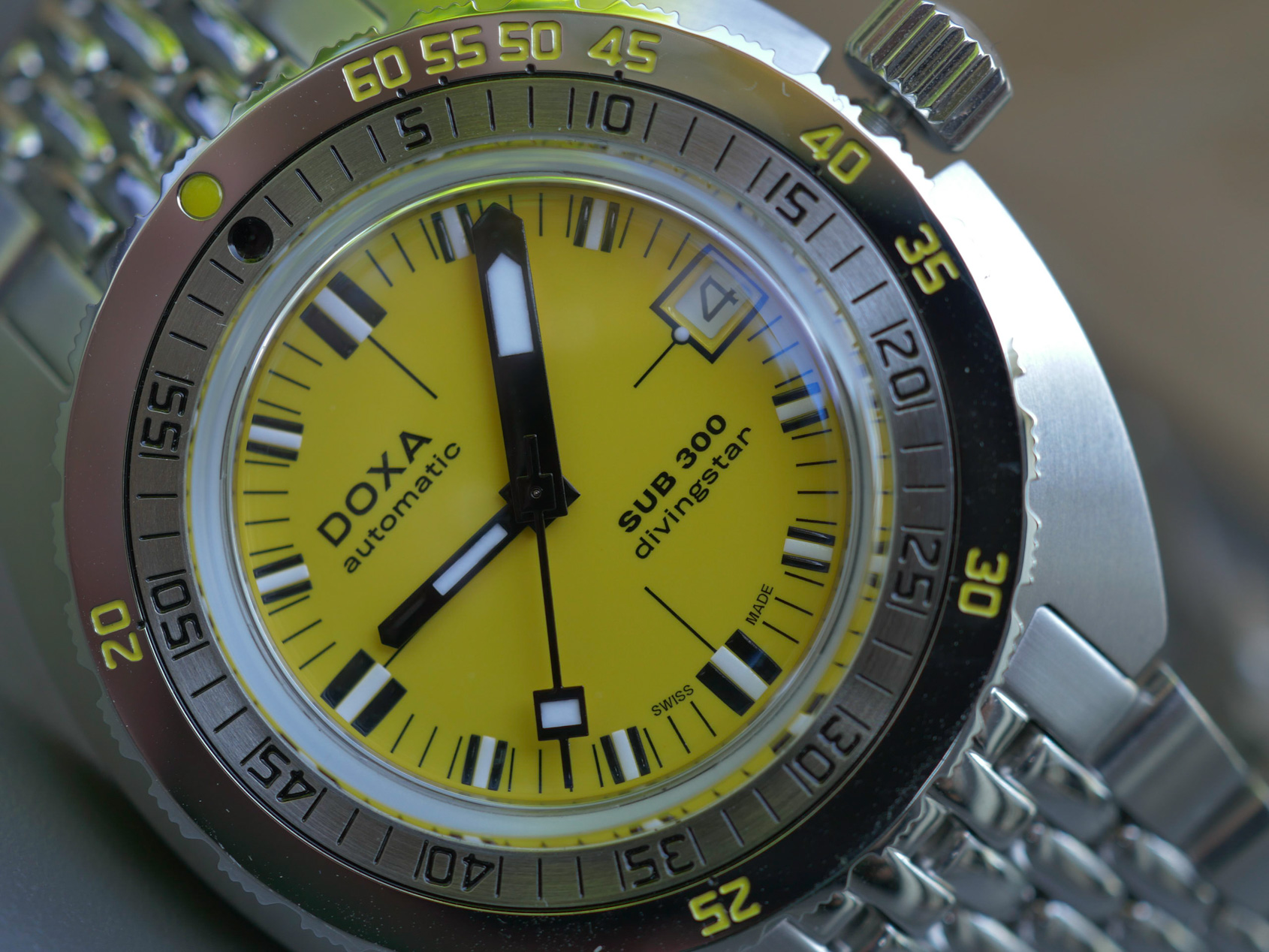 Slip it on, and it's taut of line and compact, wearing seriously smaller than its dimensions. That's what hits you when you feel the soft beads-of-rice bracelet on the wrist, and the DOXA Sub 300 rests, oh-so flat on your wrist. The Sub 300 has a strong presence in pictures, and through its barrage of sixties details, minimalist it ain't. But on the wrist it sits unlike any other diver's watch I've tried on, the 42mm case with its perfectly stumpy 45mm lug to lug feels like 40 or even 39mm. Akin to a stingray resting on the ocean floor, it gives me the same feeling of agility as a parked supercar, the visceral lines imbuing it with a sense of motion even at rest.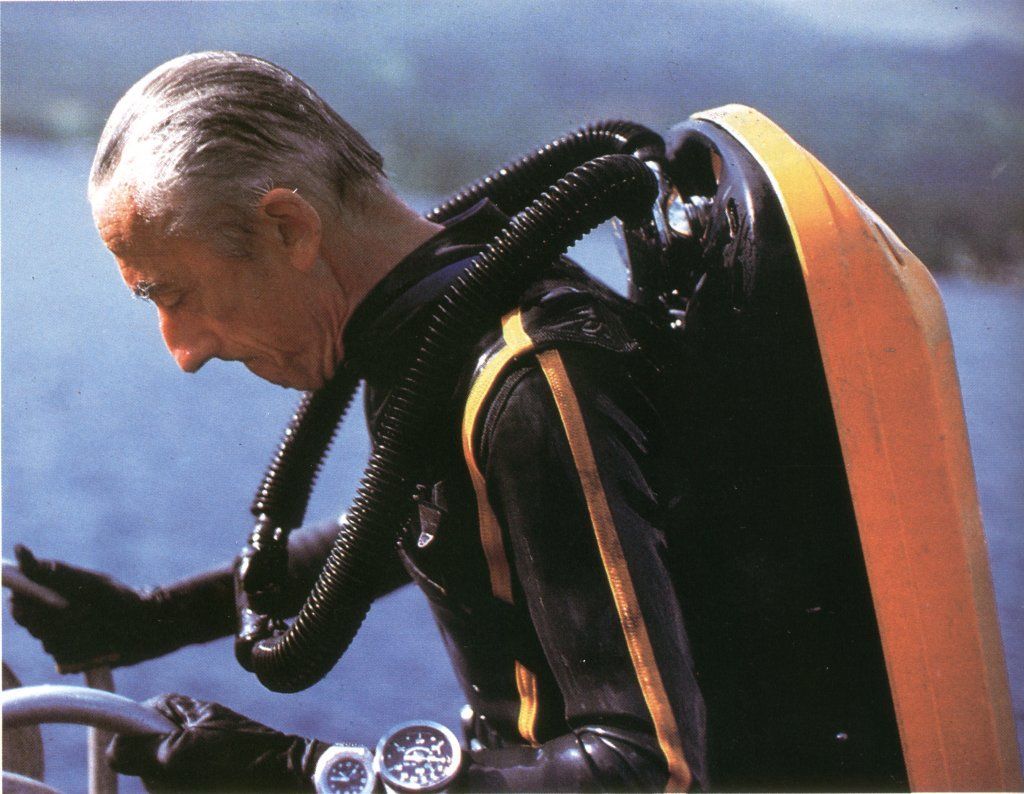 And of course, all the images of Jaques-Yves Cousteau in his wetsuit comes flooding in, the heritage is real. Hardly any other brand does reissues quite as well as DOXA, and while I understand the purists wanting only vivid orange, the saturated yellow of the Divingstar is like wearing a piece of the sun, compressed into an impossibly small dial and emanating a functional yet incredibly cheerful vibe. 
A case like no other
The proportions and case-to-dial ratio is as mad as it is perfect. As a comparison the 42.5mm DOXA here sits next to my 42mm Hanhart 417ES (yes, I do love vintage daydreaming), notice the dial areas and what they do to the overall impression of size. The dial of the Sub 300 is actually smaller than on my 37mm Grand Seiko, yet intensely legible. The box sapphire crystal sits perfectly placed between those huge tie-fighter like flanks on the case, a case that curves dynamically lengthwise, while also being concave. By this brilliant move, the solid case back sits recessed, making the Sub 300 lovingly embrace, rather than float. The smooth curves of the cushion sides are polished to a tee, with a fine job of curved brushing to the top, perfectly framing the polished chunk of a diver's bezel. And here is where the tiered, sweeping case and very 1960s bezel excels in its visual trickery.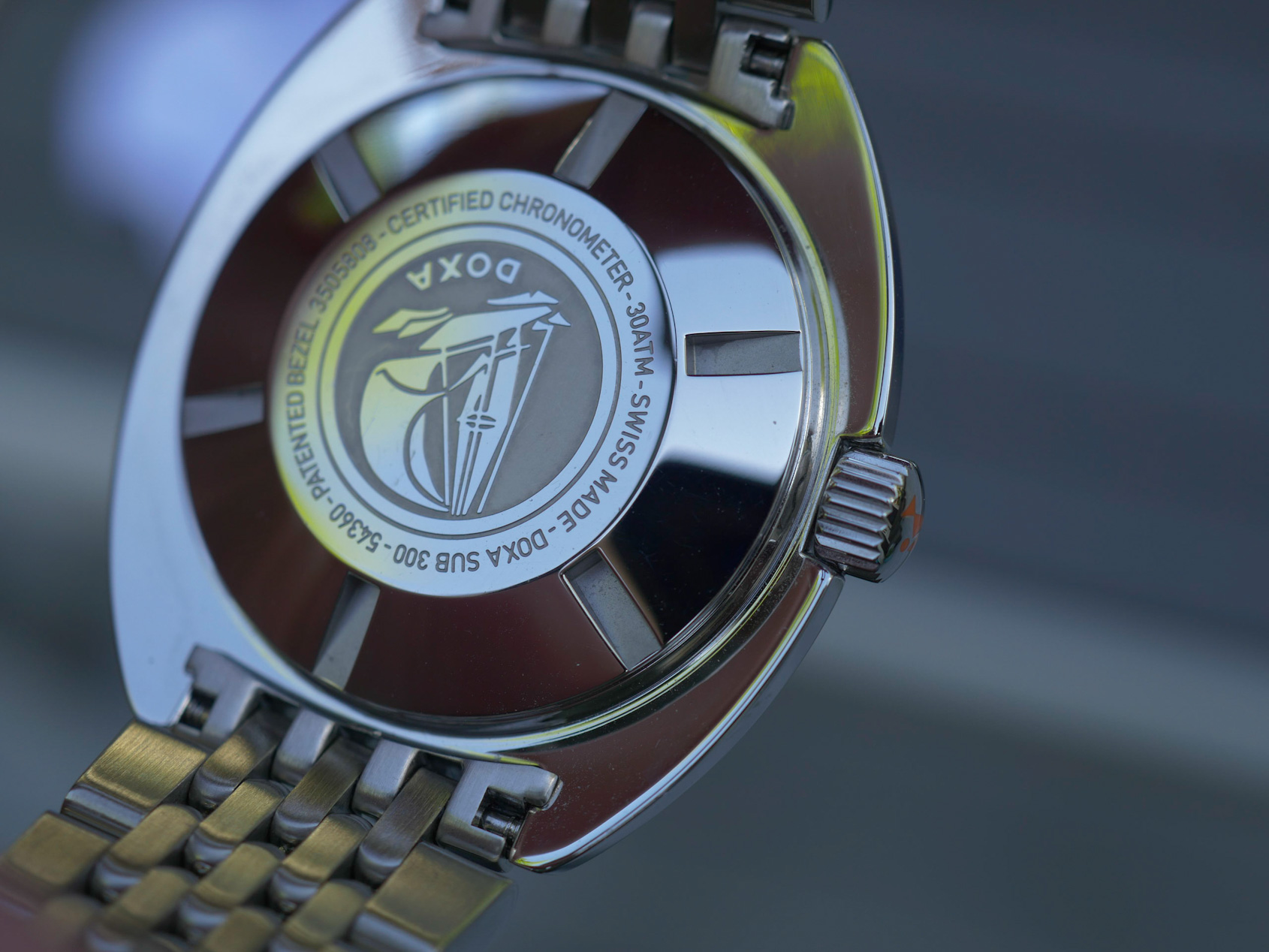 The watch itself is 13.4mm thick, that is only one millimetre less than the hefty Tudor Black Bay Chrono at 14.4. Surprised? As an example, the Tudor has (don't get me wrong I love the new chrono) a 90 degree wall of a side profile, while on the Sub 300 all you see is the main case body, which is a slivery thin 4-5mm in its swoopy centre. Trickery, however, is not the reason the DOXA sits like a dream, it's simply one of the charmingly different pieces of this puzzle that makes the DOXA a winning piece of retro flash.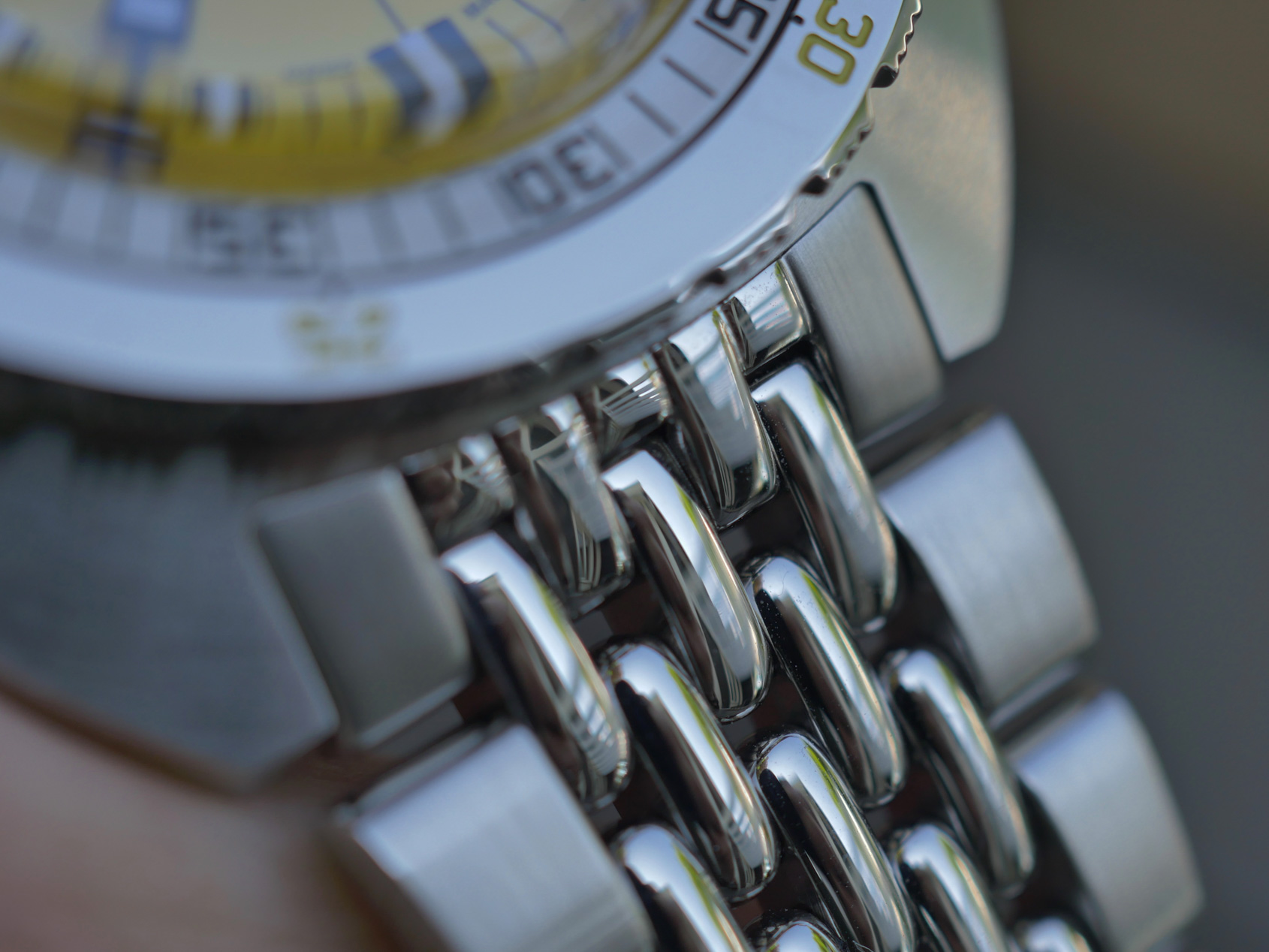 I will say that the rubber straps matching in candy coloured brightness are very tempting, but I just love the upmarket, soft and rather blingy feel the beads-of-rice bracelet adds to the wristgame. On matching yellow rubber it turns into a more futuristic proposal, and while I'd love the comfort, I do enjoy the solidity and pure vintage feel of steel. The clasp has got a milled folding mechanism and four useful micro adjustments and dive extension, but it is not perfect. I would love to see a more solid top section and DOXA-logoed top clip, as it does feel a bit too sixties in its tinnyness. Then again, on the wrist there is nothing but comfort, and the Sub 300 on my sized bracelet is a total of 147 grams, not bad at all. 
That dial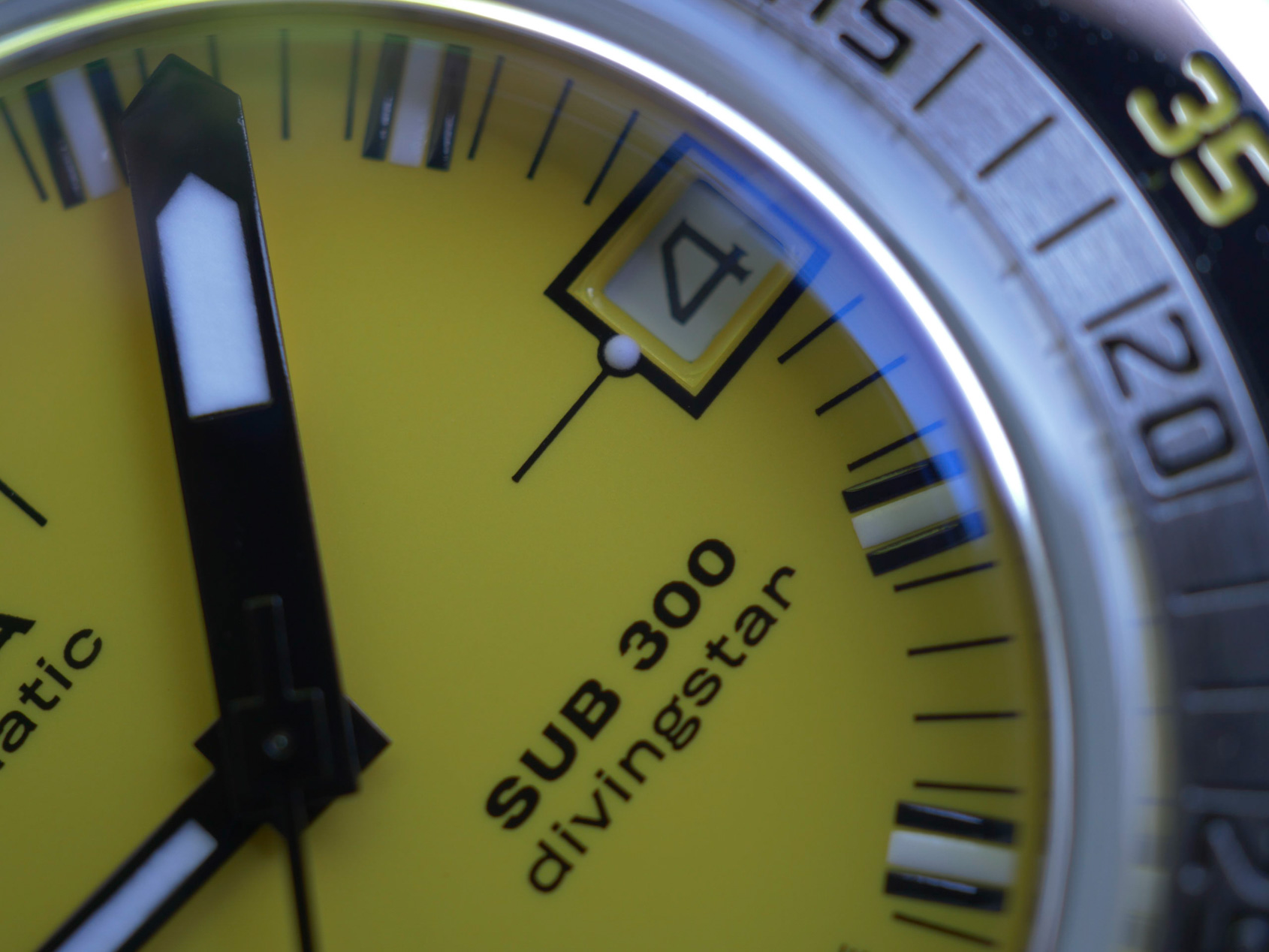 Surrounded by the solid clicks of DOXA's particular minute and decompression split bezel design, the black and yellow markings are as sharp in execution as they tie together the design and with its polished surface makes for an eye-catching frame for an intense dial. The impractical flat and polished surface has the charm of turning every photo op into a play of reflections, becoming black, white, blue from a laptop screen, and after a few months probably looking rather scratched.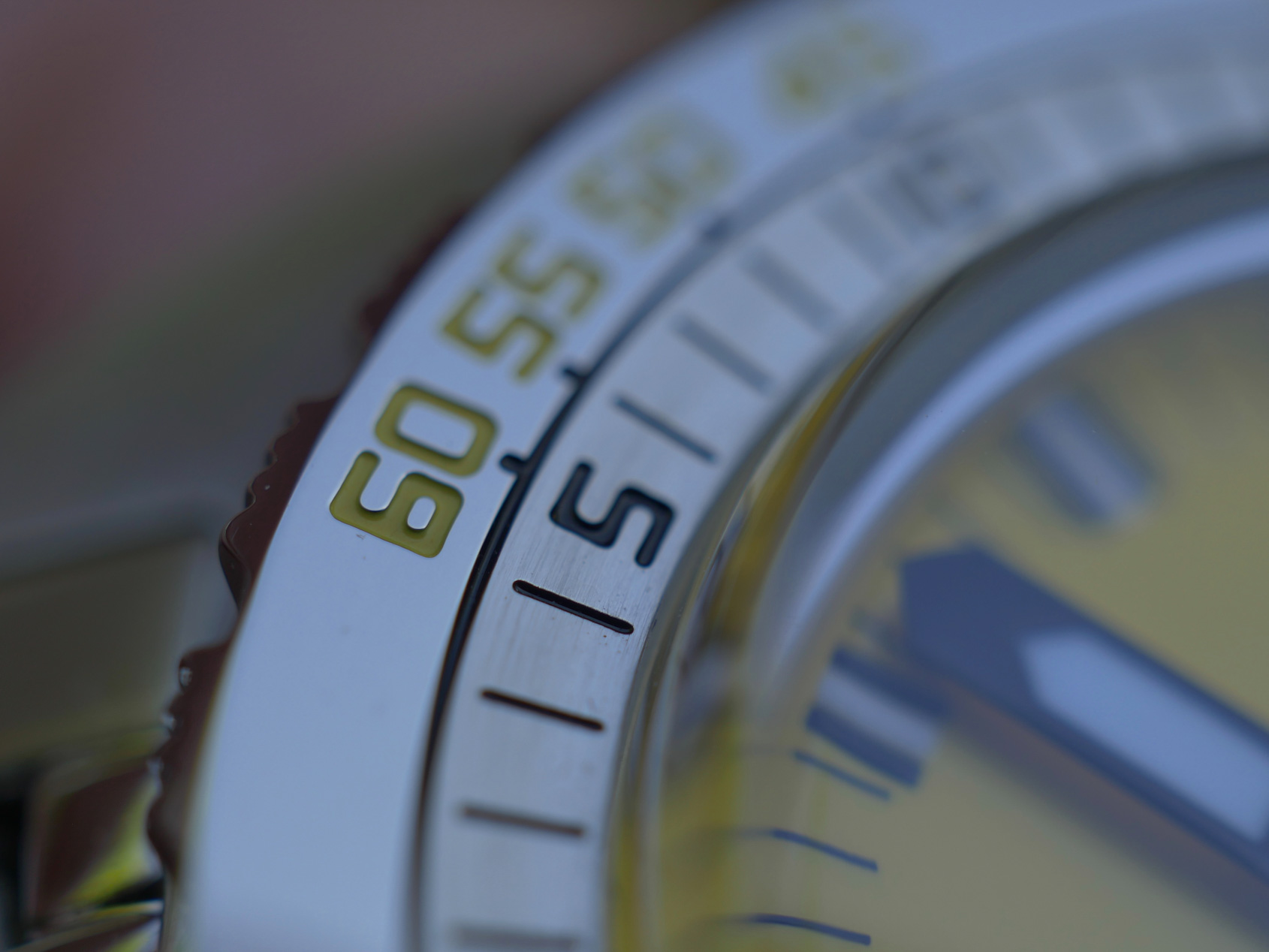 But what the hell, this is a tool, so it might actually need this to give off some more street cred. The hairline-and-scratch-OCD part of my brain is struggling, but will accept this, I'm already enjoying a small scratch on the clasp. The dial itself is nothing but a visual feast of glossy liquorice on a lemon candy background. Full functional focus is ensured by the small hour hand, while the LARGE sword minute hand keeps track of the most important aspect under water, the remaining air in your tank. All rendered jn a thick coat of black, and finished with a square lollipop seconds hand. Super Luminova ensures proper vision even in the murkier parts of the deep, and contrasts are excellent. My favourite detail might just be the oft-discussed date window. The execution of the gloss yellow bevelled edge, black frame, and that small but perfect lume pip does it for me. delicate, sharp, and as cool as the semi-crosshair design at the quadrants of the lemon circle.
COSC, Does it make a difference?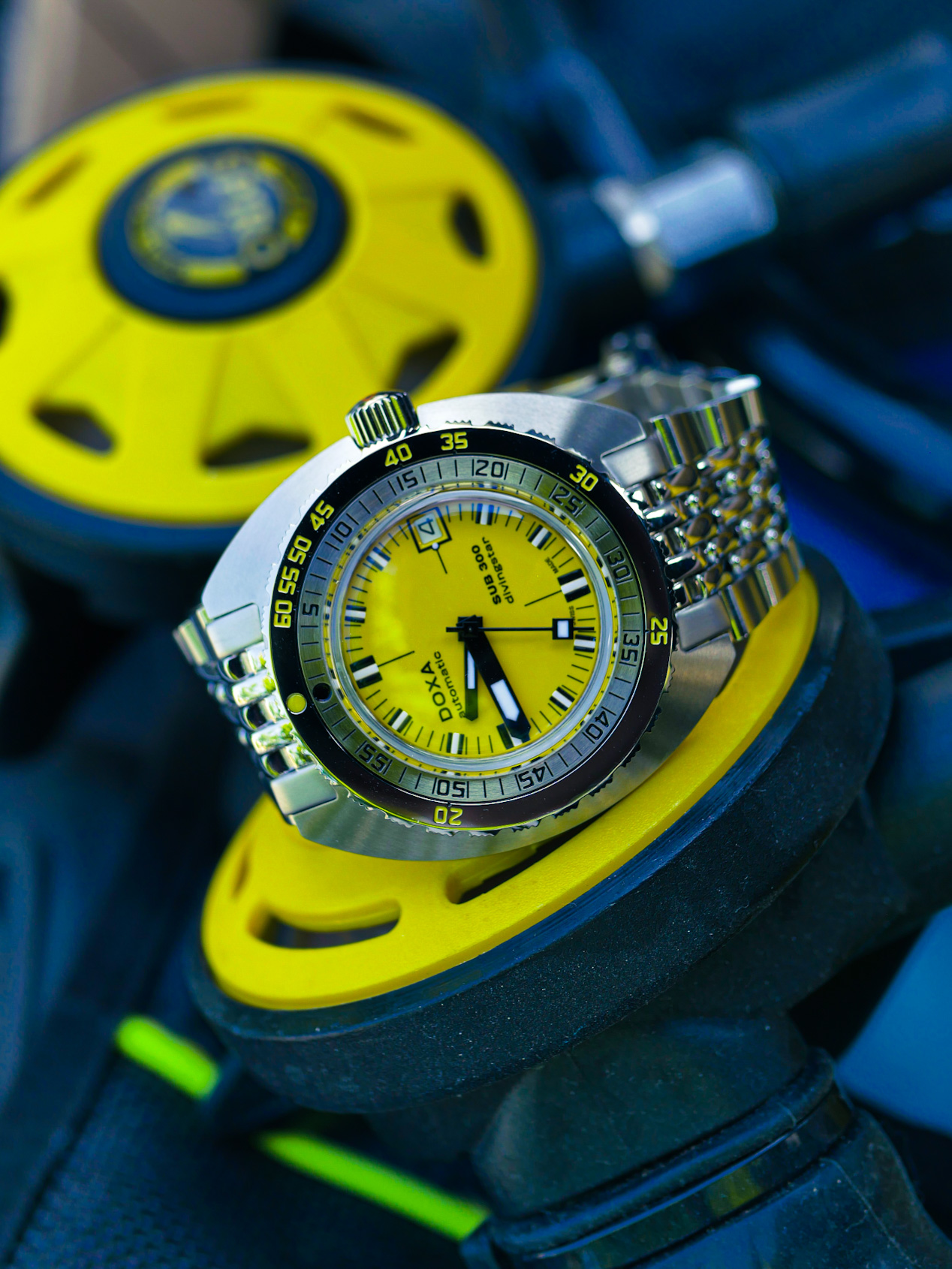 Well, in my hands the Sub 300 has been gaining a piddly +1 sec in about three days, and I do check way too often, so here I am nothing but properly impressed. This simply adds a huge chunk of trust to what is already a visually arresting piece of kit, and justifies the price. I'd even go as far as saying, that the accuracy of my particular Sub 300 beats first impressions of at least two other more expensive Swiss COSC-certified watches I've had in my box. The 42 hour ETA 2824-2 might not tug at your heartstrings like a manufacture movement, but the superlative COSC rating means that for me this is a nigh-on perfect combo. A beguiling and brand new in-house movement might have been captivating, but I can actually dive with this Sub 300 instead of tapping away at a keyboard, and what does that mean? It means that in a 300m depth-rated tool I want a safe, proven, and fairly accurate movement with an emphasis on reliability, not the flowery engravings on a balance cock.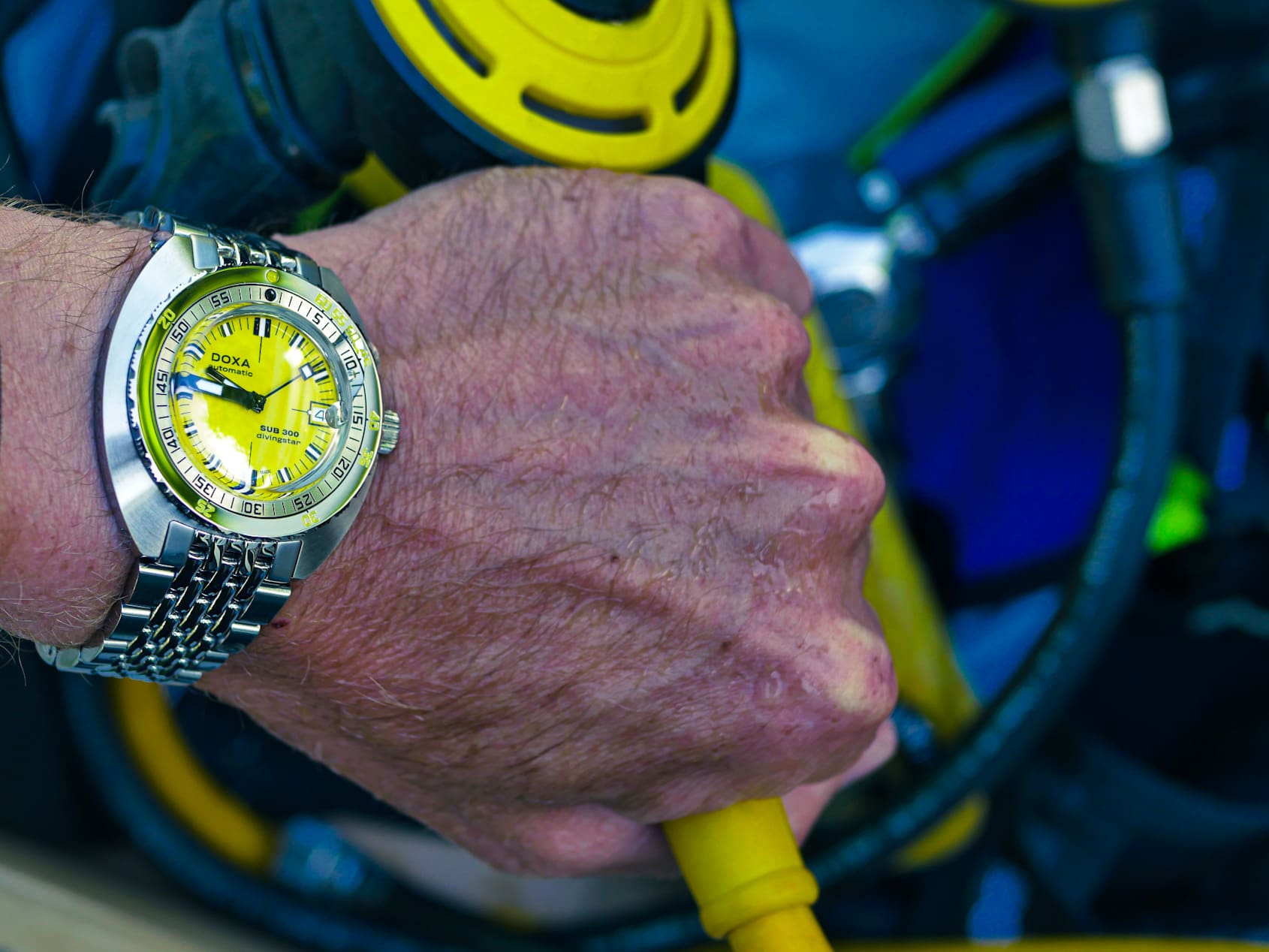 Respecting the raison d'etre for the Sub 300 as a tool, whatever is under the caseback simply needs to work, while being economic and easy to service, so you'll keep it up. Because do you know what? I've become so inspired by the Sub 300 I've bought myself SCUBA gear, second-hand and untested, but you're right, the kit in these shots is mine. Am I going from desk diver to accomplished deep-diving spear-gun hunter? We'll see: watch this space..
The DOXA SUB 300 Divingstar, price and availability:
The DOXA SUB 300 Divingstar is $3950 AUD on rubber, and $3990 AUD on a beads-of-rice bracelet.
For Australians wishing to buy, please click here 
For anybody outside of Australia wishing to buy, please click here