VIDEO: A week on the wrist with the Chopard Alpine Eagle, a super in-depth breakdown of 2019's most controversial watch
Andrew McUtchen
This week, the Chopard Alpine Eagle was released, marking a brand new collection from Chopard, their first in decades. It revives the design of their first ever sports watch, and the brand's first ever steel watch. Based on the St. Moritz from 1980, the Alpine Eagle features the same stainless steel case and integrated bracelet, exposed bezel screws, and an eye-catching mix of polished and brushed surfaces. Where the new Alpine Eagle flies to new territory is in the proprietary alloy that Chopard has developed called Lucent Steel A223 (a four-year R&D effort) and the finely grained and textured radial dial. It's said to be inspired by an eagle's iris. Maybe. Whatever. It's bloody beautiful, and with the blue galvanic treatment, it gives constant surprise/delight from the wrist. Check this video for proof. If you're wondering about the name, it refers to the 'Eagle Wings Foundation', yet another initiative from Chopard that proves how seriously they're taking 'sustainable luxury' — the foundation is all about protecting flora and fauna in the Alps. The steel in the watch is 70 per cent recycled, with 30 per cent from traceable sources. They're definitely serious.
Contemporaries of the St. Moritz model — which sold a staggering 50,000 pieces between 1980 and 1995 — from the early '70s to the early '80s included watches that would go on to become the icons of today for their respective brands. You know who we're talking about. The Royal Oak, the Laureato, the Nautilus, and in that order. The watch design language of the luxury steel sports watch era had a number of consistent elements: integrated steel bracelets, exposed bezel screws, and contrasting metals or finishes. As a result, watches that were born then and remain in production today seem at a quick glance to be highly derivative of the most famous watches of that alumni.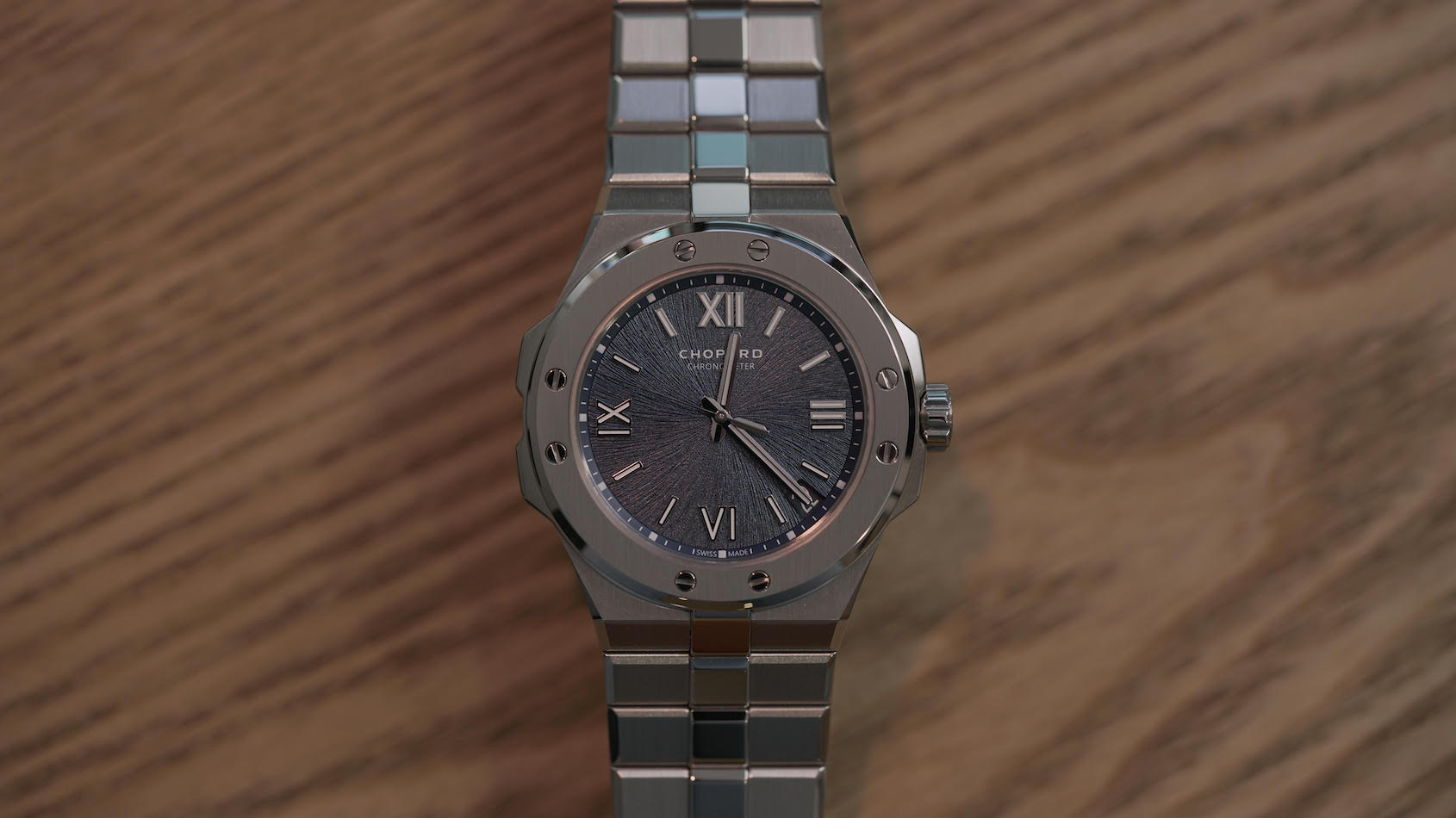 A few days after the launch of the Alpine Eagle, we have seen exactly what that "quick glance" looks like as it manifests on social media. A lot of feelings. A friend and learned colleague Miguel Seabra (follow him on Instagram if you're a tennis or watch fan: @miguelseabra ) describes the knee-jerk as 'fast food knowledge' from many not aware of Chopard's pedigree in the steel sports game. Others flat out don't like the watch, and that's cool, too. As we have seen countless times before, the response has begun — a few days later — to resemble a more balanced one, both acknowledging the liberal 'sharing' that went on of design elements of dozens of watches from the 70s/80s, and that the Alpine Eagle is a thoroughly modern reinterpretation of the St. Moritz. For more on this as it relates to Girard-Perregaux's Laureato, check out this story.
We were lucky enough to get our hands on the 41mm Lucent Steel reference before the watch hit the web, and we've put together some more in-depth thoughts on what the watch is actually like on the wrist, and how it wears during day-to-day life right here on this video review. It's a longer form video than we typically put together, so sit back, relax and, as George Michael famously said, [at least try to] listen without prejudice.
Made in partnership with Chopard. However, the opinions expressed in this article are our own in accordance with our Editorial Policy.