How to wear a watch like nobody is watching
Time+Tide
Editor's note: There's a lot to love about Jeff Goldblum. Like pretty much everything really. And for us at least, one of his key character attributes is his ability to wear a dainty gold Cartier Tank like he doesn't give two whits for what the rest of the world thinks. Bravo. The same devil-may-care watch-wearing attitude also makes RDJ, Conor McGregor, Serena Williams and our very own Tim Cahill stand out in the watch department …
There are watches we wear in our real lives and there are watches we imagine we would be brave enough to wear in our imaginary lives. There are watches we wear based on our budget, and there are watches we would buy should money be no object. This is a story about people wearing those kind of watches with no single trace of self-consciousness. With total and utter authority. There's a lot we can learn about owning our wrist choices from these people. So here goes, a guide to wearing a bosstown, big-boy watch like nobody is watching.
Jeff Goldblum – Cartier Tank in gold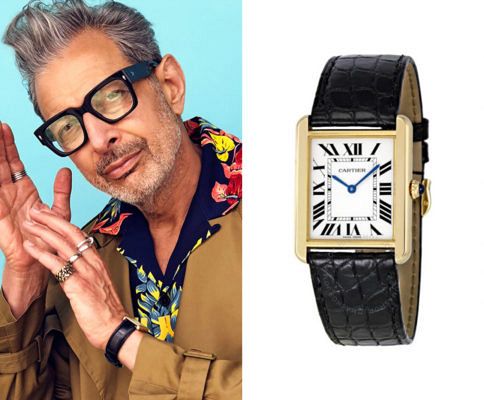 Many of us have admitted to wanting to wear a solid gold Cartier Tank, in concept. Mr Goldblum doesn't do concept. He just lives his life as large as possible, while being asked to play himself in fictitious movies. It's no wonder the man is experiencing something of a renaissance at the moment. After several scene-stealing performances in Wes Anderson's The Life Aquatic with Steve Zissou and The Grand Budapest Hotel, and more recently joining the Marvel universe in Thor: Ragnarok, the king of self-actualised cool is slated to appear in no less than five films in 2018, all the while holding a weekly residency at the Rockwell club in LA with his band the Mildred Snitzer Orchestra. Known for his flamboyant fashion style, Goldblum keeps it Cartier when it come to his timepieces. Few people could rep the brand as authentically, as compellingly as JG. Magic.
Key to the look? Be your bad self. Stay weird. And stay very fit.
Robert Downey Jr. – Urwerk UR-110-RG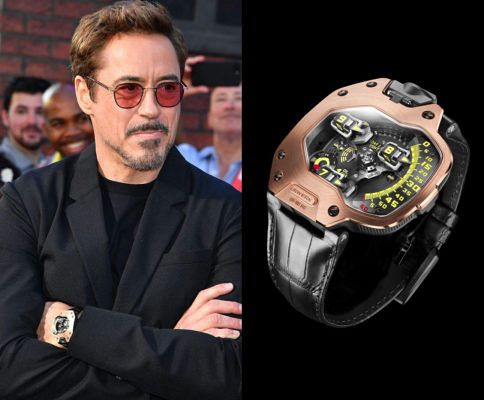 No watch is as deserving, as perfectly suited to Iron Man himself as the Urwerk UR-110 with red gold bezel. Used as a movie tie-in to his Tony Stark character's penchant for robotics, the watch then appeared in several press junkets on Downey Jr's wrist. Surprisingly subtle against a casual black suit, this futuristic watch features a satellite complication mounted on planetary gears, day/night indicator and 'oil change' alert.
Key to the look? Do what you say you do on the tin.
Conor McGregor –  Franck Muller Vanguard with diamond-set case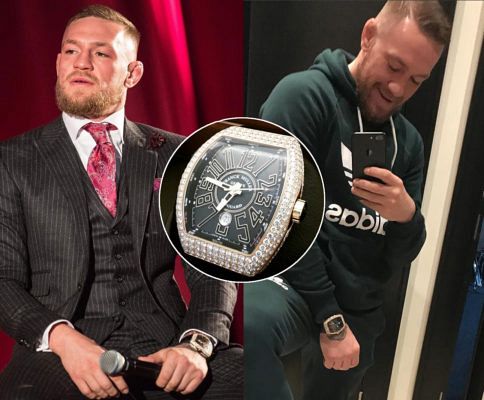 White? Iced? Oversized? Not quite fitting under his tailored suit cuff? Few things are surer in life than Conor McGregor not caring what you think about his watch. With a draw full of grail pieces, iced-out Rolexes and every watch you wish you could get on a wait list for, this man has it all. Which might be why he's known for unusual watch and outfit pairings such as this one on the right — it's a selfie on his Instagram account taken before he arrived at court on speeding charges. Yes, a diamond-encrusted Franck Muller Vanguard with green Adidas tracksuit.
Key to the look? Keep winning. Winners can wear trackies and diamonds. Losers, less so.
Serena Williams –  Audemars Piguet Royal Oak Offshore Navy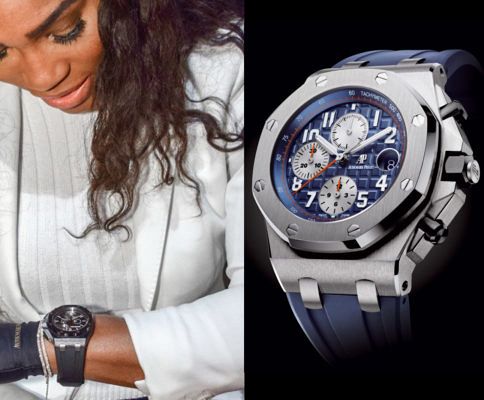 When you've won 23 Slams, you earn some cash, whammo. But you also earn the right to wear whatever watch you want — whenever, however and in whatever size you damn well feel like. It ain't no spoiler to say Serena Williams likes them large. An ambassador for Audemars Piguet, Serena has been spotted on and off the court with watches that show wide-ranging tastes. From a diamond-studded Royal Oak in rose gold, often worn on the court, to a rose gold Millenary and the Royal Oak Offshore Navy (pictured above) worn off the court, Serena has a taste for the statement watch and she always wears it well.
Key to the look? Become the greatest ever performer in your field. Flout expectations, like steel being for work and precious metals for play.
Tim Cahill – Hublot Big Bang Unico White Ceramic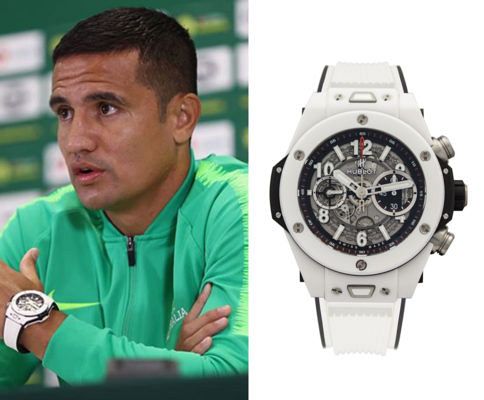 Tim Cahill was named a friend of the Hublot brand just before Australia's opening match against France at the FIFA World Cup. Cahill is among the greatest ever soccer players for Australia, and here he shows a strong command for colour. Could there be a more pleasing contrast than crisp white ceramic on neon green? Fresh. As. Tim holds several records, including first Australian goal ever scored at a FIFA World Cup as well as most goals ever scored at a FIFA World Cup by an Australian. If he scores a goal in this World Cup he will be only the fourth soccer player in history to have scored in four separate World Cup tournaments, joining fellow Hublot buddy Pele, as well as Uwe Seeler and Miroslav Klose.
Key to the look? Contrasting colours and confidence. You've got this one.