WATCHSPOTTING: The watches that F1 drivers wear on summer break
Ricardo Sime
As we've reached the midpoint of the Formula 1 summer break (the unhappiest time of the year for F1 fans), I realized that twiddling my thumbs on Saturday and Sunday morning just won't do. After exhausting all avenues for a fix on YouTube and the F1 TV app, I've decided to hit up the Instagram pages of some of my favourite drivers to see what they're were up to. Would I find them go-karting to keep their track skills fresh? Or working out those neck muscles to deal with those incredible G forces. I dived in and well, let's just say the fastest men on earth are truly enjoying some much needed R&R, with some nice wrist candy to boot.
Charles LeClerc – Scuderia Ferrari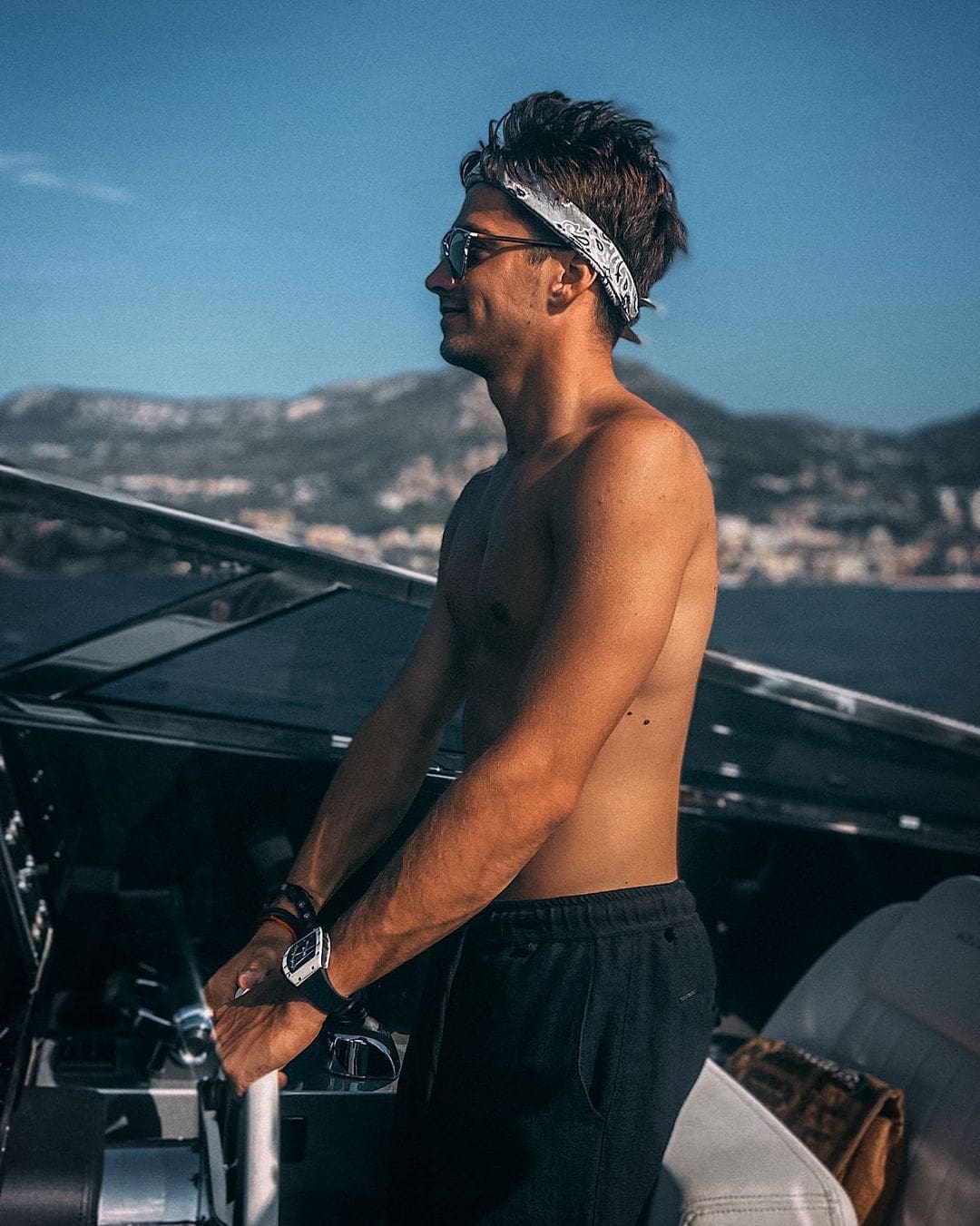 When you're born in Monaco, I honestly believe they teach you how to drive a speedboat before driving a car. So it was of no surprise that I found Charles LeClerc, born and raised in Monte Carlo, driving a speedboat, rockin' a tan and wearing a Richard Mille (RM). The RM in question looks to be the RM 61-01. This watch was created for Jamaican sprinter Yohan Blake in a limited series of 150 pieces. The watch case is a mixture of Quartz TPT and Carbon TPT (Thin Ply Technology). I initially spent hours trying to find out what specific model this was until noting that this type of case produces a different look for each watch in the 150 made.
George Russell – Williams Racing
Where is he going next year? Will he be driving for Mercedes? Will he team up with Hamilton? So many questions have hung around the Williams Racing paddock of George Russell this year. If ever there was a driver who needed to get away, it was him. Add to that the fact that he is coming off of his first-ever points in the Williams livery, and the man was ready to let loose.
And where better to let loose than the beautiful shores of Greece. His wrist companion for the trip seems to be an IWC Pilot Chronograph on a black strap. Some may say it looks large on his wrist but when paired with that white linen shirt and shades, I humbly disagree.
Pierre Gasly – Scuderia Alpha Taura
The comeback kid who won the hearts of many an F1 fan after being booted from his seat at Red Bull only to bounce back and find success with Alpha Tauri. The guy personifies the never give up mentality and is one of my favourite drivers who makes things interesting in the midfield.
For his vacation, the Frenchman decided to visit the home pitch of soccer team Paris Saint-Germain (who just acquired one hell of a footballer in Lionel Messi). There he was treated to his own jersey, which he happily accepted while wearing quite a watch. After looking at some close ups, I'm pretty confident in saying the watch is a Hublot Big Bang Unico King Gold Watch. 18k King gold and black PVD adorn this sporty beast. And for those wondering, King Gold is a mixture of gold and platinum, allowing the watch to take on a warmer shade of gold.
As these drivers continue to enjoy their time away from the track, enjoying the fun, sun and of course the watches, I can't wait to see them return to what has turned out to be one of the most competitive years in recent F1 history. Good luck gentleman and Godspeed upon your return.