WATCHSPOTTING: The 5 hottest wrists of the Golden Globes 2017 – feat. Jonah Hill and Richard Mille
Ceri David
While we mortals take our time recovering from NYE, happy to simply roll our eyes at returning to work in clothes that are a little more snug than before all the mince pies, our thoughts should go out to the poor celebs. There's no waddling around in stretchy pants for them, while finishing off the last few Ferrero Rocher. Instead, this is the time of year when they need to look as sleek and velvety as glistening otters, as awards season kicks off with the 74th Golden Globes, which took place just hours ago in Beverly Hills.
It's a circus of the highest order, full of drama, disappointment, outrageous wardrobe choices and speeches spiked with champagne-fuelled politics. But for nerds like us, it's a simpler world. We can turn a blind eye all that, and view the spectacle in its purest form: as a prime opportunity for watchspotting. If you want to know who won Best Original Score, you've come to the wrong place. But here are the finalists for Most Creative Timepiece in a Red Carpet Scenario.
Joel Edgerton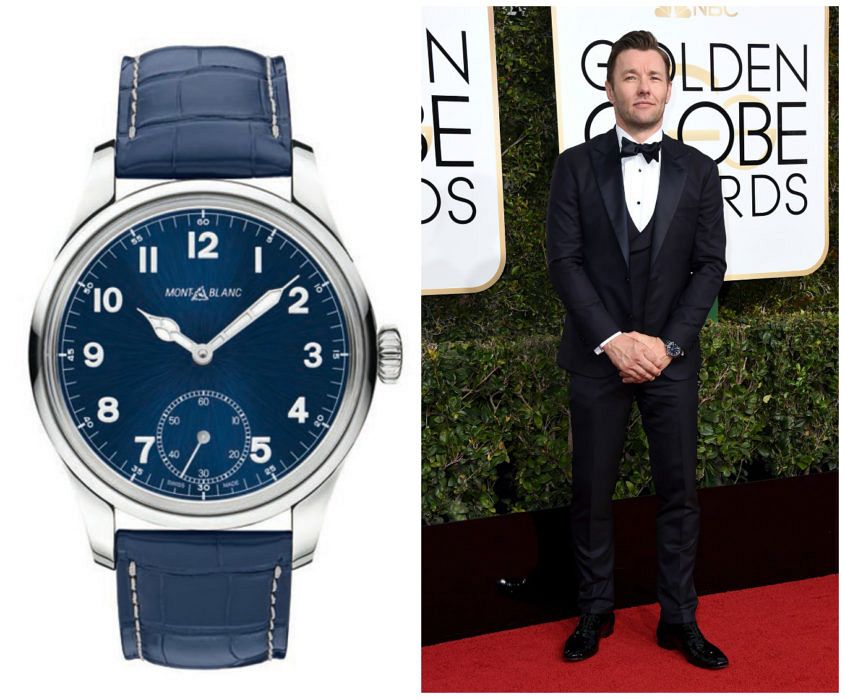 We Australians love to see one of our own representing the land Down Under in Hollywood, and for our international readers who might not understand this village-like level of pride, it's actually very simple. There are literally only 15 or 16 of us living on this dusty outpost at any time, so whenever one of us does well, it's big news. And right now, no one's doing that quite like Mr Joel Edgerton – nominated for best performance by an actor in a motion picture (drama) for his role in Loving. What makes us even happier is his timepiece on the night – a Montblanc 1858 Small Second whose blue dial and strap is pitch-perfect with his midnight three-piece suit. He may have been beaten in his awards category by an Affleck, but he'll always be a winner to us.
Jeremy Renner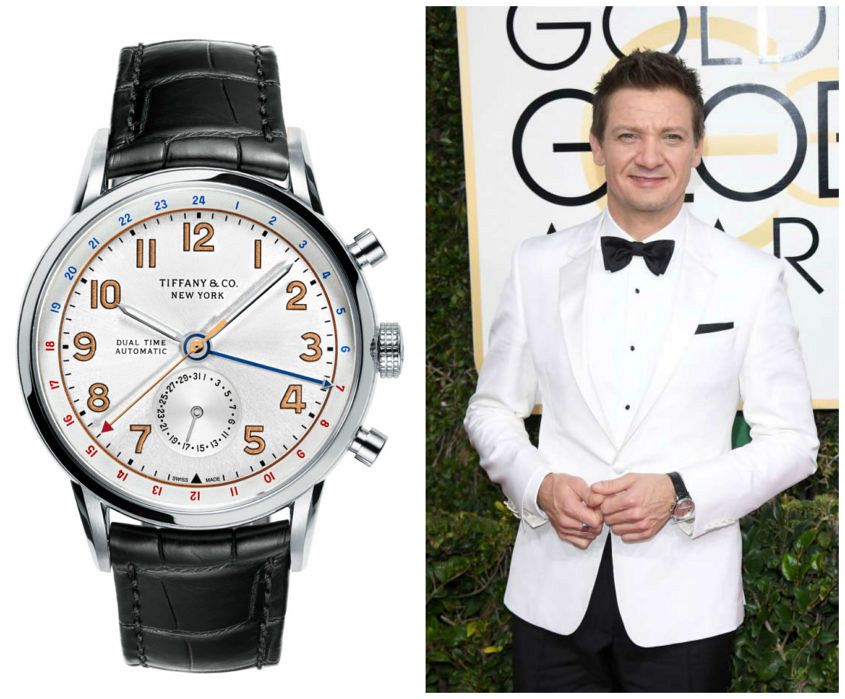 Pint-sized and doughy-featured (but still tough as nails), Renner will always remind us of a Troll, albeit one who can cut a dash on the red carpet. Not everyone has the confidence to pull off a white jacket, after all, but here he is nailing it like a miniature James Bond. Watch-wise, he's gone for the Tiffany & Co CT60 Dual Time, which gets a big thumbs-up from us, echoing the contrasting black touches of his bow tie, buttons and pocket square.
Aaron Taylor-Johnson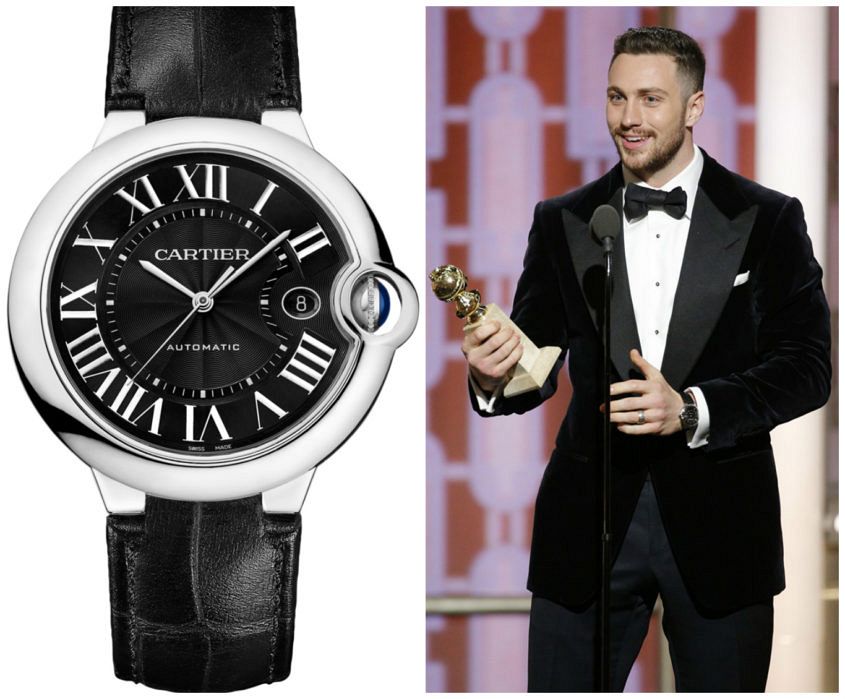 A surprise winner at the Globes, taking home the best supporting actor gong for his role in Nocturnal Animals, young Aaron may also have snagged the award for widest lapels, courtesy of his retro velvet Tom Ford number, though final measurements are yet to be confirmed. Cartier is a solid evergreen choice, though we'd have expected to see a Tank or a Drive, so the dark-dialled  Ballon Bleu was a refreshing change. The look was an elegant, mature choice that's typical of the 26-year-old – and for now, it's working. But if he starts embracing senior citizen beiges before hitting 35, we'll have to step in.
Jonah Hill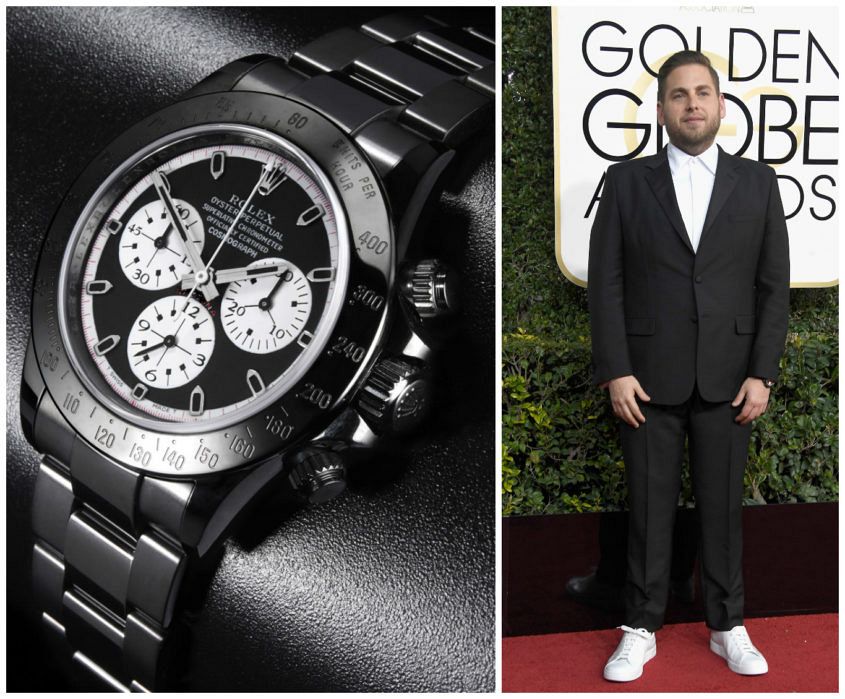 Well, look at this edgy get-up from Jonah Hill. White sneakers, no tie, Bamford-modified Rolex Daytona. No, this is not your traditional black tie ensemble, and yes, we've made our feelings clear when it comes to chunky sports watches on the red carpet. But you know what – who cares? This is Jonah Hill, famous for ending up in hospital after ingesting too much fake cocaine while filming The Wolf of Wall Street, so in our book he gets to do whatever the hell he likes.
Pharrell Williams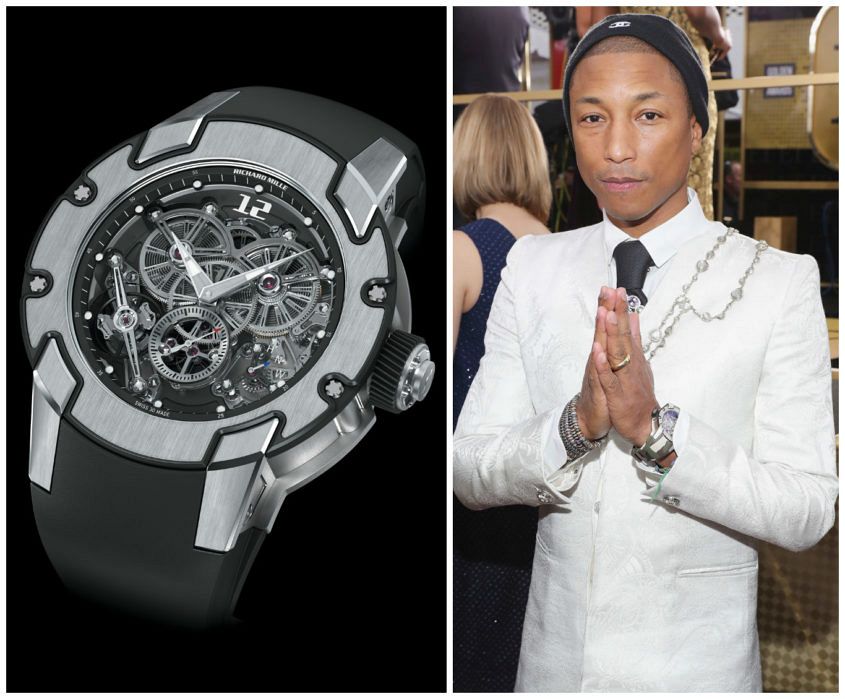 Fifty bucks says Pharrell Williams emerged from the womb 43 years ago fully dressed and accessorised. With nine months in there to prepare, there's no way he'd have wasted that opportunity for the ultimate debut outfit. His look at this year's Globes was no exception to his general rule of rule-breaking. On paper, his long-lined white silk jacket, bejewelled sash(!) and Chanel beanie make zero sense, particularly when finished off with a ridiculous 2012 limited edition Richard Mille titanium RM 031 High Performance on what appears to be a camouflage strap. So how come, on Pharrell, it works? We wish we had the answer, but we do not. It's one of the mysteries of the modern age.