Editor's Note: It started with a post on LinkedIn by Richard Branson, which was titled 'Great Beards come with Great Responsibility'. My first thought was of a guy we've bumped into a few times in our travels with Time+Tide, Mr Jimmy Niggles. Jimmy's story is simple to the point of being unforgettable. He's grown an epic beard. He'll shave it off for a million dollars. I clicked on the post, and what do you know, it was inspired by our Jimmy…[AM]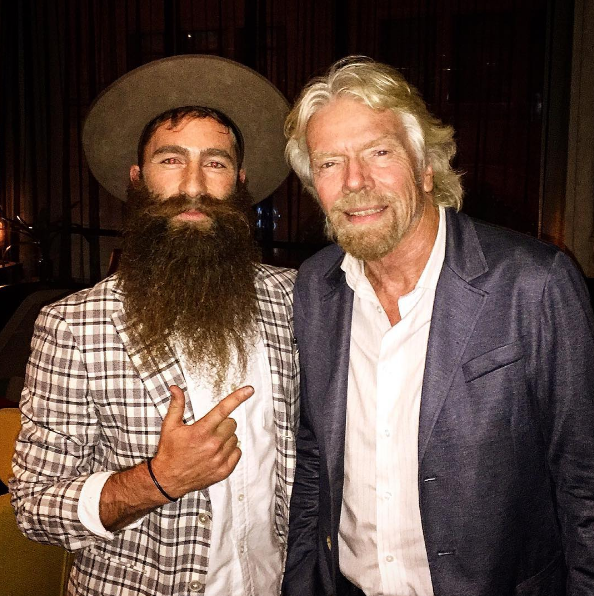 Recognise this bloke? Yes, yes, the one on the right is Sir Richard Branson. But the other one? Well, that's Jimmy Niggles: Sydney character, co-founder of the Beard Season movement and proud owner of one Hublot Big Bang Red Magic Carbon. Just look at that shot. Take it all in. The beard, the bushranger hat, the self-made billionaire – with so much going on on one blurry Insta pic posted by Branson on LinkedIn, we had to find out more, so we met up with Niggles – though we prefer to call him by his real name: Scott Maggs. Over mushrooms on toast (for me) and house-smoked salmon (for him, not a trace of which ended up in his facial hair), we got the whole story.
First up, explain Beard Season.
It's a sad story. One of our best mates, Wes, passed away from melanoma at 26, and that really shocked us. We had no idea it affects predominantly young people – 18-45 – and mostly men. Maybe because they think they're bullet-proof, and they're the last people to go into a doctor and say, 'What do you think of this?' So, when Wes passed away, we were in the pub at his wake, and just felt we needed to do something. We did a bit of research and found out melanoma is one of the most treatable cancers if it's found early – but no one was telling people about skin checks, and how important it is to know your skin, and to see a dermatologist once a year. So we were like, 'Let's do that'.
And how did the beard link come about?
Well, I work in advertising, and men are the hardest people to reach – so we had to figure out how to get them talking. Looking around this pub in country NSW, we saw these old farmers with amazing beards – and at the time no one our age was growing beards. We decided that was it. We'd grow beards, and every time anyone asked us about them, we'd tell them about Wes, and challenge them to get a skin check. We called it Beard Season – which would coincide with winter – and we planned to do it for three months and see what happens.
How did the first 'Beard Season' go?
I started taking photos with people I'd met because of my beard, and I documented my progress with a blog to begin with, and social media later, After that first winter, people were writing to me, saying they found something because of this. It was such a tangible result. So I kept the beard going to keep it alive.
Where did the name Jimmy Niggles come from?
Jimmy Niggles is the beard, essentially, or maybe the host of the beard – a bit of both. It was a name we made up on a surf trip years ago, and when Wes passed away, I started introducing myself as Jimmy, so every time someone searched the name, it would go straight back to Beard Season. It meant it was based around the cause, rather than me. And it's a fun name.
And you haven't shaved since then?
Not since just before the funeral, which was March 2010. Not even a trim – and that's part of the deal, now that I'm trying to sell it.
Ah yes – the 'Million Dollar Beard'. Tell us about that.
Everyone keeps asking, 'What are you going to do with the beard?' It has a bit of a story so I can't just shave it off. So I thought, 'Why don't I sell my beard?' The idea is, we'll take it off and have it mounted in a glass case, and we're hoping to make a documentary, where we prove it's worth $1m. We'll get it dipped in gold, blessed by the pope, valued by Sotheby's auctioneers, maybe get Damien Hirst to do a consultation on how to preserve the beard, get a theme song written by ZZ Top. Whoever buys it is getting a bargain! And with that million, we'll be able to do free skin check sessions at the beach, at festivals, sporting events, and build the brand. I'd love it if Richard Branson bought the beard.
Nice segue. So, how did you end up meeting him?
I've been super-keen for ages to get him involved, and he was in Sydney a couple of months ago, doing a talk about disruption, so I made sure I bumped into him. I was on the way to an event, so I was ready to rumble, and I just diverted my path a little bit and had an elevator pitch ready for him. I told him about Wes, about Beard Season, and about taking a photo every day. I didn't push it. Then a few weeks later, I got an email from his office saying he was really interested, and loves the cause. So he wrote a big post on the Virgin website, and it was an awesome insight, about how he grew his beard as an act of defiance and self-expression. It was amazing to hear him say that he's really stoked to be an ambassador for this. That went out to something like 30 million people – which blew me away. That post alone will save so many people's lives – especially in the UK where no one really thinks about melanoma, but it kills one person every seven hours.
That really is amazing. Nice work. And we couldn't help noticing the Hublot you're sporting in the pic with Branson. Have you always loved watches?
Dad had a really lovely watch – I think it was an Omega, and he spent a fair bit of money on it. It had a leather cover on it – he's a farmer and it would really get knocked around. As for me, I surf at least every couple of days, at Bronte, and I've mostly worn Nixon watches, which are really waterproof. They also have the crown on the opposite size, so when you're pushing yourself up on the surfboard, it doesn't dig into your hand.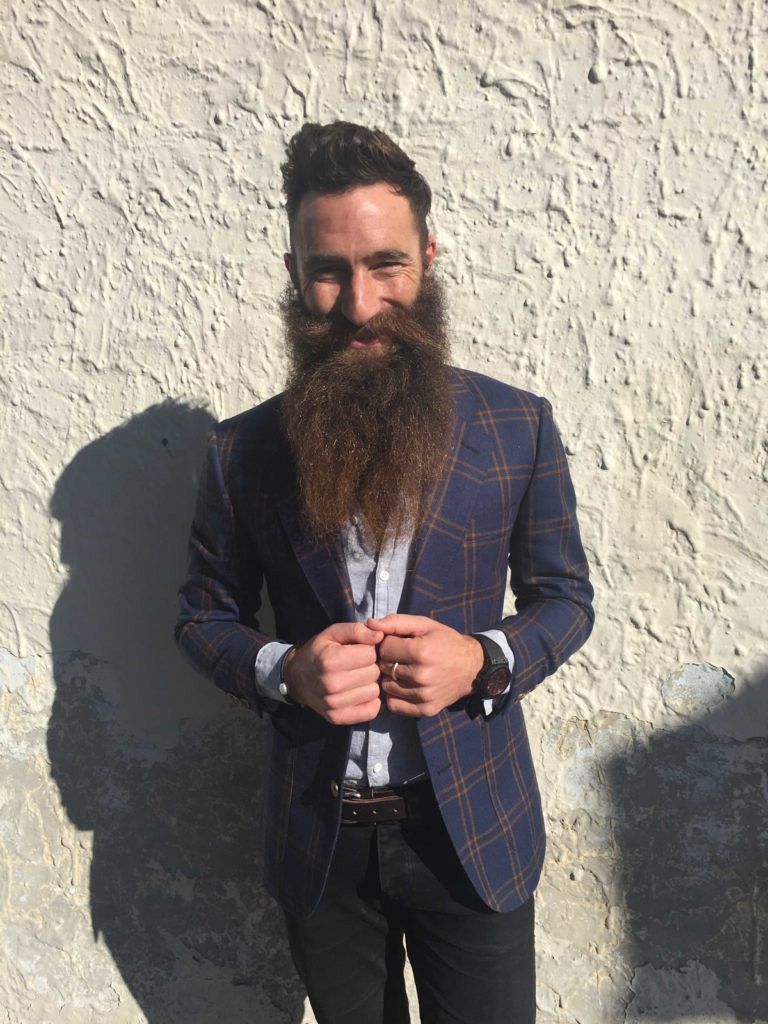 So, tell me about the Hublot.
Well, we were working with the photographer Mr Elbank, who was shooting people with beards, to help raise awareness for Beard Season for an exhibition in London in 2015. We were trying to find a partner for it – and I wrote a proposal that ended up on the desk of Jean-Claude Biver who said, 'We're doing this." I changed my flights so I could go to their headquarters in Nyon, Switzerland to meet the team before the show, and that's when they presented me with this and said they'd love me to be part of the Hublot family. It was quite an unconventional thing for a watch brand to do, but that says a lot about Hublot – they were really into how we were making the most of every opportunity.
And how do you like the watch?
I love it. It's light for its size, and I've never seen anyone with this same one. People are always asking me about it, just like they do with my beard. It's been great to have this along for the journey.
Have you worn it surfing?
No, I know I probably could, but I don't want to ruin it. Look at it – it's still perfect!
Join in the fun and support the cause – whether or not you've grown a beard this winter – at the End of Season Ball aboard a paddle steamer on Sydney Harbour, Friday Sept 2. Tickets available here.