Not long ago, John Ciciulla, a friend of T+T, posted this image on instagram, explaining that the watch – which originally belonged to his grandfather – had just come back after lengthy repairs. We were keen to find out more, so we caught up with John – a pathologist in Melbourne – to hear the story behind his prized 1960s Dunklings Rivana, and why it's so special to him.
When did you first become interested in watches?
It started at a young age, with Swatch watches and digital calculator watches, but when I first discovered mechanical watches, it was a revelation. In my medical career, I spend my days diagnosing diseases under the microscope. The fact there's a microscopic time factory on my wrist is fascinating, and I admire the dedication and uncompromising precision of watchmakers combined with the intersection of art and science in watchmaking.
What's the story behind this particular watch?
Last year when my mother and I digitised some old Video 8 reels, I noticed that my grandfather was wearing a watch in some of the videos from the '70s. I was lamenting that nobody knew where it was, and given my grandfather passed in 1986, I thought the watch was lost. Mum later recalled that she did indeed have one of his watches, but thought that as it was damaged, no one would want it. We tried winding it but nothing happened. When I took it back to my place, I thought it might be a good idea to get the caseback off and take a look. I failed, but when I turned the watch back over, it was ticking – the watch came back to life after nearly 30 years. I fell in love immediately, and knew it had to be restored.
Do you know much about where this watch has been?
My understanding is that it was worn daily by my grandfather, who worked in an engineering factory – which explains the case and glass scratches. There was also a lot of grime built up in all the grooves. Then, after my grandfather died, the watch rested in a box for 30 years.
And how do you feel about it now that it's yours?
Obviously I love this watch because it is my grandfather's – it's not only a Patek Philippe that you can look after for the next generation! I really loved the aesthetics of the watch, and it wasn't until I got it back from restoration that I noticed the vertical pattern on the dial. I also love the 12 o'clock and 6 o'clock font and the red-tipped seconds hand. And finally the fact this is an Australian watch (Dunklings was an Australian jewellery chain) with a Swiss movement. An Australian with a European heart, just like me!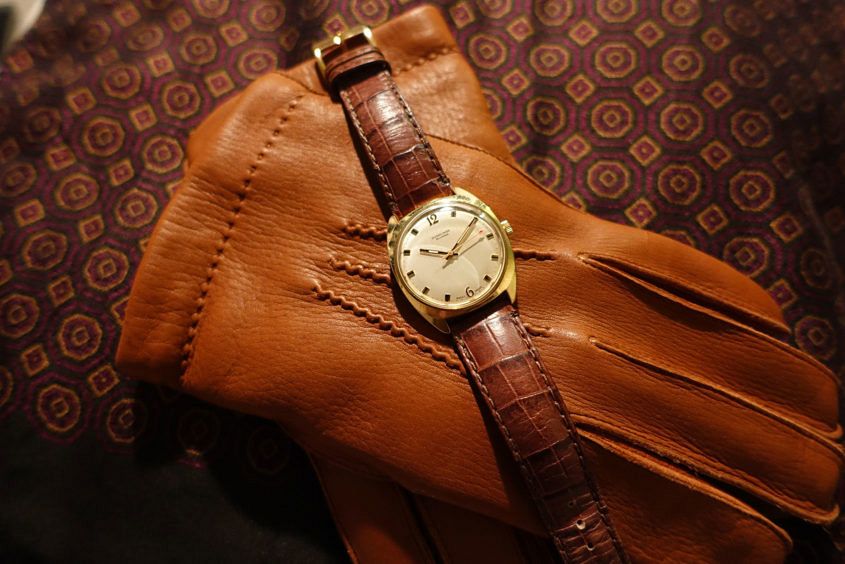 Do you own any other timepieces?
I have a Frederique Constant Slimline Moonphase, a Frederique Constant Persuasion Heartbeat, a vintage Omega Geneve, several Seikos and a Swatch Sistem51. I wear my Frederique Constant Slimline Moonphase most often, but my grandfather's watch is catching up since it has been restored. I think that highlights how much my family means to me.
If you could add anything to your collection tomorrow what would it be?
Realistically, I'd love to buy a Rolex rhodium dial DateJust with Roman numerals to match the one I bought for my wife. For a sporty watch? I think the new Omega Speedmaster Moonphase is perfect. Sky's the limit? I love three-dimensional movements and the idea of zooming right in to look at them, so I'd go for an A. Lange & Söhne Datograph Perpetual, a Zeitwerk or an MB&F Legacy Machine Perpetual.