VIDEO: Which TAG Heuer Monaco is right for you? The Calibre 11 (CAW211P) vs the Calibre 12 (CAW2111)
Andrew McUtchen
At some point on my watch journey, I made a resolution to resist all the shiny new things that get paraded in front of us daily and just start collecting the icons. The classics. The unquestioned cornerstones of modern watchmaking. Watches whose aesthetic, technological and for-the-good-of-humankind breakthroughs still resonate today.
How's that working out for me? Hmmm, there have been occasional slip-ups, and some redefinitions of what is "iconic" (Nomos makes modern classics, right?) but acquiring a TAG Heuer Monaco was to be a satisfying tick of the square-watch box. The only problem was, when I went to pull the trigger, there was an unexpected dilemma, a crossroads with two signposts – one pointing to a version powered by the Calibre 11 (reference CAW211P) and the other running off the Calibre 12 (reference CAW2111).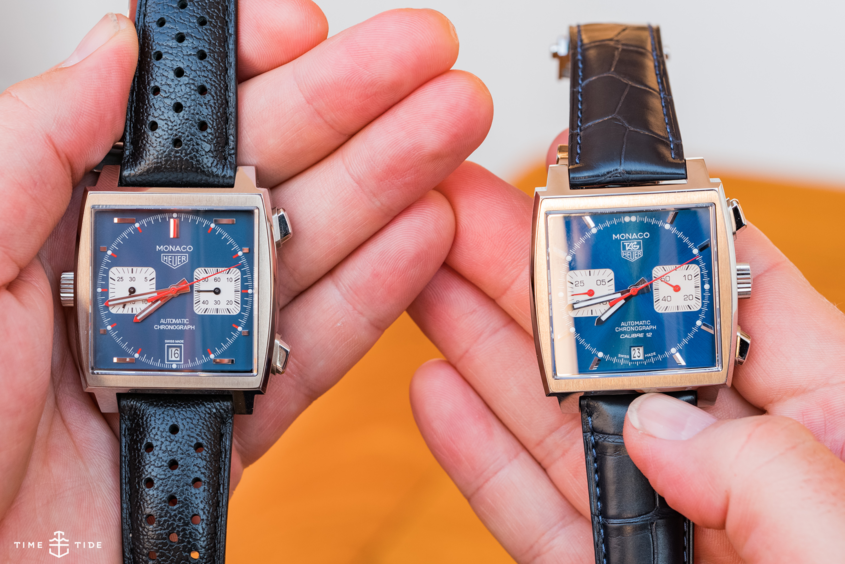 Both have their merits, and both have a surprisingly legitimate connection to the original model, so which one would it be? The Calibre 12's metallic starburst dial is more faithful to the very first blue-and-grey metallic dialled models in 1969. But the Calibre 11 is pretty much a dead ringer for the 1971 McQueen… decisions, decisions, decisions! I used the backdrop of the city of Monaco – thanks to TAG Heuer, who hosted us there for the 2017 Monaco Formula One Grand Prix – to dive deep on this one. Not for the faint-hearted, but for those at the crossroads this video should help.