The Hublot Big Bang Millennial Pink in this video sure is pretty, but is it pink, per se?
Thor Svaboe
Editor's note: In case you're wondering, yes! This is the 'pink' watch we've been hanging to see in the metal, if not just to contrast the real-life shade with the renderings in the press release. And, do we still call it pink? Well, Thor does, as you'll see from the opening par. But I don't. This is light beige. Nude. Flesh. Champagne. If it is indeed pink, it's the palest, duskiest pink I've ever seen. It's no less compelling for the tonal shift, in fact it becomes even more unusual. I don't know about you, but there's something about this shade that makes it hard to look away. Read on, but better still, check out the video. 
Okay, I'm saying it. I. WANT. A. PINK. WATCH. I'm not sure what that says about me, but the skin-toned pink on the Hublot Big Bang Millennial Pink is so delicious that I'm close to using expletives. Describe it to someone and be warned: you will not have the same reaction, like me when I read the brief.
Yet, you will see it quite clearly in this video, this idiosyncratic blend — of the toughness with the candy fluff pink of children's teddy bears — is irresistible.
Hublot is yet again innovative, in a year of a second big box brand releasing a watch in Aluminium. Light, strong and with a delicate anodised satin shine accentuating the somehow still tough nature of the large Big Bang. Only broken by the technical nature of the Hublot signature screws; the pushers and crown are especially delicious — "eye candy" being quite the literal term.
Bravo, Garage Italia and the effervescent playboy of playboys, Lapo Elkann, for having found yet another way to make the established Big Bang family surprise us, though the brilliance of the manufacture HUB1280 UNICO calibre, dare I say it, will not be the focus of your attention, as the softly toned metallic case steals your gaze.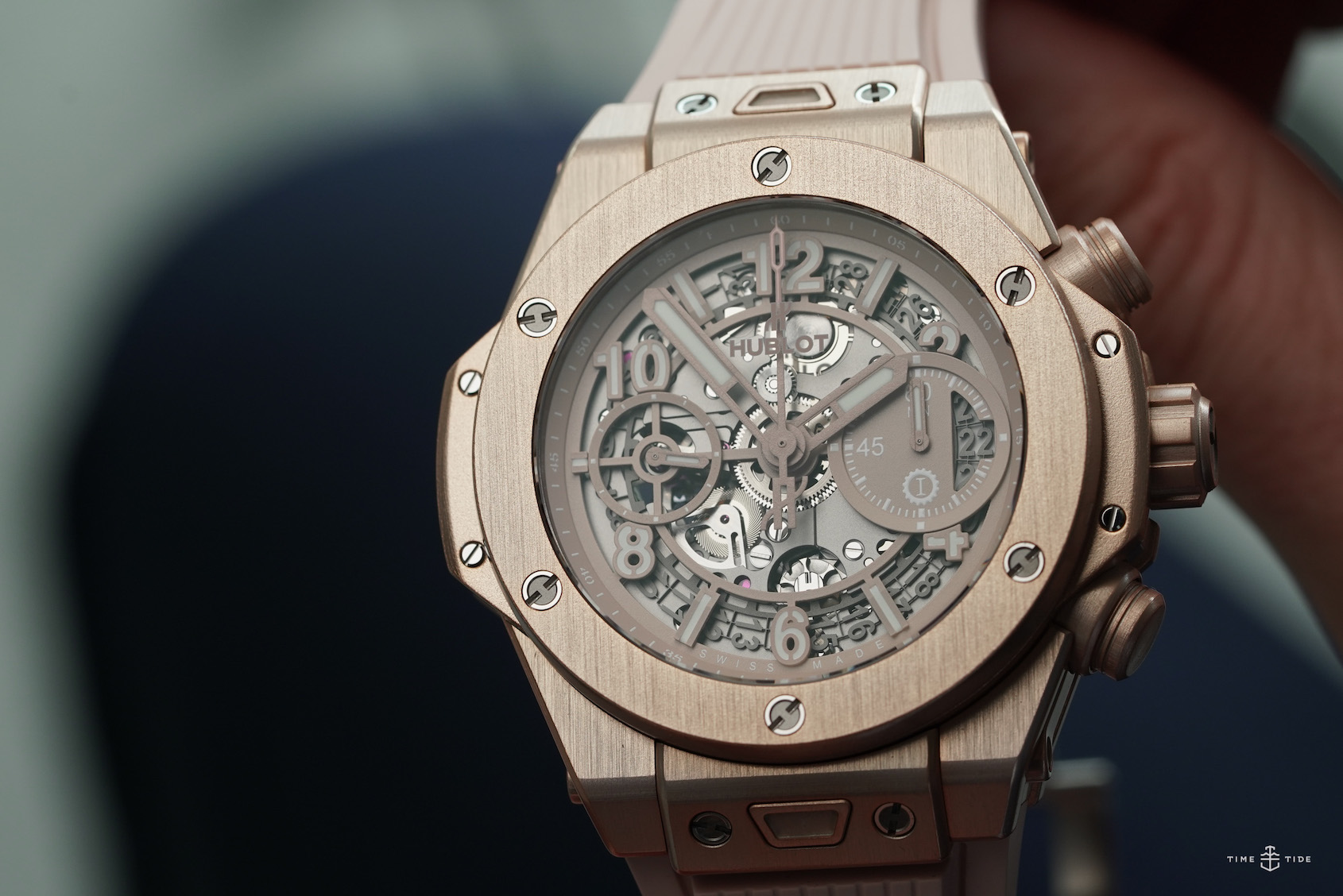 Hublot Big Bang Millennial Pink pricing and availability:
Just 200 examples of the Hublot Big Bang Millennial Pink are available, with a recommended retail price in Australia of $29,200. For more details, visit Hublot right here.
Made in partnership with Hublot. However, the opinions expressed in this article are our own in accordance with our Editorial Policy.