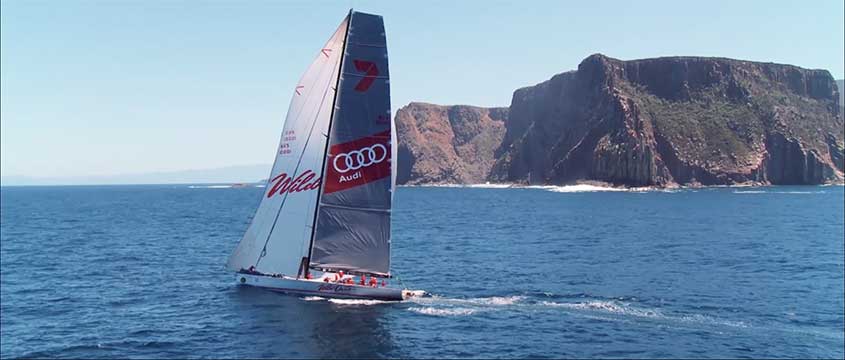 Mark Richards, who is arguably Australia's most famous sailor, is not bragging when he says that he has 10 Rolex Yacht-Master models, brand new and still in their boxes. He is simply stating a fact. And it's a salient one in relation to this video. For each and every one of those glittering, platinum-bezeled steel watches, un-kissed by sun, sand or salt, is engraved with a date and a race. Eight of them say 'Rolex Sydney Hobart'. We were lucky to film two videos with Mark. The first, 'Time On Their Hands', looking at the overlap between watchmaking and sailing, as we've also done with portrait artist Vince Fantauzzo. The second, 'Why I Love My Watch' is about, well, why he loves his watch. No need to overcomplicate things.
Mark is the most successful skipper in the gruelling yacht race's 71-year history, and his mighty waterborne steed, current race record holder Wild Oats XI, is the most successful yacht. But when we met, we didn't just discuss tacking manoeuvres and strategy, we also talked about his watch, the Rolex Yacht-Master (ref 16622). The one he hasn't taken off since he won it in 2005. The very same watch he won when Wild Oats XI took its first line honours in a Rolex Sydney Hobart yacht race. It proved to be the start of a decade-long winning streak that continues today.
Before you hit play, let me quickly tell a behind-the-scenes story. Part of the shoot included us filming Mark's watch on its own. This happened at the end of the day, when we'd all but wrapped. I shook hands with Mark – his is a firm grasp, let me tell you – and said goodbye. He maintained my grasp, "I'll be seeing you again mate," he said. "You've got my good luck charm there."
While we filmed our macros and slow pans of the icy 16622 he hovered around the set, making calls and preparing for an event. But he didn't let the watch out of his sight. He tells the truth, they "go everywhere" together and even 15-minutes off the wrist was uncomfortable. Settle in for a watch story to remember.
The Rolex Sydney Hobart Yacht Race 2015 will be held on the 26th December. Everyone at Time+Tide wishes Mark and his crew fair wind and a following sea, let's make it nine!