SPECIAL NOTE: Forget whisky. Forget watches even. Watch this video for the on-camera star that is the Bulgari Tower (in Ginza, Tokyo) Bar Manager Pietro. The following four-minute presentation that matches Bulgari's three most recognisable watch designs with whisky does include Bulgari's Chief Watch Designer, Fabrizio Buonamassa Stigliani, and I, but it is really all about Pietro.
Let t-shirts be made, let Facebook fan-sites spring up, this man is a legend. He had NO idea a video was going to happen or that it was going to involve him. Pietro handled the situation with aplomb, and, while Fabrizio and I could rely on the Dutch courage of the liquid gold we were imbibing to hit our spots, Pietro coolly sipped his espresso throughout and won the day like a boss. When he says "spicy" we feel nice-y. Hit the play button, you will soon understand.
Two things stand out about the interiors of the Bulgari Tower in Ginza, Tokyo. One, the sophistication of the different spaces; from the low ceilinged dining room to the rooftop terrace offering sweeping views of the city. Two, the bar. Or, more specifically, the quality of the whiskies at the bar. While we were filming this video with Chief Watch Designer, Fabrizio Buonamassa Stigliani, I found myself looking hungrily at the top shelf.
One bottle in particular had caught my eye – a $10,000USD bottle of 30-year-old Hibiki Japanese whisky. I don't know much about whisky, but come on, that's only slightly younger than me. I wanted to ask. But it would be rude to ask. Luckily, the barman, and my generous host Fabrizio were Italian. When the shoot was a wrap, Fabrizio shook my hand warmly and motioned to the bar. "You would like to try?" Two glasses were poured.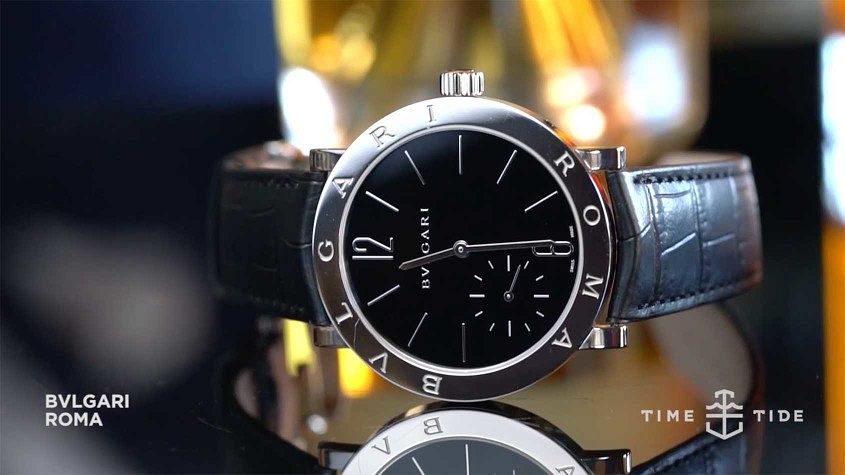 It didn't melt in my mouth, it actually melted my mouth, into a big dumb smile. And it led to lots of descriptions – "It is full of unexpected details" said Fabrizio, "It is classic, but surprising," I swooned – followed by an idea.
"Do you think you could match the characteristics of a Bulgari watch to a whisky?" I put it to Fabrizio. He frowned. "Well, I don't really know the whiskies well enough…" We found a solution. Fabrizio described some key points about the watches to Pietro the (spectacularly Italian) bar manager and whisky aficionado and challenged him to pair the unique design codes and characteristics of Bulgari watches to the whiskies.
Pietro put a crooked finger to under his nose and furrowed his brow. "I can do it," he said. And we were off. Any more information would be a spoiler. Please enjoy, Watches & Whisky with thanks to Bulgari.