Given the vastly reduced number of brands in Hall 1 at Baselworld 2019 there were vastly fewer choices this year across all price points, but particularly in this one. The Swatch Group excel in sub $10K watches, and their absence was felt when it came time for Felix and I to retreat to our corners and start scratching out our personal favourites. However, after skulking off at somewhere in the process to explore Hall 1.1 and other places, I discovered three cracking options for not just under 10K, but under 5. I thought it was worth giving them their own video. They're pretty great. Stay tuned for that list coming soon — for now, it's the three that caught my eye and, boy, did my eye do some unpredictable wandering this year. Bronze, Breitling and big, bad black ceramic. It was an embarrassment of riches. Let's go.
TAG Heuer Autavia in bronze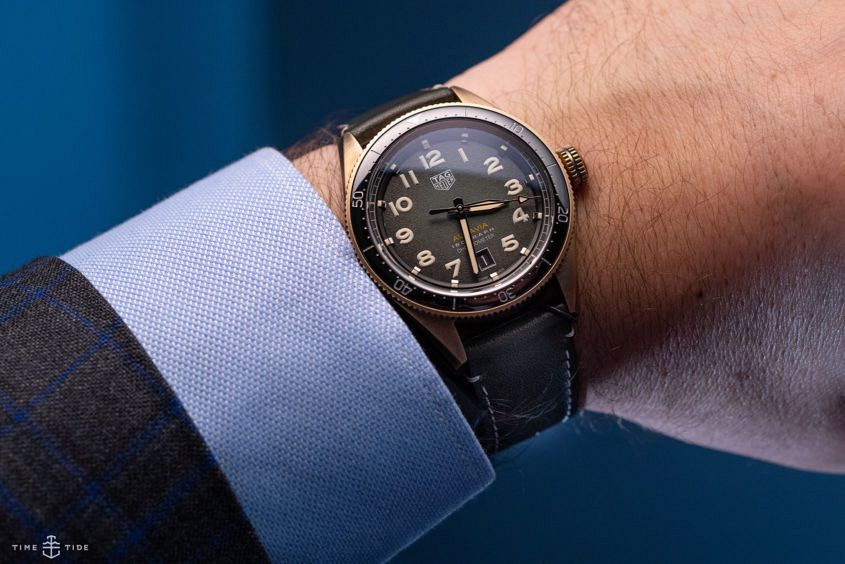 Unexpected doesn't quite do this drop justice. It was almost unthinkable a year ago that TAG Heuer would wade into such of-the-moment territories as bronze, graduated dials and overall heritage hues. It's not as if the brand never went there — the Monza and the Autavia were both massive successes — but they were very much modern interpretations of vintage. This watch feels and looks like the real heritage deal, save for the logo, which jars a little and should have, in my opinion, maintained the Heuer branding of the previous Autavia.
Breitling Navitimer ref. 806 1959 Re-edition
Anyone who hasn't spent years salivating over the extraordinary Breitling collection of @watchfred has been doing Instagram wrong. His taste, his photography and his collection is what envy is all about. When we heard that he was working with the brand on reviving some classics, like this 1959 Navitimer, we held our breaths. Would he hold his line? Would Breitling let him do his thing? The answer is emphatically YES. There was no contesting that this was the re-edition of the fair, and almost certainly the year. If you want an unimpeachably classic model with new car smell, this is for you. A triumph.
Chanel J12
Kinky? Left field? Fetishistic? Yes, yes, yes. I've liked the Chanel J12 since I first laid eyes on it, but I haven't loved it until this year. The shift was a result of it looking incredibly sexy on screen as Marcus shot it, it's a result of an improved movement, and it's a result of that old wrist feel getting me again. Feels gooooood on the skin. All that ceramic. Yum.