VIDEO: Andrew's Top 10 Watches Of 2017
Andrew McUtchen
They're always problematic, best-of lists. Best? On what grounds? When it comes to these personal Top 10s, they're purely based on the things that we, as individuals, like about watches. Best, says who? For this video, it's best, says me. And, to that end, what I like most about watches is the way they make me feel — it's all the intangibles, like how it rests on the wrist, what part it could play in my life, what unspoken, metal to skin story it tells about the people that made it. And then, when worn on my wrist, what it might say about me to the world.
As for the magic of television and whether or not we collaborated on our personal Top 10s, I have my hand on my heart: Felix and I actually succeeded in keeping our favourite watches of 2017 away from each other right up until the date this was filmed. And that's no easy task in an office like ours. So, be assured, this video definitely contains traces of real incredulity. Really? That one? No! Not that one! Etc etc. As for my list, it chopped, it changed, it was pulled from a shortlist that was actually very long. But it had to be 10, and this is where I landed.
Audemars Piguet Extra-Thin 'Jumbo' Royal Oak (Ref 15202)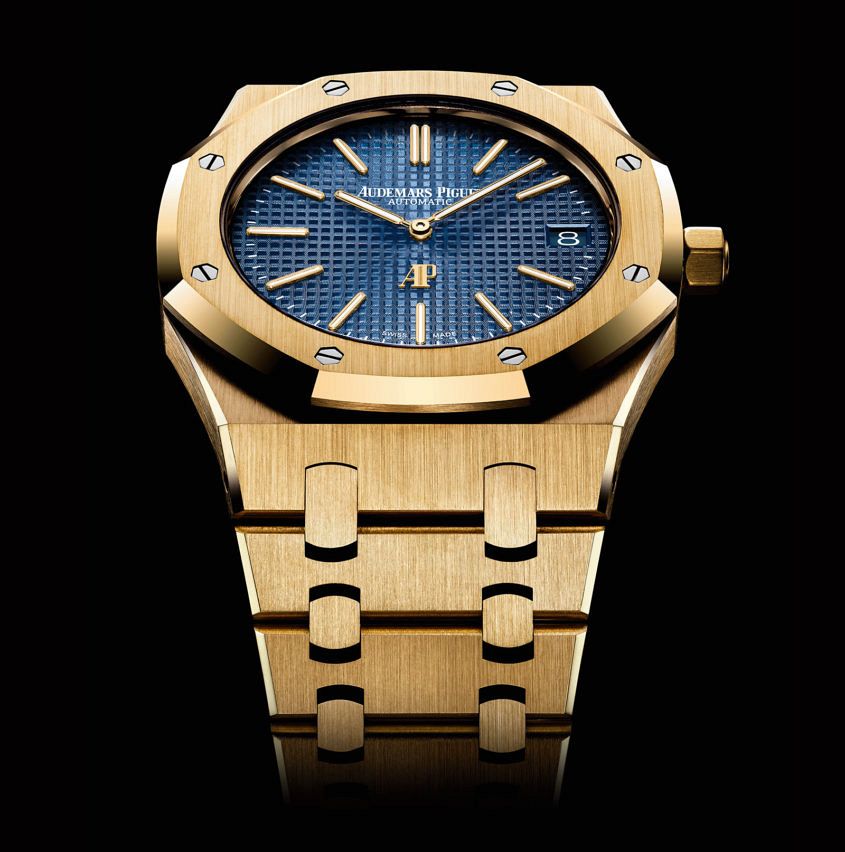 There's a guy in Cremorne Street — the location of our office — who has this model, and every time I walk past him, I go a bit greener. It's unusual for a watch to have that power; I'm not the jealous type. But it has that effect. Yellow gold combined with navy dials always catch my eye, but the fascination I have for this 'Golden Oak' 40th Anniversary edition, released at SIHH in January, endured the year, no thanks to said owner and his almost daily reminders that his wrist was often where I'd rather be!
Cartier Drive de Cartier Extra-Flat
At first, the Cartier Drive was mostly masculine, but now — care of the svelte Extra-Flat — it's masculine and elegant, the Cartier credo, and it provided one of those hand-in-glove moments for me in 2017. Cartier is the master of shapes, and this one landed between two strong tropes for the brand, being cushion and square. It's a bullseye. This one in gold, please. Dress watch mastery.
Jaeger-LeCoultre Master Control Chronograph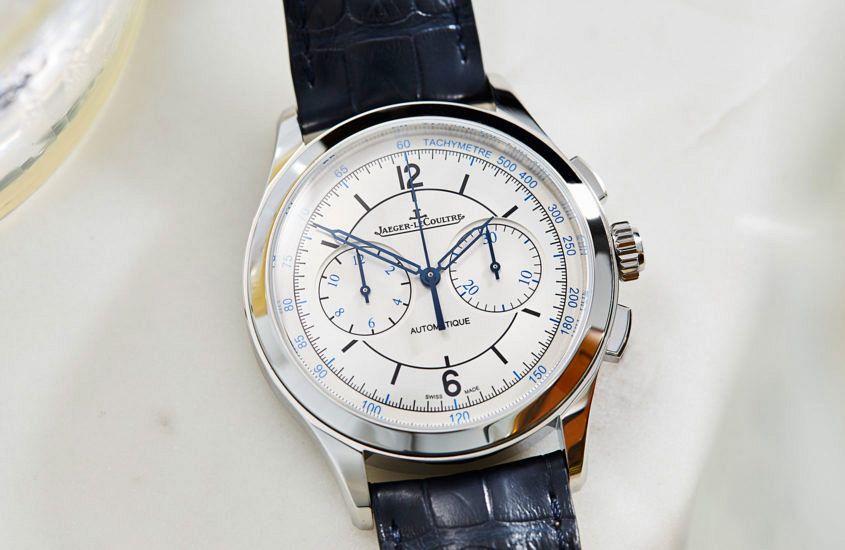 Video commentary spoiler, but you know that feeling when you eat a mint, then take a sip of cold Coke? That almost aching, unbearable freshness? That's what happens in my mind when I look at this watch. The colour scheme is bracingly fresh, and Jason's pics literally made me take mine. And the Bi-Compax dial … Utter symmetrical perfection, especially next to busier models like the Master Ultra Thin Reserve de Marche.
Longines Heritage 1945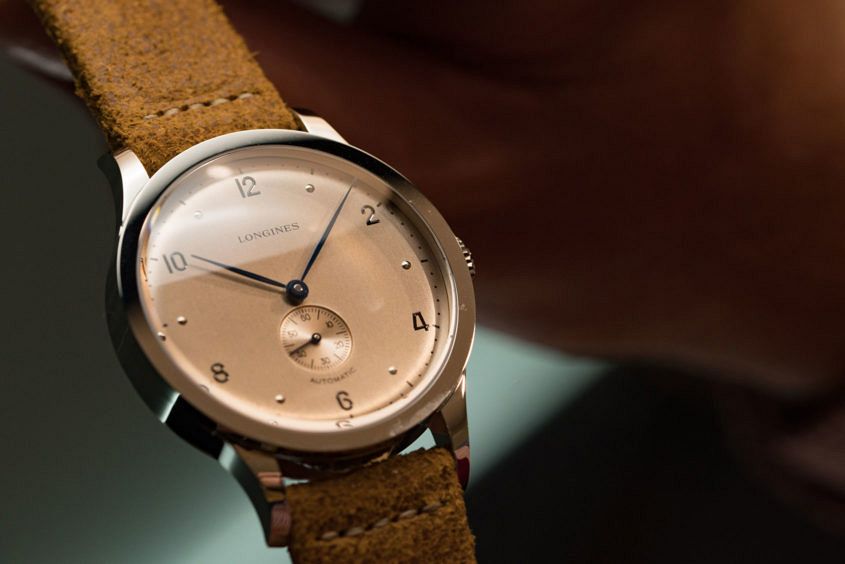 Vintage nuance went next level with the Longines Heritage 1945 and its effect reverberated deep into the year. So sensual and also changeable, this is a watch that's very hard to pin down in photographs. It was a tough call between this and the 2017 GPHG Revival Watch Award-winning Longines Avigation Big Eye, which has its story told here, but the sheer thoughtfulness of the finishings and strap give it the edge. Warmth and soul.
Rolex Sky-Dweller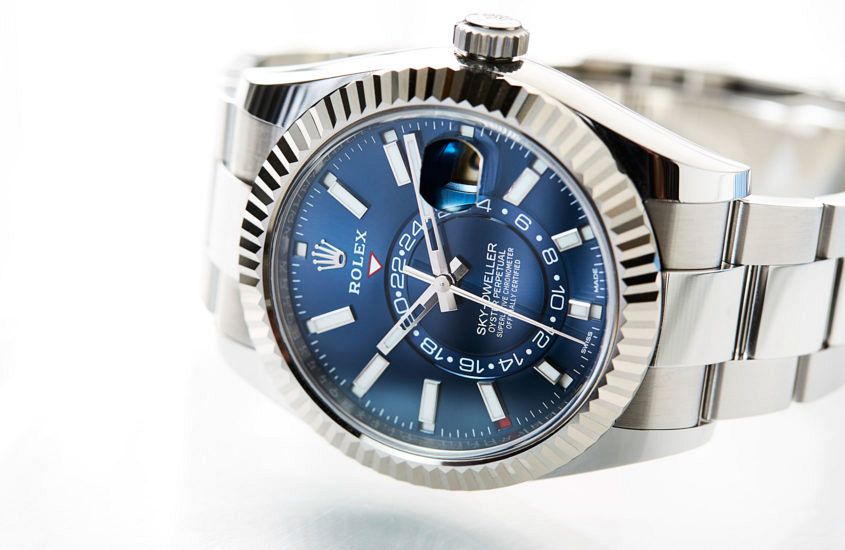 Pared back, clean and ever so confident, this one has proven to be the game changer of the year. Until this arrived, an annual calendar from a high-end watchmaker was on average 50 per cent more expensive. And that's just in steel. For this to come in under $20,000, with white gold gilt ring command bezel, dropped the floor, and the competition.
Seiko Presage SPB069 'Moonlit Night'
It's a little selfish, because this model brings back good memories for us as the first watch we ever sold, but even putting that aside, it brings a blue enamel dial, croc strap and a whole lot of considered details to an unheard of price point of well under $2000. Yes, as many of you pointed out, it's powered by a workaday 6R15 movement as seen in some Cocktail Time models for example – but it's all about the fingerprints of craftsman Yokozawa, who quality-checked each of the 1500 dials. It's also another chameleon-like watch that transforms in different lights depending on how it's hitting the dial.
Omega 1957 Trilogy Speedmaster Limited Edition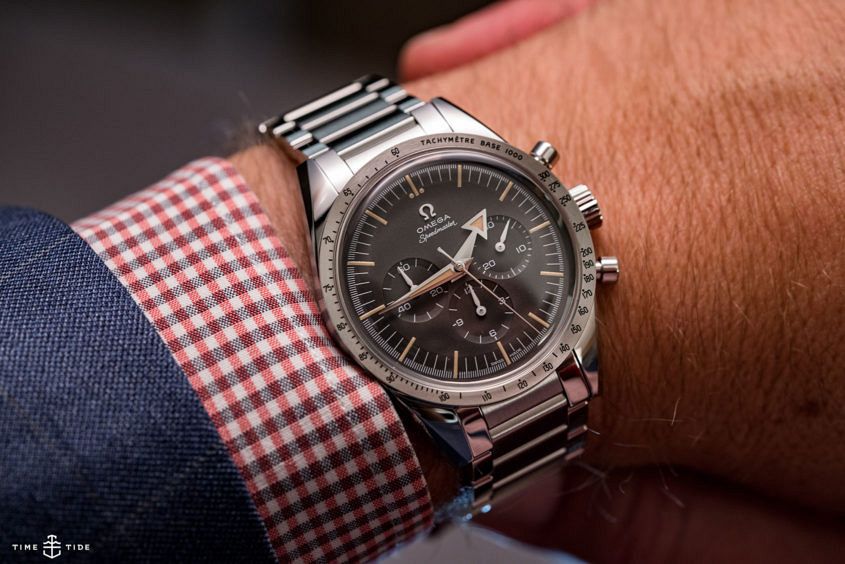 Good lord. New car smell for a classic vehicle! So sharp, so faithful, so perfect. For me, it really consolidated the 2017 trend of 'true vintage' as opposed to thoroughly modernised vintage with fauxtina on watches like the TAG Heuer Monza from 2016, which we also enjoyed, but was more an interpretation or homage than a replica.
Panerai Submersible 1950 BMG-Tech 3 Days Automatic — 47mm
Yes, the mysterious BMG (Bulk Metallic Glass) Tech! This watch reopened a conversation with me and Panerai because it has so many new, un-Panerai like qualities – it's lighter, more impervious to dents, and the colour highlights really give something. Well priced, too.
Hublot Big Bang Meca-10 King Gold
The change in materials on this Meca-10 — from titanium and an all-black version (also titanium) to lighter King Gold — creates, as Felix said in his review, a real 'light box effect', and the movement architecture of the watch is suddenly much more visible and on display. This is a power watch par excellence, with three power reserve indicators to indelicately ram that fact home. Not all messages are best delivered with subtlety.
Bremont Supermarine Type S301
Hmmm, this really was a surprise. I am guilty of being quite dismissive of brands that branch into territories where they have no legacy or legitimacy. Felix is quick to point out in the video that, technically speaking, the Supermarine is solid; despite its vintage, unseaworthy leather strap it's ready for 300m of depth. But the fact remains that Bremont, whose story is written entirely in the skies, is creating a mixtape of a dive watch here, with all the hits included. The issue, or the great news, is that it's a superb piece as a whole, with a matt shimmer that creates something of a halo around the watch. It also features a number of pared-back details from the previous model, including a slimmer case (bye bye helium escape valve) and reduced case size (40mm, down from 43mm and 45mm), all of which point to its proudly recreational, as opposed to submarine, purpose.