HANDS-ON: The Vacheron Constantin Traditionnelle Twin Beat Perpetual Calendar explained
Sandra Lane
To understand the Vacheron Constantin Twin Beat, we need to begin with a universal truth: in most areas of life, the most meaningful innovations are those that address real-life needs, solving practical problems in a sensible way. And those solutions come through questioning orthodox assumptions.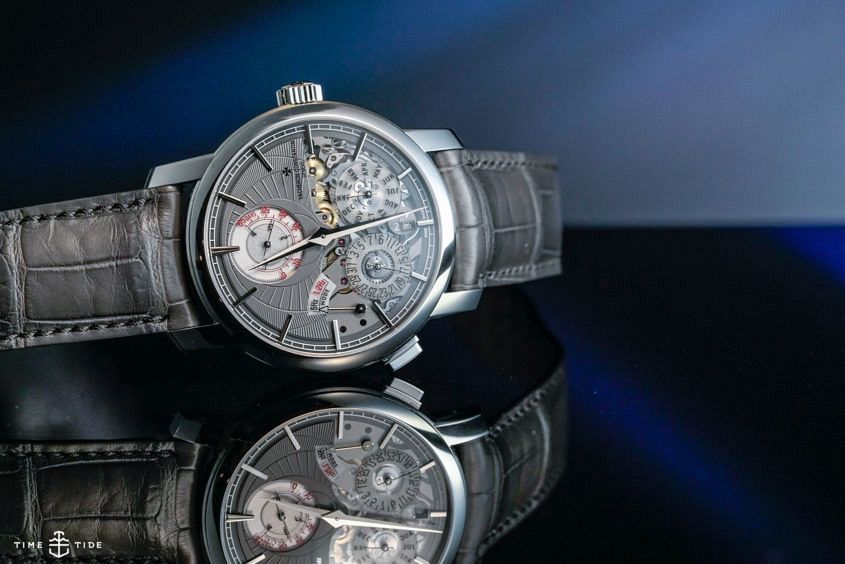 In the case of mechanical watches, the received wisdom is that the running time of a watch before it needs rewinding (its power reserve) is fixed by the amount of energy the mainspring can store. In other words, the mainspring barrel has a fixed capacity and thus can release energy only for a fixed timespan. Therefore, a longer power reserve requires either a longer mainspring (much larger barrel) or multiple mainsprings that release their energy one by one (multiple, series-coupled barrels). Both of these conventional solutions require more space in the movement and, consequently, a bigger watch case. It's like the range of a car: have a bigger tank or build in some energy-saving technology.
Now, for time-only automatic watches this limitation of power reserve is not a huge issue, since even a very slim case can accommodate enough mainspring to provide 60 hours of running time (and those who really do find it an unbearable burden to wind their watch once every 2–3 days could always consider the option of quartz. But of course, we are not those people).
However, the more complications a watch has, the more that limitation does matter. Like the apps on your phone, complications eat up energy. And for a perpetual calendar (one of the most useful – i.e. problem-solving – complications there is) it's even more of an issue because, if it runs down, the task of re-setting all of the time indications can be lengthy and complex (a polite way of saying a pain in the neck). And it can be risky: try to set it during the "don't touch" period either side of midnight when the indications move, and you can destroy the movement.
The Vacheron Constantin solution
So, to come back to that basic assumption about fixed energy storage: with the Traditionnelle Twin Beat Perpetual Calendar, Vacheron Constantin has turned conventional wisdom on its head by transforming the mainspring into a source of variable energy levels. That is radical.
How did they do it? By building a movement with two balance wheels, each operating at a different frequency (higher frequency, more energy consumed; lower frequency, less energy). The wearer is in control, switching instantly from one frequency to the other by pressing a pusher at the 8 o'clock position on the case band, according to their activity level.
With the watch on your wrist, in Active mode, it runs at 5Hz (36,000vph), offering four days of power reserve – which is already quite generous for an instantaneous perpetual calendar.
If you take the watch off overnight – or leave it stored for a longer time – it can be switched to Standby mode, running at just 1.2Hz (8640vph). This extends the power reserve to at least 65 days. Days, not hours: that's more than two months. (What's more, this ingenious solution has enabled Vacheron to pack the two-month power reserve plus perpetual calendar into a 42mm case.)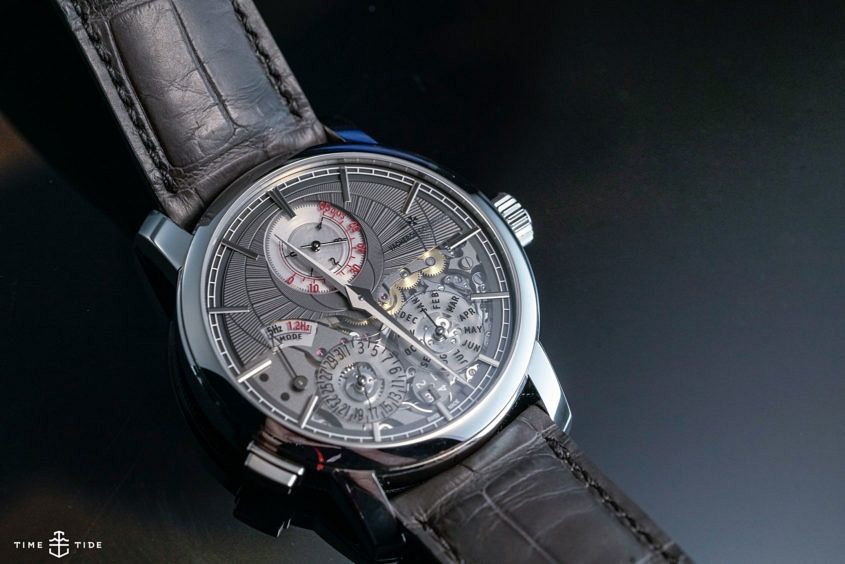 At any point, the Twin Beat Perpetual Calendar can be switched back from Standby to Active mode, with all its calendar indications up to date and a loss of timekeeping accuracy of only about +/- 7 seconds a day (around 8 minutes after 65 days).
This fundamentally different approach to watchmaking was inspired by the seasonal clocks used in Edo Period Japan (1603-1868), where day and night were divided into six segments that varied in duration according to the seasons – each daylight 'hour' being longer in summer and shorter in winter. (Examples of such clocks are among the most intriguing of the exhibits I saw at the Seiko Museum during a visit to Tokyo last year.)
The new movement, Calibre 3610QP, is manually wound, with an instantaneous perpetual calendar (meaning that all of its indications jump at midnight) and was of course entirely developed in-house by Vacheron Constantin. I say of course because, given the stream of glorious métiers d'arts watches and romantic complications that issue from Vacheron's ateliers, it's easy to forget what a powerhouse of pure, hardcore technical innovation the Maison is.
And this movement is packed with deeply technical elements. For the very low-frequency oscillation of the 'standby' escapement, Vacheron designed an exceptionally fine hairspring (made of a proprietary alloy that Vacheron won't give any details about) that's only a quarter the thickness of a regular hairspring. To further improve its operating efficiency, this escapement also has an escape wheel made of silicon – the only use of a non-traditional material in the movement.
Another challenge was to ensure the smooth working of the multiple jumping indications for the perpetual calendar functions – again, to reduce the energy needed. For this, Vacheron developed a sprung dual-gear compound system (its structure is like a sandwich, with a wheel top and bottom and a spring in the middle) that requires four times less torque than typical jumping mechanisms. The compound effect is that even at midnight on New Year's Eve, when all three indicators jump, there's next to no effect on the amplitude of the active balance.
As for the simple part – the hours and minutes indication – that was far from simple. The hands must take information from two gear trains then process those two sources for one single reading the time; this it does through a differential with conical gears, ensuring that regardless of which balance is operating, the indicated time remains the same.
Beautiful on the outside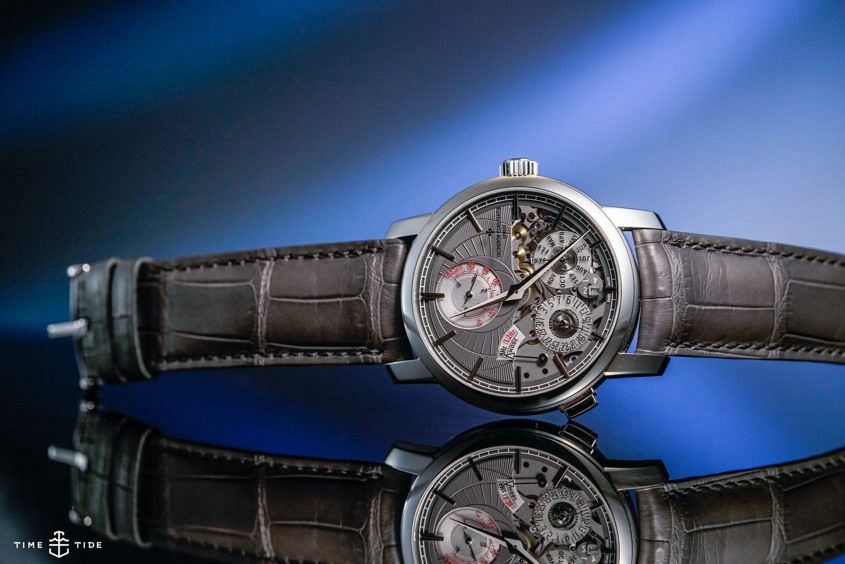 This is a highly – highly – technical watch and yet Vacheron has clearly put tremendous thought into the aesthetics, blending much that is traditional with elements that are almost futuristic. The result is bold, contemporary and balanced – "very Vacheron" and yet unlike any other model the Maison has produced.
The dial is, in fact, a piece of almost-transparent sapphire, with indications engraved on it and filled with lacquer: the circles for the month and date on the lower half of the dial are balanced by the power reserve on the upper part – which has two scales, four days and 65 days, corresponding to the two operating modes.
The guilloché section on the top half of the dial is a plate of solid gold, inserted into a semi-circular cut-out in the sapphire. The radial guillochage is set at three different angles – a process that Vacheron says takes about five hours to complete – giving it a bold and modern air.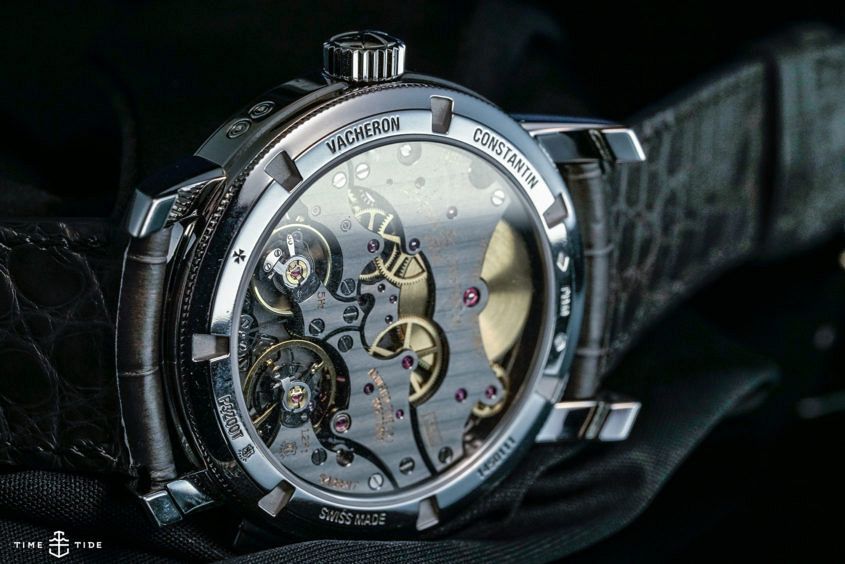 Turn the watch over to admire the 480-component movement and you're struck by two things: the beautifully balanced arrangement of the two gear trains, flowing from the barrel to the balance wheels, and the superb finishing and decoration. The dark grey NAC coating used for the plates and bridges contrasts beautifully with the golden tones of the wheels and barrel, and creates a contemporary counterpoint to the classical lines of the platinum Traditionnelle case.
Only five pieces will be produced this year – the watch is so complex that only one master watchmaker at Vacheron Constantin has the extreme skill necessary to assemble it – and the Maison has not yet announced how many more it will produce in future.