The best thing about perpetual calendar watches is they are truly set-and-forget timepieces. So if you're reading this a few decades from now and you've picked up a 2020 Vacheron Constantin Overseas Perpetual Calendar as a birth-year watch, don't worry, it won't need to be adjusted till well into your retirement in 2100. Vacheron Constantin have released two new perpetual calendars in the Overseas collection this year, and while they have a lot of similarities, the impression they each leave you with couldn't be more different.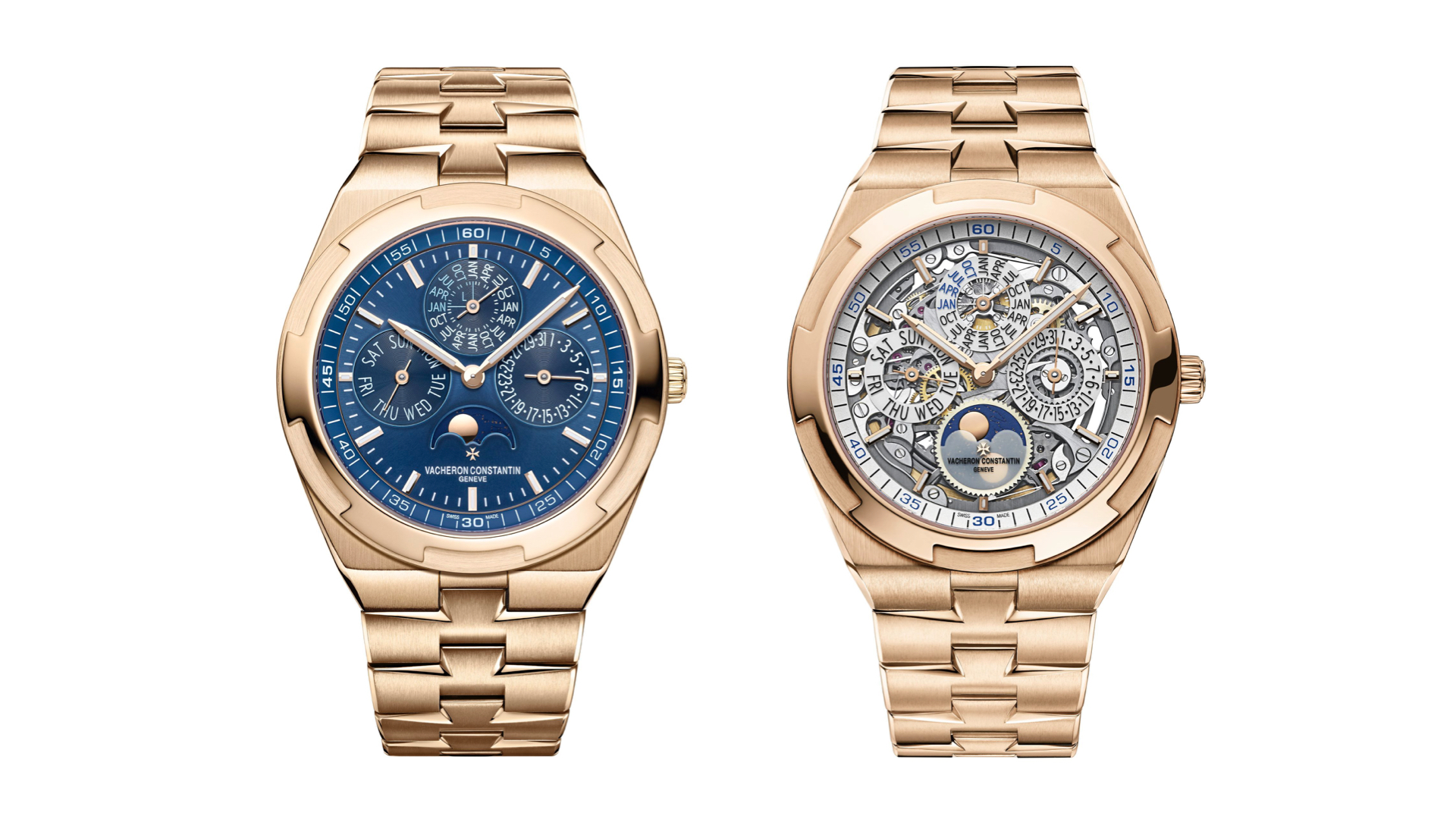 Vacheron Constantin Overseas Perpetual Calendar Ultra-Thin Skeleton
First, let's look at the Vacheron Constantin Overseas Perpetual Calendar in pink gold with skeleton dial. As far as complicated-looking luxury sports watches go, this one is exceptionally clean looking for all that is going on. While some skeletonised dials can fall into the trap of looking overly ornate or garishly exposed, or just plain busy, this watch is none of those things, giving a nod to the Vacheron Constantin history of skeleton dials while remaining contemporary in its execution.
The prominent calendar sub-dials return some legibility and some symmetry to a dial that can look messy and confusing, while the floating gold hour markers and hands nicely match with the case and bracelet. The moonphase display has impressive detail that delivers an impression of visual depth, and is made all the more prominent thanks to it being the largest solid piece of the dial.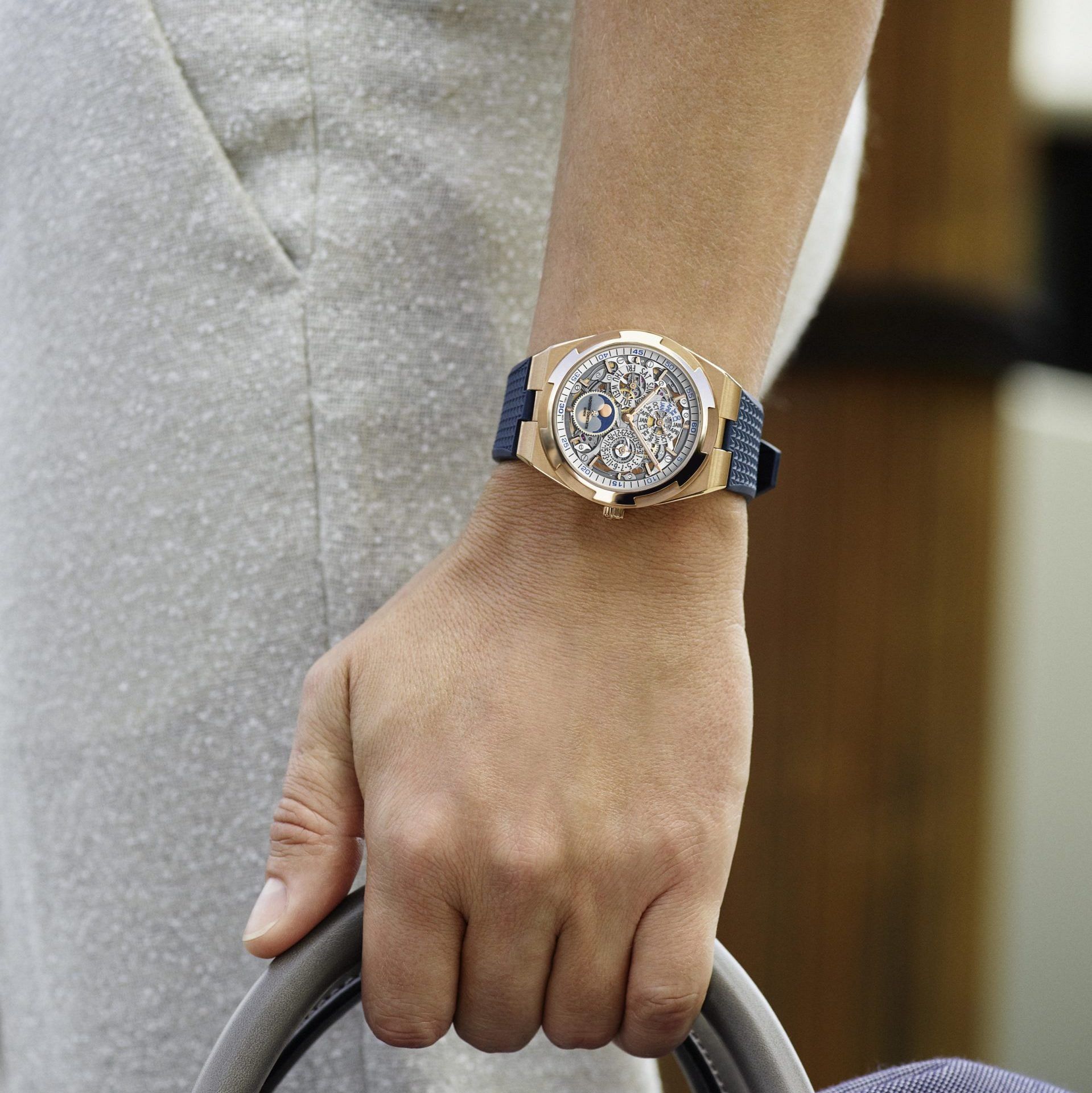 Through the ample gaps between displays, you can see the full majesty of the Vacheron Constantin caliber 1120 QPSQ/1, a perpetual calendar movement that is one of the thinnest in the game at only 4.05mm. This makes the entire watch a remarkable 8.1mm thick, measuring 41.5mm in diameter. It packs a lot of punch for such a compact package, and still delivers 40 hours of power reserve. While the solid gold bracelet offers a good contrast to the open-worked dial, it also comes on rubber and leather strap options.
Vacheron Constantin Overseas Perpetual Calendar Ultra-Thin blue dial
Next up, we have the Vacheron Constantin Overseas Perpetual Calendar in pink gold with a blue lacquer dial.
It is extremely similar to the Overseas Perpetual Calendar that was released at SIHH in 2019, except the blue dial was only available on a blue rubber strap. If you wanted the solid gold bracelet, you needed to get it with a silvered opaline dial. No blue for you.
This year the blue dial option is available on the Maltese cross-inspired gold bracelet, and you get the rubber and leather options as well. Each of the straps can be changed without hassle, thanks to Vacheron Constantin's quick-change feature they have included for this watch. While it isn't a new quick-change mechanism, it's great to be able to change straps easily and without needing tools.
It's refreshing to see a blue dial sports watch with an integrated bracelet that isn't in steel, and the blue and pink gold tones complement each other well. The blue maintains a sporty feel to the watch, while the precious metal case and bracelet elevate the entire watch to the level you would expect from Vacheron Constantin. It features the same movement as the 2019 reference, the ultra-slim 1120 QPSQ/1, which is also found in the skeleton dial reference from this year.
Vacheron Constantin Overseas Perpetual Calendar Ultra-Thin pricing:
The Vacheron Constantin Overseas Perpetual Calendar Ultra-Thin skeleton has an RRP of AUD$209,000
The Vacheron Constantin Overseas Perpetual Calendar Ultra-Thin with blue dial has an RRP of AUD$155,000