MICRO MONDAYS: Undone Watches, featuring their three bestselling models, Vintage Killy, Basecamp Original and Batman Titanium
Andrew McUtchen

Undone are a brand whose ubiquity on social media is so successful as to be counterproductive. The sheer unavoidability of their ads – once you click on one, which I must have done at some point – trigger in me a sceptical reaction.
And it's not just the persistence of the ads. It's the price. Surely these watches must be very poor quality given the ask – $500AUD? Seriously? The automatic movements that power them are just about bulletproof: the Seiko Mecha-Quartz Flyback Chrono in their chronographs and the NH35A in the time only. So no issues there.
Perhaps, though, the devil is in the tinny cases and unpolished finishing? Whatever the case, beautifully polished and satin-brushed or not, like many, I hovered over the Add to Cart button long enough to forget about Undone. A few Basecamps and Vintage Killys started turning up on Instagram. But then, a writer I know and trust, Gerard Nijenbrinks from the one and only Fratello, wrote a review.
Gerard and I go a little way back, and we shared one very memorable night together. I spoke after Gerard at the 'Night at the Omega Museum' event, which was a Time+Tide creation, supported by Omega. I was there along with Wei Koh, Jack Forster and Nick Foulkes. Like, what the hell was I doing in that company, but it happened and I have a lot of respect for Gerard and his knowledge across many brands. So his words had a serious impact. Here they are, unedited:
"Normally when publishing reviews, the price is one of the last things we mention," Gerard writes at the top of the review. "Of course important, but the review should reflect the watch enough to give the reader the possibility of getting an idea about the price level. It could be almost a guessing game. You read about a watch, learn the technical aspects, and look at our numerous pictures. Now you should have an idea about the price level this watch in question should fall in for you.

"But here I'm gonna spoil that fun. The price of the Undone Basecamp is $295USD. That's without VAT,  including worldwide shipping, and no typo. I think we should bear this in mind when reading the rest of the review. Specifically, because this review will point out that, technically and construction-wise, there are no flaws to be found."
Gerard blew the punchline in the opening paragraph and, just like that, I was onboard. That was late last year, and since then I've gotten on the front foot. Which leads us to today, where we're featuring Undone as our second brand unveiled on MICRO MONDAYS. Undone are one of the fastest-growing micro watchmakers of the moment, which is why you've probably heard about them. Where do they fit into the landscape? Well, when it comes to creating completely bespoke, personalised watches that won't decimate your bank account, Undone is in a class of one.
Established in 2014 by Michael Young, a British-born designer, the Hong Kong-based watchmaker has been shaking things up ever since their inception by somehow – and we're not quite sure at this point, exactly how – making bespoke watches with good, battle-worn movements, eminently affordable.
The brand's ethos is summed up by this passage from the Undone site: "Watches don't just tell time anymore — they tell stories. After all, it's your wrist, your style, your story. Be unique. Because individuality matters." Undone encourage you to create your dream watch from the ground up. You can choose the dial and what's stamped on it, the handset, the case, the bezel, the strap, what's printed on the display caseback and what movement the watch is powered by. In essence, what Undone has done is democratise the concept of piece unique horology.
And all the watch parts are created with components and materials relied upon by higher price point brands. The steel cases are hewn from tough 316L steel, all the movements are sourced from Seiko, and each watch is capped with Lexan Polycarbonate crystal. Better still, all Undone watches are assembled in-house at their Tsim Sha Tsui headquarters, which ensures a great level of quality control, and they all come with a one-year international warranty.
It's not just customisable watches, though, Undone have dropped some seriously cool collaborative timepieces and some great in-house designed models that have become staples in the watchmaker's product lineup. Here are the brand's three bestselling models, in more detail.
Basecamp Original
Undone's take on a vintage-inspired, utilitarian dive watch that's been grabbed by the scruff of its bezel and dragged into the 21st century is a good-looking thing. It hits all the right marks of an archetypal dive watch and, to a certain degree, even possesses tasteful characteristics of a field watch. The proportions of the 316L steel case are bang on, measuring a versatile 40mm across, 15mm thick and having a lug width of 20mm, making it ideal for countless strap changes. And the case can be had in a number of different styles, including sandblasted and polished and brushed finishes. Housed inside the bandwidth-able case is Seiko's sturdy and reliable Calibre NH35A.
This self-winding movement features 24 jewels, 21,600 (3Hz) vph and approximately 41 hours of power reserve. Another big talking point of the Basecamp collection is the sheer amount of different dial variations and colours that can be had. From classic matte black, to overtly granular, textured dials and even the iconic "California Dial" design is an option (our personal favourite). The Basecamps have also been adorned with plenty of lume, which can be found on the numerals, hour indices, handset and centering arrow of the bezel. And you can take these watches pretty much anywhere unless you're a saturation diver, thanks to a decent 100 metres of water resistance. About the only thing I would critique is that some of the Basecamp iterations come equipped with a date window, which is located between four and five o'clock, not ideal for me, but fine for many. But Undone have done this in the interest of preserving the dial's symmetry, which I respect. Best part of all is the Basecamp price, which is $450 in this version and available now at the Time+Tide Marketplace. 
Vintage Killy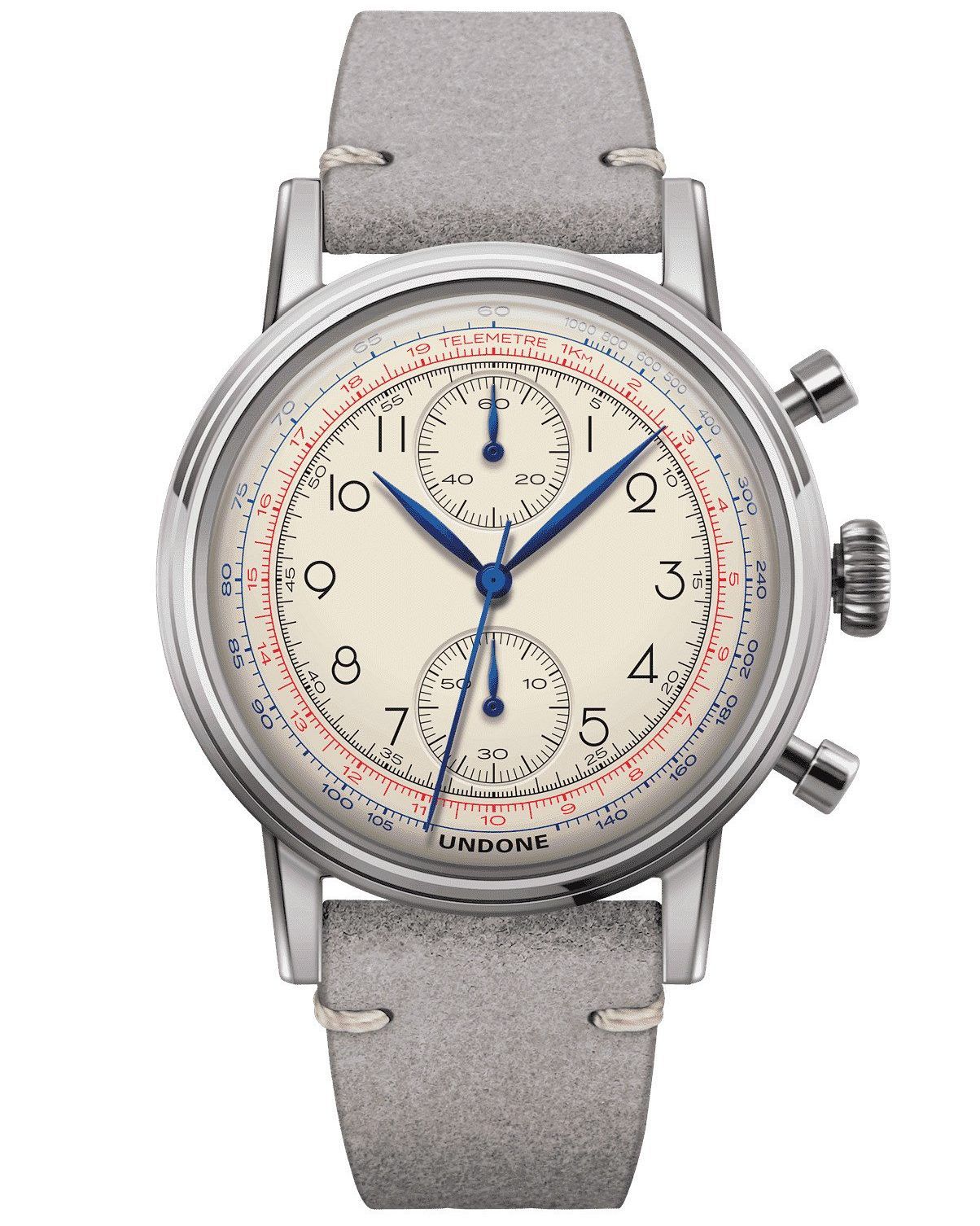 We're a sucker for vintage chronos here at T+T, and Undone's "Vintage Killy" has nailed the antiquated dress watch come chronograph aesthetic with aplomb. That's right, aplomb. All the hallmark characteristics are present and accounted for – Blued steel handset, bicompax dial, delightful deco numerals, onion crown, pump pushers … this watch has got the lot. Its polished 316L steel case measures a crowd-pleasing 40mm across and just 12mm thick, ensuring that it will be able to easily fit under the stiffest of cuffs, and ensuring that it adheres to its dress watch remit.
The dial of the Killy is a real treat – finished in a creamy off-white, its outer edge is adorned with a tachymeter, coloured blue, and a telemeter, which is coloured red. And with the 60-minute track, the two sub-dials, located at 12 and 6 o'clock and displaying a 60-minute totaliser and running seconds respectively, are ever so slightly recessed into the dial, which adds another layer of visual charm. Powering the Killy is Seiko's Calibre VK61. This mechanical-quartz hybrid movement benefits from a flyback chronograph complication and, in the eyes of many, represents a compelling blend of both quartz and mechanical watchmaking. Priced at $450AUD, it's hard to think of a competitive set for this one. Available now at the Time+Tide Marketplace. 
Dark Knight & Caped Crusader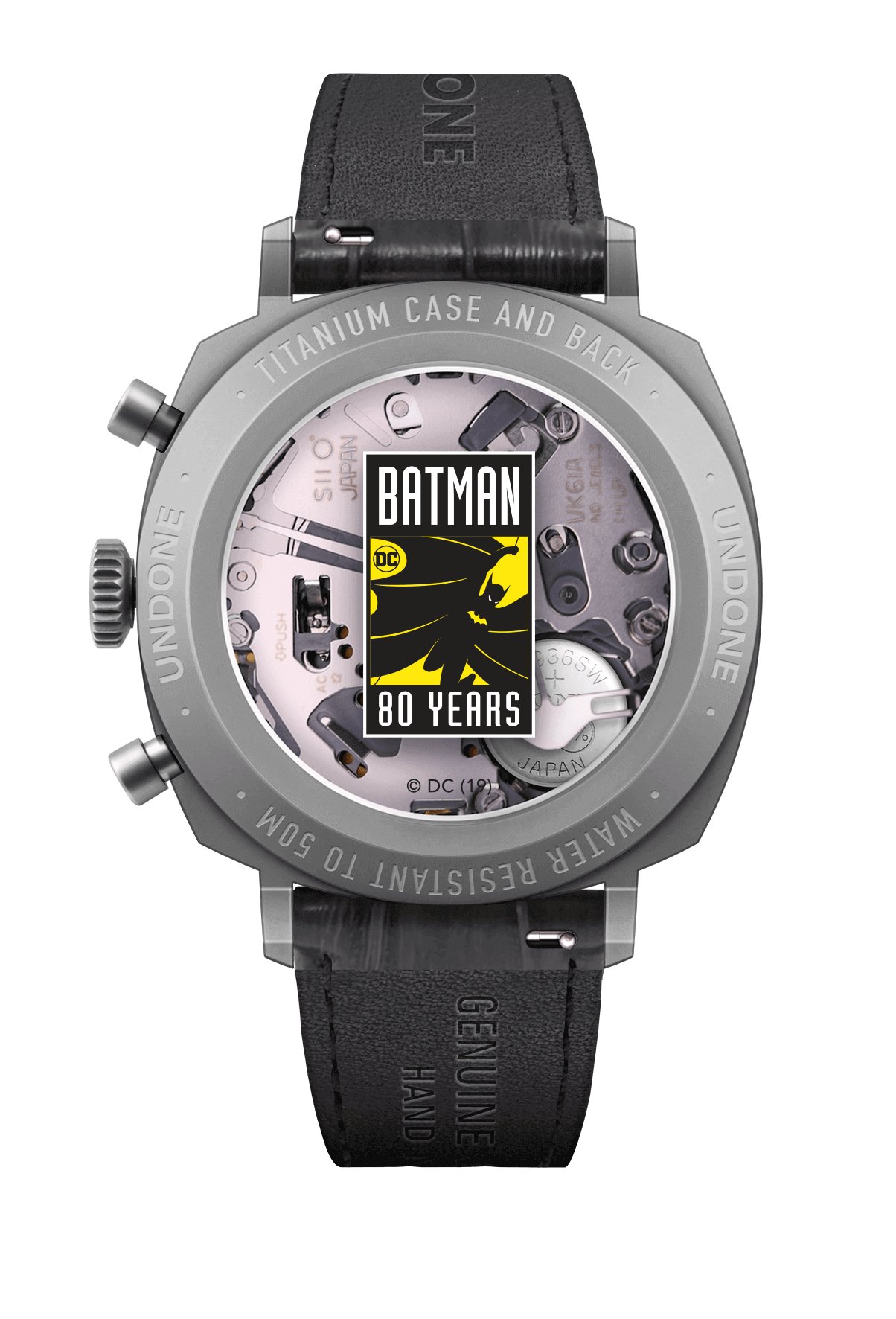 Last and certainly not least, The Undone "Dark Knight" and "Caped Crusader" mark a three-year licensing deal between the Hong Kong watchmaker and Warner Bros. film studio. These limited-edition beasts represent a first for Undone – it's their maiden take on a cushion case, and you've got to hand it to them, they've come in hot. Fashioned from titanium and then given a stealthy satin finish, the squared-off case design, which measures 40mm and 13.3mm thick, makes both these timepieces look as tough as the fictional character they're based on.
The dial of the Dark Knight is a brooding, granular gunmetal grey and features "Wayne Industries" lettering as well as the fictional corporation's "W" logo. The Caped Crusader features a patterned black dial with yellow accents, as well as lettering on the dial that reads "Guardian of Gotham City Since 1939". Powering the limited-edition watches is Seiko's Calibre VK64 mechanical-quartz hybrid flyback chronograph, and, for the money — $599AUD — it's a serious value proposition as well as a superhero statement watch. Buy the Dark Knight now at the Time+Tide Marketplace. 
Made in partnership with Undone. However, the opinions expressed in this article are our own in accordance with our Editorial Policy.