A combination of childhood curiosity, a fictitious war hero named Brody, and stories from my grandfather led me, last year, to tackle the infamous Kokoda Trail with the Tudor Black Bay Bronze on my wrist. The Kokoda campaign of World War 2 remains one of the most important theatres of war that Australia and its allies fought in — often referred to as "the war that saved Australia". The Kokoda Trail is something that you experience, you don't conquer or complete. It is also a great leveller – it treats everyone the same. It tests everyone, no matter their physical capabilities, mental strength or emotional resilience. It is indiscriminately brutal, which is what sealed the deal for me.
To be honest, I didn't even contemplate taking the Tudor Black Bay Bronze with me. I was having a hard time planning the all-important "break-in" period. Breaking in a leather band is tough, yet it gives the watch a level of comfort and "sittability" on the wrist that makes it WORK. I have a number of favourites in my stable, namely my first 'good watch' – an Omega Planet Ocean 300 and my follow-up knockout punch, a mid '90s Rolex Coke GMT-Master II with lovely patina. The Planet Ocean was on my wrist the evening before the trek but it was something visceral about the rain, the mud, the humidity, the mental images of muddy-faced soldiers in shorts and khaki boots that shifted my gaze to the organic leather and bronze slab on the Tudor. I guess in some way, as I was preparing to step into nature, face to face, I wanted something that would "become me" — the leather would encapsulate my success or demise at the hands of nature. The GMT, she's an absolute beauty, but this is "war" and my GMT is my shirt-sleeve popper, not something that shakes hands with the famous Fuzzy Wuzzy Angels.
My first impression was … presence and POW. The first thing I realised is that I was wearing a slab of bronze (copper, tin and aluminium smashed into a chunk of warm metal) on my wrist. I have always had an affinity with plus 40mm watches and this would be the granddaddy of plus 40s for me. It has an earthy feel – I guess because the bronze often will warm and cool depending on the time of day, along with the reflective tones of sunrise and sunset.
Once I put it on, it felt … heavy but at home. The beauty of bronze is that it can be soft or solid in presence. It is surprisingly cold as well – it is like a cold-blooded reptile. Needing time in the sun or time next to a warm-blooded creature before warming up. You never really forget that it is on your wrist, as every turn or twist of your hand your attention is brought back to the 43mm wide by 15mm tall case.
Looks-wise … it's hefty, in all variations of the word, but in that lies its beauty. It is not a watch for everyone; 43mm is a life choice, not a short dalliance, and if you are a passionate, proud and paid-up 43mm man, you'll love this. What I realised was that at a distance, it doesn't draw the eye, but up close and personal, you can't help but be drawn to the warm tones of this beast. Plus the leather strap blends beautifully, almost as if it was one piece.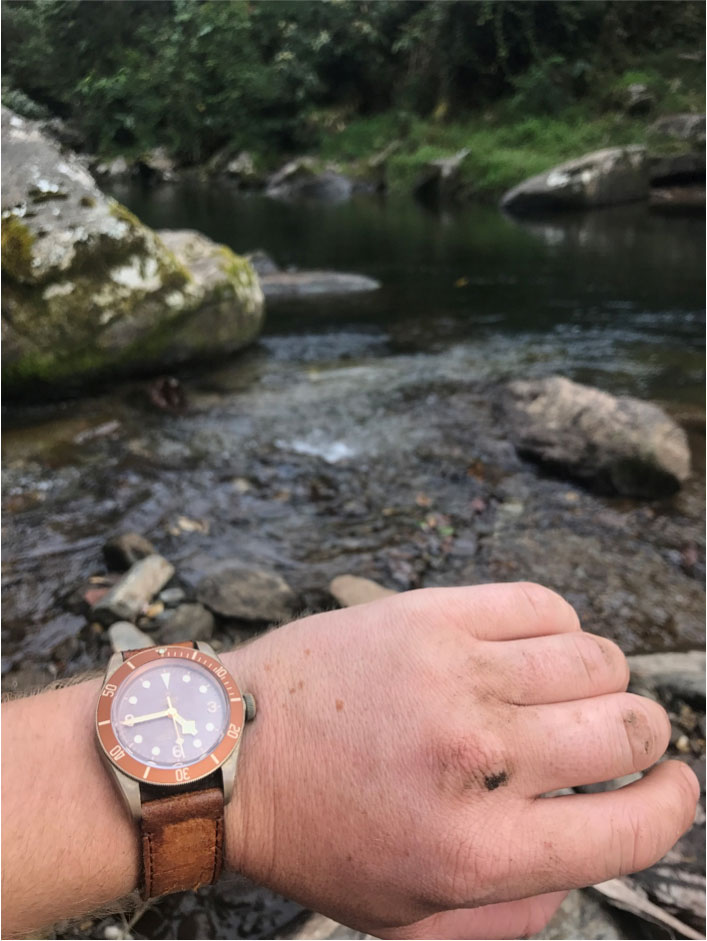 What stood out to me was … the bulk size and bulk power. I know that you can get larger in size and power reserve, but the combination of size, boldness of materials and reserve was a perfect match. I like my watches to express something, an element of myself or the world around me. This does a little bit of both. I also didn't mind getting this thing dirty – on the track I was covered in sweat, mud, or both, for the majority of the 100km+ trek. Up at 4.30am each morning, the luminous dial popped in function and beauty. On a side view, the Tudor rose is a nice touch, especially with such masculine features up front.
I'd wear this with … worn-in blue jeans with a fresh white tee. I have worn this in "work mode" and it brings a personal touch to the professional, but it is much more at home in the great outdoors, especially with a touch of mud, sweat, blood and tears.
If I could change anything … I would've worn this beauty for the last six months, not the last six minutes before I boarded my flight to Port Moresby. I often rotate between my GMT and Planet Ocean and I was trialling the Bronze before I left but it felt misplaced in a world of lattes and quinoa salads. It was "too" clean. I immediately bonded with the watch but with a few more months under the belt before I left for PNG, I think that I wouldn't have been so conscious of it on my wrist. If anything, it reminds me to get off the well-worn track and make a muddy one of my own more often. I have now switched the leather for the canvas strap to add another level of versatility.
By the end of the week … I had experienced one of the most amazing and transformative events of my life. I had left part of myself on various parts of the track in the form of sweat, blood, tears and grit. The Bronze had been there for every step of the journey and had a front-row seat for the trials and tribulations of the Owen Stanley Range. It was there for the children's choir at Efogi, the deep river crossing the other side of Kagi Village, planted a poppy at the site of the Brigade Hill massacre and rested with me in the green grass alongside Templeton's Crossing. It will be with me for the rest of my life, and in some small part, it was witness to the spirit and courage of the Anzac who fought along that bloody and muddy track.