ANALYSIS: Gold Tudors are now selling but who exactly will be buying?
Zach Blass
Yesterday it is fair to say that Tudor hit a home run with their releases, notably introducing an attractive duo of precious metal Black Bay 58 watches as well as a revamped pair of panda-dialled Black Bay chronographs. Tudor was originally created to provide more affordable timepieces that leveraged Rolex designs and fabrication with mass-produced movements. The brand now stands on its own two feet, still within the Wilsdorf group but producing their novelties independent of the crown and with their own manufacture calibers. Tudor, however, has just entered uncharted territory for the brand – introducing a solid gold Tudor Black Bay 58 18K with a green bezel and dial. It was a huge surprise upon its presentation, with many celebrating a new opportunity to acquire a hulkish Wilsdorf design. In the wake of the big news we have found the watch community simultaneously appreciating its design, but also wondering how Tudor will fare with this new metal and higher price point for the brand.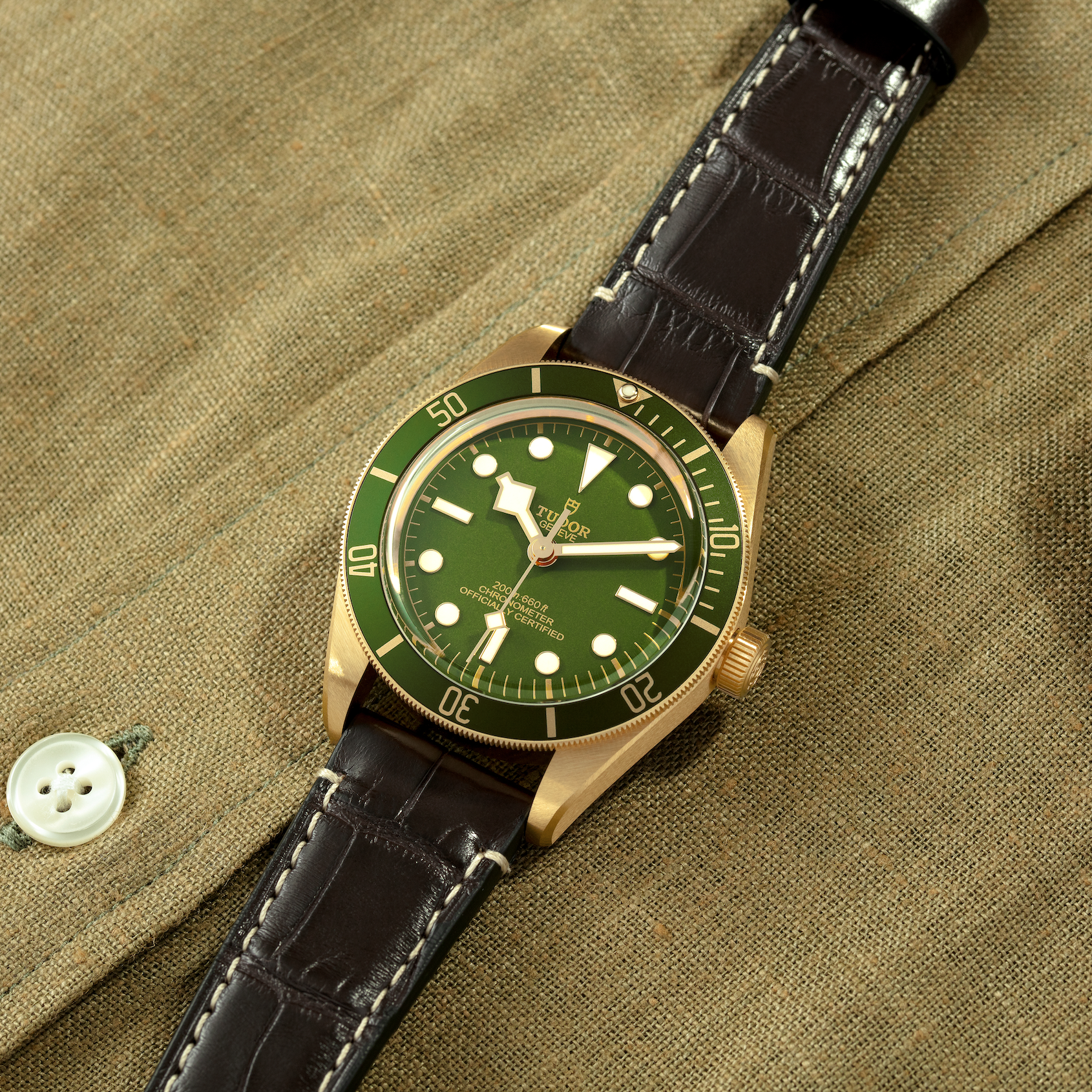 A quick rundown of the new Tudor Black Bay 58 18K ref. 79018V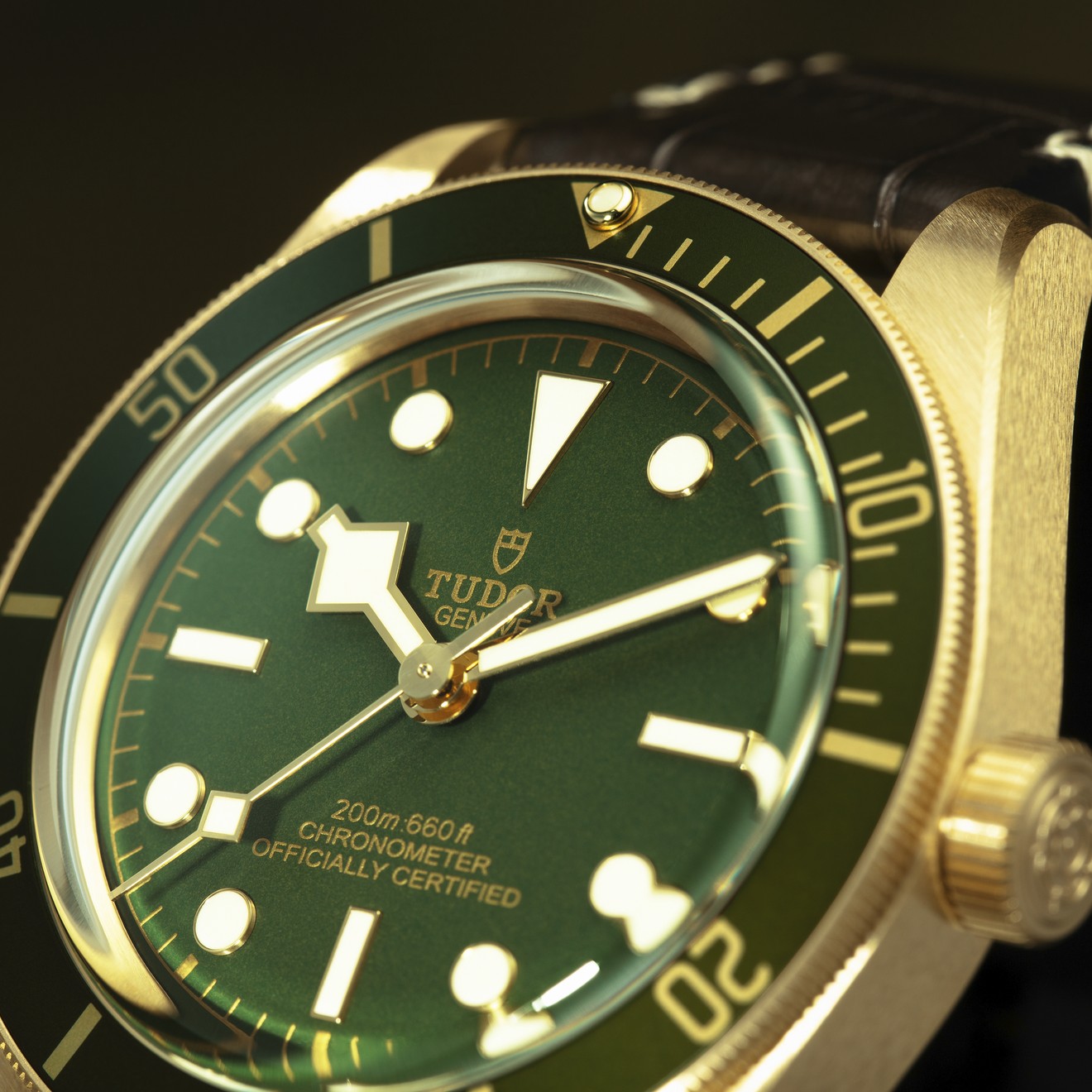 The new Tudor Black Bay 58 18K was a very unexpected entry into their Black Bay catalogue. The case is made from solid 18K yellow gold as its name suggests, retaining the 39mm diameter of previous generation models. While the lug-to-lug likely remains the same, approximately 47-48mm, the thickness may have increased by less than millimetre due to the fact it has an exhibition caseback where you are able to see the COSC-certified manufacture caliber MT5400 (which notably boasts a silicon hairspring and 70 hour power reserve) – a first for the Black Bay 58 collection. The case differs from the previous references not only in its case material, but also its finish. The case is entirely satin-brushed for a muted luxury aesthetic, the caseband is no longer mirror-polished and the lug hoods do not have polished bevels – instead the tapered lugs are satin throughout.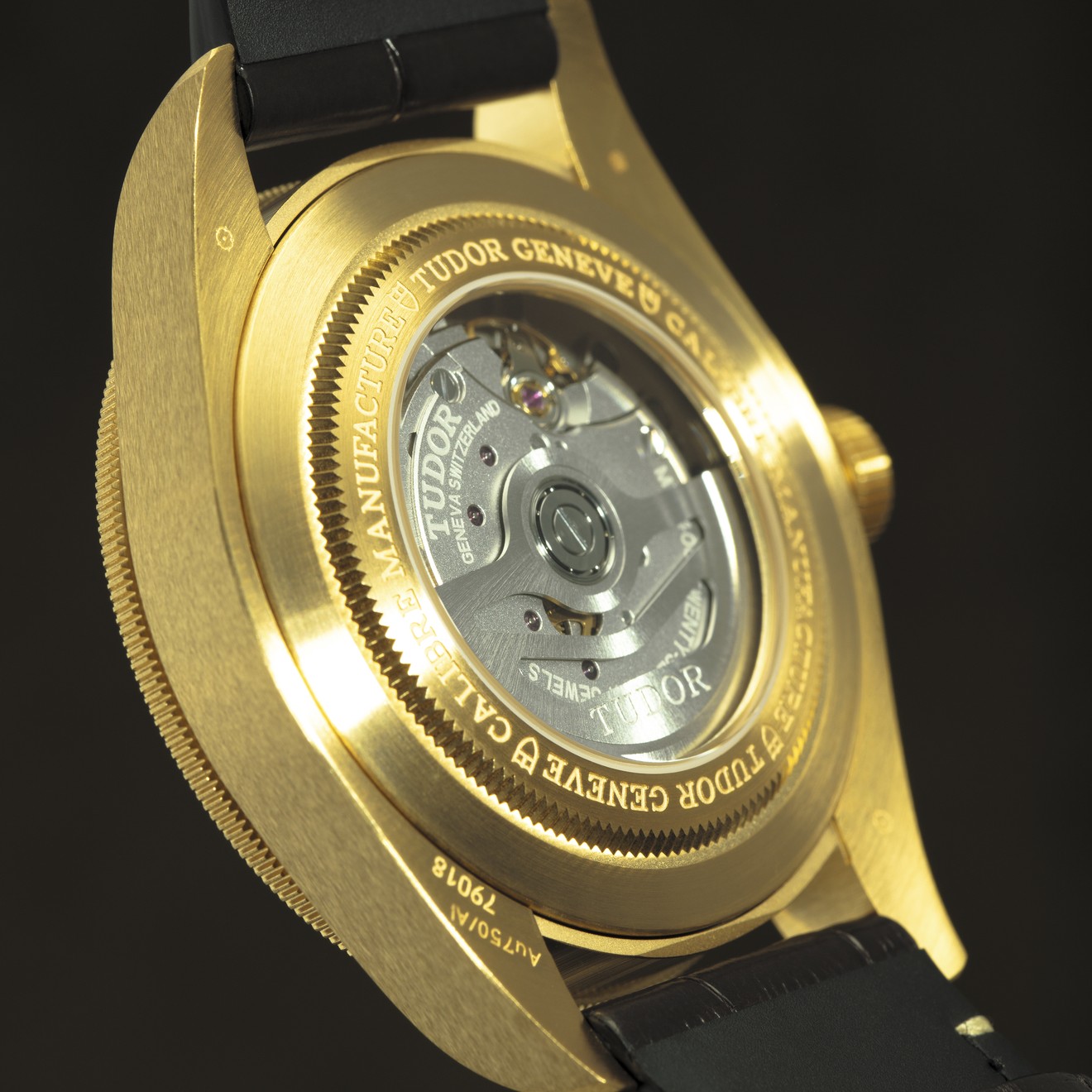 The dial and anodized aluminum bezel are in a matching green, a winning combination that can perhaps fill the void of the now discontinued Rolex "Hulk Submariner". The timing scale of the bezel is rendered in a "gold gilded" tone, and the snowflake hands and circular hour markers are now fashioned in a case matching yellow gold. The hashed outer minute track and dial text are printed in a "gold gilded" colour as well to match the timing scale of the bezel. While a precious metal watch, it remains robust with a guardless screw-down crown that helps ensure its depth rating of 200 metres.
As for the straps, unfortunately there is no configuration with a case matching yellow gold bracelet. But the good news is the Tudor Black Bay 58 18K comes bundled with both a green fabric strap with a gold tone centre lining and domed dark brown alligator leather strap. Both straps are outfitted with 18K yellow gold buckles to ensure the gold aesthetic is upheld throughout the watch.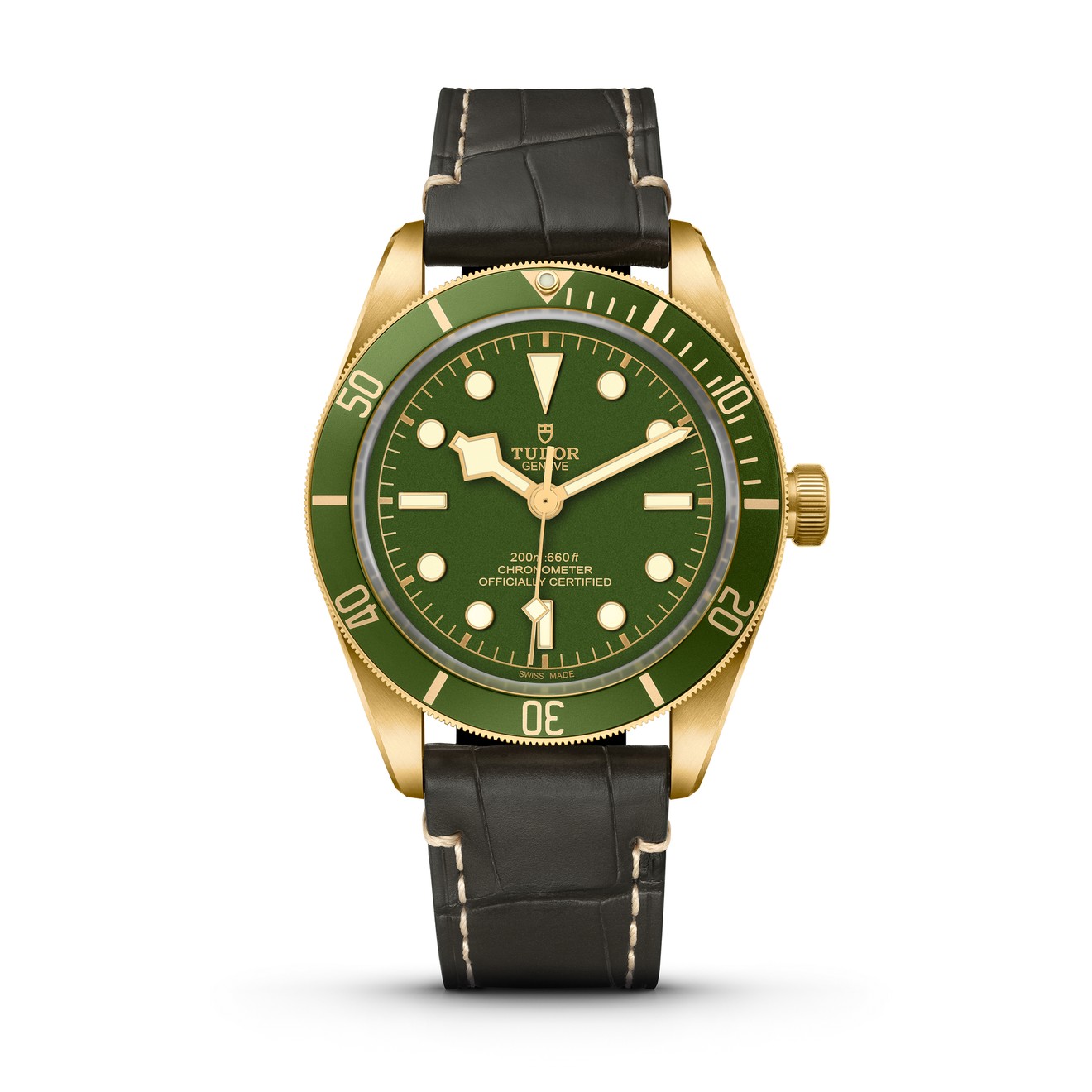 Wouldn't bronze be a better fit for Tudor and the Black Bay 58?
Many of my fellow watch enthusiasts have asked me whether or not bronze would have been the better route for the brand. For some, Tudor's entry into full precious metal and higher price point may be a point of hesitation as they are not used to such offerings from the brand. My inference is the Black Bay 58 cannot be fabricated in bronze at this time. Why? If you look at the existing Tudor Black Bay diver in Bronze its case diameter is a larger 43mm – it was not fabricated in the existing 41mm diameter. Whether it was an intentional enlargement or a necessity for the manufacturing line is unknown. But based on that aspect, my assumption is that fabricating a bronze Black Bay 58 is off the table because theoretically they would need to enlarge the watch. This simply would not do because the key design element of the Black Bay 58 is its smaller 39mm diameter. Again I could be wrong about their manufacturing capability, but at least based of their existing line it does not seem they have any plan or intention to shrink their diameter of bronze at this time.
How will the Tudor Black Bay 58 18K fare in the marketplace at its higher price point?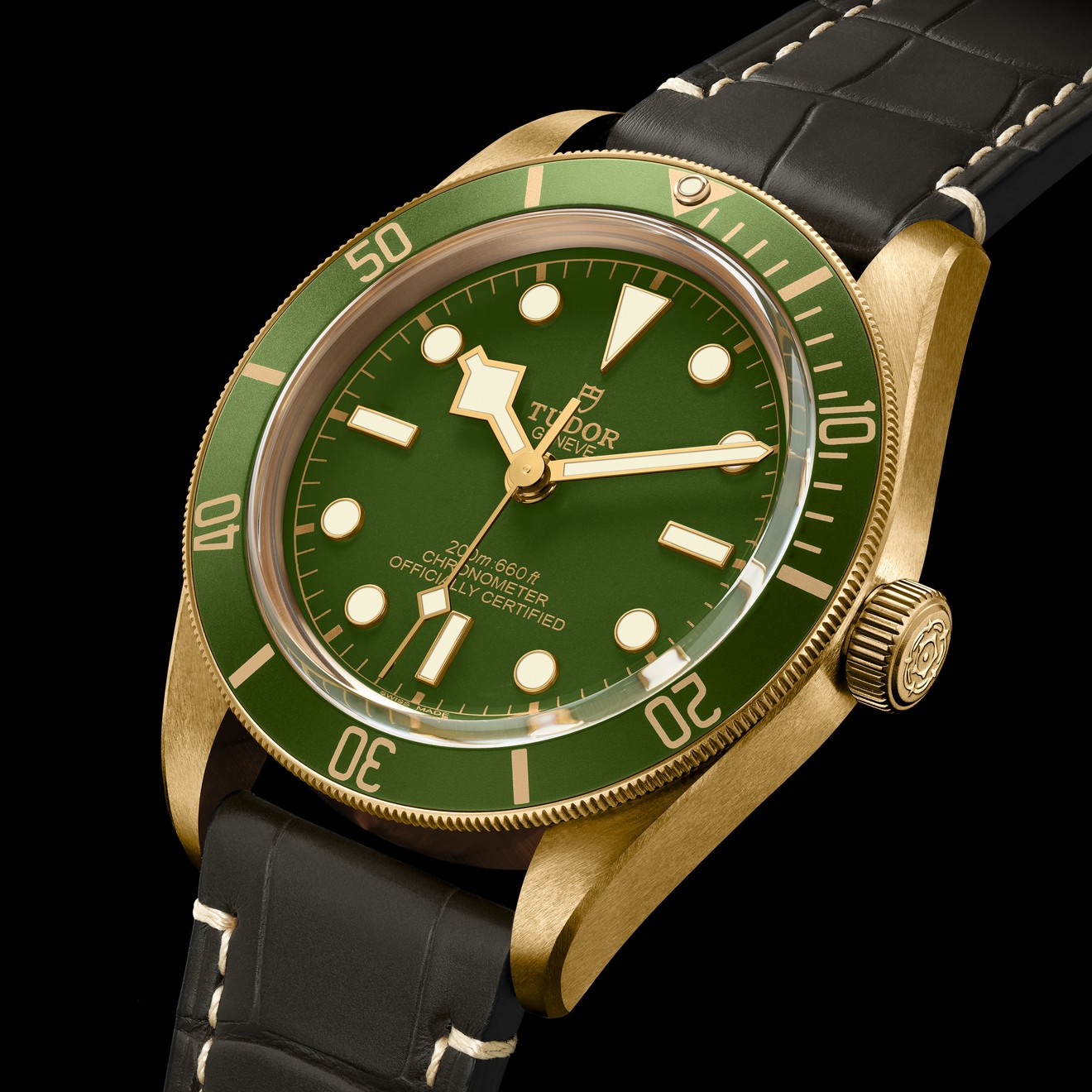 While I am not prepared to drop $16,800 USD on a Tudor Black Bay 58 18K, for me it is not because I reject the premise of the price point – I simply cannot spend that amount of money at this time. Considering what the watch is made of, I understand the need for a higher price tag. But I also understand that Tudor may face what Grand Seiko encounters by those who do not fully comprehend their products. Some collectors, dare I say ignorant collectors, assumed that because the name Seiko was on the dial that Grand Seiko products were overpriced dramatized Seiko watches. This, of course, is anything but true and as you become more intimate with the products their high-value offerings are irrefutable.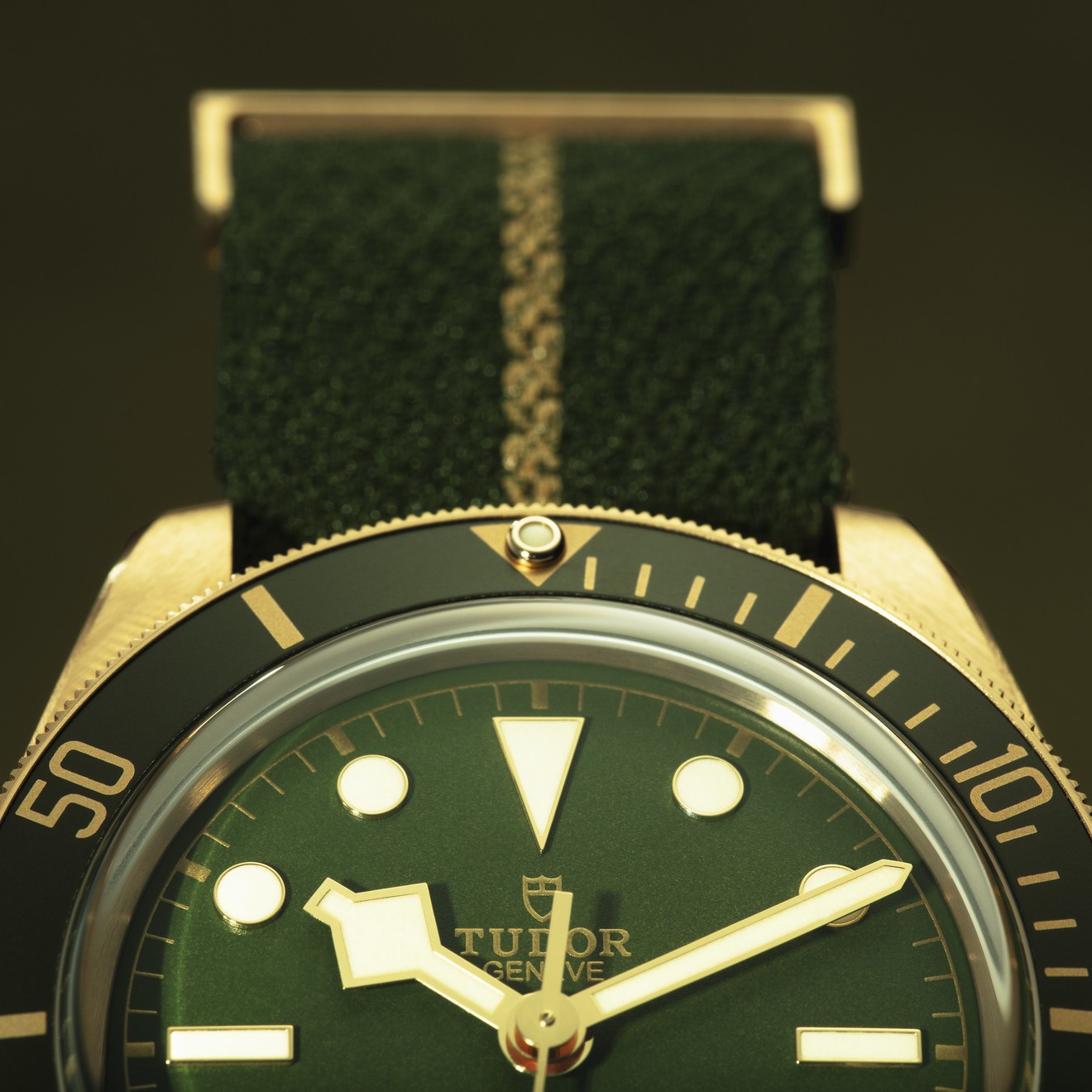 But in the case of the Tudor Black Bay 58 18K we don't have Zaratsu-polished cases, hands, and markers. In fact the muted case finish is entirely satin-brushed, and the watch itself is largely unchanged aside from the new case, hand, and markers now fashioned in yellow gold. The question that remains: is a gold version of an existing model worth approximately five times the price of the steel version? As an example the Rolex Submariner Date ref. 126610LN is priced at $9,150 USD, while the yellow gold Rolex Submariner Date ref. 126618LN is priced at $36,950 USD – approximately four times the price of its stainless-steel sibling. The other thing to note is the Submariners are both on bracelets, which means for 4x the cost of steel you still get a precious metal bracelet (added gold).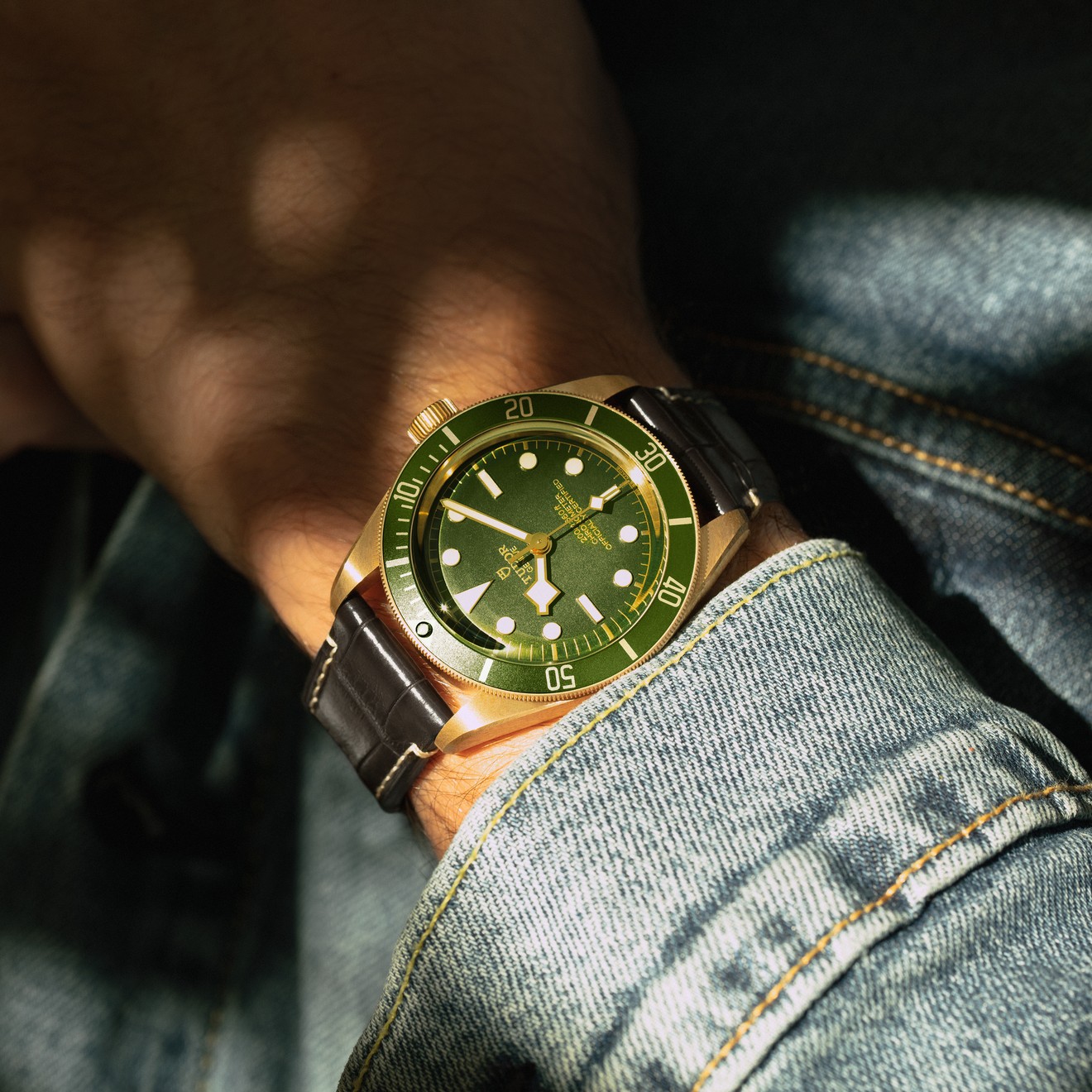 With the Tudor Black Bay 58 18K, again approximately five times more expensive than steel Black Bay 58 references, you do not get the added value of a precious metal bracelet. The $16,800 USD retail of the Tudor Black Bay 58 18K is less expensive than an Everose gold Rolex Yachtmaster 40 priced at $27,300 USD, but it is hardly comparing apples to apples considering the different bezel materials and case alloys, as well as the fact that Oysterflex is really a type of bracelet not a strap. So I have mixed feelings. I appreciate what Tudor is trying to do, and I think the watch is stunning (although I would have liked to retained the polished surfaces found on previous models). But I am curious to see how well it permeates the marketplace and how soon I see one in the wild.