Editor's note: In the intro to this wearer review of the Tudor Black Bay 36 we remark on just how busy Kristoffer Paulsen is. Well, this story is a few years old now and judging by KP's instagram and ever-more-mind-blowing folio of work, his life hasn't calmed down at all. Still, beautiful pictures of a lovely watch …
Let us start off by saying that if we'd known just how busy Melbourne-based photographer Kristoffer Paulsen was when we arranged to lend him the Black Bay 36, we'd have said, "How about we raincheck this project?" Not only is Kris under the pump with his commercial work (there's a good chance you've drooled over his pictures of food at some point), he's also exhibiting at Tailfeather Concept Store and dealing with the end of the year like the rest of us. In addition, he's also just bought a house (well done!) and got married (congratulations!). Let the boy have a lie down, please. Yet somehow, in the midst of all that, he managed to spend a week with the Black Bay 36, delivering a series of beautiful images that speaks to the watch as an object of pure design, as well as giving us a glimpse into Kristoffer's life.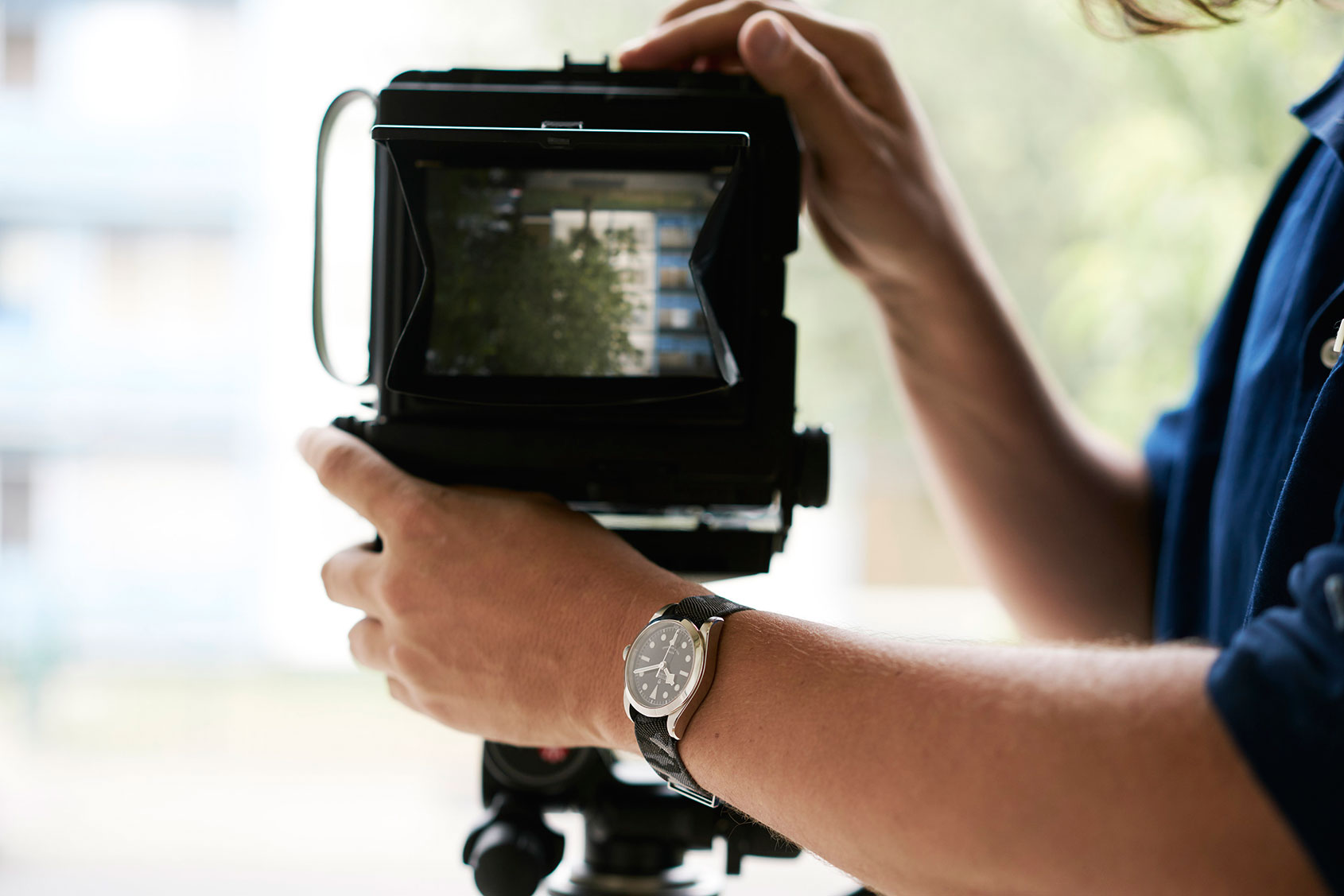 My first impression was … that I really liked the watch — it has an understated look that really resonated. However the fabric strap took some getting used to — on reflection, I think I'd have preferred a version on a steel bracelet or leather strap.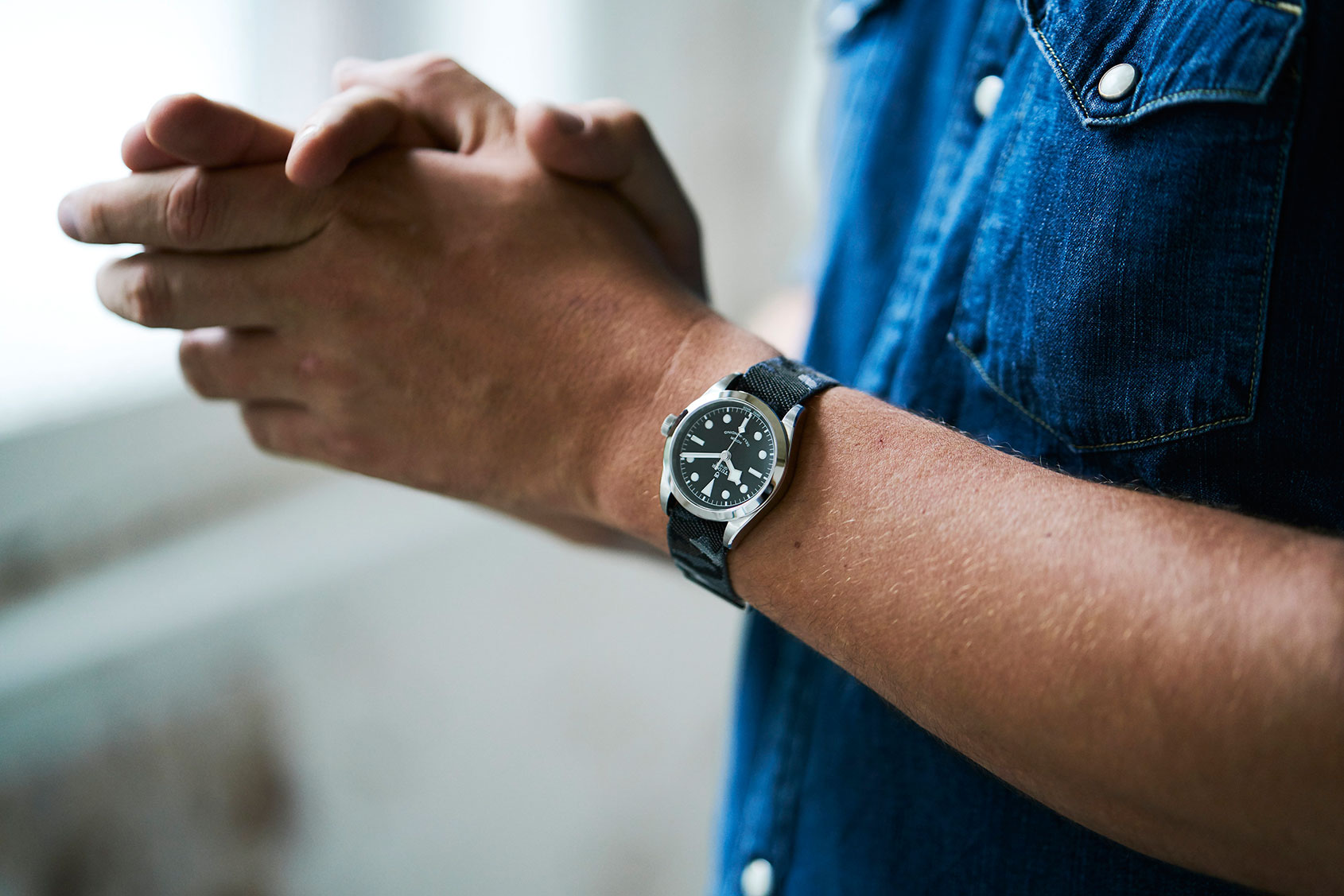 Once I put it on, I felt … smarter. You know when you put on glasses, how you instantly feel smarter? Like that. I'm normally a fairly scruffy guy, but this watch made me feel at least 10 per cent sharper.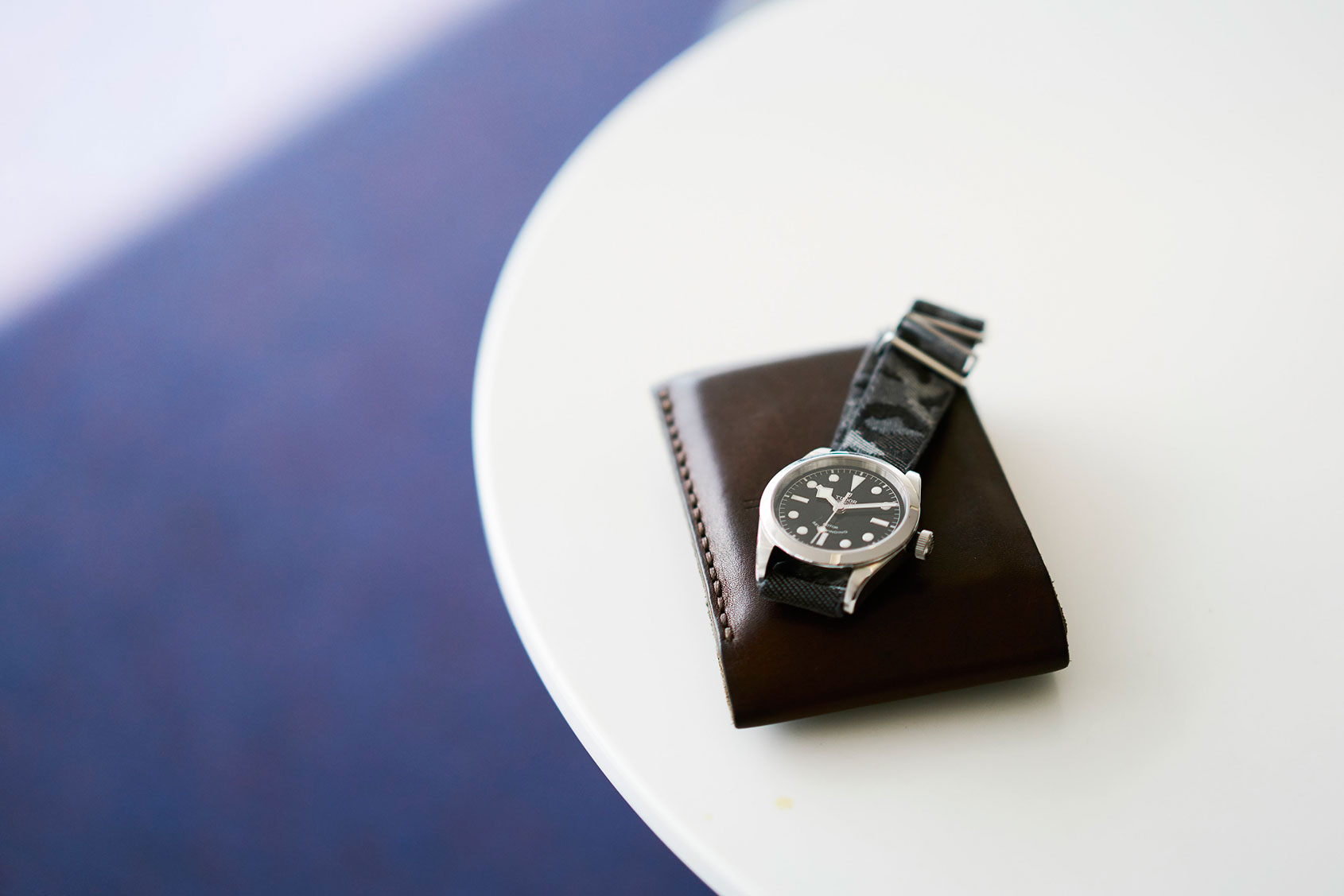 Looks-wise … I'm not sure if I'm using the right language — because I feel I should let you know that I'm not a 'watch guy' — but I think the watch had that tough, submariner vibe. It's so simple and purposeful. All the objects in my life need to be functional — things like my Tailfeather wallet [above]. I have difficulty reconciling things that are purely decorative. I'm drawn to design that balances form and function equally, and the Tudor definitely meets that brief.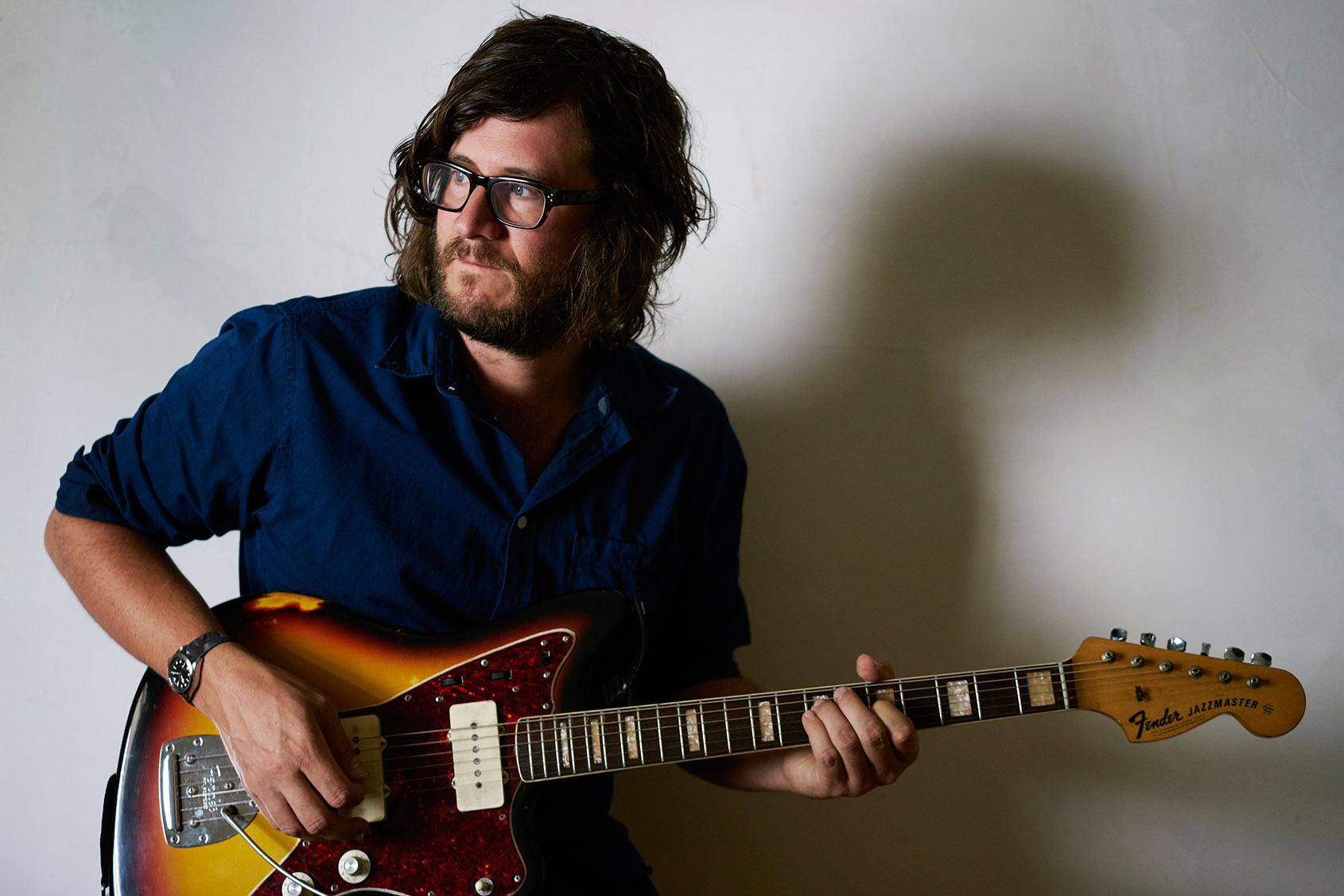 I shot the watch … around a range of props, including this Toyo 45AII field camera – it's an epic 4×5" film camera that used to be the standard for architectural photography, or photography that required sharpness. It's still unsurpassed – perfectly ergonomic and beautifully designed. It's a tricky camera to use, as you have to look through the ground glass screen to compose and focus, which is always back-to-front and upside-down.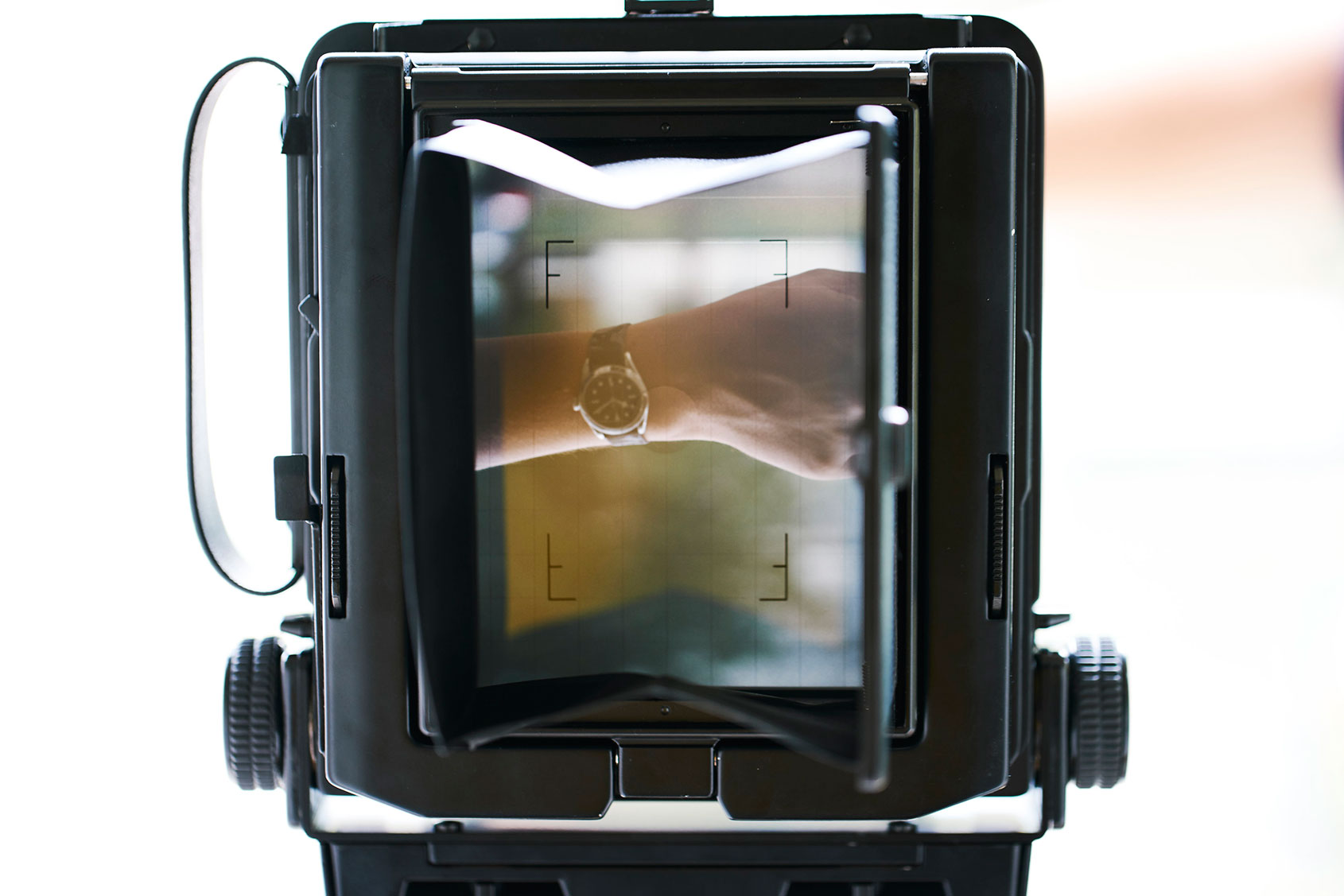 I also shot the watch with objects in our new house in Flemington … I particularly like how it looks with our new 'grown-up' leather couch. It's a replica Borge Mogensen, which is so cool and comfortable, and a perfect match for the clean lines of the watch. The food shot is from our new local cafe, Wolf & Hound.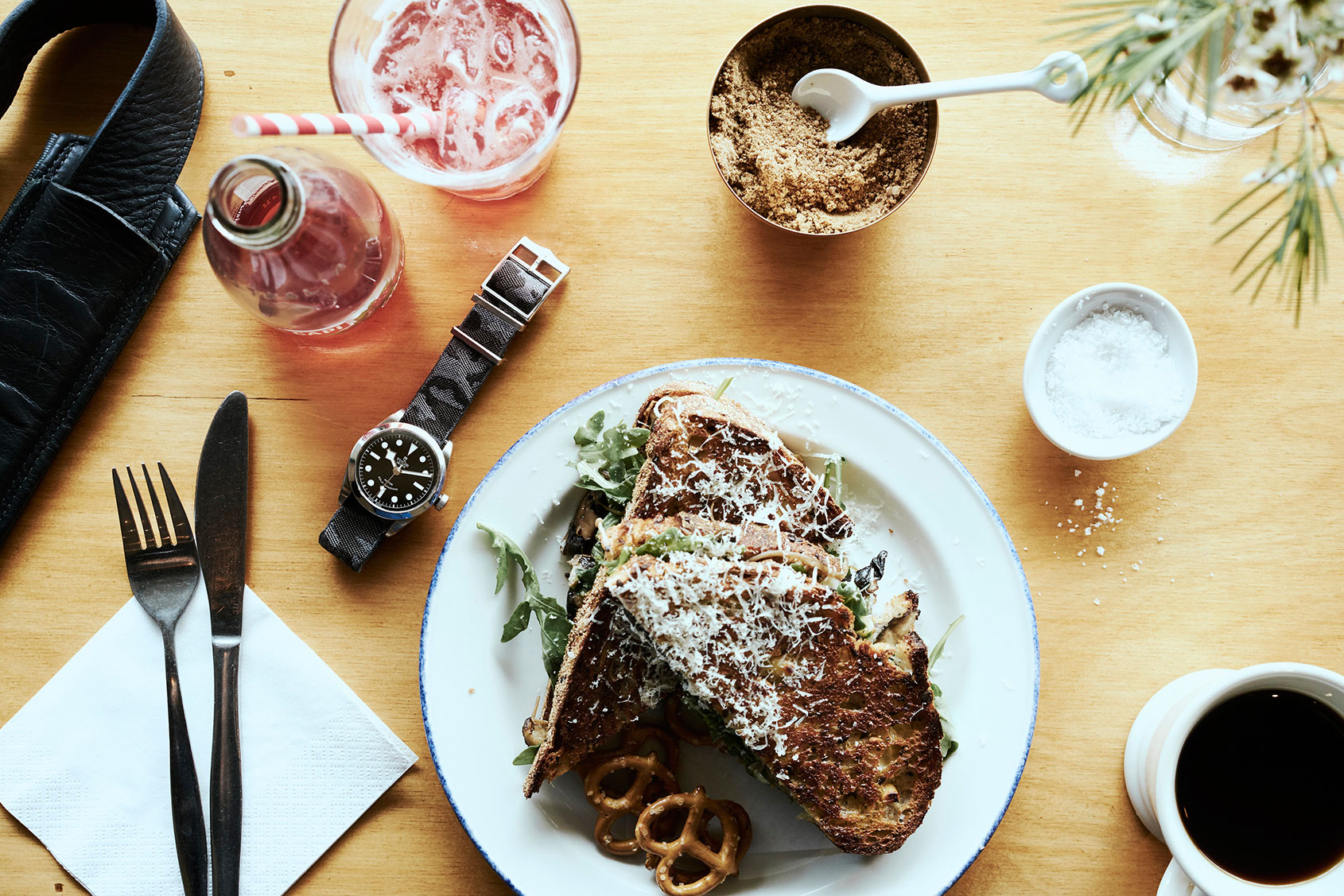 Music is a huge part of my life … I studied music, and before I went full-time with photography I did a lot of production work. Now it's more of a side-job, but it definitely still informs my artistic practice. My music theory and art theory co-mingle I guess (Our very own Courtney Barnett featured below.)

I decided to shoot the Tudor on my '68 Fender Jazzmaster … because it's my favourite electric guitar of all time. It's an amazing product, engineered to sound amazing, but also to be made in large quantities without sacrificing quality.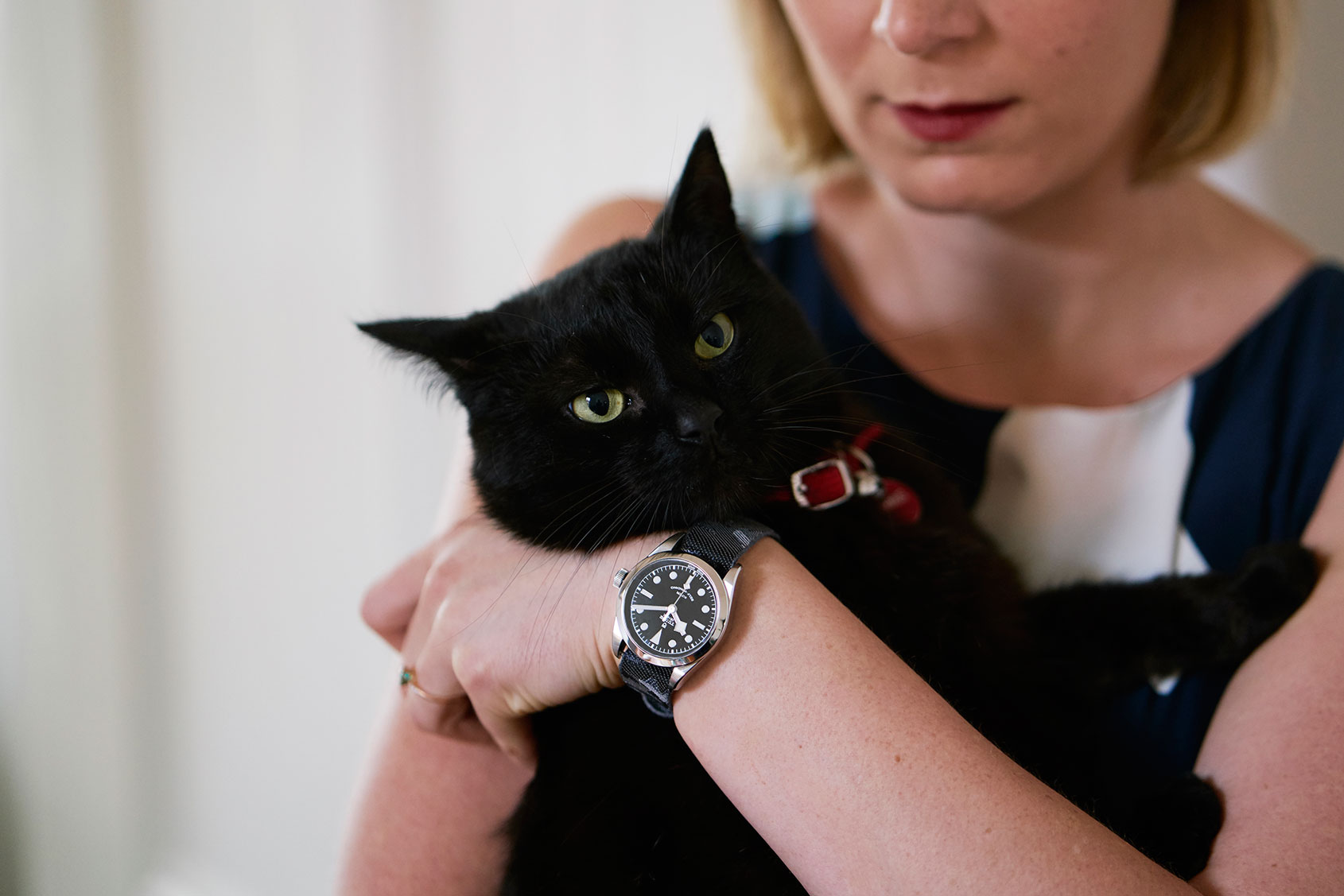 My wife Kersty liked the watch, too … which makes sense as its smaller size means it looks good on a woman's wrist. I think it looks better on her, to be honest! It sits better on her than on my weirdly shaped skinny-boy wrist. I also think the camo strap had a bit of a 'fashion' feel that suits her. I'm not sure I'd be so bold as to buy her a watch like this — she's very particular — but I'd definitely share it. I think that's quite a sweet concept. We used to share sunglasses before I had to upgrade to prescription lenses. (Thanks, too, to Malkmus the cat for modelling assistance.)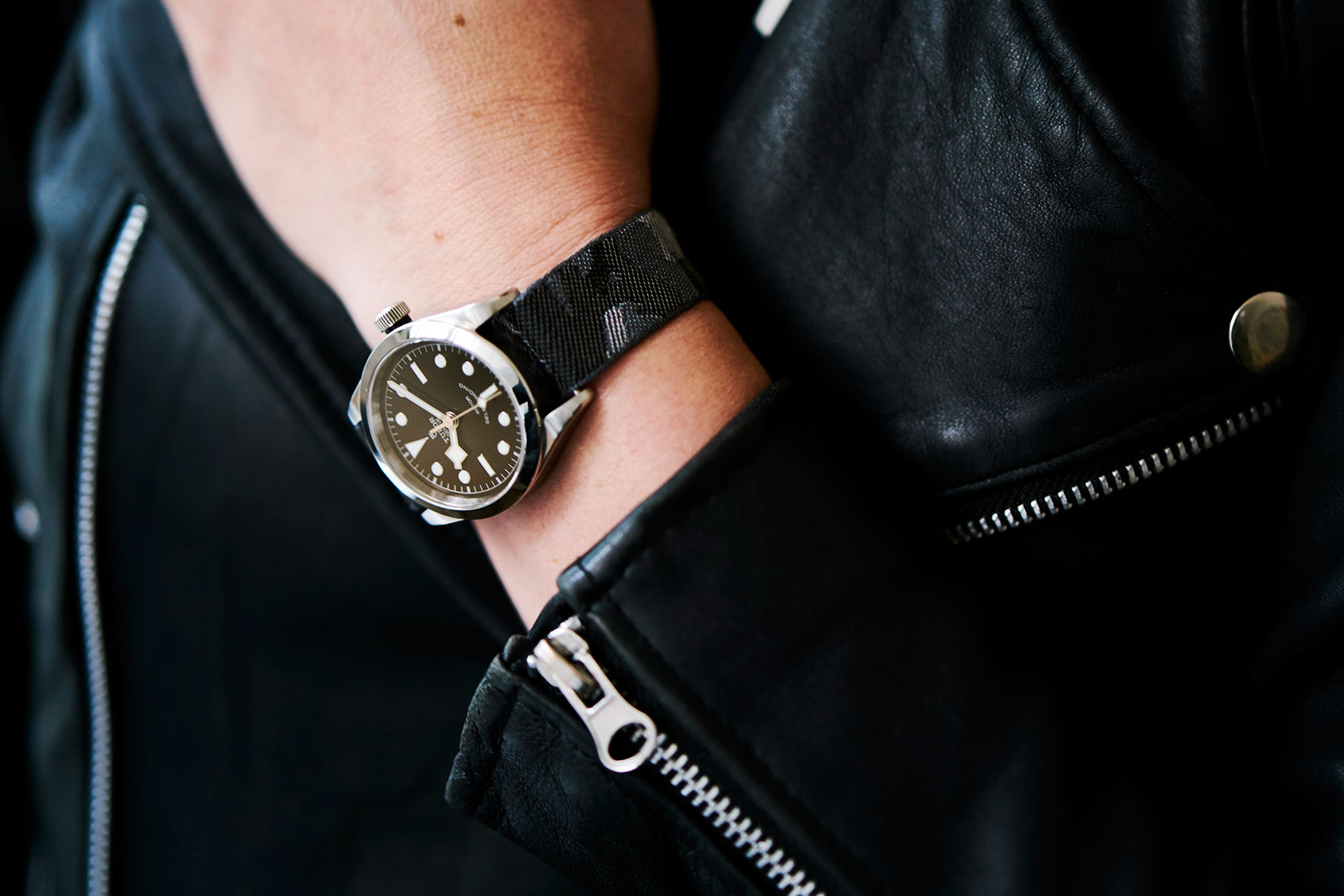 What stood out to me was … how well this watch would fit into my life. I don't normally wear a watch, but I think this is the sort I'd like to end up with. Simple, understated and purposeful.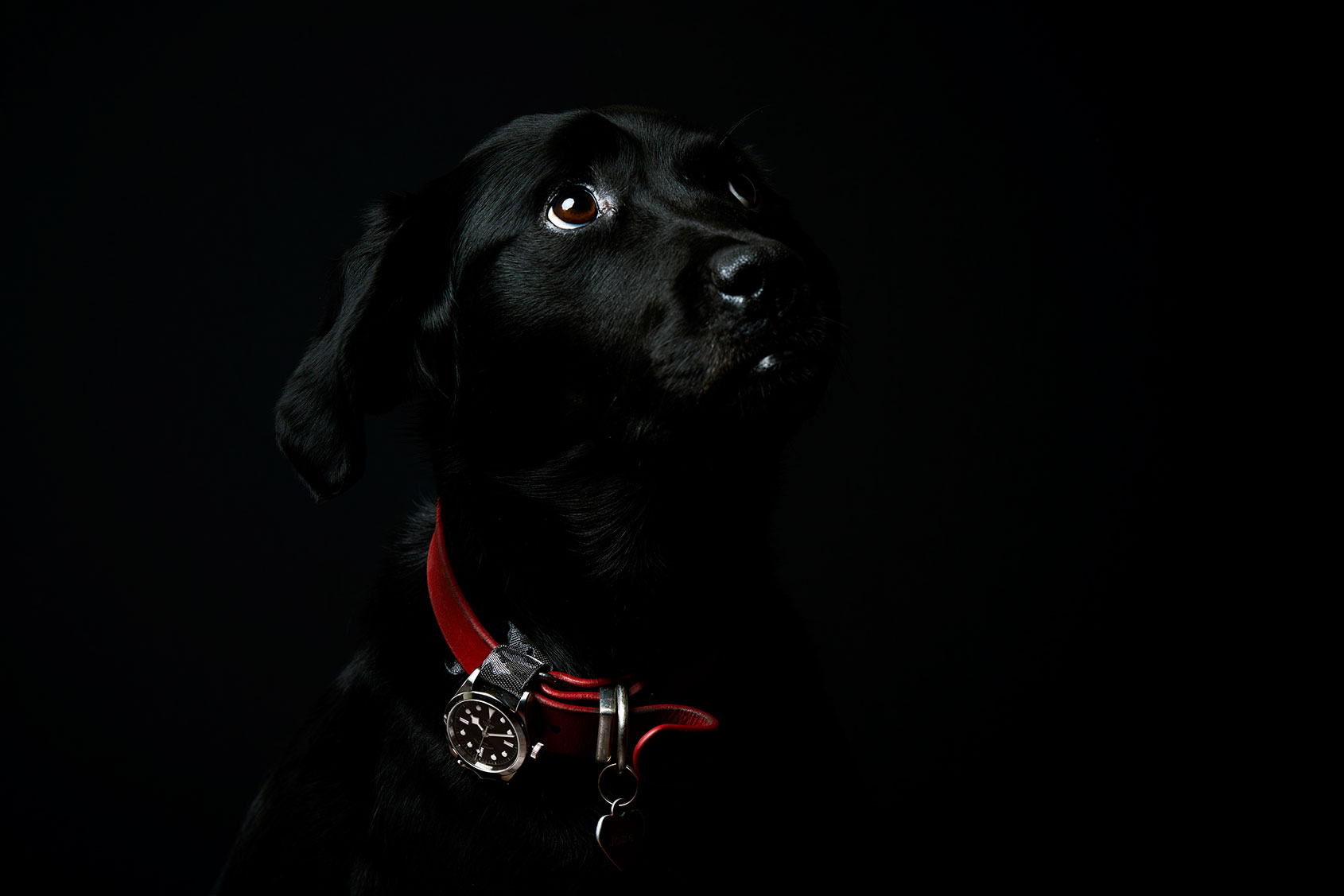 Meet Josie … She's become my informal muse. Whenever I got a new light rig, I'd test it out on Josie, and I popped a few pictures on Instagram and people loved them, so it's turned into a thing. I've started doing dog portraits for charity. I can't do it with cats though; you can't bring 20 cats to a shoot.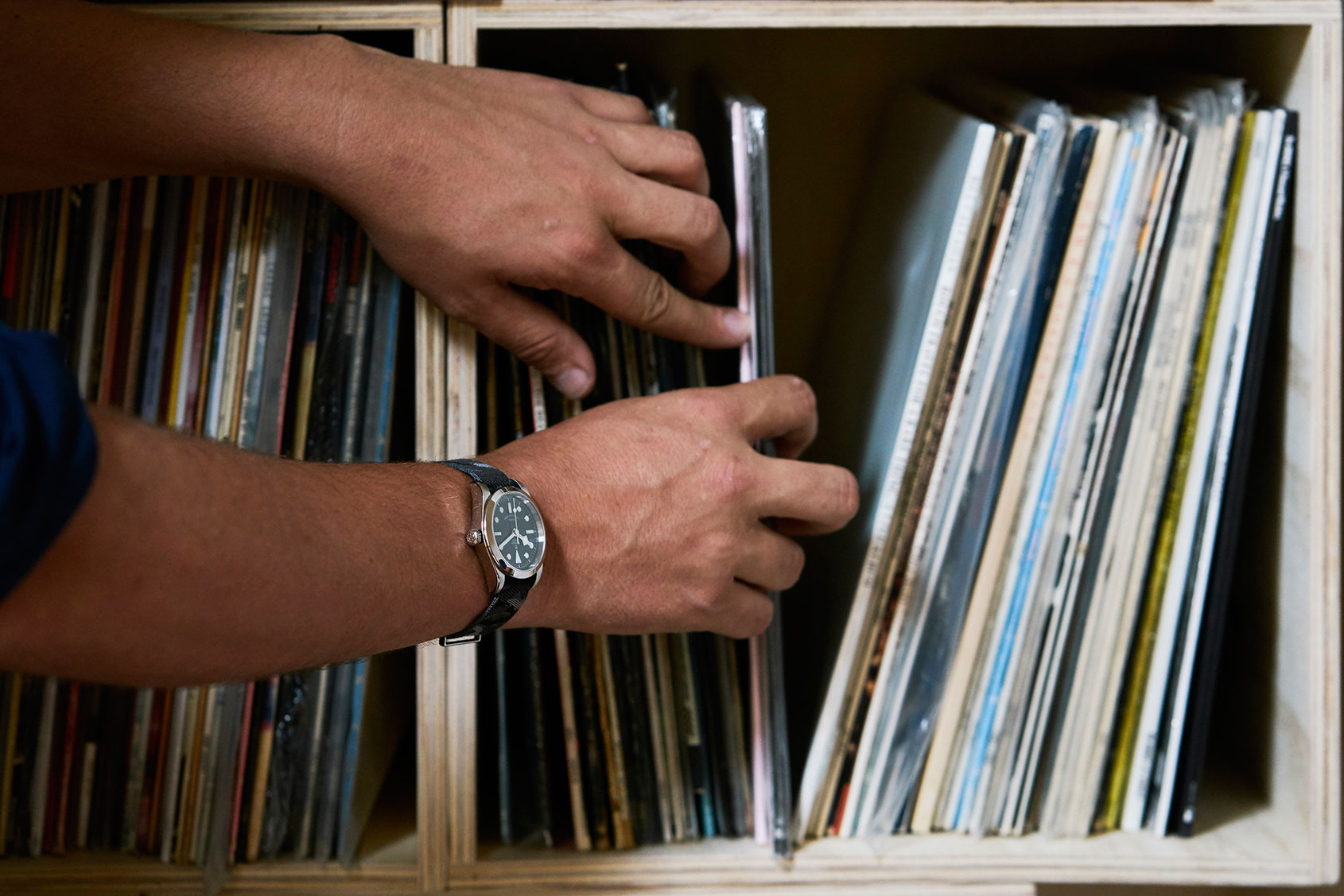 I'd wear this with … a denim shirt, which is my default uniform, so that's a good place to start.
If I could change anything … I'd get it on a leather strap or a metal bracelet.
By the end of the week … I was seriously considering getting a watch. I'm not used to having anything on my wrist, but after a week it was kind of a part of me. I found myself thinking of the last watch I wore, which was an early automatic that belonged to my grandad. He was a veteran who lived in Sydney when the city was finding its feet in the first half of last century. I loved the connection to history, and the idea of my watch telling its own story.
Tudor Heritage Black Bay 36 Australian pricing
The Heritage Black Bay 36, $3400 on bracelet, $3000 on leather.
Images by Kristoffer Paulsen with assistance from Linsey Rendell and Bri Hammond.