T+T Holiday Picks: By popular demand – the best watches to gift under $500 (2022 Edition)
Time+Tide
Editor's Note: The holiday season is upon us, which means it may be the time you are looking to buy a watch – whether as a gift for yourself or for a family member, friend or that special someone in your life. To make your life easier, the Time+Tide came together with their favourite picks in the under $1000 segment, under $3000 segment, under $5000 segment, under $10000 segment, and under $20000 segment. But, we got a lot of messages asking us for picks under $500. So, by popular demand, the team has once again assembled – picking the best watches under $500.  All prices are in USD.
D.C.'s pick: Waldan Heritage Sportline – Champagne
Watches under $500 run the gamut, from entry-level G-Shocks to lower-end offerings from big names like Seiko and Citizen, but my choice is something of a unique proposition at the price point: An American-assembled everyday watch that also happens to feature a fully USA-made quartz movement. The Waldan Heritage Sportline is that watch, and its classic good looks, just-right dimensions, and quality feel tick a lot of boxes at US$299. The 40mm stepped case and sculpted lugs bring a lot more visual interest than many entry-level contenders, and a case height of just 8.6mm is absolutely perfect for slipping under a cuff. The no-date dial is a high point, and available in five colours, including my choice, the champagne configuration. It features applied indices, minimal dial text, a sub-seconds dial at six, and a highly distinctive texture. The oil-pressed dial's linear design has a good amount of dimension, and bears a striking resemblance to the look of the Patek Philppe Nautilus. The USA-made Ameriquartz movement is jewelled, machined from metal, and fully serviceable, something you won't find in a lot of other brands. The luxe-feeling textured leather strap features a nice 20-16mm taper, and is colour-coordinated to your dial choice. I really appreciate the level of quality that Waldan packs into their watches at such an attractive price tag, and I'm betting you will, too.
Price: US$299 (on sale now for US$239)
Borna's pick: Seiko 5 SKX Sports Style GMT
Seiko's new 5KX GMT has been the most exciting new watch the brand has introduced for a long time, and regardless of its spec hang-ups with purists, it's a genuinely excellent proposition at its price point. The colours are all fun without being overly campy – the funky orange would be my pick of the bunch. The black 5KX GMT, however, is much more versatile, and a solid choice as an entry-level one watch collection. A touch I'm especially fond of is the Hardlex bezel insert, which gives the watches a better pop as opposed to an aluminium or ceramic insert. Having said that, I'd quickly be modding both my crystal and bezel insert with sapphire options, as the SKX/5KX platform gives you plenty of aftermarket support to make your watch truly unique.
Price: US$475, A$875
Zach's pick: Bulova A-11 Hack
The Bulova A-11 Hack watch is a great first automatic watch for any collection. With a range of dial options, presented in a 37mm stainless steel case suitable for any wrist size, this military heritage inspired watch is super versatile. At 50 metres of water-resistance you can safely surface swim with the watch, and, with its 18mm lug width, the A-11 Hack is an irrefutable strap monster should you wish to try something beyond its nylon NATO strap. The Miyota 82S0 movement within helps keep the cost of the watch down, yet provides robust performance across its 42 hours of power reserve.
Price: US$450, A$550 AUD (currently on sale for US$360)
Ricardo's pick: Swatch x Omega MoonSwatch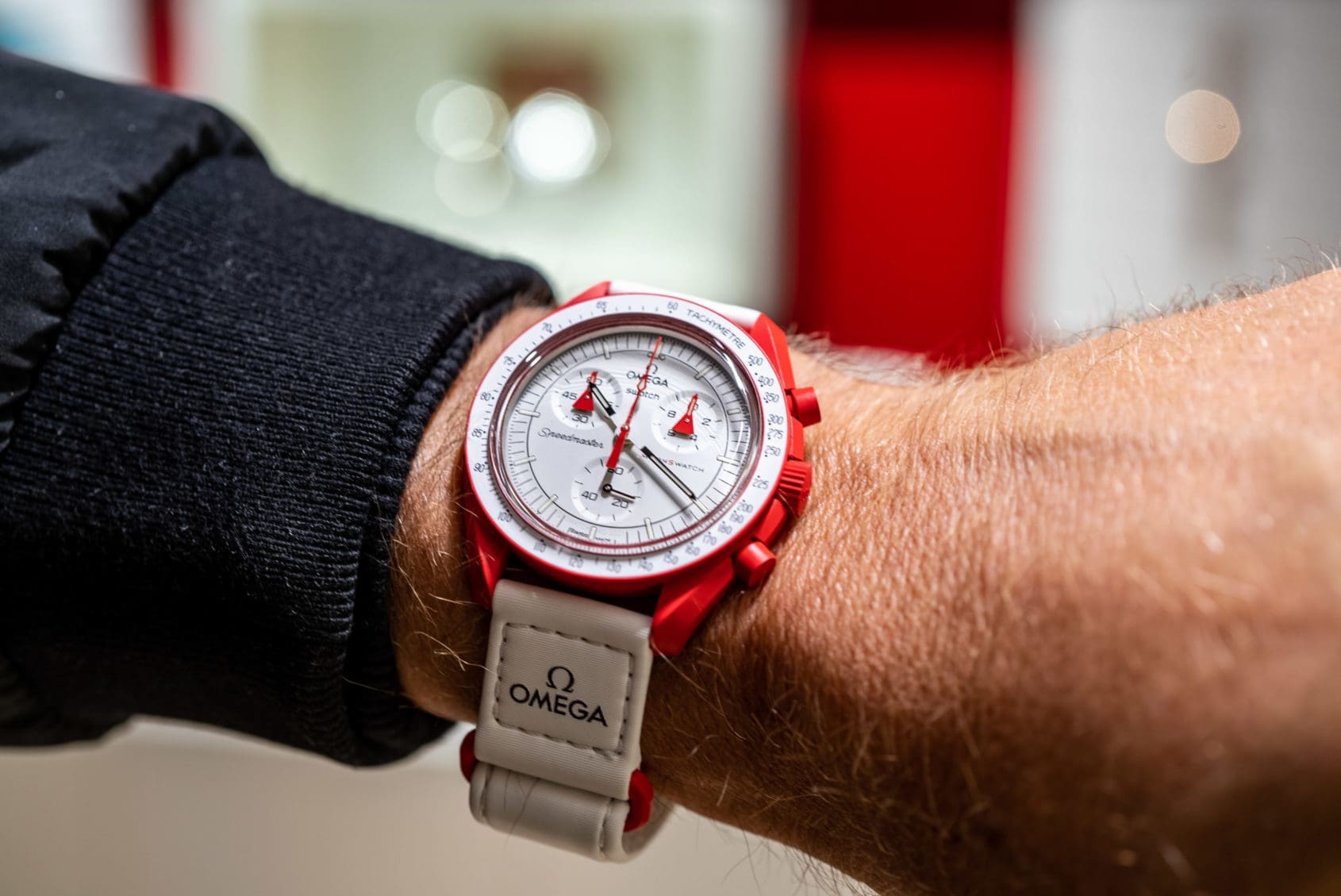 A few months ago it would have been bad form to put the MoonSwatch on any gift guide as getting your hands on one was still quite a hassle. But now, as the holiday season fast approaches, MoonSwatch availability seems to have skyrocketed. I've gotten numerous updates from friends in the industry about availability as locations are deciding to be more forthcoming about what's in stock. With this now being the case, I find it impossible to have a below $500 gift list without including the MoonSwatch.
For the person in your life who already has a Speedy, this is a great chance for them to have a bit of fun with the design. With so many colour options, they're now able to express their taste a bit more. And for the person who has admired the Speedy from afar, this allows them to not only have some fun but to test drive this iconic design. Especially since the dimensions are nearly identical and a Mission to the Moon will get you as close to the real aesthetic as possible.
Really, you can't go wrong with a MoonSwatch. Just make sure you know what colour they want. And toss in a few NATO straps as well. Trust me.
Price: US$260, AU$380
Luke's pick: Bulova 98C135 Men's Computron
Fancy a watch that makes you feel like you're one of the robots from Daft Punk who's just getting the party started with a banging set of electronic space-disco? Well, as luck would have it, we've got just the thing. Debuting in 2019, the Computron riffs off the LCD-illuminated digital display watches of the 1970s, a decade in which Bulova were one of the industry leaders in electronic and quartz watches. Essentially, this piece is a new version of the Computron that Bulova first launched in 1976 and features a stark case design that requires you to push the side button to reveal the time in glowing red digits.  Keep pushing and it will run through other displays that include running seconds and the date, but you can also see the time in an alternate time zone. Ultimately, however, functionality isn't the main reason you want this watch, that's available in gold, black or chrome. This statement piece is ultimately all about its retro-futuristic style, coupled with the reassurance that when the robots do eventually rebel and take over the world, it might not actually be too bad after all.
Price: US$295