TRADING FACES: Why I swapped a birth year Rolex Explorer and Ming 27.01 for my grail watch…
Zach Blass
Early on when I joined the Time+Tide team, I wrote a story that detailed how I got my Rolex Submariner. As both a watch collector and journalist, I felt the subject would resonate and, as that became my most read story ever, it would seem I was right. Just to recap: as a 27-year-old, I don't have an unlimited budget for watches and when the opportunity presented itself to obtain a Submariner in great condition I knew I would have to part with a few watches to fund the transaction (in that instance a Patek Philippe Golden Ellipse ref. 3548 and an automatic panda-dialled Omega Speedmaster). And it was no different when I found my grail watch up for sale from a trusted vendor. Immediately I began to evaluate what I could move to make my dream become a reality.
What I "traded"…
Ming 27.01
Technically, I did not trade or sell this watch because it was never actually delivered to me. Had the opportunity not arose to go for my grail watch, I would have definitely kept my order. I think the watch is stunning, and if I didn't like it I wouldn't have hovered over my keyboard like a predator stalking its prey to secure one from the first batch. The case dimensions are superb for my wrist, and with the 17.03 GMT Anniversary Blue in my collection already I knew it would be a very pleasant watch to wear. The re-worked movement that removed parts of the bridges to allow a fuller view of the caliber was incredibly well done, and I liked the idea of being able to see everything on display.
But timing is everything. By sheer coincidence the grail opportunity did, in fact, present itself, and so reluctantly I sacrificed the order to leverage the funds towards my grail purchase. A year later, I definitely do not regret my decision because I truthfully did not need another black dial in my collection. At the time, I liked it enough to excuse that aspect, and let's be clear it is a fantastic black dial. But the grail watch I have now, as a result of refunding my order, will always assuage any guilt or doubt I may have had surrounding the decision.
Rolex Explorer ref. 14270 with a "frosted" tritium dial from my birth year
I am not going to lie, if there was any hesitation to this transaction this was the heaviest part of the decision. When I first found this watch for sale, I immediately was drawn to the fact it was produced in my birth year of 1993. I love more classic diameters, so a 36mm Rolex Explorer was always on my hit list. When I clicked through to further inspect the listing, I realized this was no ordinary ref. 14270. It had a tritium dial with no significant signs of developed patina to the hands and markers, but the black gloss base had developed intriguing fractures similar to what you would find on spider-dialled Submariners and GMTs. In this instance, however, the patina is also referred to as a frosted dial as it looks less like a spider web and more like markings in the side of an icy mountain.
Regardless of the term you use, it looked really neat, and with the watch in great condition, with full box and papers, and hailing from my birth year, it seemed like the perfect Explorer for me. I really loved the watch, and I still do. But, like the Ming, I understood it had to go to make my grail watch happen. I couldn't part with my Rolex Submariner ref. 114060 because it was the more robust daily wearer. While rather modern and water-resistant, I would have never risked damaging the Explorer and its perfectly imperfect frosted dial. It was the only option at the time, and for what I got in return I am able to live with it 100%.
Cash
The two watches did not completely cover the cost of the incoming grail, however, it put me in a position where the remainder was something I could spend at the time. As I said before I would have loved to have kept them all but this was simply not possible at the time. I won't share exact figures, but with the trade value of the Explorer and cancelled/refunded Ming 27.01 order I was able to cover a little over two thirds of the asking price for my grail watch.
What I got in return…
A. Lange & Söhne 1815 Up/Down ref. 221.021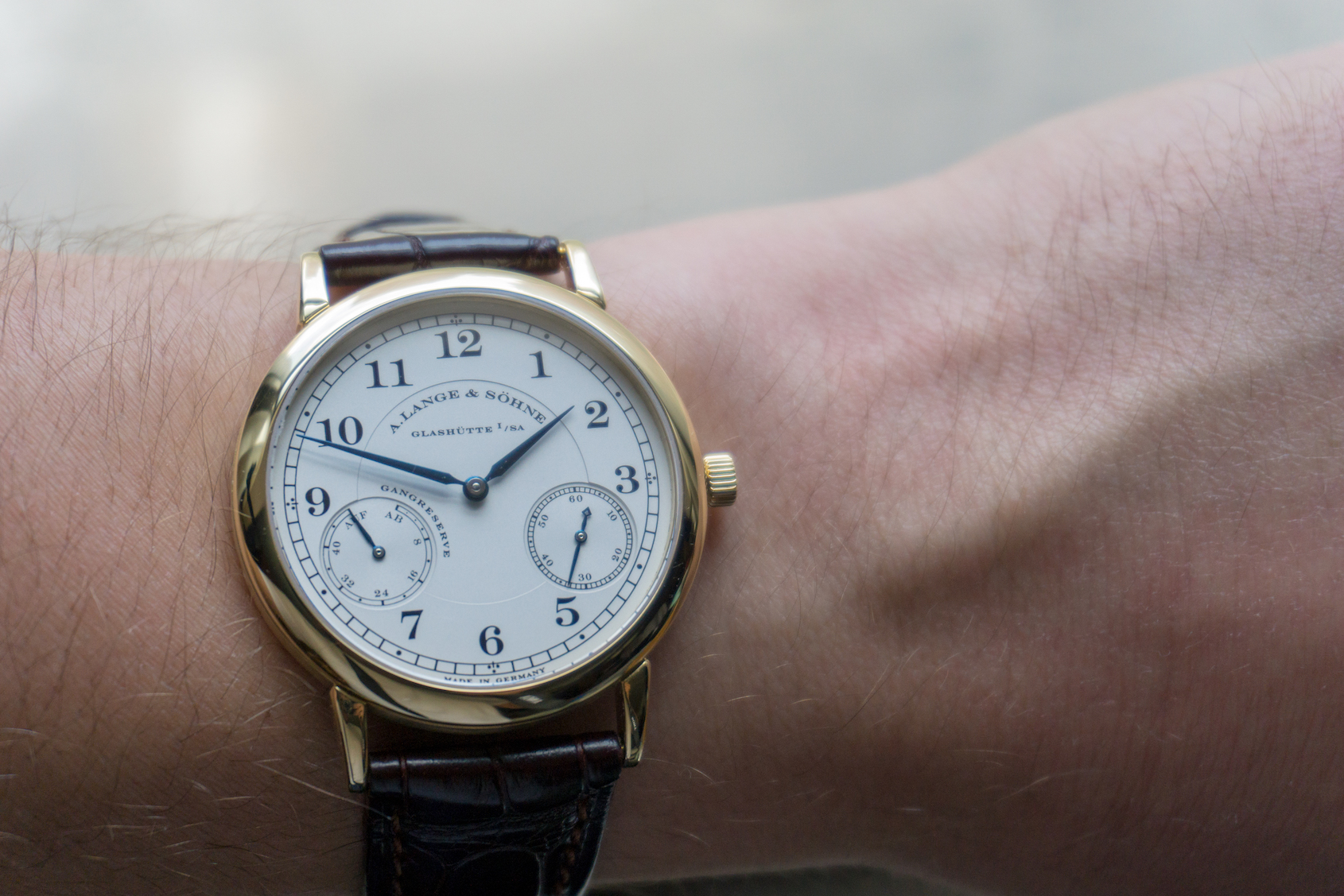 For those familiar with my in-depth review of the A. Lange & Söhne 1815 Up/Down ref. 221.021 you probably already guessed this was the grail I obtained. This watch is now discontinued and differs from its modern counterpart by being cased in a traditional diameter of 36mm. It is also yellow gold, and the current collection is only offered in rose or white gold. It was the quintessential high horology dress watch I absolutely had to have. While the Rolex Submariner was my dream sports watch, the A. Lange & Söhne ref. 221.021 was my grail.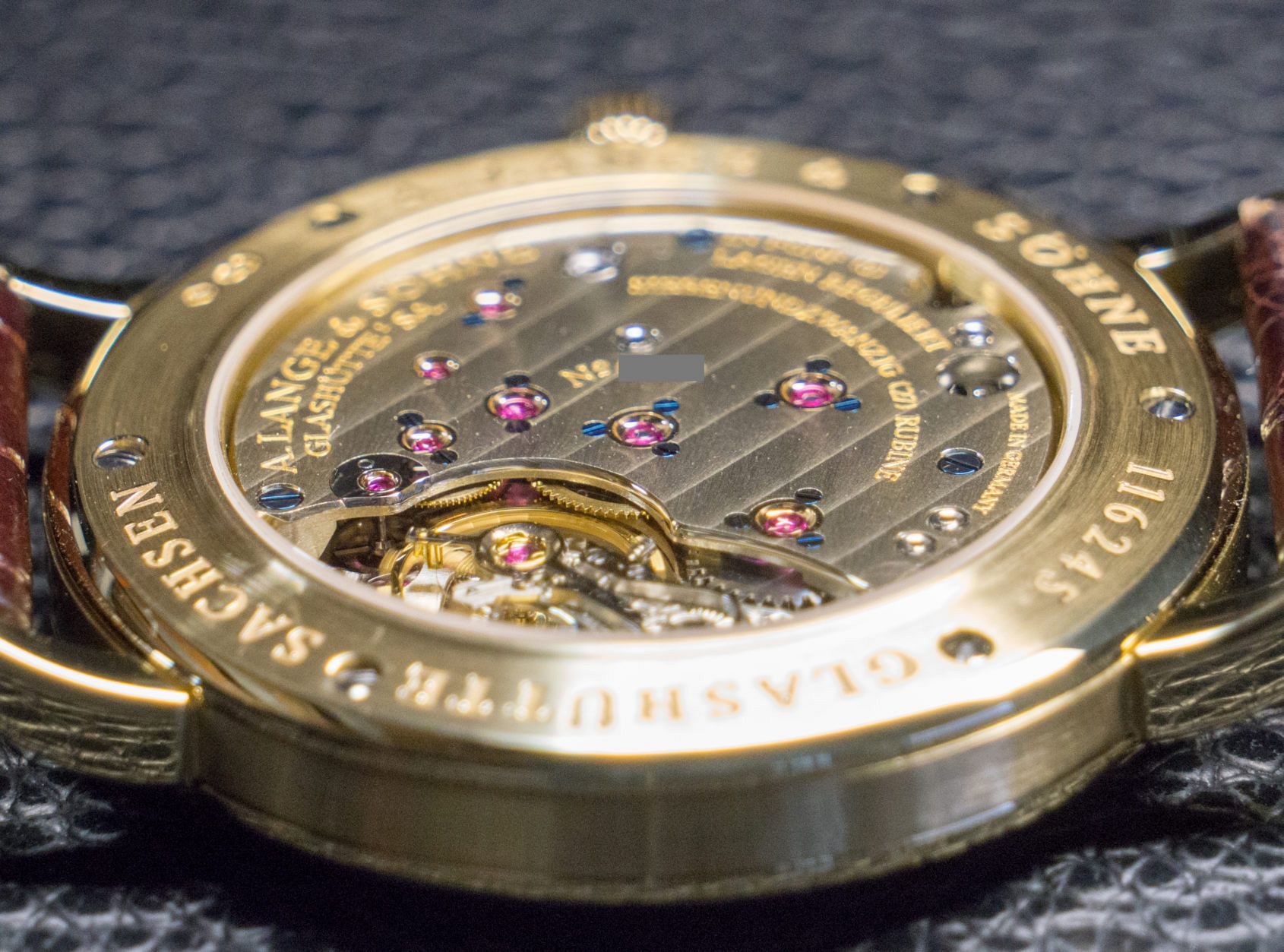 I have always admired the manufacture and their excellent case manufacturing and movement finishing, it is the kind of watch I always dreamed of acquiring. There are certain details, aside from the discontinued 36mm size, that really appealed to me as well. I love the distinct dial configuration of the collection, the solid silver dial has depth due to the sunken central medallion and concentrically guilloched power reserve and running seconds registers. The alpha hands are exquisitely blued, turning black in certain light and a rich blue like the base of a flame in others. An interesting detail peculiar to the ref. 221.021 is its case finishing. The modern rose gold 1815 Up/Down has a fully polished case, but the ref. 221.021 actually has a rich satin brush to its caseband with contrasting mirror polish to lugs and bezel. As I mentioned in my in-depth review, this watch makes me feel not like Zach Blass but Mr. Zachary B. Blass and the ceremonious feeling I get each time I strap it onto my wrist has continued even a year later.
Why I did it…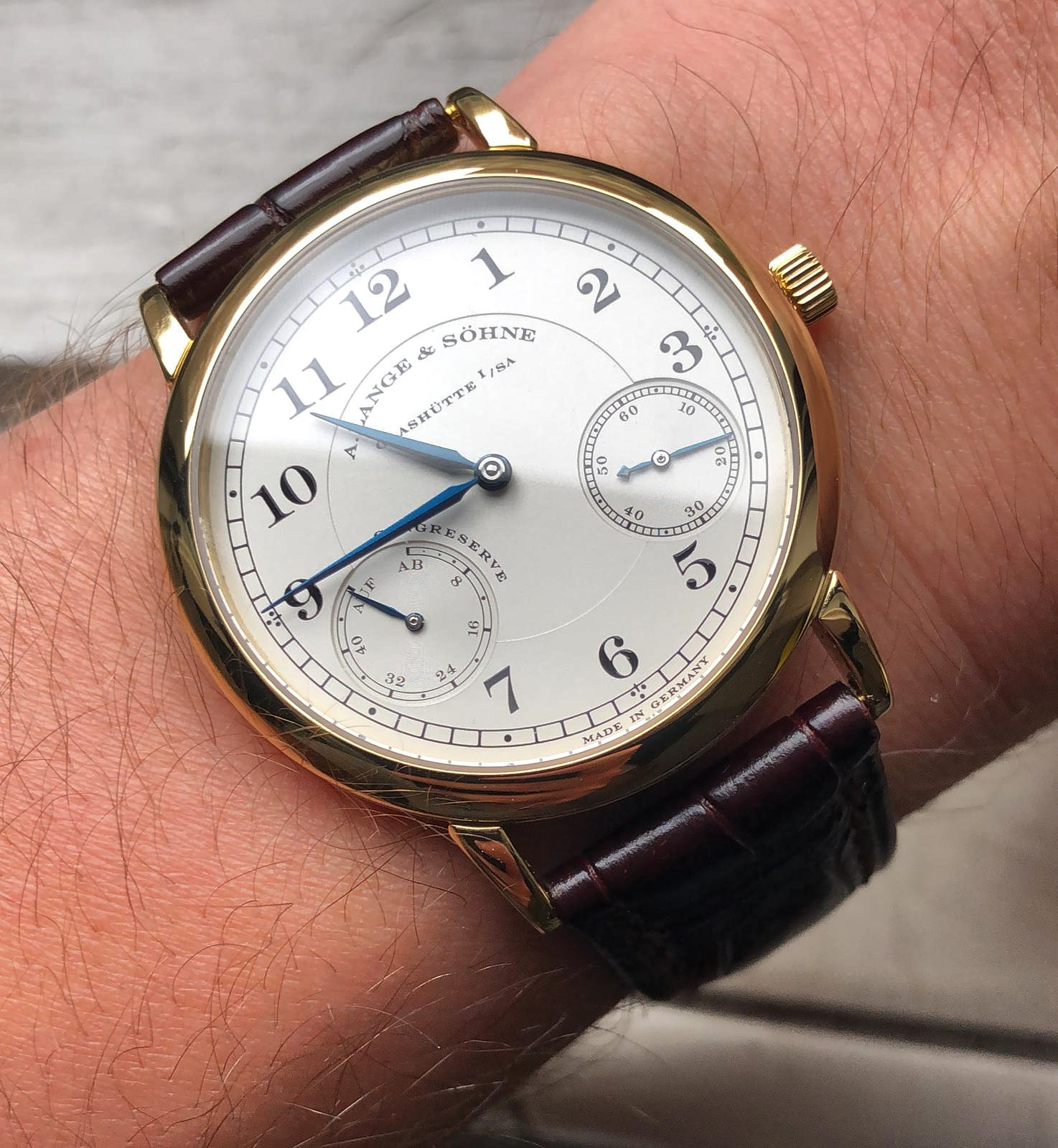 The simple answer is because it was my grail watch. One thing I mentioned in my original Trading Faces story was how the Patek Phillipe Golden Ellipse did not have an exhibition caseback, which meant I could not appreciate the beautiful movement within. This purchase was the result of that lesson, as I secured a watch with a prestigious name and movement that could actually be seen and admired. The ref. 221.021 was also not a compromise reference like the Ellipse, it was the Lange I actually wanted. Sure, I love the higher complications such as the Zeitwerk and Datograph. But this is the Lange I was drawn to the most because it is clean, classic, and the most suited for my wrist.

It even runs deeper. My grandmother was born in Germany, and through her I have a great appreciation for the quality of German manufacturing. My heritage creates a larger emotional connection with the timepiece, and as an item I hope to pass down many decades from now, I feel it best embodies my family roots and my horological passion. In terms of the watch specifications, I loved the idea of owning a high-horology, hand-finished watch that actually met all the criteria I love. The 36mm case is such a classic size well-tailored to my wrist. The movement, with it's beautifully bevelled 3/4 bridge and hand-engraved balance cock, would mark the first time I had such a well-finished caliber in my collection. The dial is absolutely timeless and its layout distinct to A. Lange & Söhne. While I had, and still have, other watches in my collection, I in theory could have kept just the Rolex Submariner ref. 114060 and this ref. 221.021 to have the perfect yin and yang two-watch collection – one robust diver and one high horology dress piece. If I had to sell all but two, these would be the watches that I keep.