Editor's note: While he's no longer the frontrunner to be the next James Bond, turns out Tom Hardy may not miss the opportunity to wear an inevitably limited edition Omega too much … as the Hollywood A-lister has already sported some serious timepieces on the silver screen. We've spotted these five beauties from his back catalogue … the man has fine taste.
We have a bit of a man crush in the Time+Tide office on English actor Tom Hardy. After a film debut in Ridley Scott's Black Hawk Down there has rarely been a misstep in his career — from Batman's arch rival, Bane, in The Dark Knight Rises to taking over the mantle of Max Rockatansky in Mad Max: Fury Road. More than just his choices in playing legendary characters, this fascination with Tom Hardy is arguably more about his swagger, cool demeanour and seeming disdain for the traditional celebrity culture — opting to keep his personal life … well, private. He has shown little tolerance for interviews and press junkets (you can see one his finer moments tearing through an interviewer here), and even keeps his charity efforts with The Prince's Trust on the down-low (which should answer everyone's questions as to why he was a guest at the royal wedding).
With his latest film, Venom, hitting theatres today, we take the opportunity to look at Tom's career, by way of the watches he's worn in them.
2012, This Means War, Christian Dior Chiffre Rouge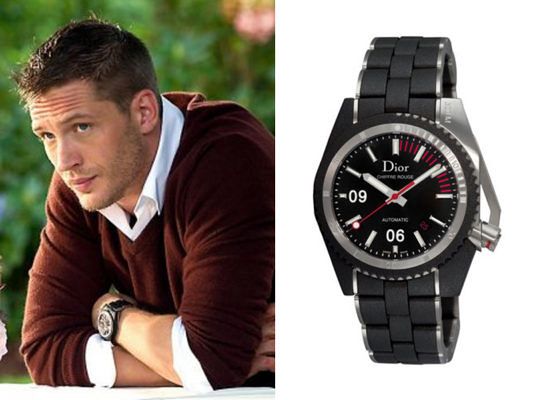 In 2012, Tom played Tuck, a loose cannon CIA operative who is pitted against his partner when they discover they are both dating the same woman. While not a critical success, This Means War was a bit of fun for Tom, after coming off more serious roles in Warrior and Tinker Tailor Soldier Spy. Tuck's watch of choice? The Christian Dior Chiffre Rouge, with its over-protective crown guard — perfect for any international spy.
2013, Locke, TAG Heuer Aquaracer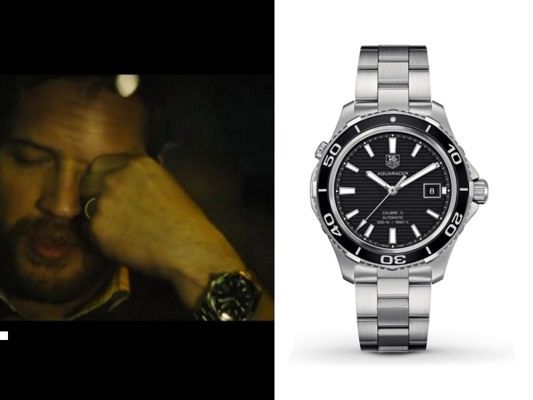 Only one man could carry 85 mins of screen time on his own, and that man is Tom Hardy. The movie, Locke. Hardy plays the titular Ivan Locke (the only person to appear on screen), a construction foreman who leaves his job on the night of a major concrete pour (the largest in European history) to drive from Birmingham to London to be at the side of a one-night-stand who is prematurely having his child. Drama ensues by way of multiple phone calls while on the road, with his wife, staff and employer. Time is never more important to Locke, and he is quickly running out of it, so his trusty TAG Heuer Aquaracer is a critical accessory.
A bit of trivia: The film is written and directed by Steven Knight, who is also the co-creator/writer of other Hardy vehicles Peaky Blinders and Taboo. Bonus points: Knight was one of three creators of the original British version of Who Wants to Be a Millionaire?
2015, Legend, gold Omega, Diamond Bezel
Hardy took on the iconic roles of notorious East End London gangster twins Ronald and Reginald (Reggie) Kray in the 2015 film Legend. As part of his preparation for the roles, Hardy borrowed jewellery and watches from the estates of the deceased gangsters — including Reggie's original 18k gold Omega, which he wore in the film. We took a look earlier this year at other famous gangster watches, which you can read here.
2017, Dunkirk, Omega "RAF" 1940, ref CK2129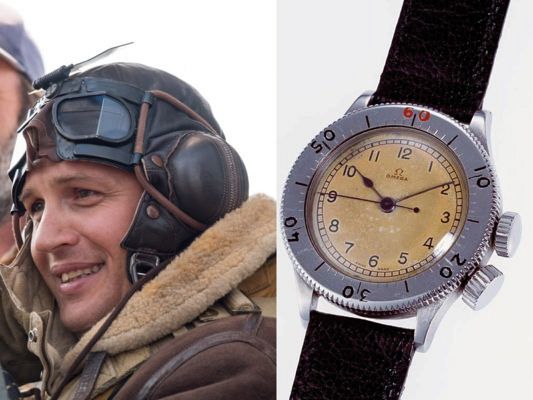 On his third outing with director Christopher Nolan, in 2017's Dunkirk, Hardy played the role of Farrier, a Royal Air Force Spitfire pilot, integral in the evacuation of Allied soldiers from the beaches of Dunkirk, France, during WWII. Fitting to the role, and the job at hand, was the Omega "RAF" ref CK2129 strapped to his wrist. The watch plays a pivotal role in the film after Hardy's fuel gauge is shot out by enemy fire, and he must use his watch to determine the amount of fuel he has left on board. We delve deeper into the story in this article from 2017.
2018, Venom, Bremont U-2/51-JET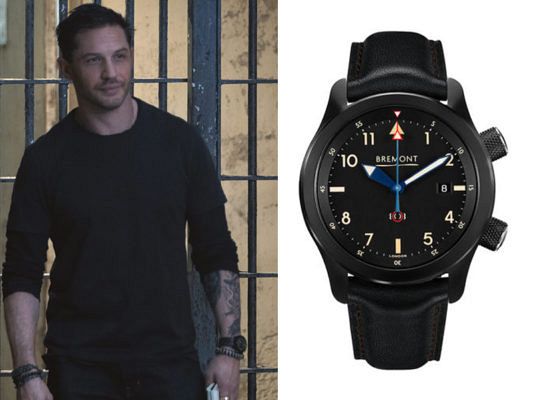 Out today across Australia, Tom plays Eddie Brock, aka Venom, in the film of the same name. Joining the Marvel Universe, by way of Sony Pictures, Venom is the hybrid alter ego of journalist Eddie Brock, who has bonded with an alien symbiote, courtesy of troublesome billionaire Carlton Drake. Brock and the alien inhabit the same human body in a Jekyll & Hyde relationship of human head-eating proportions. Fittingly, the watch on Eddie's wrist is the pitch-black Bremont U-2/51-JET, which ties in nicely with Hardy's personal relationship with Bremont founders, Nick and Giles English.