Let's be transparent: Tinted and clear sapphire dials are a trend in 2021
Thor Svaboe
Sapphire crystal, the once exclusive, high-end material replacing scratch-prone acrylic and normal glass to protect our watch dials, is now widely available,and employed in some of the best dial designs of this year's Watches and Wonders. But how is pure sapphire crystal actually made?
One of the best (succinct) answers to this comes from the website of the Finnish watch brand, Rohje: "Sapphire glass, is made synthetically and isn't actually considered a glass but a crystal. The sapphire crystal is made in very high temperatures and it made up from crystalline aluminium oxides. These are then cut with diamond saws, grinded and polished to the finished "glass" product. Sapphire crystal can sustain scratches very well and it can only be scratched with materials, basically diamonds and especially hard rock types.

Sapphire dials meanwhile are a perfect way to allow unhindered viewing of an intricate movement, something we saw tempting examples of at Watches & Wonders this year in everything from sports watches to haute horlogerie.
Hublot Big Bang Integral Tourbillon Full Sapphire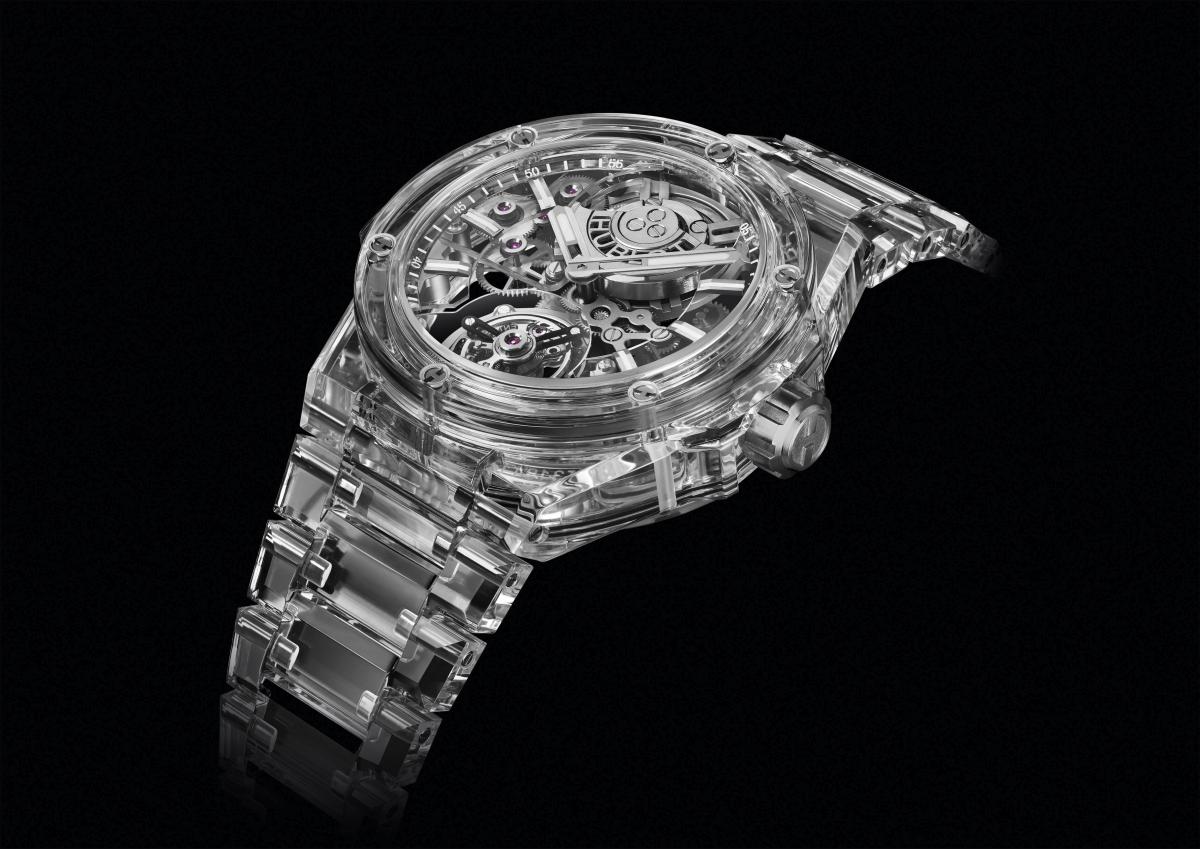 We start with a Big Bang (indeed), proof of the extreme lengths that Hublot is willing to go to in order to stay at the cutting edge of horology. The new Hublot Big Bang Integral Tourbillon Full Sapphire is as mind-boggling as the name is literal. While the manufacturing process behind a mere sapphire crystal dial is complex, this is on another level. Serving as a fascinating insight into the mechanics of both watch, case and bracelet construction, this will sparkle like a diamond on a few lucky wrists this year.
The "dial" is, in fact, open bar a wide chapter ring holding the angular indices with another small disc covering the delightful dance of the tourbillon at 6. A look into the movement will expose you to sapphire bridges, visible jewels, and an industrial yet intricate finish, with bevelled, polished screws contrasting with the sandblasted bridges hovering in mid-air. There's a cheeky miniature rotor inverted at 12, not at the back of the movement as we're used to. Consider this a whimsical Hublot trait, with the spin of the skeletonized half moon and its bold Hublot logo. A platinum rotor no less, for increased weight and momentum to keep the HUB6035 movement wound, with its solid 72 hours of power reserve. The Hublot Big Bang Integral Tourbillon Full Sapphire will only be made in 30 pieces, its bold sword hands hovering above a micro-city of mechanical transparency.
Price: $422,000 USD
Vacheron Constantin Overseas Perpetual Calendar Ultra-Thin
Vacheron Constantin unveiled a tempting group of new references in the popular Overseas range, where my favourites are split between the dark blue dial Overseas Tourbillon in pink gold, and this ultra complex Perpetual Calendar Ultra-Thin. In the competition for thinnest QP (Quantìeme Perpetuel) the battle has already been fought with Bulgari coming out the winner, but this Vacheron piece is an exact juxtaposition to its clean minimalism.
As this is only a facelift, we still have the caliber 1120 QPSQ/1 movement. Automatically wound and tracking hours, minutes, moon-phase, and a complete perpetual calendar (date, day, month, leap year), the 1120 is just 4.05mm thick, which enables the total thickness of a mere 8.1mm in this 41.5mm case. What gets you at every glance, is the complex yet traditional dial – it's nothing like the stark simplicity of the Bulgari. And that is exactly the way I would want my perpetual calendar, brashly showing off its intricate complexity, harking back to the days when we couldn't touch a phone screen to receive an ocean of information, no, you would read it from your wrist. This is why I enjoy the precious metal and barrage of details and colours, because a perpetual calendar on the wrist in 2021 is not about functionality, it's about understanding the deep level of craftsmanship behind the complex sapphire dial. Here, the rich navy blue is the perfect counterpoint to the special light from polished white gold. I might even be cheeky enough to fit the soft rubber strap to give a suave contrast under the cuff. For this level of haute horlogerie it doesn't even feel that expensive. Price: 106,000Euro
Baume & Mercier Riviera
The Baume & Mercier Riviera collection has popped up on quite a few of our editorial multinational meetings this week as  another good value proposition from B&M. The Riviera is a great opportunity to enter into the hallowed halls of the Swiss integrated stainless steel sports design at a more approachable price point. Baume & Mercier have launched three configurations with multiple dial options: 36mm in both quartz and automatic (SW-200), as well as a 42mm version with a 5 Day Baumatic movement. This deep blue reference 10616 would be my personal pick (although the blacked out 10617 is stealth sexy as well), because at $3,550 USD you get a stainless steel sports watch with 100 metres water-resistance, an attractive blue sapphire dial that provides a subtle peek into the front of the movement, as well as a movement with five days of power reserve and a silicon hairspring. As I said, there is a lot to like here. Price: $3,550 USD
Zenith DEFY Extreme
Classic Zenith colours of popping blue with titanium and some candy red accents to underline an already strong design, what's not to love?. The bold, muscular presence of the new Zenith DEFY Extreme has what it takes, including some of the largest chronograph pushers at Watches & Wonders. My advice is to USE them, bring the light titanium bruiser on a run, climb a mountain, for god's sake don't leave it in the safe.
The sapphire dial with its trio of skeletonized registers is a superb calling card for the El Primero, with the trademark tri-coloured registers and those small but delicious red details that makes this instantly identifiable as a Zenith. There's a maritime vibe on the soft blocky-patterned new rubber strap, and a natural brushed titanium case with the ping of polished details. The vertically brushed bezel has a dark titanium dodecagonal ring sandwiched between it and the muscular case, matching the dark crown guards. If I managed to squeeze this under a shirt cuff, the large yet proportionate shapes of the pushers and hefty crown would be a conversation starter in itself. I'm off to the tailors.  Price 17,900 CHF
Audemars Piguet Royal Oak Concept Black Panther Flying Tourbillon Limited Edition
While there isn't a single person within the watch community without an opinion on this big purple watch with the long title, and associated hype-circus launch, we cannot fail to include it, and it's no less than the most expensive AP ever sold at auction. While you might not want to strap on a massive, purple tinged piece of superhero horlogy worth north of $5 Million USD, there is no denying this fact: the mere craftsmanship within the large case is superb. And colours aside, it is rather spellbinding on its objective own. With the white-gold, hand-engraved 3D Black Panther character, eerily lifelike peering out from behind the sapphire crystal dial, you cannot look away. And while I don't fancy a grape-flavoured rubber strap on my wrist, I sincerely enjoy the deep level of time-consuming work that has gone into the engraved case. Enjoy the Marvel character or not, the white-gold hour-markers with black PVD coating, purple inner bezel, white-gold hands with luminescent coating are top tier. Whether this is all worth a mad $5,000.000 USD is a discussion for another day.