This Oris Aquis Depth Gauge isn't trying to be a vintage dive watch
Time+Tide
Editor's note: The last couple of years have seen a very distinct trend with the majority of Swiss watchmakers — the rise of the re-edition. You know what I'm talking about: re-edition, re-creation, reinterpretation … whatever you want to call it, vintage-inspired watches are the vogue right now. And I get it, a watchmaker looking to its past to help forge a bright future is great, and consumers get to purchase watches with real antiquated charm and flair, without trawling eBay, op-shops or thrift stores. But — and it's a big but — all this hype around vintage timepieces has meant that we're getting less and less fresh takes on what a timepiece should be. That's why I'm so fond of the Oris Aquis collection. Here is a timepiece that is unashamedly from the 21st century, and it's all the better for it. It's not trying to hark back to the golden era of diving, or paying homage to a certain watch first seen 50 years ago. No, it's just an honest-to-goodness, fit-for-purpose dive watch, and a capable one at that. A little while ago we had a look at this Oris Aquis Depth Gauge, and these were our initial impressions: 
First Impressions:
Oris have given the latest version of their technically impressive Aquis Depth Gauge the bumblebee treatment. If the only thing holding you back from grabbing this imposing chunk of dive watch was the lack of a black option – well, you've got no excuse now.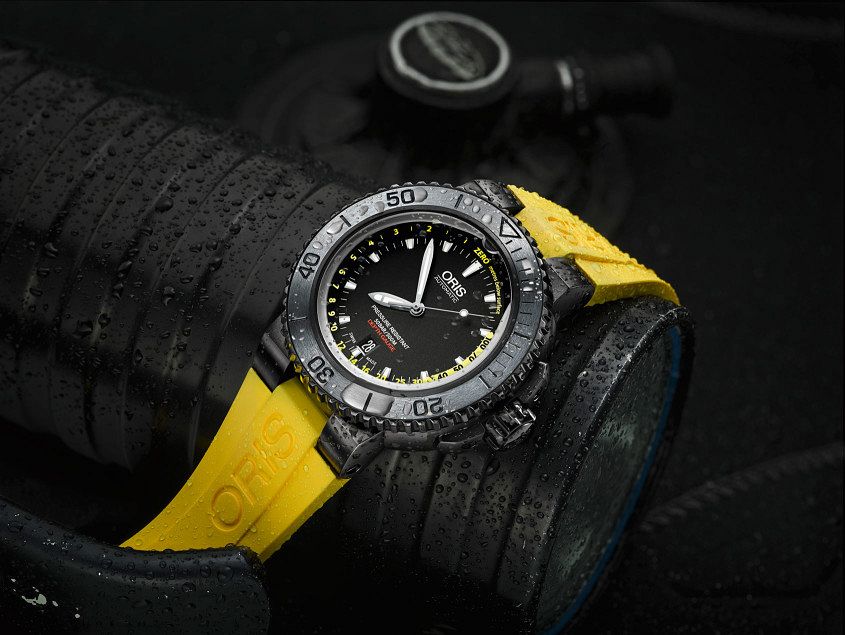 It's an irony of the watch industry that while every watch brand produces a dive watch, very, very few watches are worn at depth.
Oris can count themselves in the latter category. They achieve this rare distinction by creating watches that fulfil their mission to make "real watches for real people", that manage to offer value and be innovative at the same time. A tricky act to pull off.
This year Oris are giving their clever take on the uncommon diver's complication, the Aquis Depth Gauge, a black makeover. They're pairing the newly DLC-treated watch with a high visibility yellow rubber strap. Often black watches get a 'stealth' or 'phantom' nickname. At 46mm and with that strap, this watch isn't going under anyone's radar. But the new colourway isn't the most interesting thing about this watch. Oris' novel depth gauge is.
Depth gauges are rarely seen on watches. Mostly because if you want to make an effective water-resistant watch it's generally not a great idea to let water into the watch – which is a fairly essential part of the whole depth gauge process. Oris have developed an ingenious work around — they maintain the integrity of the case by placing the gauge into the 4.5mm-thick sapphire crystal. Problem solved. The crystal has an aperture at 12, allowing water into a narrow channel. As the diver descends and water pressure increases, the air inside the channel is compressed, allowing more water into the crystal. The diver uses the scale on the dial chapter ring to gain an accurate indication of depth. Job done.
While serious divers will use this watch in conjunction with a dive computer, for desk divers it's an undeniably cool complication that'll be sure to add to your Jacques Cousteau cred.
Specifications
Brand:
Oris
Model:
Aquis Depth Gauge
Reference No.:
733 7675 4754
Case Size:
46mm
Case Material:
Black DLC treated steel
Dial:
Black, with Super-LumiNova, applied indices and nickel hands.
Strap:
Rubber with folding clasp
Movement:
Oris cal. 733, based on Sellita SW 200-1
Crystal:
Sapphire
Functions:
Time, date, depth gauge
Bezel:
Unidirectional, with tungsten inlay